Conchita Wurst: A great ambassador for gender diversity
Rise Like a Phoenix's triumph at Eurovision showed that the contest can still surprise us. But for the world's drag artists, it also struck a blow for gender tolerance, says Gillian Orr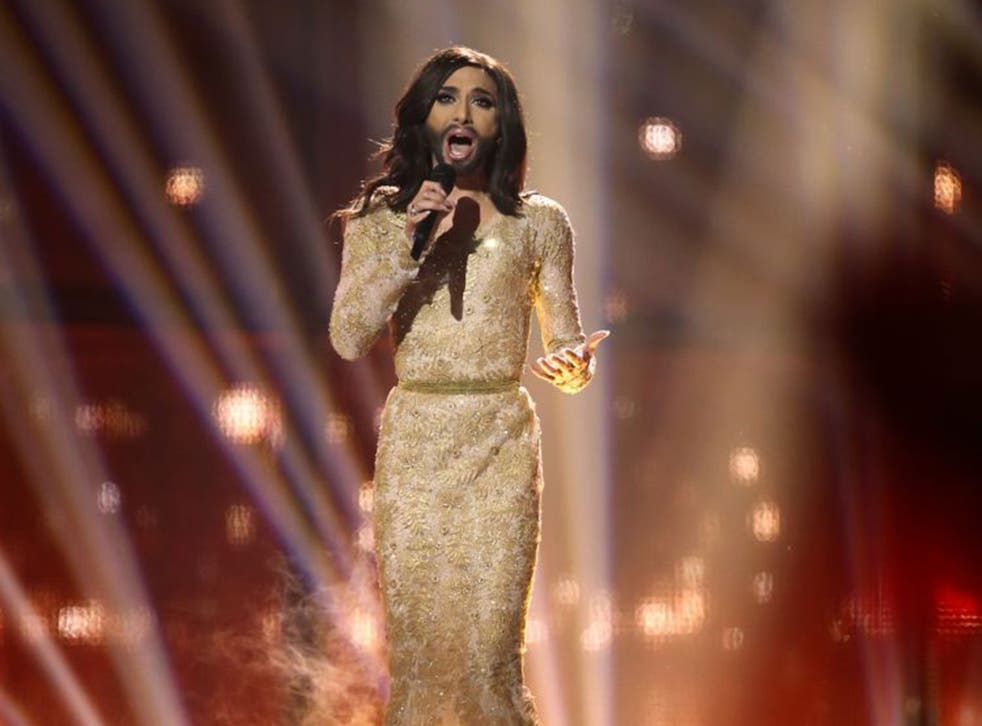 Eurovision is famous for its outrageous contestants. From Lordi, the monster-masked Finnish rockers who took home the prize in 2006, to Ukraine's Svetlana Loboda, who pole-danced on stage in 2009. Then there was the Lithuanian all-male entry in 2010, InCulto, who ripped off their trousers to reveal sparkly silver hot pants. The annual event never fails to raise a few eyebrows.
But when Conchita Wurst, a bearded Austrian man dressed as a woman, was announced as the winner of the 59th Eurovision Song Contest at the weekend with her song "Rise Like a Phoenix", it was clearly a step too far for some quarters.
Of course, panicked countries, including Russia, Armenia, and Belarus, had already tried to ban the 25-year-old's performance. Some politicians got their knickers in a twist by insisting a bloke in an evening gown with a bit of facial hair would lead to a "hotbed of sodomy". An Austrian Facebook group calling for her removal from the contest received 36,000 likes.
So while it is heartening to see such an act embraced (the winner is decided by public vote), the prejudice Wurst has also faced is a reminder that we still have some way to go in our acceptance of diversity.
Arriving back in Vienna, Wurst (real name Tom Neuwirth) was met by fans brandishing rainbow signs bearing such tributes as "Conchita Queen of Love + Tolerance".
Wurst used her return to the capital to speak to the waiting press about open-mindedness.
"This will remain an issue for a long time and I fear I won't see the end of it in my lifetime," she said. "It will be my life's worth and I gladly take it on. It was not just a victory for me but a victory for those people who believe in a future that can function without discrimination and is based on tolerance and respect."
Lady Lloyd, star of London Live's Drag Queens of London, agrees that Wurst is a great ambassador for gender diversity. "We were jumping up and down screaming when she won. It was a real moment; we were all so emotional," says Lady Lloyd, real name Lloyd Dixon (above). "Of course it's bigger than just a bit of fun. Her song is at No. 1 in Russia on iTunes, which is a huge deal. I personally think the song's good but I know it's not to everyone's taste. People are buying it to protest [against Putin's anti-gay laws]. People are having a say. We're here and we're not going anywhere."
The programme's fourth episode, which airs tonight, focuses on homophobic and transphobic issues, something which just about all the drag queens featured have had to deal with.
Identifying as gay from 11 years old, Dixon was verbally abused at school, before being badly beaten by three classmates when he was 15 in Stansted, Essex, where he grew up. One in six lesbian, gay and bisexual people have experienced a homophobic hate crime or incident over the last three years, and two thirds won't report it to anyone, according to Stonewall research.
Enjoy unlimited access to 70 million ad-free songs and podcasts with Amazon Music Sign up now for a 30-day free trial
Sign up
These days, Dixon lives and works in Soho, London, where he is rarely bothered. "Sometime I'll be walking to work in drag and someone will shout something at me," says Dixon. "But I just shout back at them. I find it helps if you're a bit cocky."
Dixon is aware that others are less lucky. A close friend of his was gay-bashed and left for dead last year. If people such as Wurst can help to spread tolerance, then she should be embraced – beard and all.
"She's doing it all for the right reasons. I love the message she sends," says Dixon. "When she comes to London I'm going to be down the front row, screaming."
'Drag Queens of London' airs on London Live, Tuesdays at 10pm. londonlive.co.uk
Join our new commenting forum
Join thought-provoking conversations, follow other Independent readers and see their replies