Deftones Interview with Chino Moreno: 'We're expanding our sound … we're not making Adrenaline or White Pony again'
Three and a half years after their last record, the Sacramento quintet have just released their eighth album, Gore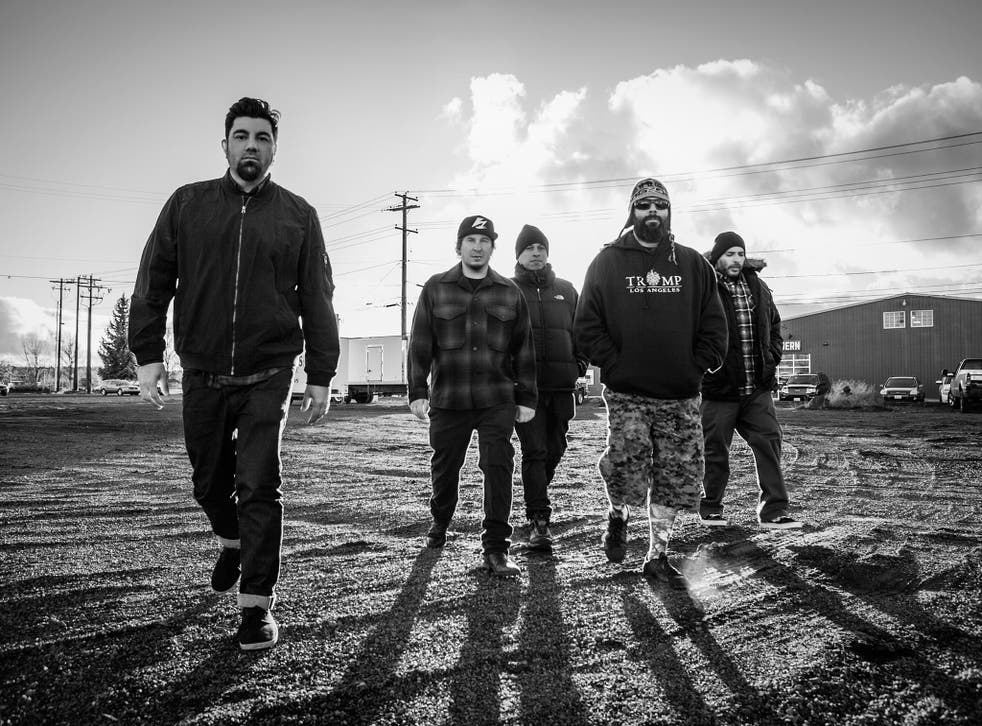 One of the quintessential alternative bands of the modern era, Deftones, are in a class entirely of their own. Like fellow Californian innovators Faith No More and Jane's Addiction, their music is instantly recognisable. The chemistry within the band is a sometimes fraught collaboration between 5 very strong-willed individuals, but it is this tension that is vital in the creation of the art they make, music that is at once both heavy and mellifluous. The band have a reputation for not working hastily and with three and a half years having passed since the release of their last album, Gore is no exception. Initial murmurings of the album appearing as early as September 2015 were quashed, as the release date slipped through the twilight of autumn and into the dawn of spring, but the reasons for delay were no great shakes. 'We wanted to try different mixers,' says Moreno, 'all these different guys who've mixed records that we're fans of. You start thinking 'what would it sound like if this guy got his hands on it.' So it was almost like an experiment. It's been well over a year since the inception of some of these tunes, maybe a year and a half in some cases, so it's good that people will finally be able to hear it.'
It's probably unsurprising to hear that Gore is well worth the wait, yet another striking example of heavy music that is as much a stimulant for the mind as it is for the gut. The band have been penalised for their leisurely approach in the studio before, with Warner Bros. fining them $1million for turning in 2003's self-titled record late. 'We were pretty dysfunctional as a band at that period. We'd come off the heels of White Pony, which was very successful and that record was us doing whatever we wanted. We got a lot of critical acclaim off the back of that, so in our minds we didn't have to follow any sort of rules or deadlines. That works in some cases and in some cases it doesn't and the self-titled record was one of those times where it didn't.'
The dichotomy which exists within the music that Deftones make is a crucial part of its appeal but perversely, these juxtaposing forces have also been the cause of rifts within the band's personal relationships. Rumours surfaced once again in an interview published on ultimateguitar.com in February this year, where guitarist Stephen Carpenter was quoted as saying 'When we were coming up with ideas and writing the songs … I wasn't too interested in it. It wasn't the style or sound I was hoping we would take.' Moreno doesn't shy away from the conflicts, admitting that 'Stephen had a little less to do with the inception of these songs, although he is very present in every song. He plays and is creative on every song but the foundations of this record were laid by myself, Sergio and Abe.'
Fans fearful that Carpenter's contributions to Gore will be limited to little more than delicate decoration need not worry. Whilst it's certainly one of the more cerebral records of the band's career, Carpenter's distinct seven-stringed stamp is present and correct throughout. In fact, despite Carpenter's initial reluctance at the direction some of the material was taking, Moreno says that the band have learned to collaborate together without tensions reaching a boiling point. 'We know how to work with each other now, we're better at solving problems. In the end, we're going to do what's best for the song. That compromise is there but at the same time, we're all still very opinionated. If we didn't have opposing opinions at times, some of the tension that's in the music wouldn't be as present and I think that's an important element to it.'
Moreno acknowledges that relations in the band have been strained in the past, identifying the aforementioned self-titled record and its follow-up, 2006's Saturday Night Wrist, as two albums where the band weren't always in sync, a period they collectively refer to as 'the dark days'. 'We definitely went through a point where our communication just broke down and we were phoning everything in. Everybody was coming in and doing their parts separately and it was up to me to come and make sense of them and turn them into songs. I felt that way for a while and I lost interest in making music because of it. One of the most important things about making music is collaborating, I have no interest in making music by myself, it's just not exciting to me. Collaborating is what it's about, reacting to what someone else is doing. That's the essence of creating, when you're bouncing ideas off one another, and we were missing that in those dark days. Sadly it took a tragedy like Chi's accident to put things in perspective for us and that was what brought us back together and re-connected us.'
The devastating car crash in November 2008 that left Chi Cheng, the band's bassist since 1990, in a comatose state was a rude awakening that forced the rest of the band to take stock and re-evaluate. Enlisting ex-Quicksand bassist Segio Vega, the band scrapped sessions for the album they'd been working on with Cheng. Titled Eros, it has gained a fabled reputation amongst fans, with song titles, (including Smile, Melanie, Dallas and Destiny) instrumental demos and even what appear to be complete songs surfacing online. Moreno though seems resolute that, for the moment, it's not a project the band will be returning to any time soon. 'Musically it's probably 75 - 80% done and lyrically it was about halfway there, but honestly, I wasn't too happy with the material we had,' he says. 'Some of the music was lacking a little bit. I had faith it was going to come together and be great in the end, but we never got to that point. Once Chi had his accident, everything came to a halt with the Eros sessions, so the idea of going back to that batch of songs, finishing them and have Sergio learn Chi's parts just hasn't felt like something that we're interested in doing. If the record were finished and we were just sitting on it, we probably would have put it out by now, maybe even given it away, just so that people can hear it, but it would take a lot more work to get it done. But when we get together, we're much more fascinated with where we are in this moment, trying to create something new.'
Considering the quality of the albums released after these sessions, maybe it's a blessing in disguise that Eros never saw release. If the problems the band faced during the dark days had been allowed to fester, we might not have been looking at a band burning bright once again, but one gradually fading away. Both Diamond Eyes and Koi No Yokan firmly re-established Deftones position as one of the most significant bands of the last 20 years. Sadly, despite some significant intermittent steps towards recovery, Cheng was never to see the band rejuvenated, succumbing to his injuries on 13th April 2013, four-and-a-half years after his accident.
Gore is the first Deftones record released since he passed and features a guest who can fully empathise with the loss of a close friend and band mate. Jerry Cantrell (guitarist for grunge metal legends Alice in Chains whose frontman Layne Staley succumbed to a lethal heroin overdose in April 2002) contributes stirring lead guitar work to the song Phantom Bride, taking Deftones into a realm they've seldom explored before … the guitar solo. 'We had this space in the song and we were joking around saying 'what if we put a guitar solo over it?' We never do guitar solos; I can't play them and Stefan probably can but he doesn't, so we never have. It's not like we don't like guitar solos, sometimes they come in and just lift a song. In a traditional sense, the third verse of a song is sort of like the guitar singing. I suggested calling Jerry to see if he would be interested in filling that space. We've known him for years and I thought it'd be rad if he could come by and just freestyle it and that's what you hear on the record. I think people are going to be listening out for it. It'll definitely be obvious when it comes in, it's him being him, which is awesome.'
With the release of Gore, Deftones continue to be a band that the metal world can point to as proof that the genre is not simply a soundtrack for Neanderthal knuckle-draggers to bang their heads and snap their necks to. 'I think the majority of people are happy that we're expanding our sound and we're not making Adrenaline or White Pony again. Sometimes when people's first reaction is 'Oh well I didn't expect that' I take that as a good thing! You shouldn't expect it, you got something there that you didn't expect and that's kind of a treat. I feel like this record is maybe a little bit more of a deeper listen,' says Moreno, 'you're gonna have to listen to it a few times, it's not instantaneous, and those are some of my favourite records, they often stand the test of time.'
Gore is out now via Reprise Records and Deftones tour the US and Europe, including a date at Wembley Arena on 3rd June.
Join our new commenting forum
Join thought-provoking conversations, follow other Independent readers and see their replies