Don Was: Mixmeister Flash
He watched Bob Dylan torment George Harrison – and reckons that Keith Richards has one of the sharpest minds in music. Don Was, producer of choice to rock's elite, talks to David Sinclair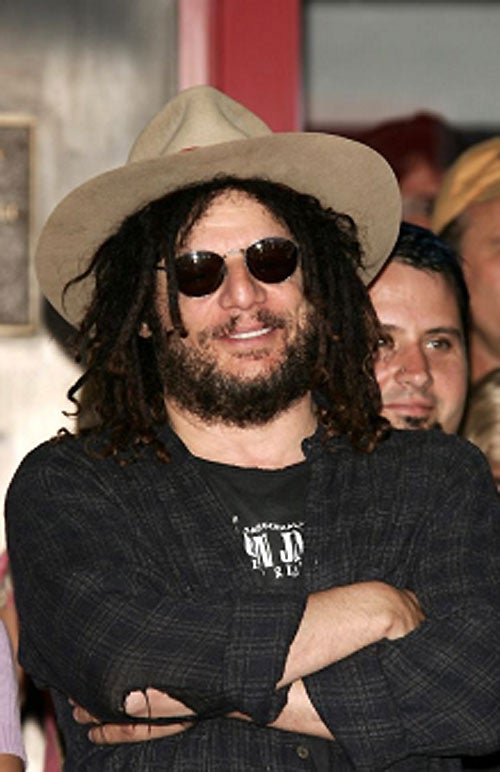 Don Was has led an extraordinary double life. As the bass player and co-songwriter of Was (Not Was), he has, together with his "brother" David Was, steered that most weird and wonderful of funk-rock groups from the clubs of Detroit to international cult status. The band enjoyed chart success in the 1980s and 1990s with hits including "Walk the Dinosaur", "Spy In the House of Love" and "Shake Your Head". Now, after a hiatus of more than a decade, they have a new album, Boo!, released this week, which has received some of the most glowing reviews of their long and chequered career.
Then there is the other Don Was, who's a multiple Grammy-winning producer with a CV that makes Mark Ronson look like a callow youth. He's produced albums by Bob Dylan, The Rolling Stones, Roy Orbison, Elton John, Brian Wilson and Willie Nelson, among many others, establishing himself as the studio supervisor of choice for those who enjoy living legend status.
But enjoying two charmed lives rolled into one hasn't been as straightforward as you might think. It's no accident that his greatest success as a producer coincided with a period of suspended animation for Was (Not Was). "Working with the Stones, Willie Nelson, Dylan and Brian Wilson all in a very short period of time; if that doesn't humble you there's something wrong with you," says Was. "And there was about a 10-year period when every time I started writing a song, I just stopped and thought, 'What is the point? What am I adding?' "It took me a long time to figure out that, OK, these people are amazing. But Willie Nelson didn't go out one night, get stoned and see Pharoah Sanders and the MC5 jamming in some print shop down by the university in Detroit. Keith Richards didn't have the Stooges play at his high-school dance, or see Funkadelic at the local hop. So, I've got my own story to tell. And maybe it's not going to be as good a story as Willie Nelson's, but I can live with that. I can't be him or Dylan, it's true. But it took me a decade to realise that, by the same token, they can't be me."
In fact, as rock'n'roll stories go, Don Was's is pretty good. Born Don Fagenson in 1952, he founded Was (Not Was) in 1979 with David Was (real name Weiss), a childhood friend who had been born within a few weeks of him in the same area of suburban Detroit. With David writing the lyrics and Don taking care of the music, the pair recruited the R&B singers Harry Bowen and Sweet Pea Atkinson and set about creating a repertoire that, Don declared, would sound "like the Motown revue on acid". As they blurred the divisions between black and white, rock and dance, mainstream pop and absurdist pastiche, Was (Not Was) proved a difficult act to categorise. They have often been described as a satirical group, thanks mainly to David's lyrics, but Don feels that this description doesn't altogether do them justice.
"David and I were looking at the Jungian archetypes, trying to figure out who we were," he says. "We hit on the archetype of The Fool. He's not an idiot, but the king always used to put a Fool at the table at a banquet to act as a provocateur. He would say anything to get the conversation going. We don't mind being that. If it takes sarcasm or humour to get the fire going, we'll do it. But we're not a comedy band."
On the new album, Was (Not Was) return to their task with renewed vigour. Boo! opens with a narrative encompassing group sex, a killing and dismemberment incident, and a flying saucer landing on the Hollywood sign, all harnessed to a jaunty little groove entitled "Semi-Interesting Week". Then there's the story – set to a tune of exceptional sadness and grace – of the youngster who smashes a store window to steal a TV set, but is then killed when the glass above him falls, "Cutting off that vital road/ From the head to the heart."
The super-funky "Mr Alice Doesn't Live Here Anymore" is a revival of a song co-written with Dylan when Don and David were producing his 1989 album Under the Red Sky. "We were setting up a mix and we were just bored, and somebody suggested writing a song for Paula Abdul," Don says. "She sells about 10 million records. So Bob says, 'C'mon, let's go,' and we wrote it for her there and then." The song was duly presented to Abdul, who – as Was recalls with a great laugh – rejected it.
Don Was got into producing when he was approached by a group from Sheffield called Floy Joy to produce their debut album Into the Hot, released in 1984. Five years later, he produced Nick of Time for Bonnie Raitt, at a point in her career when she was at her lowest ebb, artistically and commercially. The album went to No 1 in America, sold five million and won three Grammys, including Album of the Year. Around the same time, Was produced "Love Shack" for the B-52s, a massive hit that turned them from cult favourites into stars. Overnight, Was became the man with the Midas touch.
"It was weird," he says. "I went from pariah to saviour, but I wasn't doing anything differently. The thing about being a good producer is that if you are working with someone with great songs who can deliver them with honesty, you're going to make a great record. All you've got to do is not mess it up."

Enjoy unlimited access to 70 million ad-free songs and podcasts with Amazon Music
Sign up now for a 30-day free trial
Sign up

Enjoy unlimited access to 70 million ad-free songs and podcasts with Amazon Music
Sign up now for a 30-day free trial
Sign up
Surely it takes a bit more than that to be able to take charge of performers of this calibre on a regular basis? "It's an elusive gig, producing records," Was says. "For the most part, you're like the guy who does the rain dance for the tribe. It's probably going to rain anyway. But you have to create an inspiration-friendly environment in which these artists can create their best work. I don't think you're that much in control of it."
But how the hell do you tell Bob Dylan he could do a better take? Was recalls one such diplomatically demanding moment when George Harrison came in to play on a track on Under the Red Sky. "Bob treated George like he was his little brother," Was says. "He liked to torment him the way my older son torments the younger one. So Bob was running the tape machine and George said, 'Man, I hope this time you're going to let me tune up before I play.' Straight away, Bob started and George was scrambling to play this slide solo and he hadn't had time to tune up his guitar yet. And so the solo was out of tune. And then Bob Dylan and George Harrison both turned to me and said, 'What do you think, Don?' And I had this moment when time stopped. What am I going to say? And in that second I realised that you got to tell them the truth. They're paying you to be there. I'm not there to be a fan. I just said, as nicely as I could, 'I think you can do a better one. Let's tune up the guitar and try again.' And everyone was fine with that. But you got to be careful. Nobody wants to be talked to like they're a jerk."
Was admires the acts he has worked with, but none more so than The Rolling Stones, with whom he has produced every studio album since Voodoo Lounge in 1993. During the making of A Bigger Bang, he lived with the band in Mick Jagger's house in France.
"I saw what time he got up. I saw him out there, exercising and doing backwards sprints. He's in Olympian shape. Then I saw him have all the meetings about designing the stage and lights, meetings with the record company guys. Then he'd lock himself in his room to tighten up the songs. And then he would come in and be completely present for making the record. It's a superhuman feat. He's not from another planet; he's a human being who has kids and all the other stuff everybody else deals with and yet manages to pull off this gargantuan thing.
"With Keith [Richards], it's shocking because people have a caricature of him as this poster-boy for drug burnout. And that couldn't be further from the truth. You see him sitting around reading big books about the history of the world all day long. He's got one of the sharpest minds I've ever encountered."
Was prefers to keep drugs out of the picture, while recognising that certain artists, such as Charlie Parker, have made great music while being high. One act who didn't benefit from his pharmaceutical adventures was Brian Wilson. Was has known Wilson for 20 years and produced his 1995 album I Just Wasn't Made For These Times.
"There's a lot of heaviness around him. There have been periods when he has been over-medicated. Anything that can dull your feelings is going to be bad for music. I think now that he's not so medicated, life has got better for him."
Was's general advice is to "stick with what you normally do". He recalls a salutary experience when, with the help of the record company boss Chris Blackwell, he persuaded Willie Nelson to record an album with a group of hand-picked reggae musicians from Jamaica.
"The rastas thought, 'Willie Nelson, man, we gotta be on our game here,' so they didn't get high. And Willie thought, 'I'm with the rastas, I'll get extra high.' So there was a mismatch. It's not a great record. It didn't quite connect the way it should have."
'Boo!' by Was (Not Was) is out now on Rykodisc. Was (Not Was) play Islington Academy on 26 April and perform on 'Later with Jools Holland' (BBC2) on 22 April
Join our commenting forum
Join thought-provoking conversations, follow other Independent readers and see their replies