Down I Go - Mortals: Exclusive Stream
The experimental purveyors of deranged hardcore continue their unconvincing semi-hiatus with the release of Mortals, a new EP streaming 5 days before official release exclusively with The Independent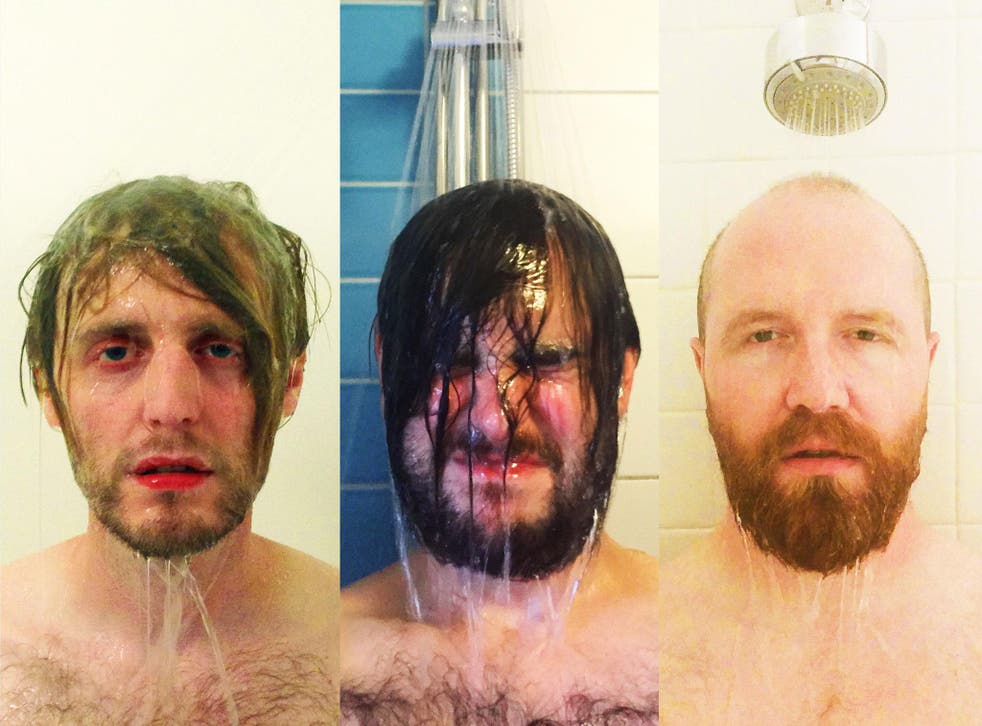 Rooted in the progressive strains of calamitous post-hardcore, succinctly describing Down I Go's blend of fluctuating time signatures, jazz-inflected instrumentation, demented screaming, angular riffs and truncated lessons in history and mythology is an unenviable task. Take a cursory glance online at the smattering of reviews for any of the band's esteemable back catalogue and the vast majority will begin with a paragraph lamenting just how far beyond words the band's music is.
Music journalism's nightmare is progressive music's friend however, as Down I Go can stake a claim for being one of the most forward-thinking, inventive bands in modern music. Sweet Billy Pilgrim singer/guitarist Tim Elsenburg succeeded where most music journalists fail by describing them as sounding like 'the imagination gone mad, but in a really, really good way.' Down I Go's latest EP Mortals is released on 14th August but you can stream it 5 days before it's official release below, exclusively with The Independent.
Down I Go sound like a band cooked up by three extraordinarily competent musicians with far too much time to kill on the road, which coincidentally is exactly how the band came to be. Unsatisfied with the creative direction of a different musical outlet that was shackling them to the road, vocalist Pete Fraser, drummer Ben Standage and guitarist Alan Booth conceived of a peculiar form of prehistoric hardcore. 'We travelled interminably in the back of this old VW van and it was so boring' explains Pete. 'I used to entertain myself by doing this dinosaur-sounding inward scream (like I said, it was really boring) and together, we created a fantasy band that would play 'Dinocore''.
What started as a joke that existed simply to alleviate the monotony of life on the road became reality when the trio recorded their 2006 debut This is Dinocore in Ben's childhood bedroom. 'We recorded it over a few weekends' he says 'and burned CDs with pictures of dinosaur pelvises on a cardboard cover and sold them at the shows of the creatively unsatisfying band we were still in. I feel sorry for the kids we convinced to buy them. They were expecting some kind of party punk.'
Featuring just 17 minutes and 42 seconds of music across 12 tracks (the majority of which are named after dinosaurs), Down I Go's debut featured tortured yelps, animalistic growls and barely discernible lyrics, all of which marked it out as distinctly different from the myriad of identikit bands that formed off the back of hearing Worship and Tribute. 'When we made This is Dinocore, we weren't thinking about doing anything afterwards' Alan recalls. 'We just made this stupid EP and kind of forced it on people. The idea of theming the records made them quicker to write, so we stuck with it... and we thought it was funny.'
More themed hilarity ensued, including This is Disastercore (sample songs; 'Sticky Nightmare', 'Let's Not Make Big Balloons Again' and 'Oh God! Everybody's Dead') This is Robotcore ('T-1000', 'Ed-209', 'Mecha-Godzilla') and their 2008 LP Tyrant ('Pol Pot', 'Idi Amin' 'George W Bush Jnr'). 'The themes provided a way of writing songs for people who have nothing to write songs about' says chief lyricist Pete. 'It basically consists of sitting down with a Wikipedia window open, researching a topic and then getting some lyrics down. We call it 'drunk Wikipedia farming.'
They may have a collective tongue-in-cheek self-derisive streak but by approaching their music in a way that is alien to most, Down I Go have managed to create an idiosyncratic, primordial soup of elastic dissonance that's uniquely their own. 'Down I Go is a purely musical outlet' says Pete. 'We have a small audience, we don't play many gigs, we've not got our eye on any particular scene and we've no grand aspirations. We managed to swiftly gain a good, pretty democratic writing style that's basically the same now as it was when we first began. I don't think an idea has ever been vetoed without discussion or laughed out of practise or anything along those lines. That freedom would be unimaginable within the rigid generic lines of many other bands.'
'I think it's the difference between consciously trying to make a band that fit into a currently popular scene vs. starting a band to simply fulfil a creative urge' Alan adds. 'The first EP was a laugh for us but it was also something we could use to try out anything we could think of, whether that be sticking two ideas together that really shouldn't work in tandem or playing the bass line one fret down from the main guitar line.' Ben sums up the ethos of the band most succinctly by simply stating that 'Down I Go is a band in which any of us can do whatever we like individually, provided we start and stop in the same place.'
Mortals was conceived as a sequel to the band's 2011 EP Gods, the last collection of Down I Go music before a self-imposed hiatus that was provoked by Ben moving to Chicago. Over the intervening years, all three members moved away from their homebase of London, with Alan upping sticks to Toronto and Pete settling in Stockholm. The band marked their split by gifting fans a final swan song single, 'We Live In Different Countries' which was supposed to act as a full stop on this most peculiar of bands until a proactive die-hard fan intervened.
Enjoy unlimited access to 70 million ad-free songs and podcasts with Amazon Music Sign up now for a 30-day free trial
Sign up
In early 2014, the band received a message on their all but defunct Facebook page from one Halldór Heiðar Bjarnason, who owns Fljótstunga Travel Farm in Reykholt, a village on the western side of Iceland. He inquired if the band would be interested in spending time on the farm, with the express purpose of writing and recording a follow-up to Gods. With a kickstarter set up and targets met, the band flew out to Iceland and the resulting album, 2015's You're Lucky God, That I Cannot Reach You was written over 9 days in virtual isolation on a deserted lava field, with little more than a store of Icelandic booze, some duty free sweets and a few horses for company.
Mortals mirrors its spiritual predecessor Gods by immortalising four different figures from Greek Mythology; Psyche, Palaemon, Pandora and Heracles. The obvious stumbling block for the three-piece making new music was a vast geographical separation; even in this age of digital file-sharing and making music by proxy, it was deemed necessary for Ben to fly out to Toronto and hash out basic foundations of the songs with Alan. These instrumental tracks were then sent to Pete in Stockholm to provide vocals and horns. The band use the analogy of baking a cake to describe the process; Ben and Alan make the sponge, whilst Pete provides the icing and decoration. 'I have a private aim to send back the tunes in a barely recognisable form, but without changing anything structural what-so-ever' says Pete. 'I try and write the vocals in such a way that the angle is completely different to the obvious choice that's presented from the instrumental track.'
'One thing that is fairly typical in our writing is starting from nothing' Pete continues. 'Nobody's coming in with songs pre-written or anything like that. I'm loathe to say that the songs come out of us jamming but it is a collaborative and fairly improvised process. Once we have a basic structure, I'll try to paper over the cracks a little bit with vocals or any orchestrated bits in an effort to disguise any notion of the ideas being bolted haphazardly together.'
'When we write, the longest amount of time we'll ever be making noise for will be the length of the finished song' Ben adds. 'We stop playing when we get a riff right twice in a row and then move on to the next one rather than keep playing it over and over with our eyes closed saying things like 'far out man'. One riff evolves from the previous one, which is very apparent in 'Psyche'. Alan just kept re-writing the main riff, which he wrote in his head on the way to the studio, and you can hear it evolve three or four times as the song progresses.'
Writing Mortals proved a more time-consuming process than Down I Go are used to; the sponge was laid down in May 2016, with Pete decorating the cake over a period of roughly a year. 'I took ages this time' he says, 'to the point where I was doing my own head in. It felt like I had a cold for about a year. I started and abandoned so many sessions after losing my voice. I really learned to hate screaming whilst working on these songs. I tried to separate the vocals and think of them almost as a second band doing counter-rhythmic and melodic ideas.'
'The greatest example of that is just before the break in Heracles (from 1:40) for the phrase 'he came like night'' Ben chips in. 'Alan and I are playing the same thing four times and Pete puts the vocal on the first beat. Then for the third and fourth repetitions, he pushes it along a quaver, which changes the feel from straight to swung - that might be my favourite part of the record.'
'It's moving the same idea around to create different contexts from the same material' Pete clarifies. 'Steve Reich was a big inspiration for me in terms of how the same idea becomes totally different in another context.'
With Down I Go producing the best material of their career to date in their post-hiatus period, it's a bitter irony that the vastness of the Atlantic Ocean and a distance of 4,000 or so miles prevents them from playing any gigs, particularly considering live music's resurgence. Despite the obvious obstacles, is there any chance we'll see the band play all together in the same room at ear-splitting volume? 'Discussions of it do come up now and again' Alan remarks, 'it's just a big time and money drain and at the moment, we'd rather use our time and money to make more music rather than perform what we already have. Not to mention the fact that we've never played anything from the last three records together in a room at the same time.'
'I've actually come around to the idea that doing some gigs might be fun' adds Pete 'partly because I'd like to see who's been buying and listening to this stuff for the last 10 years. But it's all a bit expensive and complicated.' Looks like it's time to start another Kickstarter ...
Mortals is released on 14th August and is available to pre-order now
Join our new commenting forum
Join thought-provoking conversations, follow other Independent readers and see their replies