Elvis Costello: 'I wish I could write like Lionel Richie – but heartfelt love songs just aren't what I do'
The English singer-songwriter speaks about his new record 'Look Now', a 'dramatised' cancer operation, and why he's unlikely to retire any of his more controversial tracks in the Time's Up era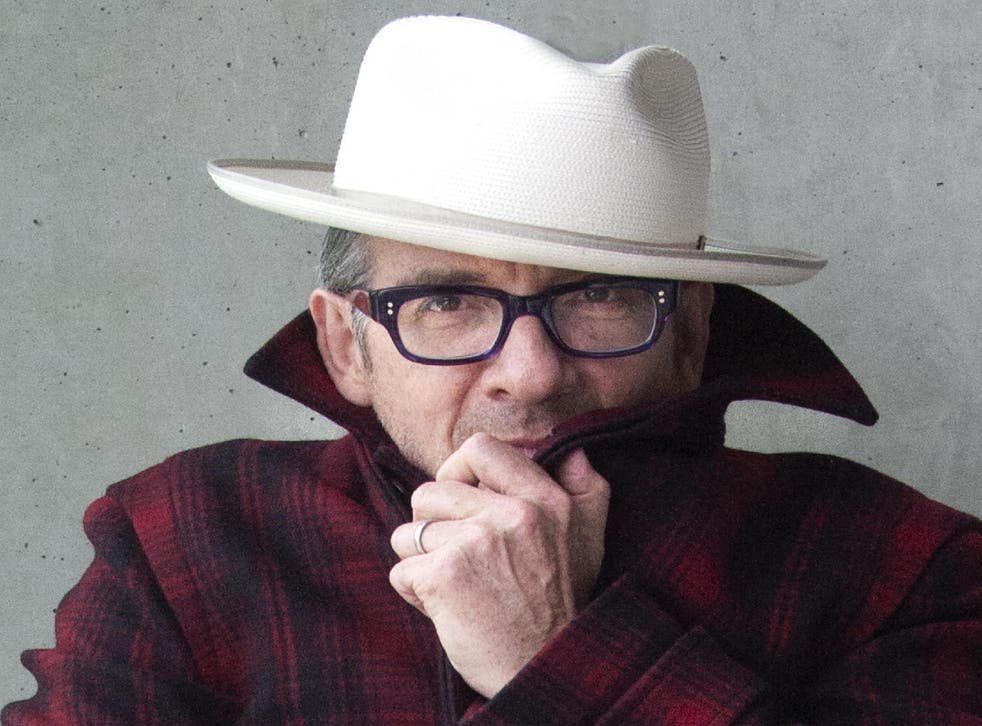 Elvis Costello turned on the television one night – enjoying a quiet evening after dinner with his eldest son – only to find a singer on a new reality show doing a terrible impression… of him. He thought he was hallucinating.
"I couldn't believe it!" he says, settled in an armchair at his London hotel. He's wearing trendy, tinted lenses, rather than the thick black frames he's more often associated with. "For one thing I don't think of myself as being mainstream enough for that kind of light TV. And the impersonation was terrible, it sounded like Bluebottle from The Goon Show…"
That's your answer, the 64-year-old chuckles, to why artists like him and Paul McCartney keep moving forwards. To try to stop people from doing those terrible impressions.
His new album Look Now is arguably one of his best, out of a catalogue spanning 25 records with the Attractions and the Imposters, plus a cluster of collaborative albums with artists including The Roots, Richard Harvey and Allen Toussaint. It features tracks starring his longtime collaborator Burt Bacharach on the piano, and one – "Burnt Sugar is So Bitter" – written with Carole King on one Dublin afternoon, decades ago but only recorded this year.
Costello realised it was time to get back in the studio with the Imposters during the Imperial Bedroom & Other Chambers tour in 2017, after having the original idea for the record more than 20 years ago. "I still had quite a bit to learn about orchestration, back then," he says. "I've found out where to leave the space." He'd seen a documentary about the last few years of David Bowie's life: "Watching these guys explain how they arranged the records… even though I'm a musician, I hadn't analysed them in that way before."
There's a big sense of "old meets new" on Look Now, which is co-produced with Sebastian Krys. People make a fetish out of using the same instruments from famous albums on their own work, Costello sniffs, "as if you could somehow make that record again". He jokes that they had a picture of the Challen upright piano from Abbey Road that Paul McCartney played on "Let It Be" taped to one of their own pianos while they recorded.
"When Steve [Nieve – the Imposters' keyboard and synth player] came to the studio, in addition to all the great pianos that were there, he had this library of samples on the Mellotron (the Sixties keyboard sampler that can be most famously heard on the opening of "Strawberry Fields Forever"), and some of them were from real instruments," he recalls. "I remember the first time he got one of those keyboards, we were like children, standing around it. 'Wow, French horn!' It sounded nothing like a French horn, though."
He thinks technology like this is, in part, why you have fewer bands and more solo artists, or duos, who can get the sounds they want out of a machine rather than enlisting real musicians – Ed Sheeran being one of the most obvious examples, with his trusty loop pedal.
"I've been doing that stuff for years, but I don't get to play Wembley Stadium," Costello says, pretending to sulk. "He's very good, Ed, and he's very sincere," he adds. "And he plays really well, he sings well, and he has good songs and people love him. I hate people saying they can't stand him. It's just jealousy because he's successful."
Enjoy unlimited access to 70 million ad-free songs and podcasts with Amazon Music Sign up now for a 30-day free trial
Sign up
Ringo Starr's photos of The Beatles

Show all 7
He sounds genuinely irritable at the idea people would assume he prefers rock music over pop: "I like real pop music. People ask me about rock bands, but I never liked that music. I watched Kylie Minogue at Hyde Park the other night… what's not to like? Miley Cyrus is fantastic, too. People don't listen to her properly – she can sing most people inside out. It's snobbery, and also arrogance to assume anything in a big successful package somehow lacks authenticity."
There's another chuckle when I compliment him on a rather impressive falsetto that appears on "Suspect My Tears".
"Anybody who saw me in the summer probably wouldn't say that, because I hadn't given myself enough time to get better from this little operation," he says, "which was unfortunately rather dramatised in some of the less… foldable papers, shall we say."
He's referring to an operation he underwent earlier this year on a "small but very aggressive" cancerous tumour, which forced him to cancel some tour dates so he could recover. The type of cancer wasn't specified, but he addressed his male fans in a statement about the surgery: "Gentlemen, do talk to your friends… seek your doctor's advice if you are in doubt or when it is timely… believe me, it is better than playing roulette."
"I didn't want to make a melodrama," Costello says flatly. "I have friends – one died this week – and being the age I am, you know people who have really gone through it. I was lucky. Frankly I wasn't going to say anything at all because it wasn't that big a deal. I got the word, five weeks from then I had to have the operation. It didn't affect one word on any of the songs. Did it sharpen me up singing them? Maybe."
But, in a "rather foolhardy" way, he went straight back to touring. On stage, he never feels tired, but the constant travelling began to catch up with him. He was in the middle of a show in Newcastle when his ability to project his voice "kind of disappeared – it scared the hell out of me!" He decided to rest a little longer.
Some of the songs on Look Now are personal, others are written from the perspective of fictional characters – more than half of them women. Costello tells his listener something "I know to be true – but in the voice of other people... I'm not evading anything by doing that," he says. "It's genuinely what accumulated in the writing."
Opening track "Under Lime" is one such example – it alternates between the perspectives of its male and female characters, including Jimmie, who was last seen "Standing in the Rain", on Costello's 2010 Americana epic National Ransom. As you witness this seedy vaudevillian interact with a production assistant "in the violent strip of an undressing room", it's very difficult not to apply it to the Time's Up and #MeToo era of today.
"I performed that lyric 18 months ago, before any of this was named, but that didn't mean those issues didn't exist," Costello nods. "Those kinds of exchanges have been in my songs all along, not because I'm that person, but…" he pauses. "I wish I could write like Lionel Richie – heartfelt love songs with nothing insincere about them. But that's just not what I do. I find the other angle, or maybe two or three different angles in the same story."
He's delighted to be reminded of one singer-songwriter, Esmé Patterson, who wrote a response to his controversial track "Alison" from the woman's perspective, in 2014: "That's really good!" he says. But he still disagrees with the suggestion that the protagonist is "a bit of a dick".
"I think the song is actually one of accepting responsibility," he says. "People say it's a misogynist song because he's saying 'I'm gonna kill you'." (The song puts it: "I know this world is killing you. Oh Alison, my aim is true.") Isn't that a bit simplistic? "But then that's the danger of the label. It's like calling 'I'll Be Watching You' ["Every Breath You Take"] by The Police a 'stalker song'."
There was almost a point, he reveals – one fleeting moment – where he wondered whether he should not record "Under Lime" at all, for fear people would put a "misogynist" or #MeToo label on this one, as well.
"In the past I've second-guessed myself out of things," he says. "But the song is not judging either person – it actually says there's a moment where they don't know which impulse they'll follow."
On the mournful, brass-filled "I Let the Sun Go Down", again, as a listener hearing about the "man who lost the British Empire", you automatically want to apply it to a Brexit context.
"I was trying to imagine this cog in a big machine – he's taken the whole responsibility for the collapse of this edifice," Costello says. "People are at a loss within an idea, and that's what the song is really about. The guy being so stricken with the idea he has to hold the world up… but it's this ideal, that you'd live and die for."
He wrote it for another project with the intention that it would be able to stand on its own: "I'm pretty tricky that way," he says, smiling. "It was only after I'd written it that it occurred to me that people would hear that, a bit like 'Under Lime'… it's been overtaken by certain events.
Living in Vancouver with his third wife, the jazz musician Diana Krall, and their twin boys Dexter and Frank, he doesn't see so much of the Brexit drama still unfolding in the UK. "We don't see any of it!" he exclaims. "We're talking about whether the pipeline happens or not. Everywhere you go, there's somewhere they don't care what Donald Trump says…"
What he does see, he says, from thousands of miles away, is that the "weird safety valve" of England is "a certain need [for politicians] to debase yourself in front of your countrymen", creating a spectacle almost as a form of distraction.
"One of the ways for success is to prove that you're a good sport, that you don't mind a laugh about yourself," he suggests. "Isn't that what most shows on television are about? It's the same with politicians – that's how they get people to trust them."
He sounds baffled by recent attempts at protest by the far right in Britain: "Did nobody think the Sadiq Khan blimp was… why was he in a bikini?!" he splutters. "The Trump blimp was funny. The Sadiq one was stupid. What was the thinking behind it?" He scoffs again. "Those guys need new scriptwriters."
Look Now, the new album by Elvis Costello and the Imposters, is out now via Concord Records
Support free-thinking journalism and attend Independent events
Join our new commenting forum
Join thought-provoking conversations, follow other Independent readers and see their replies