Why are people so convinced Elvis is still alive? The bizarre world of 'the King's truth seekers'
In the 40 years since he 'died', the King of Rock 'n' Roll has been 'spotted' everywhere from Graceland to Russia.  Why?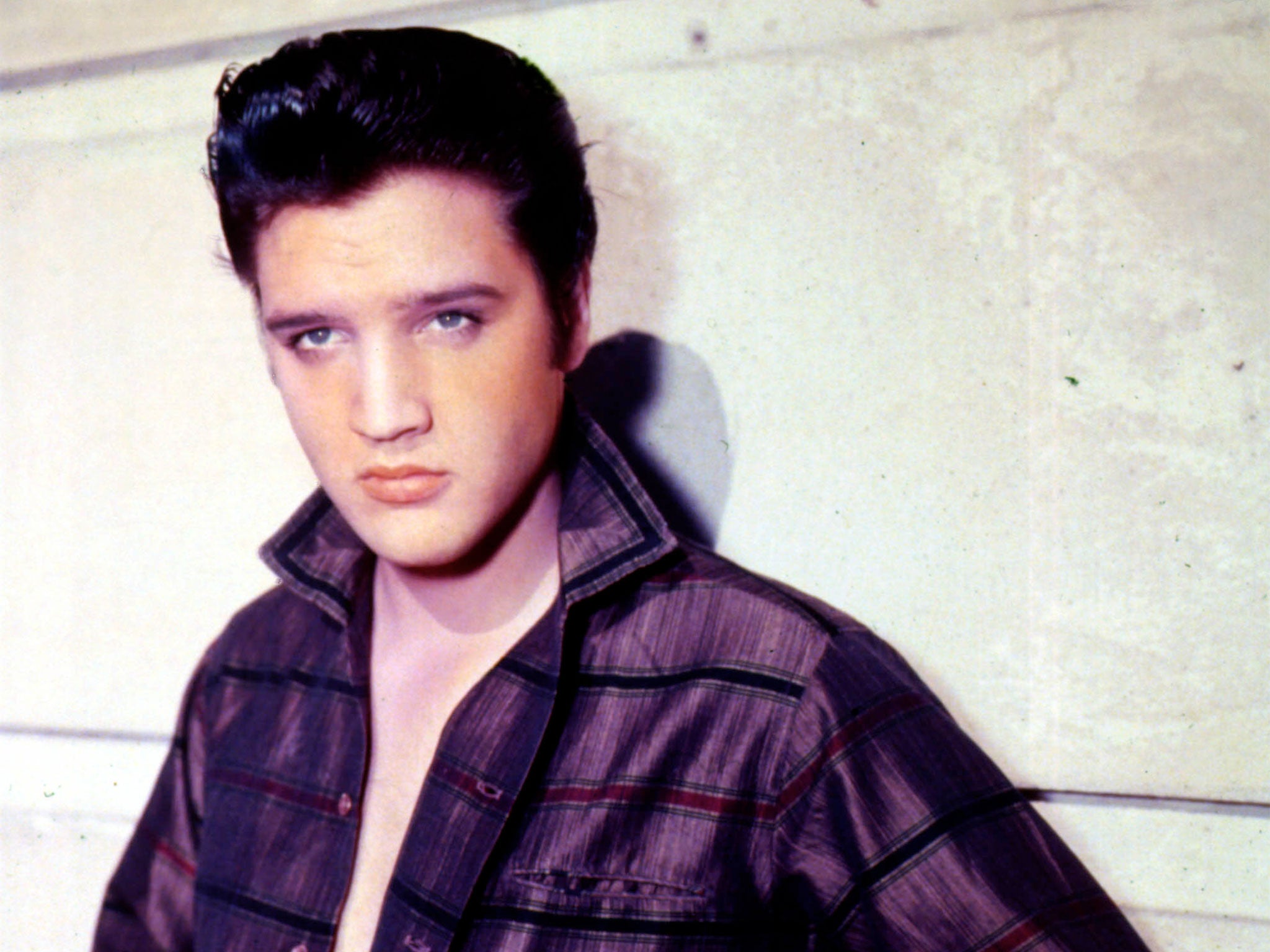 For truth-seeking fans of Elvis Presley, the King of Rock 'n' Roll, there could hardly be more heartwarming news.
"A big WELCOME to all Elvis Presley fans!" read Tuesday's Facebook announcement. "Evidence on this page proves beyond the shadow of a doubt that "Elvis Aron Presley is ALIVE!
"There will be one post per day with exciting information leading to the fact that Elvis faked his death.
"Wishing everyone a nice day!!!
"Please do NOT come on this page and say that Elvis is dead."
Thus does the 'Evidence Elvis Presley is Alive' Facebook page urge us to ignore the mainstream media doom mongers who still insist Elvis died on 16 August 1977, 40 years ago on Wednesday, in the toilet of his mansion Graceland, in Memphis, Tennessee.
40 years on: Remembering Elvis Presley
And it has to be said the evidence gathered on the page is pretty conclusive.
On 8 August, for example, there is "PROOF THAT ELVIS FAKED HIS DEATH!" – a link to a video making some "interesting points".
We hear a doctor telling us "I can't argue with science! Elvis was not in the casket!" – despite some 25,000 people having waited outside Graceland on the day of the funeral to get a glimpse of the King in his open coffin. And despite the National Enquirer reportedly paying one of Presley's cousins $18,000 to get a front page picture of the corpse.
"In order to protect himself and his family from a criminal organisation called The Fraternity," the video commentary explained, "Elvis Presley arranged things to look as if he had died."
The real clincher, though, comes in the blurb introducing the YouTube video: "He is a Reptilian Shapeshifter that didn't change but He also faked his death and fooled a lot of people by doing it…"
Forget such trivial details as the death certificate signed by coroner Dr Jerry Francisco.
In the 40 years since he 'died', Elvis has been enjoying an active life.
He has been spotted working behind the checkout of a California grocery store and as a New York policeman. And appearing as an extra in an airport scene of the 1990 film Home Alone.

Enjoy unlimited access to 70 million ad-free songs and podcasts with Amazon Music
Sign up now for a 30-day free trial
Sign up

Enjoy unlimited access to 70 million ad-free songs and podcasts with Amazon Music
Sign up now for a 30-day free trial
Sign up
People believe Elvis is alive and was an extra in Home Alone
He visited Russia shortly after the Chernobyl disaster of 1986, but was back in the US to be spotted in 1988 in the quiet village of Vicksburg, Michigan, by local woman Louise Welling, who saw him in the number two checkout queue of Felpausch's Supermarket, waiting to pay for an electrical fuse. While wearing a white jumpsuit.
The King also popped into the Burger King at 760 W. Michigan Ave in the nearby city of Kalamazoo. The ensuing global tabloid meltdown prompted one enterprising local dentist to put out an advertising sign: "The King gets regular check-ups here.''
Last year, as a sprightly 81-year-old, Elvis was back at Graceland, working as a groundsman to ensure the estate's 13.8 acres were kept in good order.
Rumours he attended his own 82nd birthday proclamation ceremony at Graceland in January were, however, swiftly debunked.
Footage shared by Elvis truther supposedly shows the singer is still alive
"Notice the pony tail?" wrote one sceptic. "Elvis does not have a pony tail, therefore this must be Jesse." (That would be Jesse Garon Presley, Elvis' twin brother, declared by officialdom to have died at birth, and said by truth seekers to be as alive as Elvis.)
It's pretty clear that some people believe all this stuff.
The 'Evidence Elvis Presley is Alive' page has received 23,792 'likes' since being set up in 2014.
There was also the Elvis Is Alive Museum in Wright City, Missouri, which between 1990 and its closure in 2007 attracted thousands of visitors, according to curator Bill Beeny, a real estate salesman and Baptist minister.
Claiming to have DNA evidence the King was alive, he made no apology for the poor quality of the replica Elvis that he displayed in a coffin: "It doesn't look like Elvis, but neither did the guy in the casket".
What seems harder to explain is exactly why people believe Elvis is still alive and why they keep spotting him.
World news in pictures
Show all 50
One problem, said Dr Michael Wood, a University of Winchester lecturer specialising in the psychology of conspiracy theories, is that Elvis-is-Alive doesn't quite fit the classic parameters of a conspiracy narrative.
"Elvis is an odd one," he said. "Compared to things like 9/11 theories that allege a massive government cover-up, they seem a bit of harmless fun."
You begin to see his point when you consult "the world's only reliable newspaper," the US-based Weekly World News.
In May 2005, in the same week it found a baby performing Shakespeare, revealed that "for years aliens have been posing as cable guys", and mounted a spirited defence of the previous edition's alien abduction story, the tabloid splashed with the unimprovable: "Elvis is Alive – and Running for President!"
After revealing how he had been shipped to Australia in a crate and spent nearly 30 years working with missionaries in the Outback, 'Elvis' hinted that he would pick Jim Morrison of The Doors as his 2008 running mate: "I ain't the only famous singer whose death has been greatly exaggerated."
He also took a swipe at then president George W Bush: "One thing I learned in my singin' career was how to pronounce words right. If we have a nuclear war during my presidency, it'll be nuclear, not nucular."
Alas the 2008 run against Barack Obama never materialised.
Instead the world's only reliable newspaper reported, in 2009, that Elvis had died in a car crash in Las Vegas, citing as 'proof' an autopsy report which supposedly described the deceased as "an obese male in his mid-seventies, dressed in a rhinestone jumpsuit and wearing a bouffant hairpiece."
Outside the world of supermarket tabloids, said Dr Wood, some people might believe Elvis – or Diana, or Tupac Shakur – are alive, not because of any conspiracy theory, but through "motivated cognition": in layman's terms, wishful thinking.
"If you are a fan of a celebrity," said Dr Wood, "And you like and admire them, perhaps you don't want to think they are dead. It might be something as simple as that."
There were other possibilities, though.
"Alternatively," said Dr Wood, "We have this general tendency to match up the sizes of cause and effect, so we think if something has a large effect, it must have a large cause.
"Diana is a great example: a slightly drunk driver and some aggressive paparazzi – this is not the usual way you think a princess would die. It's not satisfying.
"One of the major psychological drivers of these kind of conspiracy theories is we have this mismatch between size of cause and size of effect. We can [make them balance] by hypothesising a bigger cause or denying the effect."
Which may – at least partly – explain why Dr Wood's research has shown that the same people who are prepared to think it is pretty likely Diana faked her own death are also more predisposed to look favourably on the completely contradictory theory that she was murdered by the Royal Family.
"They are not saying 'I am totally sure she faked her own death and I am totally sure she was killed by the Royal Family'," explained Dr Wood. "They don't normally decide on one particular conspiracy theory. They just disbelieve whatever the mainstream explanation is."
None of which, of course, does anything to disprove the theory that Elvis is alive.
Elvis, if you're out there, and have access to the internet, the comments section on this story is open.
Join our commenting forum
Join thought-provoking conversations, follow other Independent readers and see their replies