Foo Fighters' Dave Grohl on touring the USA on a rock 'n' roll pilgrimage in new TV show
In the eight-part BBC4 series Grohl travels to the US towns and cities where modern music was born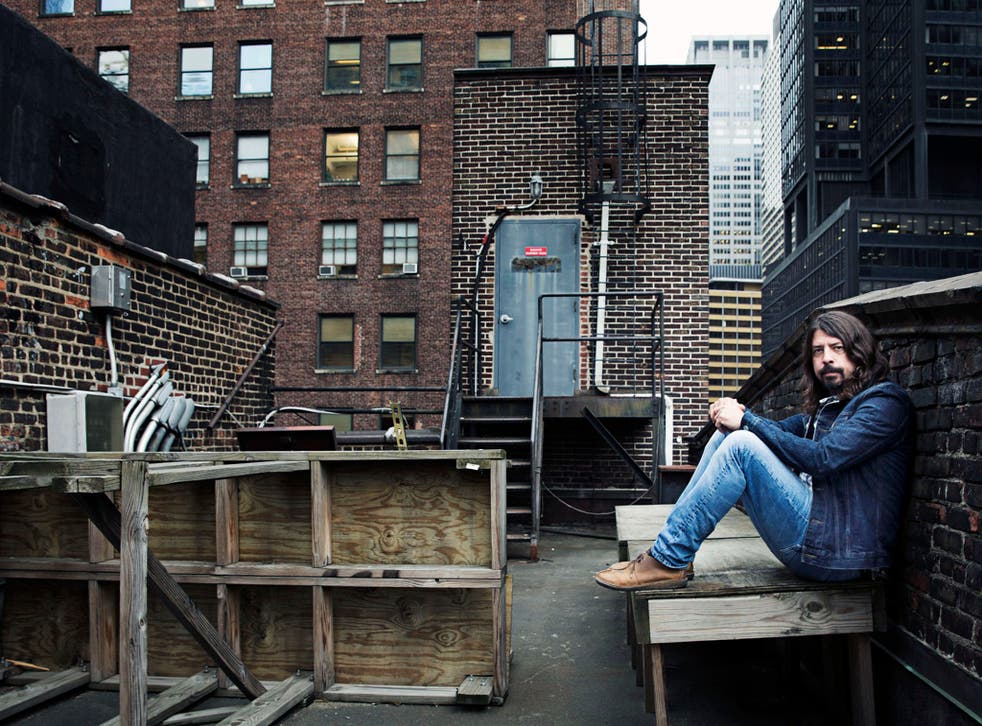 Dave Grohl was once a high-school drop-out in Springfield, Virginia, who scraped a living by working in a furniture warehouse.
A humble guy who thought, in his words, that, "a trip to Burger King was the biggest thing in the world. Heaven." Now, after more than two decades as a key player in two of the most influential bands of his generation – Nirvana and Foo Fighters – he is among the world's most successful musicians. The Foo Fighters have picked up 11 Grammy Awards, including four for Best Rock Album, more than any other band. Now, Grohl has made his first TV series, Foo Fighters: Sonic Highways.
"I didn't think this shit was going to happen!" says the 45-year old, his beard and hair appealingly unkempt today. "But at the beginning of every day, I still wake up, and I can't wait to play. And it doesn't matter for what or whom. I mean, last night I played in a cover band at a dive bar down the street from my house just because I didn't want to go to bed at 10 o'clock."
The same passion courses through Sonic Highways. In the eight-part series, which starts on BBC4 tomorrow night at 9pm, Grohl travels to recording studios in Chicago, Austin, Nashville, Los Angeles, Seattle, New Orleans, Washington DC and New York. In the company of his band-mates Taylor Hawkins, Nate Mendel, Chris Shiflett and Pat Smear, he explores the musical heritage of each city and interviews the most significant musicians to have emerged from that location. Artists such as Pharrell Williams, Dolly Parton, LL Cool J, Slash, Joan Jett, Buddy Guy, Bonnie Raitt, Chuck D, Gibby Haynes, Allen Toussaint and Gary Clark Jr discuss the impact of their local area on their music.
At the end of each episode, Grohl sits down with a bottle of wine and writes the lyrics for a song for the new Foo Fighters album, also called Sonic Highways, which draws on the city's cultural fabric. It is, says Grohl, "A love letter to the history of American music."
Grohl directs the HBO show, having received a Grammy Award for Sound City, the one-off 2013 documentary he directed about the history of Sound City Studios in Los Angeles, where Nirvana recorded Nevermind in 1991. "With a series like this, it's all about reinventing the process. We could just go and make another record in a studio and hit the road and sell a bunch of T-shirts and turn on KROQ and hear another Foo Fighters song. But where's the fun in that?
"We've been a band for 20 years now. Let's go to tiny studios all over the country, tell the story of music from that city – what is it about each one of these cities that influences the music that comes from there? Because there are real reasons, cultural influences from each one of these places. There's a reason why jazz came from New Orleans. There's a reason why country went to Nashville and why the blues went to Chicago."
Grohl, whose greatest influence is the Led Zeppelin drummer John Bonham (he even has Bonham's trademark three-circle logo tattooed on his wrist), thinks there is much to learn from these interviewees.
"The idea is that you tell the stories of these unsung studios and these unsung musicians, and that's when people start feeling inspired. That's when you get a kid in his basement watching the guitar player of [Chicago punk band] Naked Raygun say, 'You shouldn't feel intimidated by your heroes. You should be inspired by them.' The idea is to inspire the next generation of musicians to fall in love with music, just as we did, to continue the lineage of American music."
Enjoy unlimited access to 70 million ad-free songs and podcasts with Amazon Music Sign up now for a 30-day free trial
Sign up
Grohl hails from Warren, Ohio, where the townsfolk have erected a gigantic 902lb model of a pair of drumsticks and named a local street "David Grohl Alley" in his honour. He now lives with his wife, Jordyn Blum, and their three young daughters, Violet, Harper and Ophelia, in Encino, California.
"To me, these recording studios are hallowed ground," he continues. "They're churches. They're monuments. Some people just think they're rooms with tubes and wires, but history has been made in these shitholes all over the country. I was like, 'We've got to tell this story because it will humanise the whole process and make it something that people can really connect to.'"
The most famous interviewee in Sonic Highways is President Obama, a well-known music lover. Grohl, a long-term friend and supporter of Obama's, says he was eager to ask the President about the US as a land of opportunity, even for those who start with nothing. "You could be like Buddy Guy, make your guitar from strings and wires on your porch and then become a blues legend that's inducted into the Kennedy Center Honors, or be a high-school drop-out from Springfield, Virginia, that winds up in the Rock and Roll Hall of Fame, or be a kid from Hawaii that winds up being the President."
Along the way, Sonic Highways "became a story about America," he says. "All of these people are really brave, driven, focused, passionate Americans. Most of them started with nothing, zilch, no training, just a dream. So I thought, 'Well, God, who better to talk about that with than my friend, President Obama?'"
It is evident that Grohl had a ball making his foray into television. But he remains unconvinced by one genre. "TV talent shows make everyone sound like Christina Aguilera," he says.
Even when he was making ends meet at the furniture warehouse, he says, "I still played music on the weekend because I loved it. And people would come to the gig and be like, 'Wow, you're a killer drummer.' I'm like, 'Yeah, I'm a successful musician.' I don't want my kid to think the only way you can be a musician is if you stand in line at a song-contest audition and then wind up having a bazillionaire tell you you're not a good singer. Don't get me started...
"To me, that's not what music's about. When I listen to my kid practice the violin or the flute, it sounds like someone is strangling a cat. But she looks at me like, 'Check this shit out. Did you see what I just did?' She feels great. I would rather a kid pick up a guitar and learn three chords and become The Ramones, because they changed the world. So I think it's important for people to realise that the simple pleasure of playing music is the most important thing. It's easy for me to say. I'm sitting at the Beverly Hilton."
He has come a long way in the past quarter of a century. "When Nirvana first got popular, my father, who was a classically trained musician and a writer, called me and said, 'Hey, you know this isn't going to last, right?' And I said, 'Of course. Why would it? There's no way this could ever last.' He's like, 'Treat every cheque that you get like it's the last one you'll ever get.' It scared the hell out of me. That was 24 years ago.
"So, for the last 24 years, I've always waited for this to end so that I can get on with real life, you know. And eventually I just sort of realised, 'Wow, well, I guess this is my real life.'"
'Foo Fighters: Sonic Highways' starts tomorrow at 9pm on BBC4
Join our new commenting forum
Join thought-provoking conversations, follow other Independent readers and see their replies