Glastonbury 2014: Shangri-La is part art installation, part rave, and totally hedonistic
Lady Gaga has played there, and Mick Jagger has partied there. Its creator Debs Armstrong tells Gillian Orr how the neon-lit pleasuredomes come into being - and what she hates about the festival-goers who come to get high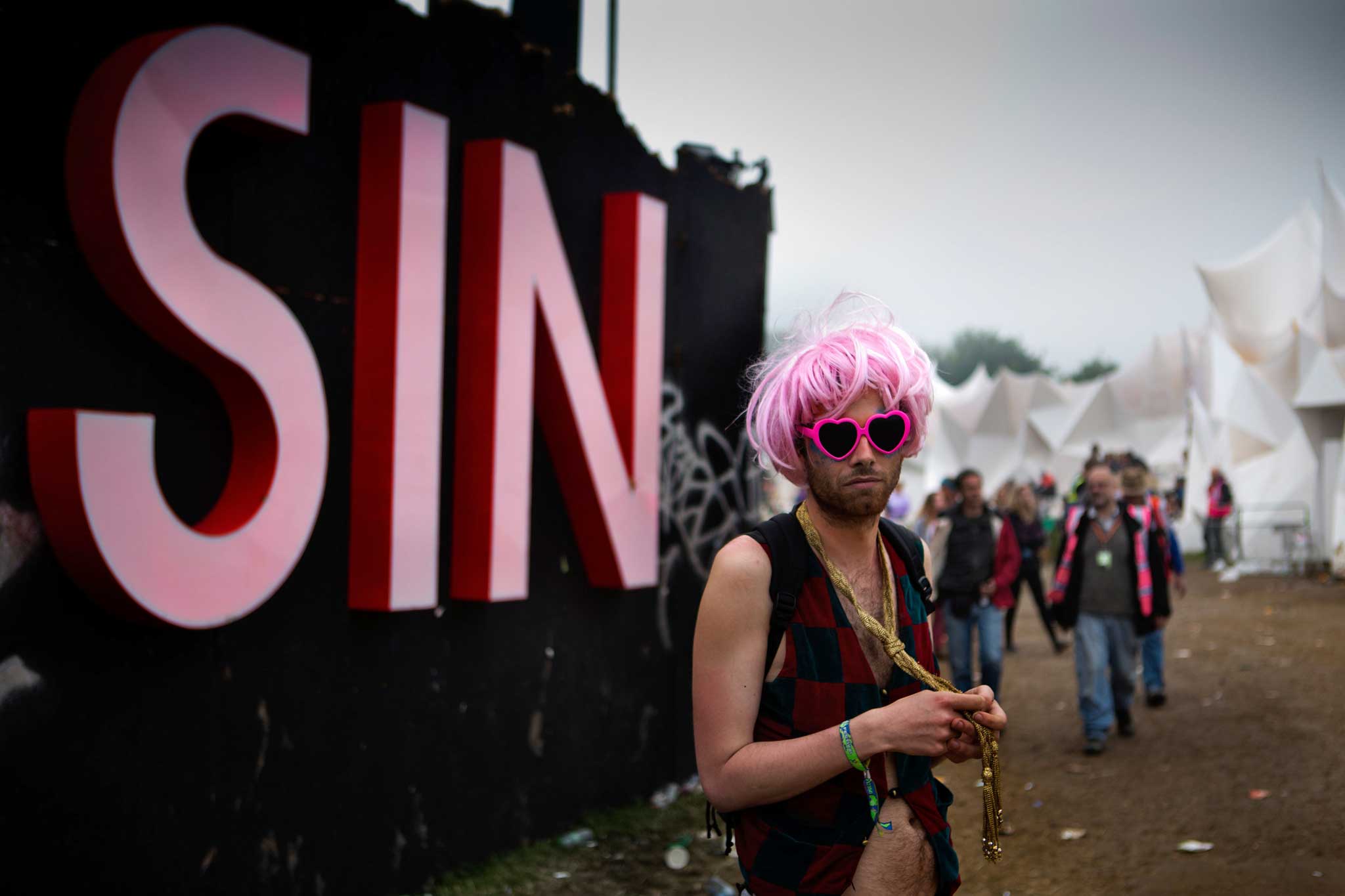 In a converted warehouse filled with reclaimed furniture and messily arranged pieces of modern art in Hackney Wick, east London, I am being told a story about a corrupt mayor who was overthrown by his citizens only to have the city taken over by rebels and chancers. The metropolis lay in ruins, unable to be saved, so the inhabitants decided to go off and colonise a new, better world. After having a party to celebrate leaving, they were betrayed. In the end, they were all killed by aliens.
This isn't the storyline for a new Tom Cruise film, or the latest Xbox game. Between 2009 and 2012 this was the narrative behind Shangri-La, the 40-acre area that takes up the south-east corner of Glastonbury Festival, and is the destination for serious partygoers once the final bow has been taken on the Pyramid Stage.
Here, a whole new level of hedonism plays out in the surreal, neon-illuminated maze of packed bars and stages, awash with performers and curiosities. Myriad walkways will lead you to a secret gig, a teleportation device, or just another topless gurner. It will make you feel like you're on magic mushrooms, whether or not you've taken any (and plenty will have done). You can resist, or you can fall down the rabbit hole.
If you've been one of the approximately 40,000 people that Shangri-La welcomes each day at Glastonbury then it might come as a surprise that such an elaborate narrative exists. For many, it is simply a place to lose your mind (and, inevitably, your friends). If Glastonbury is a city dedicated to pleasure-seeking, then Shangri-La is its pulsating heart.
Part art project, part rave, Shangri-La is the vision of Deborah "Debs" Armstrong, a 39-year-old artist, whose studio I have come to visit. After graduating with a fine art degree from Central Saint Martins in 1997, where she specialised in multimedia, multi-roomed installations, Armstrong (who was born and raised in Camden, north London) started to put on elaborate squat parties around the capital. It was at one of these events that she met Roy Gurvitz, the founder of Lost Vagueness, the similarly trippy destination that occupied the fields prior to Shangri-La; Armstrong went to work with him.
Lost Vagueness began in 1986, first as a tent, then in a whole field. The vaudeville attraction was famous for its casinos, stripteases and ball gowns, and was embraced by the masses as a festival within a festival. Then, in 2007, Gurvitz fell out with Glastonbury founder Michael Eavis, and Lost Vagueness was no more.
But Eavis wanted to develop a similar attraction and Shangri-La was born. Armstrong, who had severed her ties with the area a couple of years before, was enticed back in with the offer of an opportunity to create something completely different. This will be her sixth year as creative director of Shangri-La (Glastonbury had a fallow year in 2012), a job that seems to both overjoy and infuriate her. She oversees a small team that starts with just her and the creative director Kaye Dunnings around August, and grows to five or six as June creeps up. On site, 1,500 will be working at Shangri-La. It takes 10 months to plan, a month to build, and three weeks to take down. All for four days of fun.
Battling a cold with less than a month to go before the festival ("No time to get ill!"), she bursts into laughter when she tells me how much of a disaster her first year was.
"It was 2008 and we really wanted to shake things up," she recalls. "A lot of people had felt really restricted by Roy because he never wanted to change things. It was all burlesque, top hats and casinos. Urgh! If I ever see another feather boa I will die. So it was all about testing new ideas but we didn't have a theme or anything. And then, actually, it was quite shit. In fact, Eavis called me up and said that it was quite shit."

Enjoy unlimited access to 70 million ad-free songs and podcasts with Amazon Music
Sign up now for a 30-day free trial
Sign up

Enjoy unlimited access to 70 million ad-free songs and podcasts with Amazon Music
Sign up now for a 30-day free trial
Sign up
The following year Armstrong and her crew decided Shangri-La needed to be art directed and looked for a theme that "everyone could buy into and be inspired by". They started looking at Blade Runner, because they "wanted something that looks good at night and when it's raining". From there the aforementioned narrative of a dystopian pleasure city grew.
The storylines play out over a four-year cycle. This year will explore the way in which we create heavens and hells for ourselves. Shangri-Hell is an evil corporation which has bulldozed old shanty towns to build its HQ. Shangri-Heaven, meanwhile, offers a place to escape the corporate horror. DJs will entertain at the Heavenly Arena, bands play at the Hell Stage, and a Heavenly Dome will provide spiritual awakening.
"It's complicated," she says, taking out her laptop to show me a hi-tech interactive map of the site. "It's got so many levels to it. It's like explaining quite a complicated novel and jumping from one chapter to another."
For Armstrong, Shangri-La is first and foremost an art project. As well as the bars and clubs, there is specially commissioned artwork from Ron English and Dan Hillier. Mark Constantine and Simon Emmerson have recorded the birdsong at dawn onsite, which will be played out between 6am and 10am in the Heavenly Arena. There will be a series of "Utopian Talks" in which people give speeches on improving the planet.
"From the festival's point of view, it's about keeping it fresh. And from my point of view, I'm an artist and I'm contacting – well, sort of trapping – ravers into the art world," she says, emitting a comedy evil laugh. "And for others it's just about giving people a really good time."
It's not all visual appreciation and spiritual enlightenment. Skream, 2 Bears, Tom Middleton and dozens of other DJs will draw in the crowds, too. But for Armstrong, her background as an installation artist is key.
"It's about creating worlds," she insists. "Worlds that people go into and experience things they would never experience anywhere else and we use it to communicate about things that are important to us. It's a massive platform. The way I look at events is as a massive installation which people move through and around."
It certainly sounds as if a lot of thought goes into it. Having been before, I confess that I failed to see such a narrative emerging. I thought it was just a sea of people having a rave up. Does she ever feel that people don't care about her creations, and are just there for a good time?
"What the gluttonous, hedonistic, drug- taking motherfuckers?" she smiles. "Yeah, a lot." There appears to be a gap between the intention behind Shangri-La and the spangled partygoers who flock there, and Armstrong has harsh words for "the munting masses" (people off their head, basically).
"There are all kinds of levels, though, from the most basic, which is accommodating those type of people," she stops to do an impression of someone high who has been reduced to a four-year-old. "'Pretty!' 'Comfy!' 'Booooooze'. 'Music! Don't care what!' I actually kind of hate all of that, but then there's the work of the artists and that can go to a really deep level. But, yeah, it can be frustrating when people do things like draw cocks with mud on some beautiful minimalist white piece of work. WHY DO THEY DRAW COCKS ON IT?"
It's all worth it, however, for the people who really get what Shangri-La is all about. Visitors regularly write to Armstrong to say that going to Shangri-La changed their life, or that it awoke something in them. Some quit their jobs. Others ask to work for her.
These days, Armstrong hides out when Shangri-La is in full swing. She sits in one of the quieter bars and catches up with friends. She would never go to Glastonbury if she wasn't working, she says. "I've no interest in going to Metallica," she says of the band headlining the Pyramid Stage on Saturday. "Can't think of anything worse."
Because of her reluctance to get into the thick of it, she points out that she's not the best person to ask about all the shenanigans that punters get up to at Shangri-La, although a quick ask-around in the office for the strangest thing they've witnessed throws up brain scans, ketamine simulators, fake enemas, people drinking urine and a whole lot of nakedness. No wonder Prince Harry was spotted propping up the bars there last year.
And he's far from the only famous guest to be attracted there; just about every headliner will make their way down there for the it's-got-to-be-seen-to-be-believedness of it all. Last year, k Mick Jagger onstage told the crowds that he had partied there the previous night. Similarly, Shangri-La attracts plenty of big names to do secret gigs there. In 2013 Thom Yorke and Nigel Godrich spun Prince and NWA for the crowd at the Heaven Arena, and previously Lady Gaga and Scissor Sisters have played unannounced.
But Armstrong is unsure how long she will do it for. She has another business which provides similarly "experiential" events, and her clients include Channel 4 and EMI. Shangri-La, she sighs, is a lot of work. And the money is rubbish. Everyone works for less than they would for other gigs. Yet people still flock to be involved. "This is a fantastic, creative playground where we get to explore loads of new ideas that you don't get to do if you have a normal client brief. But nobody gets paid properly; everyone's on pretty much a quarter or a third of what they would charge anywhere else. But it works because it's Glastonbury and everyone wants to be a part of it."
So what does Armstrong hope that punters will take away from their time in the madness?
"That they think something new, meet someone new, change something. It could be anything. Any degree of change that people have because they've experienced being in our field I think is good," she stops and smirks. "As long as they haven't become addicted to crack."
Out there: The crazy side of Glastonbury
By Holly Williams
Sun Ra Arkestra
West Holts stage, Friday afternoon
'Cosmic philosopher' and space-jazz pioneer Sun Ra may no longer be with us, but his brilliantly bonkers band plays on. Showered in shimmering sequins and parping some mighty brass, pray for the sun to shine when they play on the Friday afternoon… Let's get mythical
Yoko Ono Plastic Ono Band
Park Stage, Sunday evening
Previous gigs with Yoko Ono's Plastic Band have featured the likes of Lady Gaga, Tune-Yards, Thurston Moore, Iggy Pop, Scissor Sisters and Paul Simon – so who knows who'll show up? (Also: do make sure you pay a visit to Yoko's on-site 'wish tree'…)
Fat White Family
John Peel Stage, Saturday afternoon; Rabbit Hole, Sunday night
This rambling, rude, and usually wrecked rock'n'roll six-piece have achieved notoriety thanks to their banners celebrating the demise of Margaret Thatcher and writing songs called 'Bomb Disneyland' and 'Is it Raining in Your Mouth?'. Bad behaviour guaranteed , then. Hurrah!
Dinos Chapman
Glade, Saturday evening
The artist – one of the controversy courting Chapman brothers – performs his audio-visual show at the Glade stage; expect disturbing imagery and nervy techno, lifted from his album Luftbobler (that's Norwegian for 'air bubbles in chocolate', FYI)
Bez's Acid House
The Unfairground, all night every night
The Unfairground – an equally out-there neighbour to Shangri-La – is the natural place for the swivel-eyed, maraca-shaking hot-mess that is Bez to have his own tent dedicated to old school raving
Join our commenting forum
Join thought-provoking conversations, follow other Independent readers and see their replies