Alien, introvert, supervillain: Where should we stand on Grimes?
A former indie hero whose fanbase has been disenchanted by her romance with Elon Musk, the Canadian goth-geek musician has been shape-shifting for a decade, writes Helen Brown
Monday 24 February 2020 19:02 GMT
Comments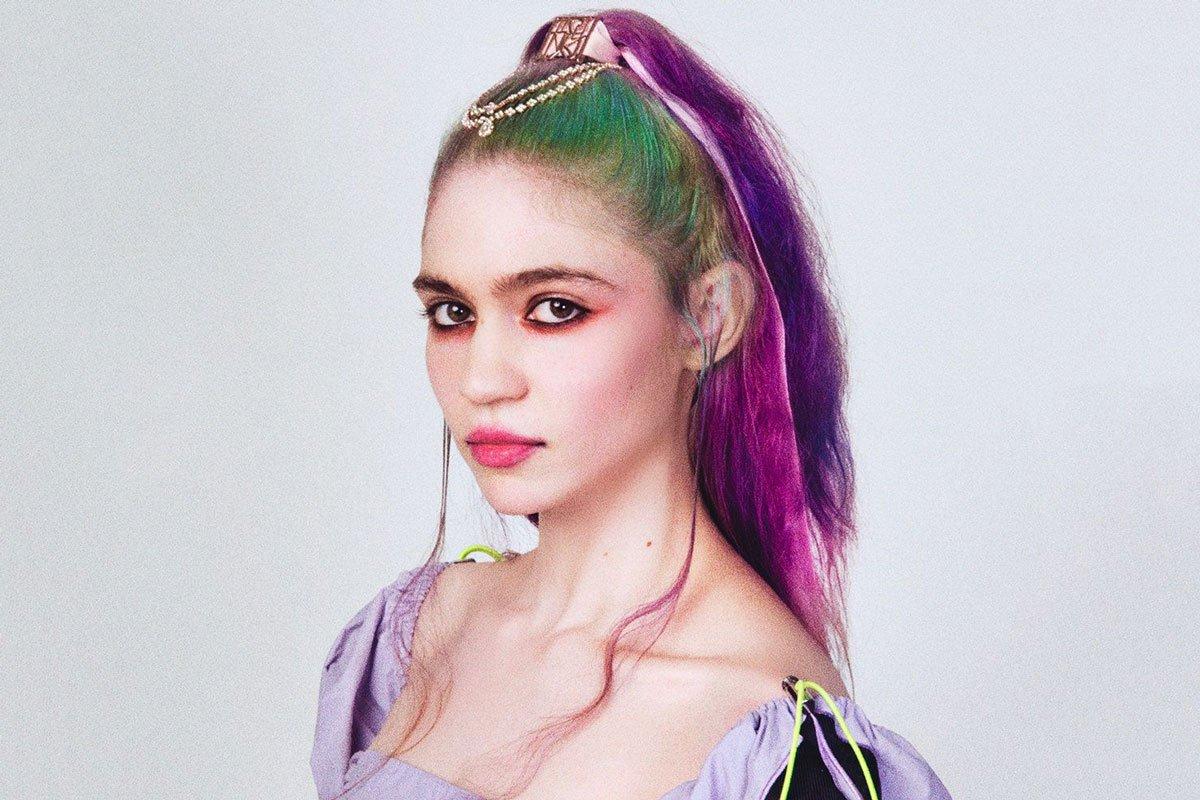 Naked all the time and made out of ivory and oil" is the way Grimes describes the character she has assumed on her fifth album, Miss Anthropocene. Online, the 31-year-old techno-punk-pop artist declared this hedonistic Goddess of Climate Change was here to party through the man-made apocalypse. "How smart you are, to eradicate a species as resilient as your own," she wrote. "Why deny your power? It's the greatest show in the universe. Celebrate with me."
Assuming the form of a supervillain was a smart move for a former indie hero whose fanbase has been disenchanted by her romance with the Lex Luthor of tech billionaires, Tesla CEO Elon Musk. A decade on from her dreamy debut release, Geidi Primes, she has acknowledged that "love is the thing that's f***ing up my career". But defiantly owning her inner Shiva gives that school of critics nowhere to go.
Hailed as a five-star "triumph" by this publication, Miss Anthropocene is a darkly trippy, densely textured record. The sweet, spectral nebulae of Grimes' vocals shimmer like space candyfloss over the driving engines of 808s and liquid metal synths. Strange sputniks of 1990s space junk float in the mix – echoes of Leftfield, Transglobal Underground and even an Oasis strum have travelled through a wormhole, from a time when the apocalypse felt preventable if we all just swapped the sprays for roll-on deodorant.
Although other critics have gushed over Grimes' "experimental" sounds, I've never found her as adventurous as an artist like Björk. But her USP lies in her ability to collide the particles of a pick'n'mix of genres and make fresh/familiar flavours. She has a generous energy, which means I've got heaps of work done with less effort while playing her music. People are sniffy about the concept of "background music", but Grimes makes the sort that pushes brains into bold new places. Perhaps because she writes, plays and produces her music alone, nobody is there to answer her questions. Which means she's always asking her audience: "What's next? What's possible? Whaddya think?" That makes engaging with it enormous, enabling fun.
When I think of Grimes, I always remember the 10 years she spent on ballet, reaching a pre-professional stage before shaving her head and realising she didn't fit in. On the surface of her sound, there's so much grace and conventionally pretty storytelling. But beneath the surface, there's steely discipline, technique and warped, calloused, bloody toes.
The 50 best albums of 2019
Show all 50
Beneath the pop star persona of Grimes is the "super-introverted" Claire Elise Boucher, born in Vancouver, Canada, in 1988. Her mother is a former crown prosecutor and arts advocate and her father, a former banker, works "in the business side of biotech". As the only girl of five siblings, she was never pushed towards traditionally "feminine" pursuits. She was acutely aware of being part of the first generation raised on the internet, with free access to any music she liked. In her case, that was Mariah Carey (who "shattered the fabric of my existence") and the soundtrack to Disney's Pocahontas.
The goth-geek in Grimes was drawn to the Japanese cartoons whose bug-eyed, hypersexualised influence is apparent in all her ringbinder-doodled artwork. She was bullied at Catholic school, where she went through "a Wiccan phase" in seventh grade. According to an interview with The Fader in 2015, she only stepped away from witchcraft after casting a spell during which "the rosary crumbled in my hands, and it was really scary".
In 2006, Grimes went to Montreal's McGill University to read for a double major in neuroscience and Russian language – focusing on the ways the brain processes noise. But there was a lot of drug-taking and, at some point, a "breakdown" of sorts. She ended up on a houseboat on the Mississippi with a few chickens and a lot of potatoes. A friend with whom she had planned to collaborate took their own life in 2008 and that gave her the push to make something creative of her life. Grimes would be the pop-star avatar and Boucher the technician and puppeteer behind the scenes. She wanted to prove that "women could do technical work". Her real ambition was to become a Phil Spector and remain in control, in the shadows.
Her 2010 debut, Geidi Primes, had a very nerdy premise: it was a concept album based on Frank Herbert's sci-fi novels in the Dune series (think deserts, giant sandworms and drugs). But the music press was seduced. The following year, she dropped Halfaxa, designed to "evoke the feeling of believing in God in a very Medieval Christian way".

Enjoy unlimited access to 70 million ad-free songs and podcasts with Amazon Music
Sign up now for a 30-day free trial
Sign up

Enjoy unlimited access to 70 million ad-free songs and podcasts with Amazon Music
Sign up now for a 30-day free trial
Sign up
Her major breakthrough came with 2012's Visions. The album was recorded at a "psychotic pace" using only Apple's GarageBand app, and Boucher claimed she didn't sleep or eat for nine days while using amphetamines to meet the deadline. She was creatively working through an attack of the kind that became more common as her fame gradually increased. To write "Oblivion", which appeared on multiple Best Songs of the Decade lists, the woman who now assumes the guise of Climate Change went "into this masculine world that is associated with sexual assault, but presented as something really welcoming and nice. I had a really hard time engaging in any types of relationship with men, because I was just so terrified of men for a while."
Visions took Grimes into the mainstream. If Boucher was going to separate from her Grimes alter ego, then this would have been the time to cut the cord. Part of her wanted to run for the hills (and she did at times). Another part loved the protective armour and the offers to flounce down red carpets in exquisitely crafted high-fashion gowns and jewels. She was genuinely curious about what would happen to the pop star part of herself. She felt she had a sane grasp on what part of her did what, and understandably wanted to take the credit for both the front of house and backstage achievements. Why shouldn't she? The shy person was proud of the public fame she had survived.
Commentators noted the conflict between the (often hastily) tweeted opinions and the career game plan. One interviewer described it as a "scuffle between creative abandon and calculated moves: what happens when a highly inventive mind attempts to construct a consumer product". She was frank with journalists about her interest in brand awareness.
But the aggression was ongoing. "One time," she told The Fader, "I was backstage at a show, and there was this random guy in my dressing room, and he just grabbed me and started making out with me, and I was like, 'Ah!' and pushed him off. Then he went, 'Ha! I kiss-raped you,' and left. S*** like that happens quasi-frequently."
In late 2013, Grimes signed with Jay-Z's Roc Nation management. It struck me as odd, later, how happy she was to have the rapper's support for her decision not to shave her armpits – that any woman would need a man's permission to get her label to OK that seems unfair. But maybe that shows the pressures of fame at the level she was starting to achieve. Still, Grimes was squaring up to sexism behind the scenes, dealing with engineers who wouldn't let a woman touch her own technical equipment.
It's a shame that she now refers to 2015's fearless and fascinatingly poppy Art Angels as "a stain on my life". It was a fun and inclusive feminist delight, featuring Janelle Monae on "Venus Fly" ("Feel my beat like a sniper girl … Yeah Grimes got my back") and nodding to Taylor Swift, Madonna, Nicki Minaj, Prodigy, Aphex Twin and Kate Bush. But Boucher clearly feels she got too pop with it.
Then, there was Musk. After discovering on Twitter that they had both made the same pun – it combined Rococo (the style of architecture) with Roko's basilisk (a dark online thought experiment) – the pair began dating in 2018. It didn't go down well. Grimes claimed to be anti-imperialist. Musk prevented his employees from unionising. She claimed that wasn't true. She was wrong.
Since the start of 2017, the CEO of Tesla and mission to Mars-y SpaceX has personally contributed $88,900 to Republicans, while giving those on the other side of the aisle $13,300. A shocker for a man who was meant to be fighting the climate crisis with his electric cars and solar panels. In 2018, he tweeted his intention to take Tesla private. Soon after that, Azealia Banks claimed, on Twitter, to have been waiting for days at Musk's house for a promised collaboration. "I waited around all weekend while grimes coddled her boyfriend for being too stupid to know not to go on twitter on acid," Banks wrote. America's Securities and Exchange Commission investigated and fined Musk $20m. Grimes and Musk unfollowed each other on Twitter.
But last month, Grimes announced she was pregnant. We all assume Musk – the man who also called the British diver involved in the rescue of 12 Thai boys from a cave in 2018 a "pedo guy" – is the father. Maybe his tech will deliver the "utopia" Grimes spoke of in her interview with Beats 1 presenter Zane Lowe a few weeks ago.
Speaking at her typical, scattered warp speed, Grimes told the DJ that the three years she spent working on Miss Anthropocene had been a "negative, aggressive, isolating experience" and that her relationship with nature had never been good. Like a lot of studio-rats, she's more a "digital and cement person". But this was her best work to date.
She said that humanity should spend less time focusing on ideas of our destruction and more time on what happens if we solve our problems and "move on" to a brighter, more tech-oriented future. Even if I felt the opposite way with babies inside of me, I like the way she bucks a tradition which sees pregnant women align themselves with nature. I like the honest way she's admitted to being blindsided by the side effects of pregnancy and her hilarious Vogue makeover video encouraging women to doodle all over their foreheads.
I've seen better alien faces applied at school fetes, but I like that Grimes is still out there, in both senses. Flying the flag for female techno-savvy and musical beauty. Dating whomever she loves. Covering her baby bump in whacky intergalactic paint. Dreaming of electric minds and defunct bodies. Revelling in her phase of Grimes against humanity.
Join our commenting forum
Join thought-provoking conversations, follow other Independent readers and see their replies