How the guitar died again, and again... but not really
Too many people associate the guitar with white indie rockers then blame the 'death of rock' for the instrument's demise. But the six-string is being used best elsewhere, says Roisin O'Connor, and the Mercury shortlist proves it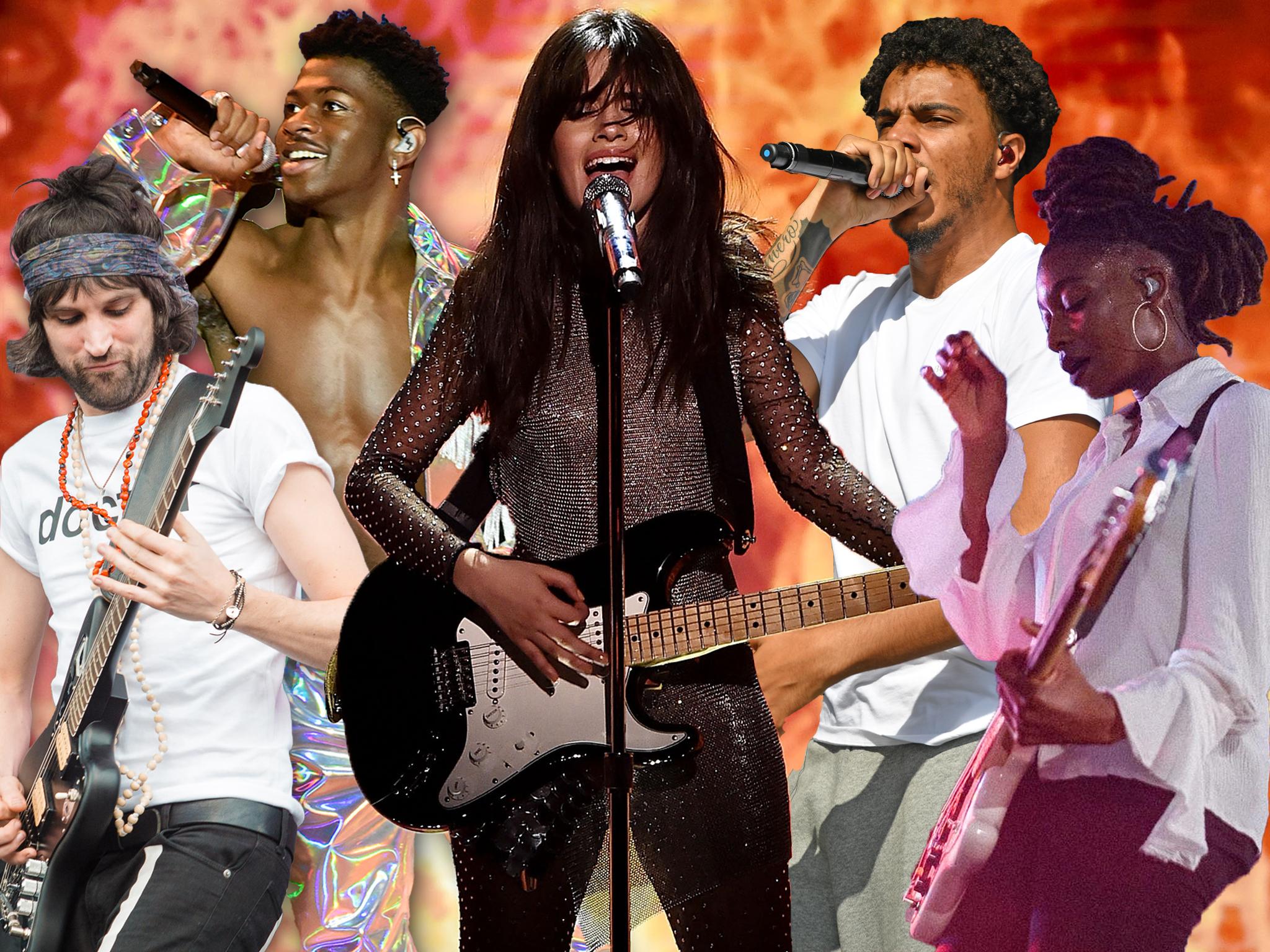 Just two years ago, a now-infamous article in The Washington Post declared the "slow, secret death of the electric guitar". It cited a decline in sales of the instrument, from 1.5 million a year in 2007 to slightly more than a million a decade later. The report then became the subject of a question put to Eric Clapton, one of the world's most famous players, who said (almost certainly joking), "maybe the guitar is over".
Yet one need only glance at this year's Mercury Prize shortlist. From Little Simz's GREY Area to the wide-ranging cluster of bands including Foals, Black Midi, Fontaines DC and Idles, the majority of shortlisted albums are all notable for their experimental and technically brilliant use of the instrument. So what exactly is going on?
In the late Nineties and early Noughties, you couldn't move for "guitar bands", many of whom were lumped into the era that is now referred to as "landfill indie". Razorlight, The Kooks, The View, The Pigeon Detectives, The Wombats, The Fratellis, The Libertines… and our token American friends, Kings of Leon. Mediocrity in British music had become synonymous with the image of the guitar-wielding white indie kid. Guitars were suddenly, impossibly, uncool.
Part of the problem seemed to lie in how the guitar had become so closely associated with one genre. Case in point, when Kasabian claimed they were going to "save guitar music from the abyss" during a promo for their latest album, NME responded by listing "10 new guitar acts to be excited about right now" – all of which were white, indie-rock bands who weren't doing anything particularly revolutionary with the instrument.
The 35 best debut albums of all time
Show all 35
Many an older musician has complained that younger generations place less value on the skill of playing, and have attempted to explain why via cliches about young people. "It's strange to be a performer, a musician, an accomplished player, in this world now where it's not valued," The Raconteurs' guitarist Brendan Benson recently told The Independent.
"I can play an instrument, so what? No one f**king cares. My son wouldn't say, 'So what?' but he doesn't necessarily know that that's really f**king cool. It is really cool." He later claimed that men were perhaps more drawn to the guitar, while his bandmate Jack White suggested it was something to do with it being a "phallic symbol". No mention of the fact that women had been excluded from rock music for decades, though.
Bands such as Hot Chip have also bemoaned the lack of originality in current pop music, with frontman Alexis Taylor telling The Independent: "It felt like in the last few years, everyone all of a sudden began to have this processed vocal part that happens after the chorus which is almost gobbledygook. There's a melody and it's really hooky but it's autotuned and... You might get it in that song by Rita Ora. The chorus sounds like a little baby."
It's unclear what music Benson and Taylor have been listening to, but they can rest assured that plenty of young musicians are picking up instruments. Camila Cabello, who draws on her Cuban heritage in much of her music, is upending pop trends with her latest chart hit, "Senorita", a collaboration with Shawn Mendes that opens on a guitar loop. Cabello is a rarity in pop right now, as noted by a recent Fader article that complained of how producers have "apparently confused Gen Z's love of hip hop and harsh electronics with a love of stone-faced seriousness, resulting in a market filled with songs that are sad, anonymous, and, worst of all, boring". Not so with Cabello, whose well-received debut album was built upon piano and acoustic guitar instrumentation.
In UK rap, hip hop and grime, artists are also finding ways to push past any restrictions of genre by incorporating the guitar into their music. AJ Tracey (currently in the top 10 with "Ladbroke Grove") raps over a mournful guitar on "Country Star" on his self-titled 2019 debut, while Yxng Bane's mixtape HBK includes a number of samples and "Lesley", one of the most affecting tracks on Dave's debut album Psychodrama (that also marks him out as a talented pianist), is rapped over a tender acoustic loop. Then you have Little Simz, whose superb record GREY Area is loaded with guitars, from scuzzy, distorted punk riffs to infectious bass hooks.

Enjoy unlimited access to 70 million ad-free songs and podcasts with Amazon Music
Sign up now for a 30-day free trial
Sign up

Enjoy unlimited access to 70 million ad-free songs and podcasts with Amazon Music
Sign up now for a 30-day free trial
Sign up
Simz, who started learning the guitar when she was 17, recognises the thrill of watching someone who has mastered the instrument. "There's just something about that instrument that's so otherworldly but so down to earth, as well," she told SheShreds magazine earlier this year. "There [are] little things that you can do on guitar that you just can't do on any other instruments. It's very unique in its own right, but that is what I think appeals to me. Even the way it looks when someone's soloing. Just something about that finger movement, knowing that they've trained themselves to use their finger muscles."
Simz has since teamed up with Fender for their "Fender Next" programme, after impressing them with her pioneering attitude – particularly on the bass guitar. "Little Simz is a fantastic example of somebody pushing exciting boundaries with bass guitar right now on her latest album," says Fender CEO Andy Mooney, who took over the legacy guitar brand from Scott Gilbertson in 2015. "She and L Devine are great examples of artists showcasing the power and versatility of guitar across different genres."
Both Simz and Devine are part of a generation less concerned about the restrictions placed upon artists by genre – Simz in particular has collaborated with "classic" rock acts including Gorillaz and Kasabian's Serge Pizzorno (although the latter still caused head-scratching among some less forward-thinking critics). But before then, bands such as Bastille struggled with labels placed upon them by critics because they looked like a typical indie act – with some going so far as to blame their hit song "Pompeii" for the death of guitar music... despite the song only using a bass.
"I remember coming to blows with an older male music journalist when we started out because we wouldn't define ourselves as any one genre," frontman Dan Smith recalls. "I think it pissed him off that we were a DIY band of four guys who toured the toilet circuit but were making pop music and refusing to identify with a genre. Journalists used to primarily use the words indie or rock to describe us, which was strange because that's not who we are. We didn't actually have any guitars (apart from bass) on our first album, but people assumed we did and mentioned non-existent guitar solos in write-ups, which was pretty funny.
"Our band started out as a bedroom project and it's always been about the songs, the production and then us playing gigs," he adds. "It baffles me that it was confusing to people, but it's great that music has moved to a place where being genre-less and undefinable is totally normalised."
Younger rock bands, from Black Futures to Fontaines DC, seem determined to bring back a level of technical ability that wasn't seen as much from those Noughties groups. The Amazons' frontman Matt Thomson points out that there are "no guitar heroes any more" when it comes to rock music and claims that "the only era that really held the guitar up is the Seventies… I mean when was the last time we had guitar 'heroes'? With guys like Jeff Beck, Jimmy Page… there's a sense of wonder in the musicianship", he tells The Independent.
Lead guitarist Chris Alderton echoed this sentiment to Guitar.com, explaining: "I feel like not all lead-guitar players get to put a solo on a song in this day and age. I think the Eighties possibly killed the guitar solo for the modern player and I think that's a shame, because some of my favourite moments in songs are the guitar solos." Yet The Amazons are one of the band's bringing that back, with plenty of excellent solos on their latest, Top 10 album Future Dust.
Meanwhile, Mooney is acutely aware of how important it is to reach out to anyone and everyone who might be interested in the guitar, as opposed to clinging on to the rock image it may have been associated with in the past. Fender took around $500m (£404m) in revenues in 2018, which was bolstered by a strategy of developing a younger audience with a regular stream of new models and Fender Play, an online subscription guitar lesson service. In a recent survey, 50 per cent of the beginners buying guitars from Fender turned out to be women, who perhaps felt more comfortable buying guitars online knowing they were less likely to be patronised or laughed at.
It has also begun to offer a number of different "behind the scenes" documentaries that subvert stereotypes around the guitar and which artists use them. The American Professional series, which launched in 2018, worked with Ty Dolla $ign and the late Mac Miller to tell their musical journeys through guitar, to show how the instrument impacted their creative process. And Fender's Artform documentary, which offered music fans a chance to understand the musicianship involved in hip-hop sampling, starred A Tribe Called Quest's Ali Shaheed Muhammad and producer/musician Adrian Younge. It showed how the guitar has its place in hip hop, with Younge telling The Independent: "Most major guitar companies fail to focus their marketing on a black and urban demographic, because a lot of these companies feel as though black people only use instruments in church, or something."
"From Kendrick Lamar to whoever else, everybody uses these instruments," he adds. "Fender felt the same way, so we came together to make this kind of statement, to show the real side of who uses these instruments – which is everybody. It's not just the hair metal guy or the rock star. Everybody has a different reason why they love guitars."
"Rappers have always incorporated guitar into their music, so much so that Kanye West is famously remembered as posting a sign saying, 'No acoustic guitars in the studio' while making of one of his albums," Mooney says. "Most rappers I've seen perform live have a full band on stage with multiple guitarists."
It doesn't feel like a complete coincidence that two of the biggest viral songs of the past decade – Luis Fonsi and Daddy Yankee's "Despacito" and Lil Nas X's "Old Town Road" – both begin with a signature guitar motif. On "Despacito", it's that slinky Spanish guitar hook, and for "Old Town Road" there's a simple country twang that loops through the song. Those songs caught international attention because they were different, and having some semblance of originality via a recognisable skill is part of that. (Jack White noted he admires artists such as St Vincent or Kacey Musgraves, not because they're women playing the guitar, but because they're artists playing the guitar really well.)
"Songs were streamed a trillion times in 2018," Mooney states. "There's a hunger for all forms of music and the vast majority of it is composed on an instrument, not a computer."
"Like with anything, there are still a bunch of people glorifying the past and clinging onto its vestiges, and if that means constantly killing off the guitar and resurrecting it every year… then whatever," Bastille's Dan Smith says. "There are way more interesting debates in modern music."
Naysayers can shout doom and gloom all they want – the six-string isn't going anywhere.
Join our commenting forum
Join thought-provoking conversations, follow other Independent readers and see their replies