He got rhythm: Piano virtuoso Kirill Gerstein embraces classical, jazz... all that is unexpected
His story began 35 years ago in Voronezh, a city in Russia's 'black earth' region
Michael Church
Friday 18 July 2014 20:05 Comments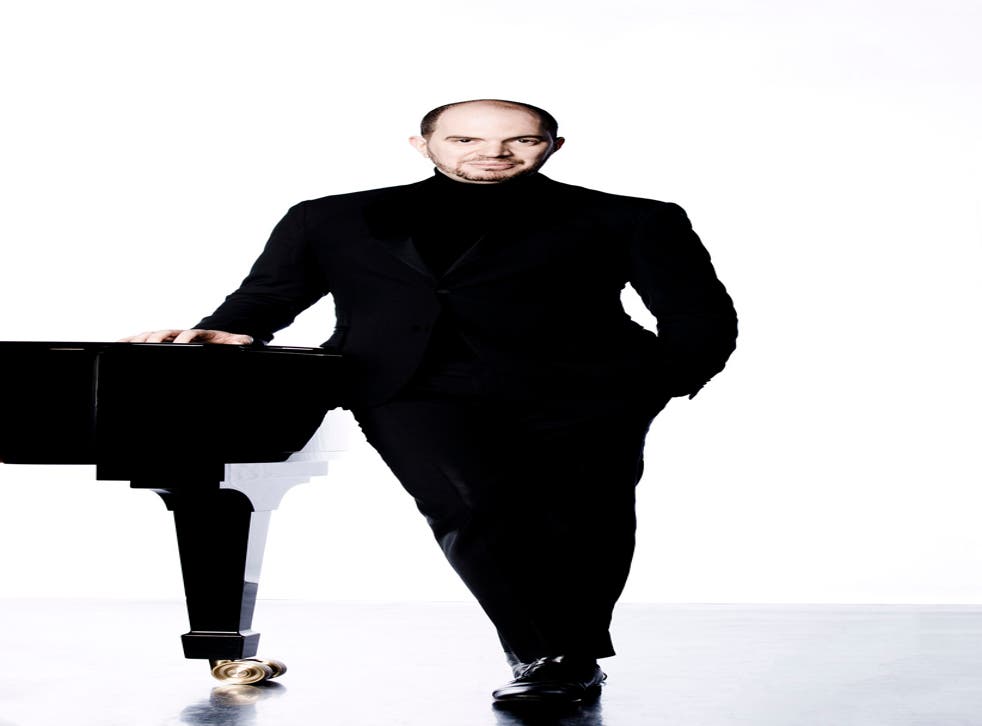 Some concert pianists are memorable whatever they do – or don't do – on stage.
Such is Kirill Gerstein, the virtuoso who will be the star of the opening concert of this year's Edinburgh International Festival, with his leonine grin and seemingly effortless way with the most daunting works.
The first time I heard him was in a recital where he performed an ear-opening medley of classical rarities and novelties, before winding up with his own monumental arrangement of "I Got Rhythm", in which jazz and classical idioms fought for dominance.
My most recent sighting of him was at the Southbank, where he breezed through Rachmaninov's towering piano-and-orchestra showpiece Rhapsody on a Theme of Paganini. It turned out that he'd had just six minutes in which to rehearse that 25-minute work with the orchestra: for most pianists this would have represented a hair-raising challenge. What, then, makes this Russian-American virtuoso tick?
His story began 35 years ago in Voronezh, a city in Russia's "black earth" region, where he grew up amid a cultivated musical household; since his mother was a piano teacher, it was inevitable that she should teach him too. "I made myself her guinea pig as a way to get her attention, and for her it was a useful way of bonding with me," he says.
"I always loved music, but I didn't think of myself as necessarily becoming a pianist. It wasn't the archetypal tortured childhood playing nothing but scales and Chopin études. I paid for that later, of course, by having to practice much more than other student pianists." But he was precocious nevertheless, playing Bach and Schumann in concerts at the specialist music school he attended, and on one occasion representing a full orchestra on the keyboard.
His parents also had a collection of jazz records, and for him this became a seductive alternative world. He aped the style of Oscar Peterson and the bebop brigade, and, when he was overheard unwinding with some jazz after winning a classical-piano competition in Poland, aged 12, he was invited to join a jazz workshop. One thing led to another, influential people kept overhearing him, and by the age of 14 he found himself studying jazz piano at the Berklee College of Music in Boston – as its youngest-ever student.
Asked whether he felt musically torn, he replies that for him "it was all music. I'd started classical music with singing and listening, and with jazz it was the same process, even though one kind of music was written down and the other was [only] captured by the microphone. My ear was strongly developed, and my understanding of how one chord leads to another applied as much to jazz as to classical."
For a while he pursued both disciplines in parallel, but winning the 2001 Arthur Rubinstein competition in Tel Aviv, when aged 22, persuaded him to keep jazz as a hobby. He also decided to take American citizenship, as his Russian passport caused such problems with visas that his touring schedule was getting systematically messed up.
Growing up in Russia, he always had a stronger sense of a Jewish identity – his paternal grandfather was a Talmudic scholar in a Ukrainian shtetl – than a Russian one, and he has also been prevented from putting down American roots by the piano professorship he now has in Stuttgart. Dividing his time between Germany and the US, he's entirely comfortable as a multilingual cosmopolitan.
Enjoy unlimited access to 70 million ad-free songs and podcasts with Amazon Music Sign up now for a 30-day free trial
Sign up
But what grounds him is an unusually clear sense of artistic mission. He is delighted, for example, that the work he will play in Edinburgh is not some hoary old household favourite, but Scriabin's mystical and rarely performed Prometheus.
And he regards his teaching as a way of developing his own art – "as in Oriental martial arts, where it's assumed that after reaching a certain level, students won't advance unless they also teach. Think of Chopin, Liszt, and Busoni – they all taught."
In 2010 he was awarded the world-renowned Gilmore Artist Award for pianists, with its $300,000 prize. "A lot of money, and absolutely not for spending on Lamborghinis. But as a lover of pianos, I was tempted …."
But then he realised that the extraordinary collection of pianos he already had didn't need augmenting: a Steinway Model B ("love at first sight when I found it in the factory, and still a love affair now"); a rare 1930s Bechstein with two keyboards ("wonderful for organ sonorities"); an 1848 Pleyel with original strings and hammers ("like Chopin's in Majorca"); and the 1899 Bluthner he'd grown up with. So, he decided to blow the money on commissioning new works from Oliver Knussen, Alexander Goehr, and those cross-cultural firebrands Chick Corea, Brad Meldau and Timothy Andres. "And I couldn't imagine a more rewarding way of spending it."
When he makes a CD, the same sort of lateral thinking comes into play. His latest, released last month, offered the unprecedented pairing of Schumann's Carnaval with Mussorgsky's Pictures at an Exhibition.
His rationale was the "spiritual similarity" between those provocatively original composers, and his playing is studded with new insights. He recently made a charming CD of Mussorgsky's The Nursery with the mezzo Elisabeth Kulman, all profits from which went to a children's cancer charity.
And when he launches into print, people take notice. Earlier this year the British pianist Stephen Hough claimed in the New York Review of Books that he had made an exciting musical discovery, namely a "wrong note" at the start of Tchaikovsky's first piano concerto. Gerstein responded with an argument which gracefully skirted Pseuds' Corner to score an undeniably evocative point. "To me," he observed after a musicological disquisition, "the lovely asymmetrical F is redolent of the unpaved country roads of Tchaikovsky's Russia."
He got a huge response from readers. "Some people wrote asking what's the big deal, it's just one note. Others agreed that it was not a discrepancy, but part of a larger idea. And the whole thing turned into an argument about aesthetic choices, about symmetry versus non-symmetry – and about what a composer does when somebody comes along 100 years later, and rewrites what he regards as a slip of the pen. What can you do to protect an anomaly that you wish for? From one note, it implies a world. That was a fun exercise." And also quite a profound one.
Kirill Gerstein plays at the Usher Hall, Edinburgh, on 8 August. 'Imaginary Pictures: Schumann's Carnaval and Mussorgsky's Pictures at an Exhibition' is released on the Myrios label
Register for free to continue reading
Registration is a free and easy way to support our truly independent journalism
By registering, you will also enjoy limited access to Premium articles, exclusive newsletters, commenting, and virtual events with our leading journalists
Already have an account? sign in
Join our new commenting forum
Join thought-provoking conversations, follow other Independent readers and see their replies