interview
Hot Chip: 'There's a lot of pop music that's really bland, and I hate a lot of it'
The synth-pop band talk to Alexandra Pollard about their brilliant new album 'A Bath Full of Ecstasy', the state of pop, and why they probably wouldn't get signed these days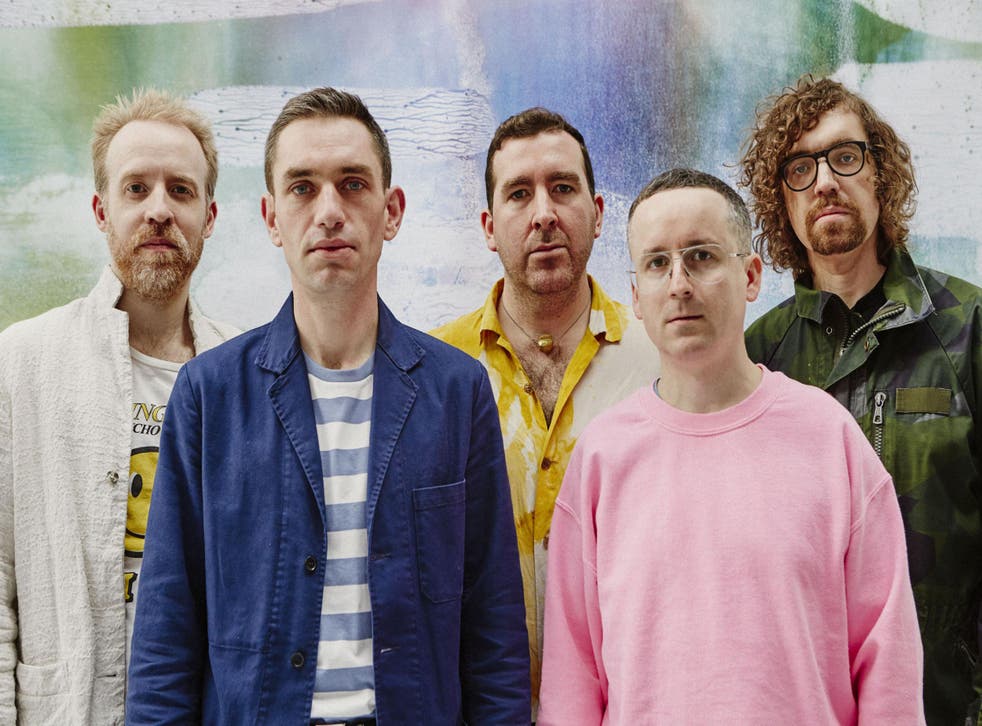 Alexis Taylor's morning has "not been without some stress". Cradling a cup of tea in a London members' club, conspicuously dressed in a bright purple jumper, rolled-up white jeans and enormous, clear-framed glasses, the Hot Chip frontman seems a little frazzled. It's hardly surprising – his band are just a few days away from releasing their seventh album, A Bath Full of Ecstasy. Later this month, they'll headline the Park Stage at Glastonbury, and after that, they're playing their biggest ever UK show at Alexandra Palace. Even for a band who've been in the game for just under two decades, that's bound to create some stress. But it turns out that's not why he's feeling this way.
"My daughter's school photos are today," sighs the 39-year-old. "She tried to plan what she was going to wear, so there'd be no drama, and there was lots of drama. So she got in a real state, and was late to school."
It's a rather mundane anecdote for the lead singer of one of the boldest, most idiosyncratic bands of the 21st century. But Taylor – who formed the five-piece in London in 2000 with his school friend Joe Goddard – isn't one for putting on a false front. "We're pretty down-to-earth people who look a bit less down-to-earth on stage," he shrugs. "We're quite reserved. But the music may not be."
It certainly isn't. Hot Chip's best songs – such as "Over and Over", from 2006 album The Warning, "Ready for the Floor" from its 2008 follow-up Made in the Dark, and the title track from 2010's One Life Stand – are snatches of earnest, exultant electro-pop. There's melancholy, too, flickering beneath the chopped-up synths and weird, DIY beats – gilded with Taylor's tender falsetto. For music fans of a certain age, the songs evoke a particular moment in time – the days of carefree, radiant raves in the mid-Noughties.
The best albums of 2019 (so far)

Show all 67
"Yeah, nostalgia for the recent past," says Al Doyle, the band's guitarist and synth player (who's also a member of American rock band LCD Soundsystem), with just the gentlest hint of derision. "This is something that seems to be all-consuming for our particular generation. It's one of those things you don't want to go out of your way to gloss over, or to omit from the way you're presenting yourself to the world. You could deliberately not play 'Over and Over'. In LCD Soundsystem, for a few years we just didn't play 'Losing My Edge'. People were like, 'Why?' And we were like, 'Well, because it just makes us upset'. But the way that Hot Chip dealt with that was to just change the way that we play the song quite radically, and that keeps it fresh for us, and allows us to remain proud of that stuff. But yes, it's pretty weird to think that that song is knocking on the door of 13 years old, and seems to occupy a little bit of space in the pantheon."
Hot Chip aren't interested in dwelling too much in that nostalgic space, though. Their beautiful new album A Bath Full of Ecstasy is evidence of that. Full of yearning, it never sits still, a synthesis of house, garage, soul and synth-pop. "Melody of Love", the blissful lead single, is one of the best songs the band have produced in years, with just enough sadness – "I always seem to hesitate / Too little always comes too late" – that it could nestle in comfortably alongside Hot Chip's bittersweet classics. "Hungry Child" is soulful, clubby escapism, and there is gentler fare in the form of the sweet, staticky "Why Is My Mind".
It's a colourful album, says Taylor. "It may be odd to use the word colourful about music, but I always think there's certain music out there that sounds very grey, and what I think we do is make something that's multi-layered and exciting and flamboyant. The music has always seemed very bold and colourful to me."
For the first time in their 20-year career, the band – which also comprises Owen Clarke and Felix Martin – worked with outside producers on the album: French maestro Philippe Zdar, and The xx-collaborator Rodaidh McDonald. The change caused friction at first. "Al found it tricky, at the beginning of the process, to trust that the people we were working with were making better decisions than we would make as a band," says Taylor. "And the rest of us had to say, 'I think his heart's in the right place, he's got good experience, let's listen to him. We've employed him – what's the point in doing that and not listening?'"
Doyle agrees. "I was just trying to get my head round working with Rodaidh, who works in a completely different way to the way that I normally work. He works entirely in the box, in the computer, and I'm more traditional and old-fashioned. It was my problem rather than anyone else's. And it was strange for me, the way Alexis and Joe were very up for the way that Rodaidh was pushing them: 'This isn't good enough, go and do something better.'"
Enjoy unlimited access to 70 million ad-free songs and podcasts with Amazon Music Sign up now for a 30-day free trial
Sign up
"I would take it as a challenge to go into the other room and write a better chorus," says Taylor. "Maybe that had never been possible before, because we weren't really in a role where we could tell each other, 'This isn't good enough'. It feels like for an article, you want a bit of drama and tension," he smiles, "and you want some big moment where we all fell out. But we're quite good at managing those situations."
While he relished being challenged by Zdar and McDonald, there were times when Taylor had to stick to his guns. "I did find it hard to say, 'No, you're gonna lose the meaning, it destroys it'. [There were instances of] the producers saying, 'How about this?' And me saying, 'Well, I've listened to you up to a point, but I know better in this case.' So you have to trust yourself, and not lose your sense of what you're trying to say. I think with music-making now, there are endless things to do, but [it can] lose anything that's naive or interesting atmospherically."
Taylor has mixed feelings about the state of music these days – particularly pop. "It felt like in the last few years, everyone all of a sudden began to have this processed vocal part that happens after the chorus which is almost gobbledygook," he explains. "There's a melody and it's really hooky but it's autotuned and... You might get it in that song by Rita Ora. The chorus sounds like a little baby. It's in loads of Justin Bieber songs as well, and pretty much everything on the radio for a bit. Take a load of bars, chop them up, mess around with them so they stop making any lyrical sense but they make melodic sense…" He's holding a pot of tea, and it's been hovering above his cup for several minutes now, but he's too distracted to pour. "I'm not really interested in stating something very negative about the landscape of pop music, but most of it doesn't really interest me, and I'd like it if it did. There's a lot that's really bland, and I hate a lot of it."
Still, he's not a stick-in-the-mud. When he's finally replenished his drink, he gets his phone out to show me what he's been listening to lately. There's Joni Mitchell's jazzy 1976 album Hejira, Low's 2018 album Double Negative, and Katy Perry's new single, "Never Really Over". "I pay attention to what's happening in certain big pop records," he says. "I suppose I listen to Katy Perry because I worked with her, and I'm interested in what she's doing."
Taylor and Goddard worked with the pop behemoth on her 2017 album Witness. They co-wrote its closing track, "Into Me You See", and two others they worked on together ­– "Spell" and "Echo" ­­– made it onto A Bath Full of Ecstasy. Despite his trepidations about the state of pop, Taylor enjoyed working with Perry. "She was very spontaneous and confident in herself to extemporise with her voice, and just try things out," he says. "I think she's open to interesting music, because when she chose to work with us, we hadn't had a hit record in a while. It wasn't as though she was like, 'Get the youngest pop talent'."
Hot Chip may not be the youngest pop talents, but they are, by now, among the most revered. They're not only capable of writing a pop hook like few others can, but they also bring with them a certain cultural cachet, a credibility earned through many years of producing first-class music. That's why artists like Perry want to work with them. "We've had this very gentle, exponential arc," says Doyle. "Every time we've stepped up, it's been the right time to do it. There's never been a meteoric, 'suddenly we're household names' situation, and neither has there been like, a s***ty album that has reduced our kudos."
But while they've had their heads down, the music industry has changed dramatically. "This is the thing," says Doyle. "The bulk of our career was in this completely seismic, disastrous change to the music industry. Our management used to say to us, 'Look, if you'd been releasing records two or three years earlier, your career would be totally different.' We started right when illegal file-sharing was kind of at its peak, the record industry was not reacting quickly enough to that threat, and there was just not very much money around.
"In fact," he continues, "I don't know whether a band like Hot Chip would even be signed to a major label these days. At that point, it was the edge of when the majors just had a lot of money to throw around, and they were able to take chances on stranger bands. I've got no idea how we would do if we were suddenly back to our early twenties." He catches himself and laughs. "But I suppose this is just the slightly bitter ramblings of a 40-year-old guy."
'A Bath Full of Ecstasy' is out on Friday
This interview took place before the death of producer Philippe Zdar
Join our new commenting forum
Join thought-provoking conversations, follow other Independent readers and see their replies