Hot Chip is playing at my house: the secret living-room gigs showing solidarity with refugees
Amnesty International teamed up with house concert organisers Sofar Sounds to run hundreds of intimate gigs around the world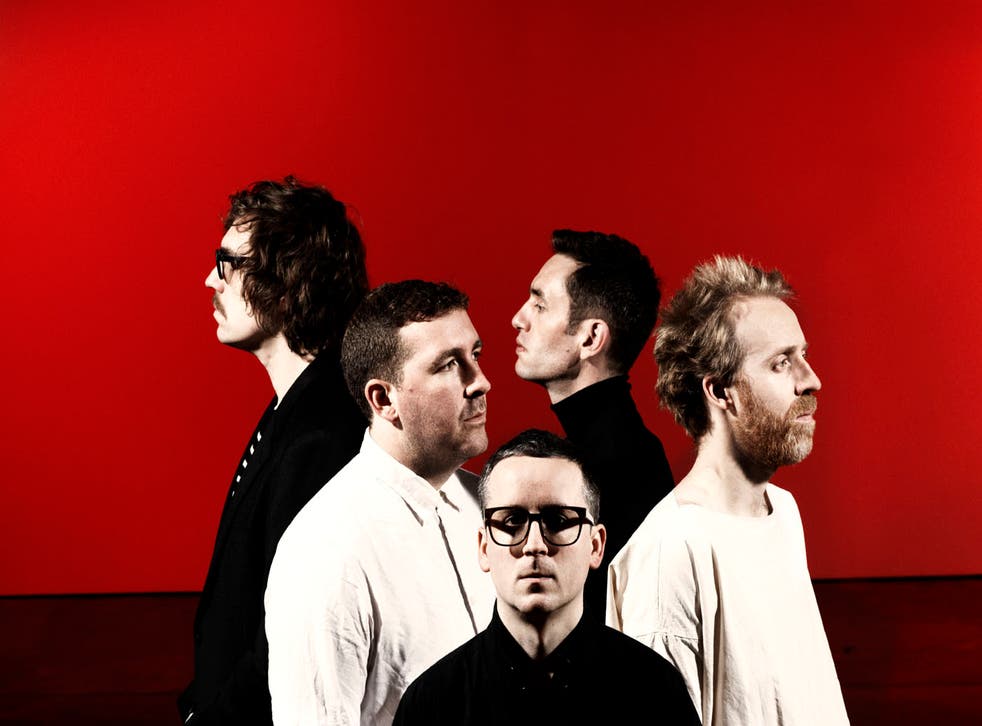 "We all deserve a home, not just a memory of one." So goes the slogan of Amnesty International's Give a Home campaign, aiming to raise awareness for the plight of refugees around the world. But this is not your average fundraiser: last week, Amnesty teamed up with grassroots gig innovators Sofar Sounds, leading to high-profile names – from Jessie Ware to Rudimental, The National to Jon Hopkins – playing alongside emerging and refugee artists in hundreds of living rooms in cities across the world in a global night of secret, intimate gigs.
Chart-topping Ed Sheeran played in Washington DC; in Barcelona, Spanish singer Silvia Perez Cruz performed in the iconic Casa Batllo, a house designed by Gaudi. Jake Bugg ripped up Nottingham Football Club, while in London, Sam Branson hosted Emeli Sandé and Eliza & The Bear took over the Amnesty International office in Shoreditch. And I found myself in a stranger's flat, sitting at the feet of Alexis Taylor playing Hot Chip hits to a living room-sized crowd.
Give a Home, which took place on 20 September, was more than just a series of gigs. "We wanted the fans arriving as strangers to leave with a shared sense of community," says co-executive producer Stephen Budd. With the global refugee population now exceeding 22 million, Amnesty International hoped the cultural event would spark urgent action to address the root causes of what the human rights organisation see as an escalating crisis: "Most people have an idea of the plight of refugees and want their governments to do more. The Give A Home project is a way for music fans across the globe to join together to support the human rights of these vulnerable people." It's also a fundraiser: donations were encouraged both on booking and on the night, with buckets going round.
Scottish singer-songwriter Nina Nesbitt was playing alongside the House Gospel Choir and The Beach in Hackney. The pop artist, who soared to fame after being discovered by Ed Sheeran at just 17 and who recently put out single "The Best You Had" ahead of her hotly anticipated album, said the initiative was instantly something she wanted to take part in: "There's a lot of controversy surrounding refugees. But I always want to say: if that were you, how would you feel? Music is something that can bring us all together to try to get past that. It's so international, it doesn't really have any borders. And it's one of the most human things."
British alt-rockers Nothing But Thieves, whose second album Broken Machines hit airwaves to widespread critical acclaim earlier this month, were playing in Highgate with Zara McFarlane and Dan Owen. "When we heard about the project it was something that really spoke to us as a band," guitarist Joe Langridge-Brown says. "It's something we've talked about a lot on the [tour] bus. We try and write about things we think are important. Anything we can do, even if it's playing our mildly depressing songs, we want to do," he jokes.
Gig-goes applied in June for tickets, and were given an address nearer the time. And so on the night itself, I found myself in a third-floor flat living room in Hoxton. As a Sofar Sounds virgin, it felt bizarre to turn up in a stranger's home, clutching a couple of beers like an after-club party gatecrasher. But our seasoned host Tushar – a musician who has now held more than 60 such gigs in his stunning east London pad in the past four years – welcomed us all like old friends.
Sofar co-founder Dave Alexander, who was there to MC, relayed how their airbnb-esque gig movement was envisioned as an antidote to the lacklustre experience of so many regular concerts: poor sound, overcrowded venues and the inevitable drunk chatterboxes drowning out your favourite song. And the execution of that vision couldn't have be plainer that evening, as 50-odd of us huddled down cosily on Tushar's floor for an incredible night of music where the sound quality was exquisite and the reverence to the artists absolute.
Upcoming band Hoo Ha's kicked things off with witty deadpan lyrics and bluesy guitars, while British-Ghanaian Naala stunned the room with her soulful electronica with tracks like "Stained Glass Windows".
And then, it was Hot Chip – yes, Hot Chip. Playing in someone's flat. Well, a version of: a bleach-blond Alexis Taylor, Owen Clarke and Felix Martin, plus a robot playing the drums, all crammed onto Tushar's living room rug. The experts of electropop – who, despite having their own various individual projects on the go, assured me they would be starting recording of their next album as Hot Chip later this year – treated us to a stripped-back rendition of In Our Heads ballad "Look At Where We Are" that segued seamlessly into a cover of Prince's classic "If I Was Your Girlfriend", which Taylor remarked as fitting the moment, as it "reminded him of home". 2006 classic "Boy From School" cranked up a gear, leaving an already enthralled crowd simply ecstatic at being in such close quarters to a legendary act at work.
Enjoy unlimited access to 70 million ad-free songs and podcasts with Amazon Music Sign up now for a 30-day free trial
Sign up
"It was completely different in a really nice way", the affable Taylor reflects after their performance. "To play in somebody's living room – I don't do that very often. I play a lot of solo piano gigs which are pretty intimate. But you can't really get more intimate than this!"
For Clarke, it was "quite dreamlike: you're in a home. There were these great moments of intimacy and excitement – all those things of a gig but in a domestic setting."
But the initiative is about more than just being able to see talented musicians up close, as Sofar's Alexander says: "Giving a home is a concept and an act", both being symbolic of the idea of opening doors to refugees. And the contrast between being one of only a handful of people present at that one-time gig, yet also knowing thousands of other music fans were having their very own special experience in front rooms across the world, generated an overwhelming feeling of being part of something greater.
Taylor too felt the event could be a powerful way to reach people: "I think people come together to listen to music and then they can have their attention drawn to some issues that they're ignoring or not aware of the rest of the time," he says. "So it's a very good way to do that, to draw attention to refugees and homelessness by enjoying music in somebody's home. Somebody who is extremely welcoming of all these strangers…" he adds, nodding admiringly toward our host. A gratitude we all shared. Now, if only I had a bigger living room…
For more information visit sofarsounds.com/giveahome
Register for free to continue reading
Registration is a free and easy way to support our truly independent journalism
By registering, you will also enjoy limited access to Premium articles, exclusive newsletters, commenting, and virtual events with our leading journalists
Already have an account? sign in
Register for free to continue reading
Registration is a free and easy way to support our truly independent journalism
By registering, you will also enjoy limited access to Premium articles, exclusive newsletters, commenting, and virtual events with our leading journalists
Already have an account? sign in
Join our new commenting forum
Join thought-provoking conversations, follow other Independent readers and see their replies