Interview
Idles: 'What the f*** is wrong with Sleaford Mods?'
Do you have to be working class to sing about austerity? Ahead of their London shows, the socially conscious post-punks address their running feud, and discuss personal tragedy with Colin Drury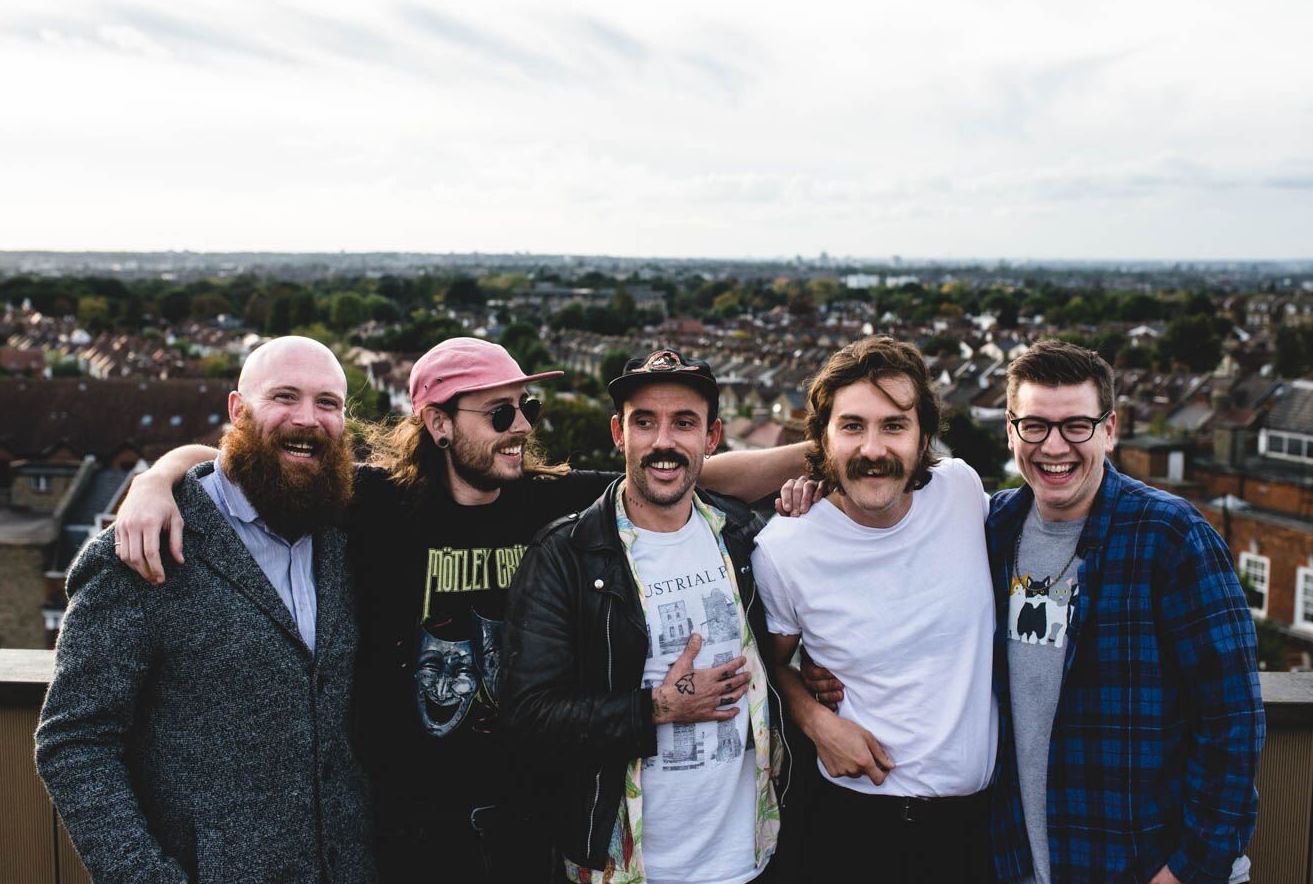 He's a f***ing bully. I've never once claimed to be working class and for him to misrepresent me like that – it was disembowelling." Joe Talbot, lead singer of Idles, is taking issue with Jason Williamson, lead singer of Sleaford Mods. The spat between these two icons of austerity-era post-punk has been battering away for quite a while now. For almost a year, the Nottingham duo have repeatedly trolled Idles on Twitter and attacked them in newspaper interviews, accusing them of falsely appropriating a working-class voice.
Their line of thinking is that, because Talbot grew up the son of middle-class parents in an affluent Exeter suburb – dad an artist; mum an inland revenue worker – his support of left-wing causes is an affectation. "Cliched, patronising, insulting and mediocre," Williamson said in one Q&A.
The attacks have seemed more pointed because, in several early interviews, Idles professed their admiration for Williamson himself.
The best albums of 2019 (so far)
Show all 67
"This idea that I can't speak out against austerity or food banks – that I can't think one of the richest economies in the world having f***ing food banks is wrong – I can't say that because I'm fortunate enough to be able to feed my child? What the f*** is wrong with the guy?" spits Talbot.
How does it feel, I ask, that the criticism is coming from someone he once called a hero?
"F***ing awful," he says, with raw honesty. "He attacked me personally, and suddenly everyone was questioning my authenticity. But I was more annoyed by my own reaction: like, why the f*** am I letting someone who doesn't know me affect me?
"So, yeah, he's not a hero anymore."
It's the first night of the new Idles tour. We're backstage at the Sheffield Leadmill, talking in the band's dressing room ahead of their biggest tour to date – which includes three nights at London's Electric Ballroom from Thursday.
Only a few minutes earlier we were talking about nappies. "I'll change them all day long, mate," Talbot says. "Smile on my face doing it."
Just three weeks ago, he and wife Beth welcomed daughter Frida Ray to the world. Her birth came two years after the couple's first child, Agatha, was stillborn – a tragedy agonisingly documented on "June", the eviscerating stand-out song of last year's critically adored, top five album, Joy as an Act of Resistance.
"Agatha's heart rate dropped three times," remembers Talbot today. "They transported her to hospital but she died en route. And the same thing happened this time, Frida's heart rate went. It was the most terrifying f***ing moment of my life: how can this be happening again? But we were already in hospital, and they got her out. It was magic."

Enjoy unlimited access to 70 million ad-free songs and podcasts with Amazon Music
Sign up now for a 30-day free trial
Sign up

Enjoy unlimited access to 70 million ad-free songs and podcasts with Amazon Music
Sign up now for a 30-day free trial
Sign up
He pauses with apparent astonishment. "And now we get to be parents," he says. "What a privilege. I strap her to me every morning and get on with housework. What a f***ing thing."
It is somehow strange, two hours later, to reconcile this image of domesticity with the 34-year-old snarling and stalking the Leadmill stage, a physical embodiment of his band's songs: wiry, ferocious, ever-so-slightly threatening.
But then Idles – that's Talbot as well as guitarists Mark Bowen and Lee Kiernan, bassist Adam Devonshire and drummer Jon Beavis – are nothing if not about contradictory.
The Bristol band's two albums – Joy… and 2017's magnificent debut Brutalism – juxtapose pummelling post-punk aural violence with lyrics celebrating empathy, tolerance and inclusivity. "Iron snowflakes", is how The Independent previously described them.
"Being compassionate doesn't mean you have to be a punch bag," nods Talbot when I mention this. "Our aim is to start conversations – political and personal – where everyone can feel safe to join in and be vulnerable and express an opinion. It's just we do that with big slabs of violent music."
As a group, they're soft spoken, self-deprecating – and, for the first time while on the road, sober. When they went on tour last year, Talbot says, it was "a three-month bender – but I don't want to numb these experiences anymore, I don't want them blurry". This time around the mantra is healthy eating, exercise and mindfulness. The rider contains spinach and electrolyte-infused water. Bowen arrives wearing shorts. He's just been lifting weights. It's all very millennial.
Is there a chance, I venture, that, minus the booze, their shows – chaotic affairs treading a fine line between reaching for righteous greatness and collapsing under their own heaving fury – might lose their edge? That they might, somehow, become more predictable?
"The exact opposite," says Bowen, also 34. "So much with alcohol is about losing your inhibitions but, trust me, you lose them anyway when you have a room full of people singing your songs."
Talbot considers this: "I'm not sure we're good enough to be predictable anyway," he says. "Things can always go wrong."
That's the other thing about Idles, as it goes. If mostly they appear entirely confident in their own abilities – "Joy is a f***ing great album," says Talbot at one point – they simultaneously show signs of surprise at their success.
Perhaps that's because it's been long-coming. After forming in Bristol in 2009 – already university graduates – they spent almost a decade honing their sound while holding down full-time jobs before the rush of plaudits followed last year's sophomore record.
Among the more surreal moments since, they say, has been finding out they'd reached number five in the album charts, getting nominated for best breakthrough act at the Brit Awards and appearing on Later... with Jools Holland. "He said, 'It's really nice to have your sort of music on the show,'" says Bowen, a qualified NHS dentist, who used to practise. "We didn't speak much. A producer told us he turns up, does the show and then tries to get off home before the end credits roll."
What sets Idles apart for many fans is their fearlessness – and fury – around issues of social justice. In song, they take on all comers: abrasive in their empathy, confrontational in their compassion.
Tonight, their 80-minute set list dispatches austerity ("Divide and Conquer"), anti-immigration rhetoric ("Danny Nedelko"), and small-town frustrations ("Never Fight a Man with a Perm"). "I put homophobes in coffins," barks Talbot on highlight "Colossus".
"These are things which, as a band, we discuss and we're interested in, so we put them in the music," the singer shrugs. "We're not preaching to people. I'm not saying they should believe what I believe. But racism, homophobia, austerity – we're f***ing musicians, artists, we should be at the forefront of confronting those things. Otherwise, what's the point?"
I ask about the song "Samaritans" and its growled chorus: "I'm a real boy, boy, and I cry."
"It's about it being OK to grieve and to show emotion," says Talbot. "It takes strength to do that."
Brexit, too, is another issue they refuse to shy away from. "It's dire," says Bowen, who is originally from Northern Ireland, although he doesn't bring up the dreaded backstop. "The sense of turmoil that's been created – the only people who win when that happens are extremists. Which is what's happening. Brexit has been a gift to the far right."
As the clock ticks on towards stage time, I ask about the future. After this tour, they'll take most of the year off to be with their families. Then, it's on to the third album. It's already largely written with a title and artwork, and is scheduled for a 2020 release.
"We're moving things on," says Talbot. "But it will still be filled with compassion because that's who we are. It might seem pious but our way of dealing with the world is trying to make something positive, and that's not ever going to change."
Joy as an Act of Resistance by Idles is out now. They are on tour in the UK and Ireland until 6 April
Join our commenting forum
Join thought-provoking conversations, follow other Independent readers and see their replies