International Women's Day: Jehnny Beth, Mahalia and more pay tribute to the women who inspire them
'There are forces within women that have urged me to stay alive in a way that male artists never did'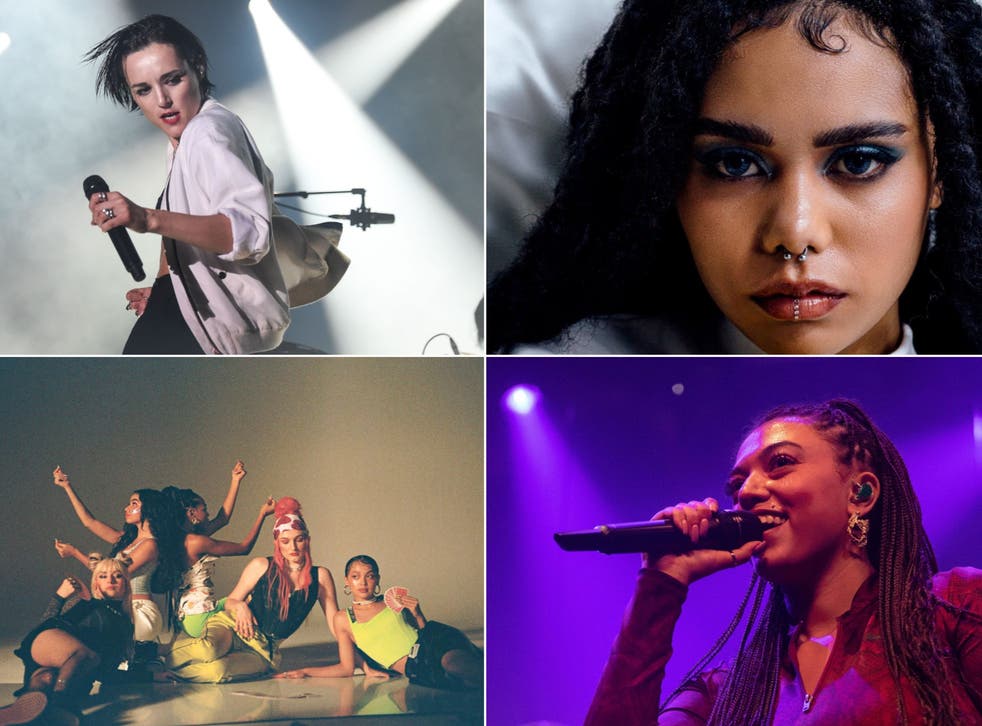 Today (Monday 8 March) marks International Women's Day, a global day celebrating the achievements of women.
While, of course, there is no reason why we shouldn't celebrate women every day of the year, the event marks an opportunity to focus greater attention on women's rights and the ongoing fight for equality.
The Independent asked several musicians to name the women who inspire them, and got some wonderful answers back which you can read below:
It is hard to put a finger on what it is, as a kid – and then later as a teenager – that made women always stand out in music for me, but I know it has been real, that feeling. Something was at work doing its magic on every part of me that could be affected, the brain, the heart, the soul (if it existed), and I am still unsure of what it is. Now that time has passed for clarification, it has left more of a feeling than a thought. All I know is that there are forces within women that have urged me to stay alive in a way that male artists never did.
What I mean is that I have always been aware of the inner light inside others, and very early on I noticed that women simply shined brighter – Nina Simone, Billie Holiday, PJ Harvey, Kim Gordon, Dusty Springfield, Debbie Harry, Siouxsie, Karen O, Shirley Manson, Grace Jones, Tina Weymouth, Bjork, Annie Lenox, Martina Topley-Bird, Beth Gibbons, Cat Power, Kazu Makino... how could one begin to finish this list? – and it was the constant witnessing of the cycles of destruction of those inner lights that, in retrospect, fed into a big part of who I have become. Women's struggles and their perseverance, all forms of resistance against sexism and its winds, against the systemic oppression that wants to reroute women's attention from the most important matter at hand: their light.
A dear friend of mine once confessed to me her doubts regarding her own sexual power. She was wondering if her boyfriend was satisfied with her in bed, if she was doing it right, if what she did was good enough. I looked at her across the tiny table in the Italian restaurant where we were having our dinner, and my answer came as a surprise, even to me: "You probably don't realise this but… women are magic" I said. I was staring at her and failed to isolate elements of her stunning beauty, because it was like memorising the reflection of a diamond. Of course her boyfriend was 'satisfied', I was certain of it; as I sat before her, right at this moment, I felt her unique presence as a blessing. Anyone who's ever loved a woman will understand what I mean by that. The wonderful fact of her existence was enough. Her inner light was reaching out to me. Like Frida Khalo once said: "Take a lover who looks at you like maybe you are magic." I imagine she didn't care what sex...
Boys World
There are so many women that inspire us every day, but one in particular we want to highlight is Maya Angelou. She was a poet, memoirist and civil rights activist who fought for social and racial justice. Her ability to stay strong and positive throughout the early years of her life inspires us to do the same.
My mum is my biggest inspiration. More than anyone. I think about her whenever I don't know what to do in a situation or which route to take. She's the strongest woman I know. After being a mother to me and my three brothers, she's the most creative, inspiring person. Whether it's dancing with my brother or writing songs with me, she really is the best. She's infectious and I want to be like her when I grow up.
Dreya Mac
Billie Eilish said "I've always done whatever I want and always been exactly who I am". This resonates with me massively because I'm the same. Throughout my dance career I was asked to conform and present myself as society's beauty standard for girls (makeup, hair, body weight) but it was too detrimental to who I was, so I continued to be me unapologetically. This followed through to my music career and has allowed me to be authentically myself throughout this process.
Enjoy unlimited access to 70 million ad-free songs and podcasts with Amazon Music Sign up now for a 30-day free trial
Sign up
Fable
My first introduction to the prolific avant-garde artist Cosey Fanni Tutti was over a hungover kebab in an eight-bedroom shared house in Brighton. It was the third day of what we would call "a sesh". The kebab went cold when my mate put on a very weird song. It was like nothing I'd ever heard – it disturbed me but in a way that made me examine my musical suppression.
What I love the most about her legacy is the agenda that runs beneath her art. It's close to ritual - she forces you to confront the uncomfortable and unpicks the fabric of the assumed. I recently read her autobiography Art Sex Music, which I found real, relatable and relevant. She was a working class artist from Hull testing her endurance in every aspect of her life and truly living as art. She would look at the world objectively and give the elephant in the room a microphone. In a time when offence is a call for censorship I think our society could learn a lot from Cosey's work, which is why she continues to inspire me today.
Sasha Keable
A woman who inspires me is my older sister. She runs her own business, is raising two kids and a dog, and still manages to look after me in anyway she can. She's my rock and I feel so lucky to have her not just as my sister but as a role model.
Esther Abrami (violinist)
I'm passionate about highlighting the work of women composers overall. It is such a pleasure to discover and perform their works, some of whom are only just beginning to be celebrated. For International Women's Day, I'm especially delighted to have recorded a piece by the wonderful Clara Schumann (1819-1896). All too often we see her relegated to a footnote in history as the wife of composer Robert Schumann, mother to their eight children, and friend to composer Johannes Brahms.
She was indeed all of these things but we should never lose sight of the fact that Clara Schumann was a gifted pianist, prolific composer and sought-after Conservatoire-level music teacher in her own right. Her beautiful music stands on its own merit and I am delighted to share it on this special occasion where women's achievements are rightly celebrated around the world.
Phem
The women I most admire in music are the ones that weren't afraid to push boundaries and piss their parents off a little. They make people uncomfortable just enough to keep them baited and intrigued. My favourites to do this are probably Madonna, Cher, Gwen Stefani, MIA, Peaches, Britney Spears and Le Tigre.
Grace Gaustad
Lady Gaga is a force of nature. I feel so lucky to have such an incredible woman to look up to as an aspiring artist. She has given so many people the courage to be themselves, including me.
Niko
Amy Winehouse said, "If I heard someone else singing like me, I would buy it in a heartbeat." I love that quote and the self-belief she had it ties in with how you should be your own biggest fan. I love her music and how she carried herself.
Josie Man
I'm massively inspired by my mum, my sisters and my best friends! They make me feel safe and they make me feel empowered. There's nothing like that caring energy and a big hug.
lordkez
India Arie is one of the women I truly look up to - she gracefully speaks her truth and demands her listeners' attention. I find that through her music I grow a deeper understanding of love and beauty.
Register for free to continue reading
Registration is a free and easy way to support our truly independent journalism
By registering, you will also enjoy limited access to Premium articles, exclusive newsletters, commenting, and virtual events with our leading journalists
Already have an account? sign in
Register for free to continue reading
Registration is a free and easy way to support our truly independent journalism
By registering, you will also enjoy limited access to Premium articles, exclusive newsletters, commenting, and virtual events with our leading journalists
Already have an account? sign in
Join our new commenting forum
Join thought-provoking conversations, follow other Independent readers and see their replies