Joanna Newsom: Labelled a 'genius' for new album 'Divers'
Joanna Newsom's lyrics have been mocked, but to fellow musicians and to her army of fans the singer-harpist is an eccentric genius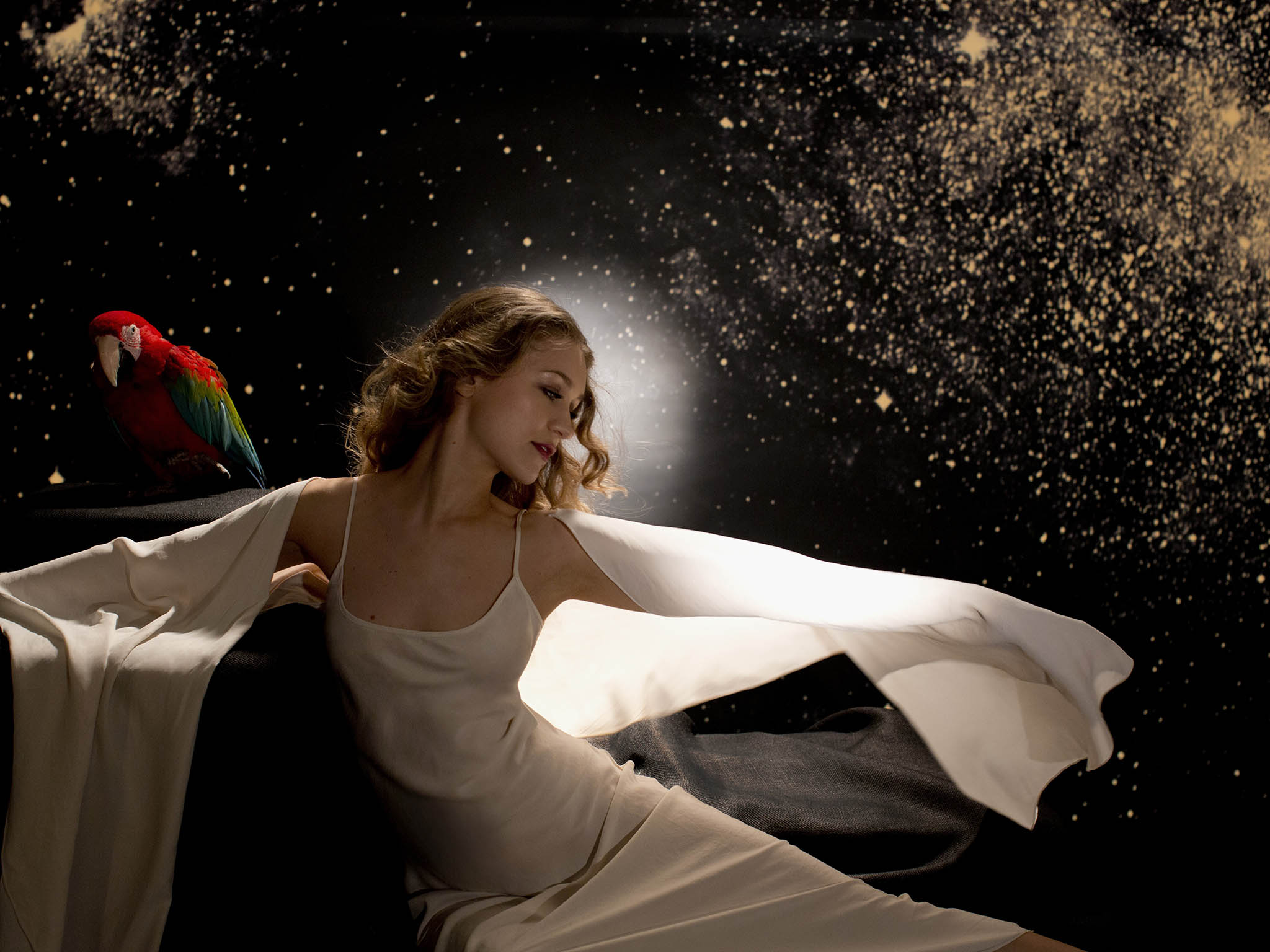 In a concert hall in Brighton, during a brief moment of quiet at a recent show by the Californian singer-songwriter Joanna Newsom, a voice rang out across the auditorium.
"You're a genius," a man in the audience cried. "Literally. A genius."
"Genius" is a strong word and one that is generally used sparingly in pop music. The Beach Boys' Brian Wilson is said to be one, though he paid the price with a mental breakdown during the making of Smile. Phil Spector is called a genius on account of the "wall of sound" that distinguished the songs of The Ronettes, The Crystals and The Righteous Brothers in the Sixties, though, given his violent tendencies, you wouldn't want to have a drink with the guy.
It's rare that you hear the term attached to recording artists today, though, much less a woman recording artist, because, if rock history is to be heeded, female performers are merely vessels through which male talent is filtered.
But Newsom, who has just released her fourth album, Divers, after a five-year gap, is an unusual case, and not just because of her gender, or the reaction she provokes from fans (I first saw it at Green Man festival in 2010 where grown-ups, the kind with jobs and children, gaped and gasped like tweens at a Taylor Swift concert).
Newsom is a woman who commands widespread respect and adulation, yet her songs are a long way from being anthems for the masses.
They are unapologetically ambitious, often dispensing with the regular verse-chorus-verse structure, or the constrictions of the three-minute pop song (2006's Ys was a five-song suite with one track clocking in at 17 minutes), and are elaborately decorated with the kind of rarefied instruments one might have expected to hear at a recital at the court of Louis XIV. They are also lyrically elusive, sometimes preposterously so, while betraying a singular love of arcane historical and cultural references.
The first single from Divers, "Sapokanikan", for instance, is about Native American oppression in Manhattan and makes reference to a painting by Titian, the early 20th-century New York mayor John Purroy Mitchel, Demeter – goddess of grain and of fertility, and Shelley's sonnet "Ozymandias". Musically, it is an unlikely marriage of jaunty ragtime and tinkling alt-pop, and is sung in the familiar Newsom style – a sometimes spooky, sometimes shrieky soprano that is, to put it mildly, an acquired taste.
People tend not to sit on the fence when it comes to Newsom and her oeuvre. To some she's a twee singer in wafty Pre-Raphaelite garb with a nails-down-a-blackboard voice whose annoyingness is compounded by lyrical whimsy ("hey little leaf, lying on the ground", etc) and the fact that her principal instrument is a harp.
To her defenders, however, her outré singing style, multi-layered songwriting, and unusual juxtapositions of instrumentation and words single her out as a trailblazer who pays little heed to the boundaries that supposedly separate art from music, poetry from pop, and the musical fringes from the mainstream.

Enjoy unlimited access to 70 million ad-free songs and podcasts with Amazon Music
Sign up now for a 30-day free trial
Sign up

Enjoy unlimited access to 70 million ad-free songs and podcasts with Amazon Music
Sign up now for a 30-day free trial
Sign up
Her music certainly defies easy classification, and has somehow – you might even say miraculously – remained immune to the conventional demands of record labels. These two elements alone make her more interesting than most.
I admit it took me a while to get to grips with Newsom, specifically to overcome what I first heard and wrote off as an awful, grating caterwaul, and to hear the exquisite craftsmanship beneath. Now the mannered nature of her singing has settled and softened, and so has my early antipathy. What I hear now with Newsom is similar to what I hear in the Canadian singer-songwriter Rufus Wainwright: a febrile musical powerhouse whose high-mindedness and classical leanings (as well as a harp virtuoso, Newsom is also a hugely accomplished pianist), combined with limitless imagination, has resulted in some of the most starkly beautiful songs of the last decade.
It's significant that, along with being adored by critics, fellow musicians and producers hold her in high regard. She has received glowing endorsements from the veteran producer Van Dyke Parks, who worked on Ys (pronounced "ees"), and from the classical composer Nico Muhly, who lent a hand on Divers, and who called her "one of my favourite musical minds in the world."
Muhly also called her "a mistress of structure and of governing time; the listener feels on a journey with a responsible guide", which perhaps pinpoints what is so unique about Newsom. You don't just switch on her music and do the dishes. Her albums require a higher level of engagement and focus. This is not what pop music is supposed to ask of its listeners, and yet her legions of admirers seem game for some hard graft.
Indeed, deciphering her lyrics has become an online sport, a form of sleuthing where, in the manner of Dylanologists, fans follow the trail of breadcrumbs that are the singer's historical and literary allusions. Newsom affectionately calls them "the delvers".
There are alleged clues in her videos, too, though this has been denied by the film director (and director of Newsom's video for "Sapokanikan") Paul Thomas Anderson, who also cast her in his 2014 detective drama Inherent Vice.
But while these forums will debate the supposedly hidden meanings in her songs, the details of the rest of her life are, for the most part, left respectfully alone. We know that Newsom grew up in Nevada, is the daughter of two doctors (who are also skilled musicians), and now lives in Los Angeles with her husband, the actor Andy Samberg, in a house that was once occupied by Charlie Chaplin. But she is no publicity seeker. While she tackles suitably enormous themes of love, life and death in her songs, she seems to refrain from mining her personal life for artistic gain.
The respect that she is afforded online clearly extends to the live arena, where she intersperses harp-playing with interludes at the grand piano, and where admirers may occasionally shout their approval, but mostly will sit, rapt and in silence, joyful in the knowledge that there's nobody else like her.
Newsom a genius? It's not so very far-fetched.
Divers is out now on Drag City
Join our commenting forum
Join thought-provoking conversations, follow other Independent readers and see their replies