Kasabian interview: Serge Pizzorno talks For Crying Out Loud, festival headliners and Noel Fielding's Bake Off debut
'We did really basic recording – some of it took place in a big studio but the whole thing was all done on instinct, really quickly – and it felt right to make this kind of album'
Roisin O'Connor
Music Correspondent
Wednesday 26 July 2017 10:12 Comments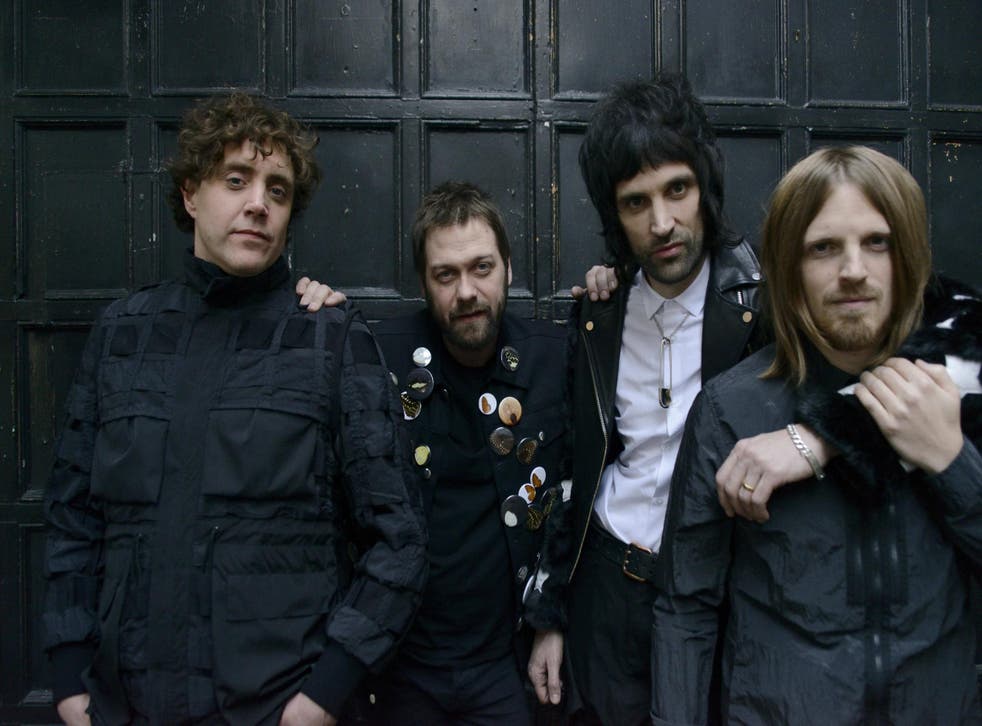 Kasabian's Serge Pizzorno has to have a good reason to make a record.
"I get pretty obsessed," he says. "The idea of just servicing the machine isn't very inspiring."
So while he didn't have any explicit plans to start writing a follow-up to the band's record 48:13, the guitarist and songwriter found himself setting a challenge of sorts – to pen the music for something new in just six weeks (material for its predecessor took one year to complete) – doing "9-5" shifts rather than writing late at night.
This resulted in material for the band's sixth record For Crying Out Loud, which sees them return to the sound that made so many fans fall in love with them: a disco-infused, joyous indie-rock roar that kicks off with album opener and absolute belter of a second single: "Ill Ray".
"There was a lot of experimentation on that record [48:13], and I wanted to take all that out of it," Pizzorno says. "So I could only use the guitar and the piano. It was weird, because I've got a nice collection of old gear – but I wasn't allowed to do any of that.
"I wanted to try and write a great guitar album," he continues. "I was interested in Berry Gordy's approach, Motown and that Seventies period where guitar music… the songs were really strong and the melodies were really strong… but there's also this amazing disco-funk thing on it. I thought it'd be nice for my brain to go 'it's done in six weeks'. In that period I wrote 10 songs – I wrote more than that but they didn't work – and I decided I wouldn't have anything on there that didn't fit."
Compared to artists who contradict themselves by saying they understand how audiences have "shorter attention spans", only to wheel out 20-track monsters, Pizzorno says that he "cut away all the fat" from the record until the band were left with a 10-track album.
"I wanted to go with that approach, that old-school way of going 'first eight bars, everything has to draw you in'. I cut away all the fat, all the layers," he says.
"Then I went on holiday for a while, and then I came back to it and wrote 'Ill Ray' and 'Acid House'. And I feel like going back now, I've… executed the plan. Sometimes you get these ideas and end up doing something completely different. And obviously that's great too. But this time I did what I said I wanted to do."
On "Bless This Acid House" there's a definite Ramones/Buzzcocks feel, that roots itself in a great melody then brings on that distortion that Pizzorno says "adds another element".
"We did really basic recording – some of it took place in a big studio but the whole thing was all done on instinct, really quickly, and it felt right to make this kind of album," he says. "Because there's not been a lot of guitar albums made in a long while."
Enjoy unlimited access to 70 million ad-free songs and podcasts with Amazon Music Sign up now for a 30-day free trial
Sign up
In an interview with Q magazine, Pizzorno claimed that Kasabian were back to "save guitar music from the abyss" – a rather grand statement that seemed to have been made purely to serve as NME headline fodder.
"That was very tongue-in-cheek, pure joking," he says with a sheepish grin. "It's context. I assume people read it… they probably don't actually… but if you knew me you'd know it was standard."
While he may have been poking fun at his own band, he is utterly sincere when it comes to the lack of new talent making it onto the radio.
"I just feel that we have a platform, we headline festivals and our tunes get played, and at the moment it sounds so weird – one of them came on the radio on the way to this interview, sandwiched in between bleeps and clicks. And there's something beautiful about that – and if we can get that through, hopefully people will go 'we should have more of that'.
"The bands don't get a shot and that's really unfair," he adds. "It [guitar music] needs a platform… the reason why certain things get big is because people decide that it's allowed to. So if we stop playing a certain kind of music it's gonna disappear.
"If Ed Sheeran had come out 10 years ago things probably would have been very different. Slaves, Cabbage, there's some cool stuff getting out. I just wish it got more of a push."
While his mop of dark hair, penchant for black clothing and the slight stoop of a man aware that he's taller than most – like a rock-and-roll raven – would fool you into thinking otherwise, Pizzorno is like the antithesis to Tom Meighan's outlandish, swaggering frontman persona, and the pair seem so different to one another that you wouldn't actually think they belong to the same band.
"We do occupy different universes – he's the sun, I'm the moon," Pizzorno smiles fondly. "A sense of humour is what's kept everything ticking over… we make each other laugh a lot."
Making this record helped Meighan handle a difficult 2016, after a close friend passed away and he split from his long-term partner, with whom he has a child – in that same Q interview the frontman revealed: "In every way, 2016 was great for Serge, great for Leicester City, s*** for me."
"I wanted to make a really uplifting, feel-good album. And it's family business, you know?" Pizzorno says now. "So making a record, getting into the studio, I think it helped Tom. It was nice for him to get lost in that – especially making the tunes that were super upbeat."
Somewhat unbelievably Pizzorno says he doesn't get recognised when he's out with one of his best friends, comedian Noel Fielding. "Even more so now – they think I'm his brother, probably," he says.
The guitarist reckons Fielding – who stars in the band's video for "You're In Love With A Psycho" – will do a great job as one of the new hosts on The Great British Bake Off when it relaunches on Channel 4.
"He's so warm, he's such a warm soul. And he's really clever," he says. "Whatever people are expecting, I don't think they have any idea… he's gonna be so good at it. Him and Sandi [Toksvig] is a great combo as well, she's wonderful. I don't think it's too dissimilar to what was going on before."
Pizzorno's love of comedy is present in pretty much every Kasabian record, but most obviously so on this one – quirky surrealism crops up in first single "You're In Love With A Psycho" on lyrics like "The doctors say I'm crazy, that I'm eight miles thick/I'm like the taste of macaroni on a seafood stick".
"The story of that song is a man or a woman who has visions of being the prodigal son, thinking he's friends with Axel Foley… having an argument outside an off-licence and reciting Bukowski to win back the person they love," he says.
"We all have those moments in relationships… or we know a friend who has, where you look at each other and go, 'That was a bit strong... I only forgot to put the bins out'. I've had a few texts off mates asking, 'Is that me?'"
How does he answer?
"I say 'no!'" Pizzorno says laughing. "It's nobody. It's all of us."
In August, Kasabian will headline the Reading and Leeds festivals for a second time, having started out as the first band to perform at 2004's event – "We were literally the first band in the tent" – after the release of their self-titled debut.
You can guarantee that they'll put on a good show, but alongside fellow headliners Muse and Eminem, but for some it made for a disappointingly predictable top three.
"If I could reel off 10 bands that could headline and do a good job then I would, but I don't think I can," Pizzorno says.
"It's far from easy. You have to stay relevant for that long, and that's what the trick is. Most bands can put out a nice couple of albums, then everyone disappears."
Ahead of For Crying Out Loud's release, Kasabian have been touring around much smaller venues to what they're used to, flexing their muscles a bit and testing the new songs for the first time.
"That's the optimum place to see any band, 2,000 seaters," he says. "That's the ultimate live music experience. No matter where you are in the room you're not that far away.
"It's nice to do that. And it's the hardcore fans that've stayed with you, even if you've gone… off-track. You know they're there."
Kasabian's sixth album 'For Crying Out Loud' is out on 5 May via Columbia Records. They headline Reading and Leeds festival on 25 August.
Register for free to continue reading
Registration is a free and easy way to support our truly independent journalism
By registering, you will also enjoy limited access to Premium articles, exclusive newsletters, commenting, and virtual events with our leading journalists
Already have an account? sign in
Join our new commenting forum
Join thought-provoking conversations, follow other Independent readers and see their replies