Keeping it in the family: Wilco's Jeff Tweedy on making an album with his son
Tweedy: 'I want to make a record that is universally accepted as the greatest thing that's ever happened in music'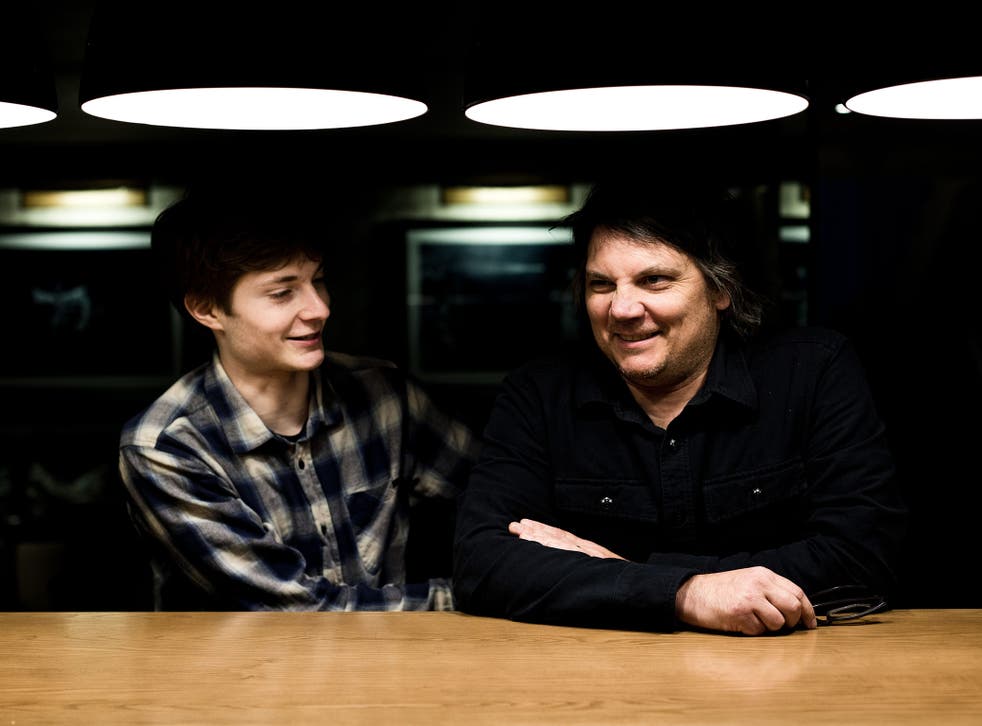 On my arriving to interview Jeff Tweedy in his hotel room in west London, the 47-year-old lead singer of Wilco teases me.
"The last journalist here gave me a ring, so you have a lot to live up to," he says, smirking.
"Yeah. But don't worry, there's a mall across the street if you need to nip out and get us something," chimes in Tweedy's 18-year-old son Spencer.
They make quite the pair, this twosome. And theirs is an easy relationship; they crack jokes together, egg each other on. A mutual feeling of pride is obvious.
First, perhaps I should explain why Jeff, who helms one of the most successful American alt-rock acts of recent times, and someone whose output frequently reduces grown men to tears, is in London with his teenage son in tow.
Although we're officially here to talk about Wilco's 20th anniversary, the duo is in town to play a show as Tweedy, a side-project of Jeff's. When Wilco were on hiatus late last year, Jeff decided it might be time to put out a solo effort which he imagined would be "just me in the studio, playing all the instruments."
In the end, having just used Spencer to play drums on a Mavis Staples record he was producing, he recruited his son again ("it was just bending the rules a little bit"). Their album, Sukierae (called after Jeff's wife and Spencer's mother Susan's nickname), was released in September and Jeff now proudly refers to it as "a collaboration."
It is a busy time for the Wilco frontman. Not only is he touring with his son but he has been overseeing a double upcoming release and a six-day residency at Chicago's Riviera Theatre in December to mark two decades of his band. Alpha Mike Foxtrot will feature four discs worth of rare tracks, live recordings and personal demos, while What's Your 20? includes essential favourites such as "I Am Trying to Break Your Heart" and "How to Fight Loneliness." Could Jeff have imagined he would be putting out such collections when he started the band all those years ago?
"As a musician and songwriter who has written a lot of material in my life, I think even very early on I had daydreams of box sets," he laughs.
Since Wilco formed in Chicago in 1994, over the course of eight albums they have evolved from a straight-up alt-country group to a band that has repeatedly experimented with folk and art rock. As with any outfit that surpasses voting age, they have not been without their troubles. There's the death of former guitarist Jay Bennett with who Jeff had a tricky, to say the least, relationship with. And booze, pills, and fallings out all feature in their colourful past. But, then, so do the accolades. 2002's Yankee Hotel Foxtrot is considered a modern classic and 2004's A Ghost is Born won two Grammy awards, including best alternative music album. But forget about sales and critics, it is their loyal following that invests in the band with a cult-like obsession that really sets them apart from other groups. Fair-weather Wilco fans seem to be few and far between.
Enjoy unlimited access to 70 million ad-free songs and podcasts with Amazon Music Sign up now for a 30-day free trial
Sign up
Both the new compilations were overseen by producer Cheryl Pawelski while Jeff took a back seat in proceedings. "I wouldn't have been the one to do it, and I shouldn't be the one to do it," he argues. "Especially the 'best of' or whatever you want to call it. I would be the worst person in the world to choose that. In fact, if I made a set-list of the songs that I think are best, most people would be asleep by half way through. I'm always most proud of the more sombre tracks."
The Tweedys have had plenty to feel sombre about recently. Not only did Jeff's older brother Greg pass away in 2013 but, at the beginning of this year, his wife Susan was diagnosed with cancer. Yet Sukierae, a meditation on the myriad types of loves, is a surprisingly ebullient affair.
"It was a very scary time and there was definitely a lot of life-and-death anxiety going on," says Jeff. "But the silver lining is it focuses the mind on beautiful things that you have in your life to share." Having undergone chemotherapy, Susan is now in remission and the family is hopeful. "We're moving forward. We're uncertain about how health issues are going to play out but in the meantime there's a lot to be joyful for. I hope that the record comes across like that."
The family, which includes Spencer's little brother Sammy, come across as a tight unit. Spencer, who is not dissimilar to one of the sweet, precociously intelligent characters you might imagine Michael Cera playing in a film, is postponing college for a year to play with his old man. He has been drumming since he was two and also has his own band, The Blisters.
"I didn't really need any active encouragement from them [to play]," says Spencer. "But my mom is quite pragmatic, telling me my whole life that it's smart to work on other things because it's really hard to make money from music."
Still, there was little doubt about Spencer going into the family business. They paint a picture of a home filled with music, with both father and son voraciously consuming records. And they tip each other off all the time. Recently, Spencer passed on Clipping and Mac DeMarco to his father, while Jeff introduced him to Relatively Clean Rivers and T Rex.
"But, like, with T Rex, that's just a responsibility as a parent!" cries Jeff, wildly gesticulating.
The pair discuss how the industry has changed over the last 20 years since Wilco began. They both agree that the opportunities afforded by the internet far outweigh diminished financial returns (in fact, Wilco were pioneers of the free music giveaway when they streamed Yankee Hotel Foxtrot after falling out with their record label.)
"They don't have the same anxiety about being heard that I think people of my generation had," suggests Jeff. "Yes there's like a white din of noise that you're throwing something out into the middle of but at least you can throw it somewhere."
Meanwhile, Jeff has gotten to a secure place in his career. Despite numerous shifts over the years, the line-up of Wilco has gone unchanged for a decade, something he attributes to members growing weary of the typical pitfalls that come with being in a band. Jeff insists that it's no coincidence that he got a lot healthier 10 years ago too (he suffered from anxiety attacks and struggled with painkillers). Still, he dismisses the idea that the band has secured their legacy. They still have plenty they want to achieve.
"I don't feel like the stakes are ever lower. I want to make a record that is universally accepted as the greatest thing that's ever happened in music," deadpans Jeff, ahead of guffawing. Spencer takes in every word, before joining in the laughter.
Wilco's 'Alpha Mike Foxtrot: Rare Tracks 1994-2014' and 'What's Your 20? Essential Tracks 1994-2014' , and Tweedy's 'Sukierae' are out now
Join our new commenting forum
Join thought-provoking conversations, follow other Independent readers and see their replies