Keychange: The European initiative working to empower women to transform the music industry
While the festival landscape has shifted ever-so-slightly to include some choice non-male and non-white acts, the scales have hardly been balanced. A new scheme is working to change that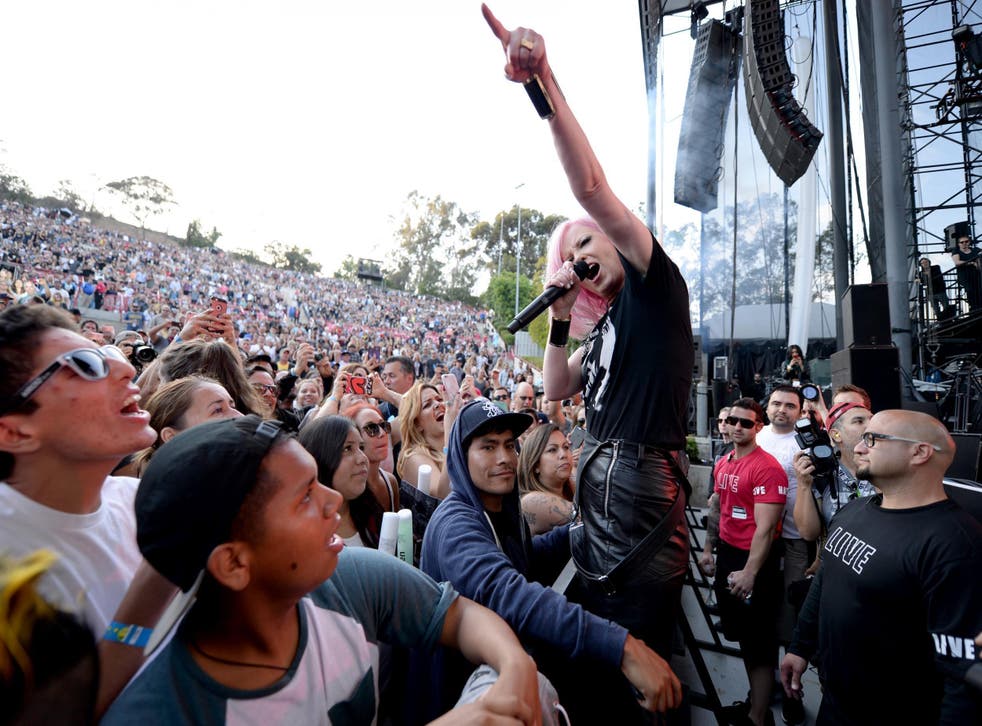 Each year festival lineups are revealed to music fans – and each year the conversation returns to the lack of women on the bill. So far this year, Wireless Festival has received the majority of the backlash, with just three female performers on its roster among the acts announced so far, but Isle of Wight has also come under fire, as has Reading & Leeds, which has an all-male set of headliners for the fourth year running.
While the festival landscape has shifted ever-so-slightly to include some choice non-male and non-white acts, the scales have hardly been balanced. A quick scan of this year's festival lineups and you'll still find a glaring lack of female-identifying musicians. Tweaks are being made, but as it currently stands, male acts still take up an overwhelming majority of festival lineups... and it will remain this way without affirmative action.
Fortunately change is happening. Keychange, an initiative backed by music charity PRS Foundation, is a collaboration with numerous festivals across the globe who have pledged to improve their lineups by giving male and female performers an equal footing. The goal, which was proposed by Reeperbahn Festival in Germany, is to fulfil a 50/50 gender balance across their festival lineups and conferences by 2022. Events which have already signed up include Brighton's The Great Escape and Iceland Airwaves and the BBC Proms.
The initiative might unsettle some people. Accusations of tokenism will be their first contention, but this is ultimately specious. Diversity is itself a valuable thing since it extends merit to acts beyond the festival-favoured four-dads-in-a-rock-band setup. These acts will still be on offer, but not in abundance. It doesn't seem so radical to have one female act to every male; rather than one to every ten. Then there's the obvious, flawed assumption that there is an unending pool of male talent, while female talent would have to be stretched and compromised in order to fill that 50 per cent target.
"Of course it is not true that there is a lack of great female-identifying acts to choose from. What utter nonsense!" Garbage singer and Keychange ambassador Shirley Manson says.
The myth of female scarcity has long been used to avoid female artists on festival lineups. While a stream of male acts fill most of the world's main stages, a female act is treated as an exception. But why is it so uncommon to see a lot of female bands on the same bill?
"That's a very good question," Theodora Nordqvist, an artist manager from Sweden and one of the 60 women involved in the Keychange talent development program, answers. "But I think we should rephrase it. How come, in 2018, there are still so many men on the same bill? This is a massive issue and a question all promoters should ask themselves before even releasing the festival announcement."
These targets will not challenge men themselves but the overpowering state of male dominance within the music industry. This after all wouldn't exist without its causal dependence on female deprivation; something that is still being upheld by men at the top of the music industry, not just in the festival business.
Neil Portnow, president of the Music Academy, recently commented that women just need to "step up" in response to the accusation that women were left out of the 2018 Grammy Awards, later backtracking after an enormous backlash and criticism from artists and industry figures.
Enjoy unlimited access to 70 million ad-free songs and podcasts with Amazon Music Sign up now for a 30-day free trial
Sign up
"There are plenty of women stepping up" says Manson. "They are just not being given the opportunities to grow their careers or to win slots on festival lineups, radio programming and streaming channels. Have you any idea how many times my band have heard the blanket term 'they just don't play women'?"
Thanks to comments on social media, festival organisers are becoming increasingly aware of gender disparity. However, there often seems to be a deliberate ignorance on their part: of the vast pool of female talent available to them, and of how male performers are grossly privileged over female ones.
"Surely research would confirm that women are not intrinsically less inclined to make music but that they are prevented from pursuing these careers at a later stage in life due to circumstances, lack of role models or barriers which are only just being tackled," says Barbara Gessler, head of Unit Culture for the Education, Audiovisual and Culture Executive Agency at the European Commission, which is co-funding the Keychange initiative.
Carlotta Cosials, who has played many festivals with her all-female band Hinds, has experienced discriminatory treatment backstage as well as on stage. She explains how "a lot of times we feel they see us as 'groupies'".
"It doesn't matter if we're playing a bigger stage or a better slot, sometimes they act like they're clearly above us," she says. "Like we're these poor little dumb girls that have no idea. They really treat us like we're not owners of our music, but we're just the faces."
This kind of treatment works from the top down and it won't change until women are given an equal standing. Currently, headliners are repeated and heritage acts are brought to the main stage each year both because of the safety they ensure, and their alliance to the festival organisers. Bonds are formed between the male organisers, the overwhelmingly male booking agents and managers, and the male performers.
It's not hard to spot today's batch of bands who are profiting from festival nepotism. These relationships stick and lineups remain largely unmodified because festival sponsors, who now contribute to a very large amount of funding, are more likely to finance something that has been long established. After all, as they so often argue (although perhaps not in these exact words), "the white male sells".
"It's not just female-identifying musicians who struggle to win spots on festival slots," Manson notes. "All colours, all creeds, all genders, all identities and all minorities need better representation."
Radio 1 Xtra and Keychange participant Jamz Supernova agrees, arguing that we should continue to strive so that all "people of colour, LGBTQ and disabled artists get to comfortably own these spaces on lineups".
Forty-five international music industry conferences and festivals have made a pledge towards achieving or maintaining a 50/50 gender balance across their festivals by 2022. For more information on Keychange visit here
Register for free to continue reading
Registration is a free and easy way to support our truly independent journalism
By registering, you will also enjoy limited access to Premium articles, exclusive newsletters, commenting, and virtual events with our leading journalists
Already have an account? sign in
Register for free to continue reading
Registration is a free and easy way to support our truly independent journalism
By registering, you will also enjoy limited access to Premium articles, exclusive newsletters, commenting, and virtual events with our leading journalists
Already have an account? sign in
Join our new commenting forum
Join thought-provoking conversations, follow other Independent readers and see their replies