Khalid interview: American teen talks early fame, touring with Lorde and celebrating youth
'I'm still proud of who I am, of my youth – and we've begun to realise that we can change the future. We all have to participate'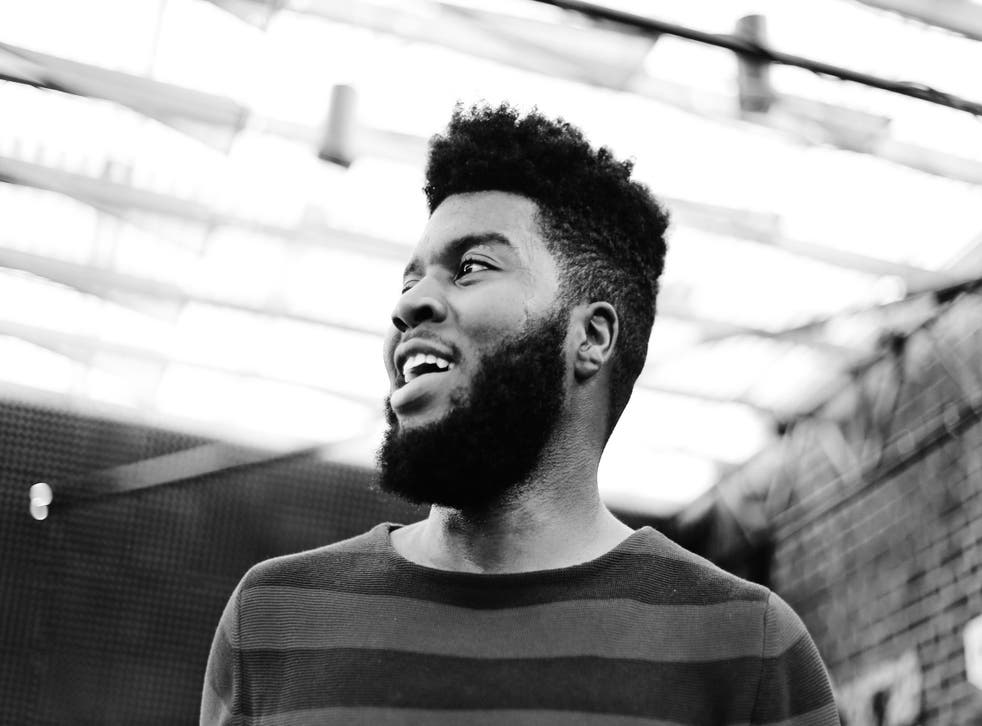 When American Teen was released, Khalid told himself that his life was about to change.
He wasn't wrong. On top of the success of his enormous hit "Location" – a sultry, flirty jam that went platinum and currently boasts over 190 million streams on Spotify – the 19-year-old has also released his debut album and appeared on tracks by Kendrick Lamar and Calvin Harris.
He's in London after a pop-up show on a roof in Dalston, where fans could text into find out his location and see him perform a few songs.
"I had one day [in London] where I just walked," he says. "I didn't know where I was going! I don't usually walk in America so... it was a first."
Still on a high since American Teen dropped in March, he says people have been contacting him to say how much they love it, which has given him a boost of confidence.
His profile was raised considerably thanks to praise from celebrities such as Kylie and Kendall Jenner, who tweeted and shared Snapchats of themselves listening to his music.
They're of the same generation, and Khalid is one of few artists who really seem to speak for an entire age group.
"I try to tap into a lot of my friends' emotions," he says. "Some of my friends go through it and they ask for advice, and I can only talk so much. But once I put it into a song they can listen to – that's my goal. Creating happiness. Because I've been upset, and I've turned to music to help me out. And it helped me even more when I started writing my own."
Before he began creating his specific brand of soul-infused R&B – that descends from a lineage including The Weeknd's earlier work along with new offerings from the likes of Bryson Tiller, Frank Ocean, Syd and The Internet – Khalid originally thought he might be a performing artist in opera or musicals.
"It was definitely a transition," he smiles. "My mind was so geared towards being a performing artist, singing all these classical pieces, but the sense of loneliness I got when I moved from New York to El Paso meant that writing turned into singing. I'd sing all these songs and they'd make me feel better. Songs that crafted the way my life was going to go."
Enjoy unlimited access to 70 million ad-free songs and podcasts with Amazon Music Sign up now for a 30-day free trial
Sign up
In the video for "Location" there's an obvious use of classic American iconography that can be held up against the progressive message in Khalid's lyrics on "American Teen", almost as though he and his peers are new settlers staking a claim, and demanding that their voices are heard. It must make for particularly poignant viewing for real American teenagers, considering everything that's happened in the past year.
"The crazy thing about that song ['American Teen'] is that I wrote it before the election," Khalid says. "I wrote it mostly in my senior year as an ode to my high school. It felt like everything related. 'Cos I wrote a whole different song on that beat, trashed it then started writing 'American Teen'.
"It had this sense of nostalgia. Then after everything happened I was like 'Should I still release this song?' And I was like 'definitely'. Because I'm still proud of who I am, of my youth, and I feel like now as individuals we begin to realise that we can change the future. We all have to participate.
"A lot of people feel pressured by the outside influences, whether it's your job, whether it's school. But who says you can't take care of that stuff and still be young?"
There's a lovely touch in the outro where Khalid brought his friends into the booth to sing along: "They're still all my best friends, and I can look back and be like, 'damn', they were really a part of this."
He admits he was worried about the effect that early fame could have on his relationships, "and I feel like it was smart for me to be worried, because a lot of people did change".
"I felt like it was realising who was there for me and who was there for... other stuff," he says slowly. "It's a hard process, losing friends who you thought were true. But I guess it's because a lot of people created this idea that I was changing. It was more like I was evolving. I'm still me, you know? Still the same friend. I've had friends for 12 years, always the same relationship.
"Some people see everything around me and feel like they have to change, or start to try and take advantage – which was upsetting," he acknowledges. "But that's life, especially when you're young and successful you'll find other people who want to rush. But it takes time for things to happen."
From one "voice of a generation" to another, Khalid is set to go on tour with Lorde during her UK and Europe headline dates, something he's obviously ecstatic about.
"She's a great individual, she's smart, she's an amazing songwriter, and she's one of my biggest influences," he beams. "When we came to the discussion of me going on tour with her I still couldn't really believe it was happening. It's definitely going to be a breaking point I think. I'm going to break through a lot of different boundaries, and I'm going to see a lot more of my international fans, which I'm so excited about."
It's a given that Khalid is a wonderful voice to follow on social media, where he frequently shares new artists that he loves – most recently the debut album from Cigarettes After Sex.
It features a track called "Young & Dumb", which hints at similar themes to Khalid's second single "Young Dumb & Broke" but is markedly different in tone.
"I love it, and they're from El Paso!" he says. "It's transient, that album. When I listened to that project when it came out, I was definitely entranced – I got lost. It's so peaceful and serene, and then you start focusing on the words. I listened to it on my flight from DC to Heathrow on repeat, on a loop continuously. You can listen to it in multiple ways if you want to, that's the best kind of music."
Khalid says he also loves rediscovering music he fell in love with years before: "I definitely associate songs with the places that I've been.
"Last time I was in London I was listening to 'SEXUAL' by Neiked. I was in the car and it was on the radio and I was like 'what is this?! This is so much fun'. And I remember when 'Slide' came out by Frank Ocean, Calvin Harris and Migos. I was in Paris. It's amazing how you can pinpoint where you were when you first heard a song."
Appearing on Kendrick's "The Heart Part 4" happened when Khalid was working on a song that he later scrapped. Producers turned it into a beat and said it "sounded like something that would be for Kendrick".
"And he heard it," Khalid says, looking stunned even now. "I'm freaking out. and he cuts the song, I didn't know until the single came around. And when I heard it I was like, 'no way'. He's such an amazing creative, I'm blessed to say that I was even a part of it."
His mother, Sgt First Class Linda Wolfe, who recently retired from the US army after 23 years of service, is still a huge inspiration.
"She sings – she just retired but she still sings – and if it wasn't for her I definitely wouldn't have the voice that I do," he says. "I heard her singing the records I grew up on. We listened to a lot of stuff, my mum introduced me to a lot of music and allowed me to keep such a broad ear."
People don't know what to expect from a 19-year-old kid who lives in El Paso, Texas, he says, and are often surprised when he expresses admiration for someone like Father John Misty.
It's strange, considering his generation is one that has grown up with the liberty of having almost-unlimited access to music from all over the world.
"Everything is so easily distributed now, it's so within reach," he nods. "And I feel like that's why genres are doing what they're doing right now, we're getting so much music, and people aren't afraid to listen to all of it. It's definitely changing the way that younger people receive and make music.
Khalid in a way is the physical embodiment of "music that travels" – from moving around the country as an "army brat" to making waves on the internet.
"Music's just so much bigger than... everything," he says. "Genres were definitely created for radio, and radio is still a powerhouse but it's not the way we receive music right now, we listen to it in so many different ways. So you always have so many different suggestions.
"I remember when I used to click on YouTube, one song would lead into another, and you'd end up on completely a different genre but it still linked in some way to the first song.
"I feel like some people are definitely still close minded when it comes to music. But even if you don't like it, there's a hell of a lot of people who do."
American Teen, the debut album by Khalid, is out now. He tours with Lorde during her UK and European dates from September 2017
Join our new commenting forum
Join thought-provoking conversations, follow other Independent readers and see their replies