Leon Fleisher: 'My life fell apart...'
At 16, he was 'the pianistic find of the century'. There followed a sparkling two decades before his right hand seized up mysteriously. Now, after a 40-year battle to regain mastery of the keyboard, Leon Fleisher is headlining next month's Aldeburgh Festival. Lynne Walker hears his extraordinary story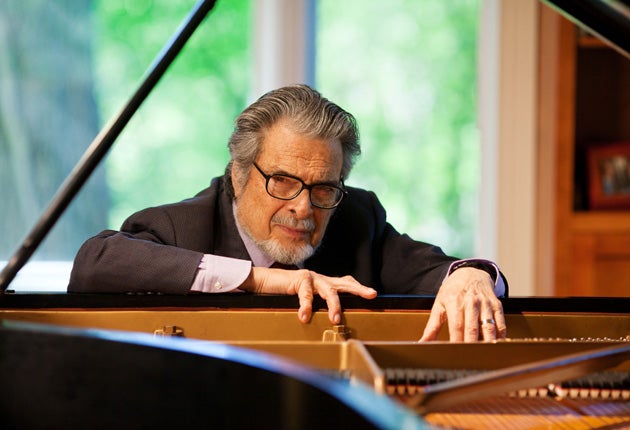 "My mother was very ambitious for me and gave me a choice," recalls the California-born piano virtuoso Leon Fleisher. "Either I was to be the first Jewish President of the United States, or a great concert pianist. Whichever it was, I had to be perfect." Now nearly 82, and one of the outstanding musicians of our time, he looks back on his search for perfection as something that has brought him "great despair, self-pity and unhappiness allied with commensurate ecstasies".
Fleisher is part of a musical tradition descended directly from Beethoven. He was a pupil of the legendary Artur Schnabel, whose own teacher was Theodor Leschetizky, who in turn had studied with Carl Czerny, a pupil of Beethoven. Since the age of four, when he began learning the piano, Fleisher considered music his whole life. He made his first public appearance four years later and at 16 played with the New York Philharmonic under Pierre Monteux, who described him as "the pianistic find of the century". High-profile concert engagements in the 1950s and 1960s and an acclaimed series of recordings with the Cleveland Orchestra under George Szell marked him out as one of the most gifted pianists of his generation.
By the age of 36, he could barely write his name. "I was preparing for the most important tour of my life when I had a minor accident. I cut my thumb on a piece of cheap garden furniture and required a couple of stitches. When I started practising again, things didn't feel quite right on my right side. My fourth and fifth fingers seemed to want to curl under. I practised even harder, not listening to my body when, through pain, it warned me to stop. Things got progressively worse and in less than a year those two fingers were completely curved under, sticking into the palm of my hand. No way could I play the piano." It was as if his arm were a rope becoming unbraided, with creeping numbness in his fingers. Engagements were cancelled, recordings put on hold.
"I was desolate," he says. "My life fell apart, and this mysterious debilitating condition destroyed my relationship with my second wife, striking deep into my family." Doctors were perplexed and could offer no medication or surgical repair to a condition that baffled them. Fleisher even considered suicide. "I grew a beard, wore my hair long and in a ponytail, and I got a Vespa scooter. I felt I had no purpose any more; I was simply floundering."
After a couple of years marking time, he realised that his connection was with music, not just with playing the piano with two hands. Out of a disastrous impediment, three new careers beckoned, the first as a left-handed concert pianist. "I thought about Paul Wittgenstein, the Austrian concert pianist whose right arm was shot off in the First World War. He commissioned works for the left hand from Richard Strauss, Korngold, Hindemith, Prokofiev, Ravel and Britten, so there was existing piano literature for pianists with no function in their right hands. And there was Brahms' magnificent arrangement for left hand of Bach's Chaconne for solo violin. Thank goodness it wasn't my left hand that stopped working, since there are hardly any piano works for right hand alone. There are about 1,000 pieces for the left hand out there – most of them pretty bad – but Ravel's Concerto for left hand, which I must have played over 1,000 times and have also conducted from the keyboard, is a masterpiece in its own right."
"Secondly, I decided to pursue a musical career through conducting, moving from a sitting to a standing position. It felt so different to be on my feet in front of an orchestra but, worse, I immediately felt my ass to be 10 times its normal size, waving around in front of the audience."
But it was in teaching that he found real happiness. "I became far better at explaining those elusive areas of expression and nuance that are so difficult to express in words." Indeed, his masterclasses, in which, as tutor, it is irrelevant whether you can use five or 10 fingers, are models of gently humorous correction and deeply-felt inspiration.
He never gave up the idea of returning to two-handed repertoire. After leaving the concert platform in 1965, Fleisher tried every kind of medical, psychiatric and alternative treatment, from acupuncture and hypnosis to deep-tissue massage, Tiger Balm and others, including more than a few drams of Scotch.
But, as a result of conducting and grasping the baton too tightly, he developed carpal tunnel syndrome. This weakness in the forearm and hand caused by pressure on a nerve in the wrist could be alleviated only through surgery. So Fleisher agreed to have his wrist cut open with a knife, to the accompaniment, he remembers, of a recording of Mahler's First Symphony. Astonishingly, the surgery for one ailment helped the other, and his fingers began to straighten out. "After 18 years, I was able to play again. In 1982, I was invited to open the new Meyerhoff concert hall in Baltimore and made the front page of The New York Times for being able to use both hands for the first time since 1965."

Enjoy unlimited access to 70 million ad-free songs and podcasts with Amazon Music
Sign up now for a 30-day free trial
Sign up

Enjoy unlimited access to 70 million ad-free songs and podcasts with Amazon Music
Sign up now for a 30-day free trial
Sign up
But this supposed cure proved short-lived. "I knew things weren't quite as they should be," admits Fleisher. "I had to change the advertised programme from Beethoven's Fourth Piano Concerto to Franck's Symphonic Variations. It didn't feel to me like a triumphant return. I broke down in tears in the dressing-room before the concert and felt awful at having to go through an evening of pretence."
His pianist wife, Katherine Jacobson Fleisher, knew too that this was not the solution to her husband's problems. For the remaining 12 of that series of "comeback" concerts, Fleisher reverted to left-hand repertoire. Only in 1995 was he finally diagnosed with a neurological disorder called focal dystonia. "It's a malady caused by the brain learning to do a wrong thing, and though a cure has been found, I am a dystonic for life. It's task-specific. Glass-blowers get it, computer workers can become afflicted and golfers begin to miss their putts."
Fleisher thinks there could be 10,000 musicians around the world suffering from the condition and that the composer-pianist Robert Schumann may have been an early victim, causing permanent damage by mechanically exercising his troublesome fourth finger.
Fifteen years ago, Botox was still in its experimental stages. However, a small dose injected directly into the appropriate muscle along with holistic massage therapy involving connective tissues restored Fleisher's fingers sufficiently for him to return to two-handed performances. A tiny amount of Botox relaxes the fingers without causing the paralysis evident when it is used to reduce facial wrinkles by immobolising muscles. Crucially, there is no sign of any of the negative effects, such as a diminished quality of emotional experience.
In 1995, Fleisher made a second comeback, quietly and without any hype, as he tested his stamina. Only after proving himself to himself did he feel ready to resume his career as a two-handed solo pianist. In 2005, he gave 40 concerts in 31 cities and the following year enjoyed success at New York's Carnegie Hall. The same two fingers on Fleisher's right hand still want to curl, but Botox injections every four months keep the condition under control.
At next month's Aldeburgh Festival, Fleisher will play solo music for two hands by Schubert and Brahms before being joined by his wife in four-handed repertoire by Dvorak and Ravel. "We've dubbed this programme 'Let's dance'. It may be light-hearted but it's also great music."
When I ask him if he dances, he roars with laughter. "Wouldn't that be a lovely idea?" he exclaims. "I'm afraid my feet follow my hands. In fact, I have two left feet! It's a deep regret, along with the fact that I am totally ungifted when it comes to jazz." According to his singer-songwriter son Julian, though, Fleisher does have something in common with great jazz players: the importance he places on rhythm. Fleisher feels rhythm as the heartbeat of music. "It regulates the metabolism of the piece, motivates the music and, if it's infectious enough, makes us tap our toes."
While he may have been a great loss to presidential circles, this indomitable octagenarian would certainly not have disappointed his mother.
At the Aldeburgh Festival, which runs from 11-27 June, Fleisher will play solos and duets with his wife (13 June); give a masterclass (15 June); and discuss focal dystonia before a screening of Nathaniel Kahn's Oscar- nominated documentary about Fleisher, 'Two Hands' (17 June). For tickets, call 01728 687 100 or visit aldeburgh.co.uk
From Pears to 'the Piper': The best of Aldeburgh
The 63rd Aldeburgh Festival opens with George Benjamin's fascinating reworking of the Pied Piper tale, Into the Little Hill in a double bill with Berio's Recital 1, a co-production between London Sinfonietta and The Opera Group, marking Benjamin's 50th birthday 8pm, 11 and 18 June, at the Snape Maltings concert hall
The festival's artistic director Pierre-Laurent Aimard will pop up as recitalist, concerto soloist, conductor and chamber musician, including a programme of Schumann, Debussy and Messiaen with the soprano Christiane Oelze (7.30pm, 22 June, Snape)
Pierre Boulez visits the seaside festival for the first time with the Ensemble Intercontemporain, in residence from 25-26 June, with three concerts including the world premiere of What are Years – a good question coming from the 101-year-old composer Elliott Carter 7.30pm, 26 June, Snape
Sir John Eliot Gardiner returns to Aldeburgh after a 10-year absence with his Monteverdi Choir and English Baroque Soloists in Bach's monumental Mass in B minor 7.30pm, 25 June, Snape
The centenary of the birth of Britten's partner Peter Pears (inset below) is celebrated in various ways, including "A Birthday Hansel", a recital featuring works written for his extraordinary tenor voice. 3pm, 24 June, Aldeburgh Church
Another centenary, the anniversary of the founding of the neighbouring Edwardian holiday model village Thorpeness, with its water tower-cum-"House in the Clouds", is marked with a mixed-media event involving art installations on this most magical Suffolk coast. 2pm and 4pm, 19 June, starts Ogilvie Hall, Thorpeness
Join our commenting forum
Join thought-provoking conversations, follow other Independent readers and see their replies