Leonard Cohen: Before the gig, a chant in Latin
From drinking olive oil to sharing baths, many musicians like to carry out curious rituals before performing on stage. Leonard Cohen is no exception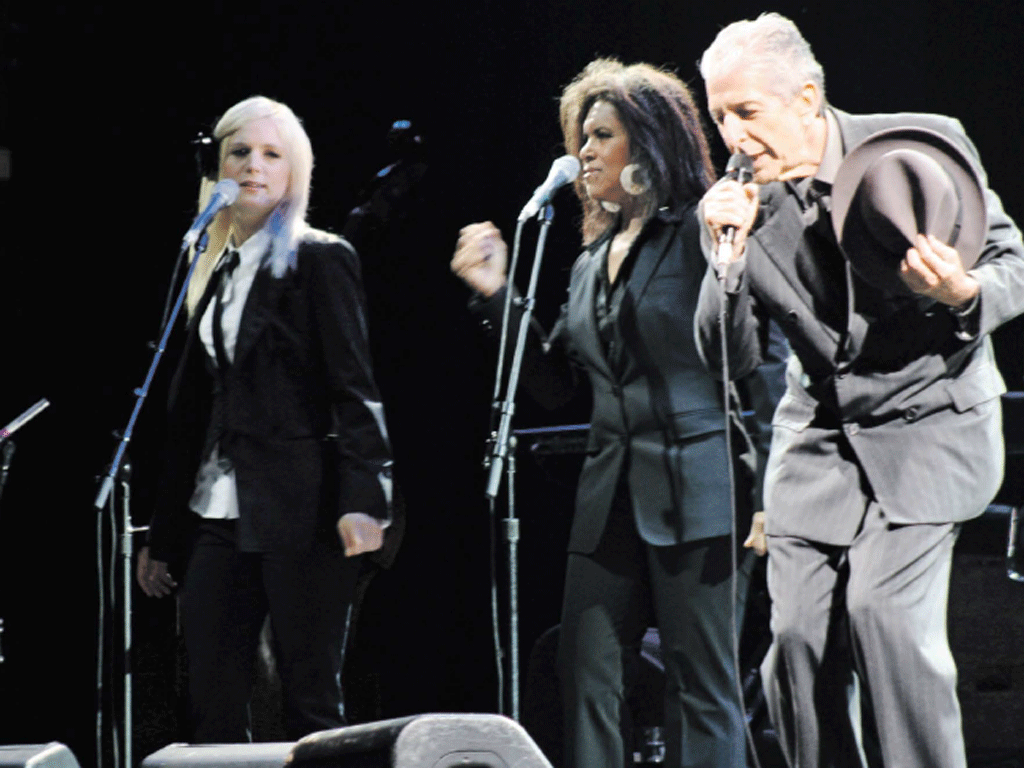 When you next go to a concert, spare a moment's thought for the musicians during the minutes leading up to the show. If they're not tackling their nerves with the help of a stiff drink, perhaps there's a ritual that happens backstage before every performance.
Just as the musicians of an orchestra tune their instruments in full view of their audience, an opera singer warms up their voice with vocal exercises, or a sportsman prepares for a big game with stretches and warm-up exercises, many pop musicians and bands have a dedicated pre-gig ritual, uniting the band members and easing them into the right frame for the show. And some pre-gig rituals are more idiosyncratic than others.
Rock band Van Halen would demand M&M sweets – with all the brown ones removed –for their pre-show rider. Pop singer Kelly Clarkson drinks olive oil to coat her throat; One Direction share a bath or sauna together and eat sweets; Fleetwood Mac's Stevie Nicks used to knock back a shot of tequila; Coldplay's Chris Martin brushes his teeth.
"There are about 18 things I have to do before I can go out to perform – most of them are too ridiculous to repeat," the Coldplay frontman has admitted. "One is I have to brush my teeth before I go on stage, otherwise I just don't feel smart enough."
Being "smart" is no doubt also on the mind of Robert Plant who, as well as being known for enjoying a pre-concert mug of tea, has insisted on ironing his own clothes before gigs, telling people it helps to get him "in the mood".
A few years ago, my seat at the Roundhouse in north London made me privy to Ash's intimate moments backstage, when they the trio locked arms in an embrace just before they took the stage for their retrospective performance of their iconic 1977 album. The group hug is a common pre-gig ritual: as Coldplay's drummer Will Champion has revealed, the band always enjoy a quiet moment and a supportive group hug.
Leonard Cohen's pre-gig ritual is more illuminating. This I learned when interviewing The Webb Sisters, Cohen's charming backing singers who have been on duty since 2008 (his first return to the stage in 15 years), as they prepare to join him for two gigs at London's Wembley Arena this weekend.
The two multi-instrumentalist sisters Charley, 33, and Hattie, 31, have been playing music since they were small children, and were recording their own album in Los Angeles when their manager offered them the chance to work with Cohen. Nobody knew how long it would be for. They recall: "It transpired that Leonard didn't know at the time… he didn't know if anybody would want to come to his concerts and if it would be six months to a year, which at the time felt like an age to us because we'd never committed ourselves to someone else's project. Three years later we were still performing!"
After four years of touring with Cohen – the 10 band members travel alongside Cohen in the tour bus – the sisters are well acquainted with Cohen's pre-concert rituals. Dressed in their customary stage attire of suits, they always gather in a room back stage half an hour before the show.
Enjoy unlimited access to 70 million ad-free songs and podcasts with Amazon Music Sign up now for a 30-day free trial
Sign up
"Leonard always asks us to be there half an hour before the show, so we can be there together as a band. It's a great way of everyone sticking together," they explain. "There's a whole array of beverages and we often have a whisky. Leonard loves a whisky. He used to have to drink three bottles of wine before going on stage because of nerves. Now it's just a whisky." Depending on the day, that's where a small Jewish ceremony might be held to mark an important day such as Shabbat, the weekly day of rest.
Then, before the show, Cohen leads the band including his backing singers into a Latin song that they sing on the way to the stage. "It's in Latin: 'Pauper sum ego, nihil habeo' – 'I am poor, I have nothing'. It comes from Leonard. The bass player plays a note, Leonard starts singing and we all follow. The 10 of us then walk to the stage singing it. It's a great focusing ritual. It's a way of reducing the weight of what we feel. It's really unifying."
The band rehearse seven to eight weeks each time they prepare for a tour – "It's quite a lengthy process, but it makes sense," they say. Touring, however, has been reduced to every other day, to make allowances for Cohen's more senior 77 years. "I guess because of Leonard's more senior age, despite the fact he seems to have more energy than all of us, there's time for things to be coped with – we travel every other day."
The Webb Sisters continue: "It's amazing working with him. He's very funny and good company. He's such a wise person. He looks at life in a unique way. He's really interesting to talk to about relationships and life choices. There have been times when he's forgotten lyrics and he's been lighthearted and moved on, but at the same time he's a perfectionist about his music and presentation of his art. One of his favourite mottos is, 'They'll never get us.'"
Leonard Cohen plays Wembley Arena (ticketmaster.co.uk) 8 & 9 September; The Webb Sisters' EP, "When Will You Come Home", is out in October
Join our new commenting forum
Join thought-provoking conversations, follow other Independent readers and see their replies