Live at Leeds: What organisers and artists want you to know about the city
Festival taking place this month will see a host of established names among some of the best new acts of 2017
Roisin O'Connor
Thursday 20 April 2017 12:19 Comments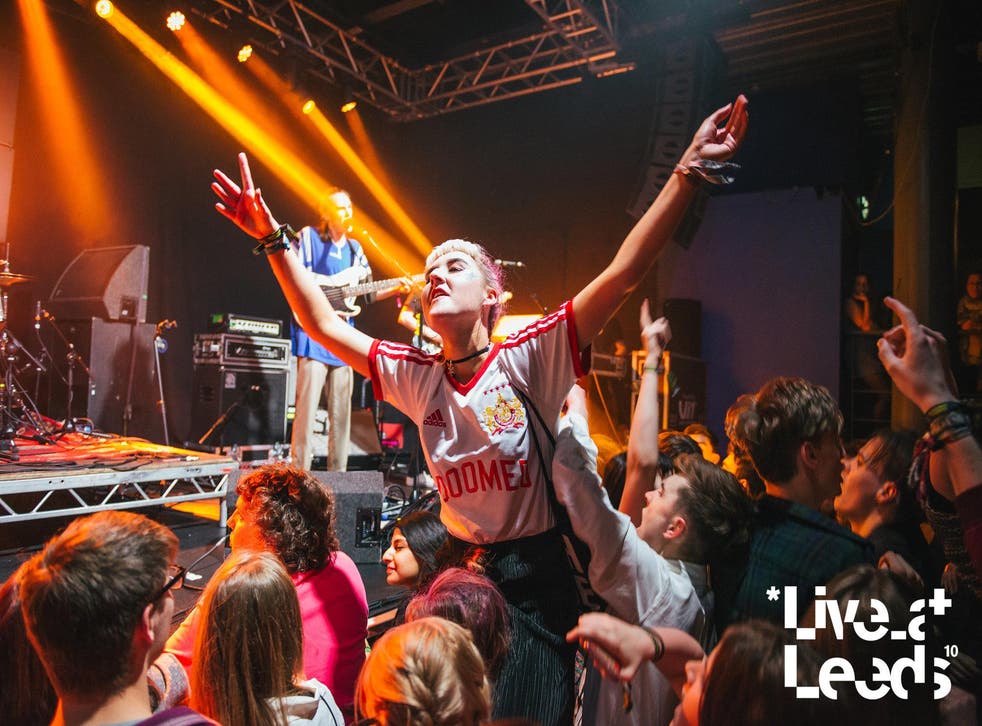 Ahead of Live at Leeds festival on 29 April, we caught up with some of the people behind the event to see what makes it so special.
Colin Oliver - Live At Leeds Festival Director
We started Live at Leeds as part of the city's 800th birthday celebrations.
I'd been a promoter in Leeds since 1994, we wanted to do something that nurtured new talent in the industry, and particularly to offer a platform to artists in the city.
The bank holiday was a traditionally quiet weekend for Leeds, so we decided to create something which has gone on to become a date for music lovers' diaries in the region and further afield. We're really pleased with what Live at Leeds has become, it encourages people to discover new music and connects emerging artists with a fan base in the North.
How did you get involved in music in the city? What was it like coming to the city?
I first got involved in music when I was living in Shropshire putting on shows in the middle of nowhere, I moved to Leeds when my wife came to Uni in the city and everyone said I should continue promoting live music. My first show in Leeds was at The Underground at The Town and Country Club, I put on Ian Mcnabb. Shortly after arriving in the city I noticed there was a gap in the market for a 600 cap venue, I opened The Cockpit in 1994 to fill that gap! I still promote live music in Leeds today.
What's the ultimate place you must visit in the city if you're a music fan?
I'd recommend Oporto, Sela, The Wardrobe, Milos, Outlaws Yacht Club – they all have accessible music events/ live music on regularly.
Emily Pilbeam - BBC Introducing/BBC Radio 1
Working as an assistant within BBC Introducing and Radio 1, Emily is one of the foremost tastemakers in the city, championing local bands across the airwaves.
How did you get involved in music in the city? What was it like growing up/coming to the city?
I moved to Leeds two years ago after I finished sixth form back home in Norfolk. I'd always dreamed of moving to Leeds when I was a younger because I was completely obsessed with the music scene here, so when I decided that the course at Uni of Leeds wasn't right for me, I decided to just move here anyway.
After three months of living in Leeds, I got a job at a new venue that was opening called Headrow House, I wrote for various different online music sites including Drowned In Sound, Raw Meat, MOSH: Hit The Floor and Upset, covering any gigs that were going on and writing an obscene amount of features on how great the music scene here is, and I also worked with a local booking agency, Super Friendz, for eight months. Then, when I saw that there was a job opening to work with BBC Introducing in West Yorkshire, I jumped at the chance and the rest is sort of history.
Living in Leeds is incredible. In such a short space of time I've learnt so much about myself, so much about the music industry, and I've learnt that you really don't need to be down in London to work as a creative. I am continually discovering new venues in the city, I am always meeting inspiring people that I want to work with and I am always surprised by the amount of talent that comes out of this city. It really is a great city to - I'm cringing as I type this - "find yourself" in.
Enjoy unlimited access to 70 million ad-free songs and podcasts with Amazon Music Sign up now for a 30-day free trial
Sign up
Favourite musical memories from a show in the city?
Without turning this into self-advertisement or a huge ego boost, my top musical memory has to be from the first BBC Introducing in West Yorkshire Showcase I put on at the end of last year. In October, I put on an event on behalf of the local BBC Introducing show to highlight the talent that we have in the area, and to showcase new acts to different audiences.
There were five bands on the bill: Clay, Caro, Dulahli, Team Picture and Lamia - all of completely different genres and all new and upcoming artists. The gig was in the main room at Brudenell Social Club and it was completely sold out, and the room was rammed from start to finish. It was incredible to see just how many people in Leeds care about new music and were interested to see five bands that they'd never heard of before.
Other favourite musical memories has to be seeing Hookworms in Trinity Church last year. That was totally ridiculous. Goose-bumps everywhere. And, Weirds played a show in Thornton's Arcade outside Tall Boys at 11pm after Live at Leeds. I was a mess and they were great. #SoPunk
Why do you think Leeds produces such a wide array of artists and styles?
There are dozens of different venues in Leeds, and it seems that with certain venues, there comes a certain scene. I'm reading a book at the minute by David Byrne called 'How Music Works' and there's a really interesting chapter based on music venues and how bands & artists make a certain sound for the particular venues they're playing - or at least I think that's what he's getting at anyway.
And I think, in Leeds, that seems to be true. There's a DIY venue called CHUNK (it's ace), and the bands that generally play there are noisy, punk kinda bands.
There's a venue called The Old Red Bus Station, which looks after all the underground house and electronic kinda acts. Or you get places like Brudenell and Headrow where you get bits of everything and everyone comes together like a big ol' family.
Also, there are LOTS of local labels and singles clubs like Clue Records, Come Play With Me, and more recently Dance To The Radio, that gives new and upcoming artists of ALL different genres, the opportunity to release their music. I don't know much about other cities, but I know that music fans in Leeds are always looking for ways to support young artists. It's really exciting.
Ultimate place you must visit in the city if you're a music fan?
Brudenell Social Club. It's so cliche and everyone will say Brudenell, but it really is great. It's not what you expect it to look like when you first go though. It literally is an old mans social club, and that's whats so great about it. It brings different people from all different walks of life together in one place. It's amazing. And if you like good sound for gigs, then Brude is always on top form - in-house sound guy, Trev, knows his shit.
Also, a new coffee shop has opened up called Single Shot in Leeds City Centre and it sells second hand records, prints and other cool arty stuff that people in Leeds love. Definitely check that out.
Ben Ray - Festival Director of Slam Dunk
Runs Slam Dunk Festival from their base in the city, along with The Key Club (Leeds' only rock club)
How did you get involved in music in the city? What was it like growing up/coming to the city?
I didn't grow up in Leeds but I moved to go to university in here, to study Engineering of the non music variety.
I joined the student union events team part time while studying but then had the chance to go full time, so I left my university course. It's rare to be given the opportunity to do your hobby as a career so I took it!
I grew up in Birmingham, at a bit of a bad time venue wise.. it was just before the Academy opened so there wasn't many mid to large venues there. So even though Leeds was smaller, it seemed like the music scene was bigger!​
Ultimate place you must visit in the city if you're a music fan?
If you are a rock fan, of course it would be Slam Dunk Festival. The site takes over part of the city centre and this year it is going to do over 17,000 people. This will make it one of the biggest multistage music events ever to take place in a city in the UK!
Sally Bryant - Dance To The Radio/Futuresound Events
Starting in 2004, Dance to the Radio has become one of the most successful contributors and influencers of the UK Independent music scene.
From albums for post-punk legends Forward Russia to chart-topping indie-rockers The Pigeon Detectives, compilations and singles covering some of the best talent in the UK and beyond, and with an annual stage at Leeds Festival showcasing the best in emerging UK Talent we're always there supporting new artists.
How did you get involved in music in the city? What was it like growing up/coming to the city
I started working on the bar at Nation of Shopkeepers whilst I was studying music at Leeds University. Every Wednesday some local and out-of-town bands played, it was ace. I pestered the events manager to let me help out, then started running shows there, and eventually made some bookings.
I then started working for Leeds promoters Futuresound Events, focusing on new artists - then Dance To The Radio relaunched and I was keen to get involved!
The live music scene in Leeds is great - its dynamic and inclusive, and there's always good stuff going on whether it's at the Brudenell Social Club, First Direct Arena, or a basement in Hyde Park.
Ultimate place you must visit in the city if you're a music fan?
Brudenell Social Club, Jumbo Records and Mix Karaoke.
Scott Lewis - Clue Records
Co-founder of Leeds based independent label Clue Records, who promote and support local bands in the city and have a long-standing relationship with the city itself.
How did you get involved in music in the city?
I just did loads of different things and made a nuisance of myself in a few different ways until I found the right fit. I moved to Leeds from Teesside in 2007, it was a toss up between here or Newcastle and the main pull Leeds had was the music scene. It was around the time The Cribs, Forward Russia, Black Wire & the like were getting national coverage & it felt like Leeds was creating music that I wanted to be around.
Favourite musical memories from a show in the city?
Splitting my jeans when Gallows played at Joseph's Well (RIP). They had a few holes around the crotch area anyway but after a pretty rowdy gig the connection was fully severed so from the back it looked like I had a denim penguin tail. The best ones are the ones I've been involved in though.
NARCS' album launch at The Packhorse in 2013 was special as we booked it all, organised everything & dressed the whole room up so it looked more like a room in Willy Wonka's factory rather than a gig room. And being involuntarily made to crowd surf at our Clue Club Christmas party last year was ace. It was the first time we'd had all our bands on the same bill, as well as a bunch of other ace acts, so it felt pretty special for the whole room to buzz with energy from midday til midnight.
Why do you think Leeds produces such a wide array of artists and styles?
It's a brilliantly multi-cultural city with different little pockets of rock, jazz, indie, soul, metal, hip hop & plenty of other styles being played live nightly as well as in different bars in the city. It's also ridiculously incestuous so a lot of musicians are in 3-4 bands, playing in different ways & always looking to do something different.
I think it's hard to say what style of music Leeds produces. Manchester can get associated with Oasis or The Smiths, Sheffield with the Arctic Monkeys but I don't think Leeds has that one act that when you mention the city, people say "Ah, that's where thingy are from". Manchester & Sheffield are ace & there's obviously much more going on but the big bands can be defining points to some. People can come to Leeds without an expectation of what has come before so it opens you up to make whatever you want.
Ultimate place you must visit in the city if you're a music fan?
Brudenell Social Club has the best gigs/beer/crisps. It's quite hard to explain what it's like, somewhere between Phoenix Nights & the greatest intimate venue you've been to in your life.
LAMIA - emerging artist from the city
Rising Leeds based singer and producer, signed to local label Dance To The Radio who creates dark and moody jazz-drenched electronica.
How did you get involved in music in the city? What was it like growing up/coming to the city?
I came to Leeds to study at Leeds college of music, which immersed me in the Leeds music scene pretty quickly as there's always something great going on. It's a very inspiring place for me because there's so much energy and enthusiasm. You're constantly pushing to better your musicianship. I started producing my own music when I started my 1st year of Music College, writing every day and teaching myself to produce so I could sculpt my own sound into what LAMIA is now.
Matt Bowman - The Pigeon Detectives
Platinum-selling indie rock heroes who grew out of the local scene into national sensations, with debut album 'Wait For Me' standing as one of indie's most defining release. Back with new album 'Broken Glances', the band remain signed to Dance To The Radio and stand as one of the cities' true favourite sons.
How did you get involved in music in the city?
We just started a band and rehearsed to the point of having enough songs to play live and then thought "hey, let's just put on our own gig".
Our first ever show was a self promoted sell out (to friends and family only) and we charged £1 on the door.
From there we then started to meet other bands and promoters and at that time Leeds was pretty buzzing and if you wanted you could play a gig on Wednesday, Thursday, Friday and Saturday..which we quite often did. I think the sheer volume of gigs we played in the early days is why we're such a good live band to this day.
Favourite musical memories?
The first time we ever got paid to play a gig in the city was pretty cool. We're not money driven as a band but I remember getting £150 to play a show at The Faversham and suddenly it started to feel like we were professional band.
My favourite memory from a show is probably someone throwing a cellophane wrapped pie at Dave, he tried to volley it and slipped over. It was the fact someone had brought a pie to the gig that made me chuckle, not Dave slipping over!
Why do you think Leeds produces such a wide array of artists and styles?
Leeds is a really liberal city. It has a very 'live and let live' ethos at its core and that transcends into the music scene. There's very little elitism or jealousy between artists which in turn creates an environment for different styles and types of artists to thrive.
The great Glastonbury clean-up

Show all 10
Every type of music style has their own venue/hang out in Leeds which gives people a sense of belonging.
I visit some cities and there's just one music venue which has to try and be everything for everyone: indie, heavy metal, dance, reggae and then the local 80's disco. Having specific places in Leeds where people feel like they belong encourages creativity.
Ultimate place you must visit in the city if you're a music fan?
For 10 years I've been saying The Cockpit as it really was my favourite music venue on the planet. Unfortunately that shut down recently so I would say check out the local listings and see which mega star is playing at the arena or take a chance on a band you've never heard of and pop downstairs in The Wardrobe!
Live at Leeds takes place on 29 April. Slam Dunk takes place between 27-29 May across Leeds, Birmingham and Hatfield
Register for free to continue reading
Registration is a free and easy way to support our truly independent journalism
By registering, you will also enjoy limited access to Premium articles, exclusive newsletters, commenting, and virtual events with our leading journalists
Already have an account? sign in
Join our new commenting forum
Join thought-provoking conversations, follow other Independent readers and see their replies