London Grammar interview: Will they overcome their morbid fear of the spotlight?
London Grammar talk about their upcoming album release, selling half a million album copies and touring the world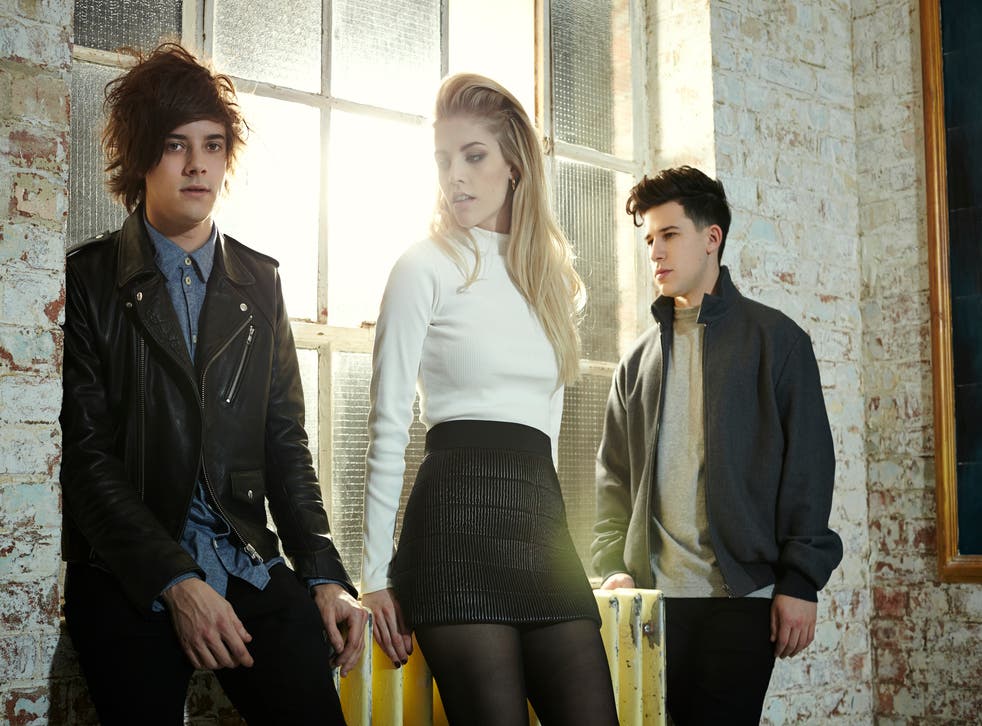 Far corner of an overcrowded London bar, table by the window, and it appears that London Grammar have an interloper in their midst.
I arrive on time, six o'clock, expecting three people, and instead I see four. The three are being nice to him at least, clinking beer glasses in an apparent toast, but the fourth is all too evidently not part of their setup: he is too big and broad, arms like hams, and expensively tailored in a pink shirt he might well insist is "salmon".
He looks like a banker and, it transpires, he is, though he won't reveal which bank he works for. "You don't need to know," he says, pursing his lips.
This is Elliott, and he is the boyfriend of Hannah Reid, London Grammar's singer. Sitting next to one another, he dwarfs her, Reid as pretty and delicate in the flesh as she is in song. She tells me that they don't see much of one another these days, the band having spent a large chunk of the last 18 months on a continually extending world tour, so Elliott grabs the opportunity to see her whenever the opportunity presents itself. Like now, for instance.
While he sips from his Peroni, I ask if his girlfriend has changed since becoming a pop star. The band's debut album, If You Wait, a beautifully mournful record that has drawn comparisons to The xx and Sade, has sold more than 450,000 copies in the UK since its release last autumn. They are even more successful in France, while America and Australia have proved highly receptive. The editor of Vogue is a fan; Gucci want to dress them. And Reid has become something of an unwilling pin-up. Last year, Radio 1's Breakfast Show pronounced her "fit", and encouraged listeners to tweet their approval. Elliott smiles. "She's changed a little, perhaps," he says, "but for the better. Hannah's always been very nervous, but I see her relaxing into this more and more now, and that's a good thing."
Beside him, Reid returns the smile, but as she does so, a lower-case v sprouts between her eyebrows.
"We've had to cancel some shows recently," she says. "We've never done that before, but our schedule has just been insane. We're still learning what we are capable of, and what we're not."
I ask why they had to cancel, and the v becomes capitalised.
"Basically, exhaustion," she says. She looks across the table to her bandmates, keyboardist and percussionist Dominic "Dot" Major and guitarist Dan Rothman, and both nod in agreement. "We're all exhausted."
The twentysomething trio met while studying at Nottingham University. Major and Rothman had been in bands before, and were looking to form another; Reid, who grew up in west London and had classical vocal training, was hoping to become a psychoanalyst.
Enjoy unlimited access to 70 million ad-free songs and podcasts with Amazon Music Sign up now for a 30-day free trial
Sign up
The boys encouraged her to turn what had been a hobby into a potential career. They gelled instantly, and together make starkly minimalist music as much influenced by Reid's classical background as trip-hop. But it is the latter that has served them best, their glacial cool now much in demand in the wake of The xx's own post-trip-hop success.
"Just getting signed to a record label in itself seemed like such a privilege," says Rothman, a genial man who never quite stops smiling. "The only real ambition we had was to make a record good enough that we weren't dropped before getting to make another…"
"… So selling almost half a million copies has been – well, unexpected, to say the least," adds Major. Thrusting them into the public eye quite so abruptly has taken its toll on Major, too. The baby-faced multi-instrumentalist already looks not dissimilar to Harry Styles, but the preposterous birds-nest hairstyle he sports makes him a dead ringer for the One Direction heartthrob. He tells me he is always being asked for his, as in Styles's, autograph.
"It was weird at first, but I've had to get used to it." Does he enjoy it? "God, no." Then why not simply restyle his hair? "Ah, if I did that, if I shaved it all off, for example, I'd look like a nine-year-old, and that's not really an option." He rubs his super-smooth chin. "And I'm in no position to grow a beard, either."
If You Wait, which was Brit-nominated and won an Ivor Novello award, unfolds at a stately, funereal pace, and is fuelled with a deep vein of introspection that the band now rather regret.
"When you write songs for the first time," says Reid, "you do tend to make them very private, very personal. We had no idea people might hear them one day. It's embarrassing, and I can't help but feel vulnerable because of it."
"Vulnerable" is a word that rather defines this 24-year-old. Reid had initially harboured ambitions to become an actress, but had to stop when her stage-fright became insufferable. This made her subsequent career choice – that of pop star – an odd one. She fell into it, she explains, simply because she loved to sing.
"I've always loved big vocals – Michael Jackson, Tina Turner – people who clearly overstretch themselves. I always wanted to know how they did it, and when they first realised they could."
Reid's own vocal style, not unlike an operatic whisper, is impressive. She approaches each song as if it were a hymn, and it is this that transforms them into something special. Another of the songs she says now embarrass her, the album's title track, might well read as fairly nonsensical on the page – "To treasure gold is fun/ Brother, drop your bag at once/ From the air to the people/ A mass to take you on" – but it sounds deeply profound the way she sings it.
"Oh, I hate singing that song live," she grumbles. "I can't breathe properly during it, for some reason. It makes me very anxious, when I know I have to sing it."
She doesn't seem to particularly enjoy playing live at all. The very prospect of it leaves her riddled with nerves, and she is constantly fretful about protecting her voice.
"It's my instrument, and my instrument is within me, so I do have to take extra care of it," she explains. She is gluten-intolerant, and in addition to avoiding certain foods, also has to swear off drink during tours. After shows, she says she can't really talk at all, and so simply retreats to the hotel, and to bed. "Pretty boring, right?" Does she ever enjoy the hour she spends on stage?
"Sometimes, yes, but sometimes the nerves don't lift at all, and I just feel horrible, and panicky throughout."
To help combat this, she has recently started practising Emotional Freedom Technique (EFT), which is essentially acupuncture without the needles. You establish "energy meridian points" along the body (these normally cluster around the head and chest), then tap them with your fingertips while simultaneously focusing on the problem and repeating positive affirmations to counteract them. While the average GP may view this with a mixture of ignorance and derision, it is based on Eastern practices dating back thousands of years. And, she says, it works.
"Doing EFT has taught me that I can help myself in dealing with my phobia. It's more manageable now, which I hope means I can at least stop it from getting any worse."
To boyfriend Elliott's very probable relief, London Grammar will soon step off the tour mill, and do something they haven't done for quite a while now: go home. Reid can't wait.
"We crave space from one another, I think. The last time we came off the road, I was like: 'Get me away! I want my girlfriends!'"
"I remember that," says Major. "We'd landed at Heathrow, and you just walked off, didn't even say goodbye…"
Reid brings a hand to her mouth, and blushes: "Oh! Did I?"
"Yes," adds Rothman, still smiling, "but then I started up a WhatsApp between the three of us – you know, to get us all drifting back to one another. And we did, pretty quickly."
"When I saw your names come up on my phone that time," Reid says, addressing her bandmates, "I had a really strange feeling that I couldn't work out at first. But then I realised what it was: I'd missed you!"
The trio will soon congregate in Rothman's north-London garage to start work on their second album. The first had been written amid some difficulty. Arguments were rife, agreements difficult to come by. The reason If You Wait sounded quite so minimal is because minimal instrumentation was one of the few things on which they did see eye to eye. And so they have each been quietly reluctant to repeat the process.
But it was while touring with Coldplay earlier in the year that they picked up some good advice on the subject.
"Chris Martin said something really great to me," reveals Reid. "It was about the whole recording process, that whole band-in-a-studio thing. It was very poetic, something like: a violin string doesn't make any sound if there is no tension to it. In other words, tension is good. That's good to know. It helps."
London Grammar headline Festival No 6 in Portmeirion (festivalnumber6.com) on Friday
Join our new commenting forum
Join thought-provoking conversations, follow other Independent readers and see their replies