The Saturday Interview
London Grammar's Hannah Reid: 'Artists feel guilty talking about these things. You don't want to come across like a victim'
After a traumatic few years navigating the music industry, the frontwoman is speaking out and channeling the sexism and misogyny she's faced into a cathartic new album. She's finally found her voice, she tells Alexandra Pollard
Saturday 17 April 2021 10:27 BST
Comments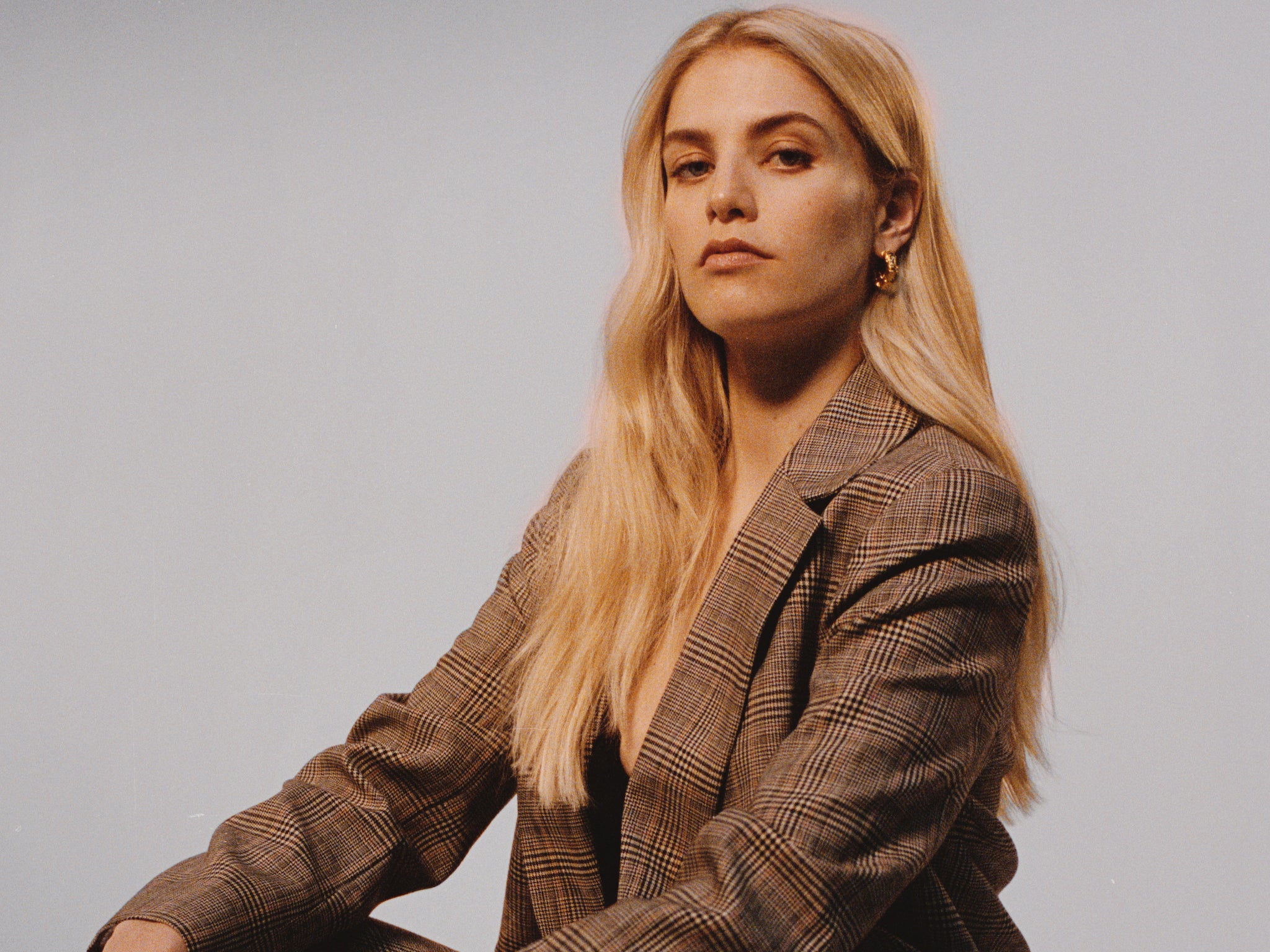 Men in the music industry can get away with being young, arrogant rock stars, making a few mistakes here and there…" says London Grammar's Hannah Reid. "It's like a rite of passage, really. But I felt like I had to make myself smaller."
Back in 2013, London Grammar bolted out of the gates with a string of hit singles. There was the wistful "Wasting My Young Years"; the plaintive Ivor Novello-winner "Strong"; the deep house Disclosure collaboration "Help Me Lose My Mind". Blending somnambulant melodies and trip-hop beats with a very Millennial type of ennui, the trio inevitably found themselves compared to the xx. It was the power of Reid's contralto – at once delicate and stately – that set them apart. Within a year of releasing their platinum-selling debut album If You Wait, they were headlining festivals, their songs go-tos for countless fashion campaigns and TV dramas in need of some emotional heft. 
With all of this success, though, came a barrage of sexist microaggressions. There was the time Reid had to convince a security guard to let her into her own gig because he didn't believe she was in a band; when she stood up for herself, he told her manager that she was a "formidable young woman". There was the time an official Radio 1 Twitter account posted, "We all think that the girl from @londongrammer is fit" ("I definitely turned my phone off when that happened," says Reid now). She's been undermined by engineers at soundcheck, ignored by producers in her own studio sessions.
It was enough to make her question whether she was even cut out for the music industry – until she spoke to woman friends who worked in teaching, marketing, accounting, and realised "literally all of them just have the same story again and again".
In fact, "there are women who have been through much worse than me, and I think it's important to say that", she continues, "but it was very, very toxic at points for me, because you can never really prove that it's happening. No one is ever going to admit, 'Oh yeah actually, I did that because you're a woman' – but you know that's the reason."
The studio was a particularly grim battleground. Men would completely shun Reid, and look instead to her male bandmates, Dot Major and Dan Rothman. "It didn't matter if I'd written the song, when it came to being in the studio, suddenly my opinion on the music seemed not to matter," she recalls. "It was kind of extraordinary. I was like, 'Well I can't really prove myself much more than this, because I've written the song that we're working on.'"
Sometimes when she would voice an opinion, "it actually seemed to rub certain characters up the wrong way. It was very strange. What affected me the most is that it's pretty much impossible to stand up to unless you have an ally, and somebody else who eventually notices it. And that was really, really sad". Her bandmates tried, but even they, in their youth, felt like they should just go along with things.  
Reid has been dubbed a "reluctant pop star" in the past – maybe because she can come across as shy, or maybe because she suffers from crippling performance anxiety. But today the 31-year-old exudes a breezy contentment. Though her camera is off because of a dodgy internet connection, and things are a little hectic at the London home she shares with her partner– she runs off to collect a package and then again to shut out her "spoilt little dog" – she's fun and forthcoming, clearly invigorated by the music her band is making.
Reid has channelled all of this into the band's third album, Californian Soil, which is so "deeply personal" in its excavation of the female experience that her bandmates took a backseat for it. It's not a reinvention so much as an evolution, those familiar electronic synths and ambient beats bathed this time in an Americana glow. There are more strings, too, but Reid's voice remains the driving force behind it all. It is as suited to dusty desert back roads as it is to dark and rainy motorways. 

Enjoy unlimited access to 70 million ad-free songs and podcasts with Amazon Music
Sign up now for a 30-day free trial
Sign up

Enjoy unlimited access to 70 million ad-free songs and podcasts with Amazon Music
Sign up now for a 30-day free trial
Sign up
Californian Soil has a confrontational mood that feels cathartic. In the video for "How Does It Feel", a song with a fearsome falsetto hook, Reid locks a boyfriend in his car and burns down his cabin as he looks on in horror. On "Lord It's A Feeling", she sings, "I saw the way you made her feel like she should be somebody else … I saw the way you laughed behind her back when you f***ed somebody else." That song seems, if not angry, at least frustrated. "Oh, let's go with 'angry'," says Reid with a laugh. "That would be totally fine. It's a female solidarity thing. I just wanted to give voice to people who have experienced that. I have heard that story many times from girlfriends. It's nice to write songs that aren't just about yourself, it's about someone else's story." 
The trouble with embracing female solidarity, though, is that it has invited a rigorous line of questioning in the media. One that's come up a lot in interviews: why didn't she work with a woman producer? "For me, this album was about lifting myself up out of a difficult situation," she says. "I have actually felt a bit disappointed by that question, because first of all, I was the female producer on the album. And it took such courage for me to do that. It's been a real battle in itself to do that. And I don't think men would be asked the same question."
Reid is clearly conflicted about complaining. She doesn't want to come across as ungrateful. "It's hard to talk about because it is essentially entertainment," she says. "It's this self-indulgent thing in the world, really, and I think artists feel guilty talking about these things. You don't want to come across like a victim." But having watched the recent Britney Spears documentary, and witnessed "the absolute unrelenting misogyny that she faced every single day", she's decided it's worth speaking out.
Before Californian Soil, Reid had come to associate being in the studio with an element of tension and trauma. It was not just a symptom of the way she'd been treated, but a consequence of being "overworked". Relentless touring led to "really terrible stage fright, which then made me pick up terrible singing habits – tensing and pushing instead of relaxing and breathing". At one show in Paris, her nerves got so bad that she had to sit on the floor midway through a rendition of "Strong". It meant having to force herself on stage every night, crushing down feelings of utter terror. "When you have anxiety, it's such a traumatic experience in itself, that then it becomes a self-fulfilling prophecy," she says. "I think I did have to be very brave, and I wanted to battle through stage fright but it did come at a cost to my health. I think I was battling through a little bit too much."
It all led to something of an implosion. One day in 2014, after more than a year of being carted around the world, the band were booked on a flight to Australia for the next leg of the tour. Reid simply didn't turn up at the airport. The band cancelled the dates, at the time citing "illness" – though she's since said that it was more of a "crash". She rallied for their second album, 2017's Truth Is A Beautiful Thing, which went to number one in the UK – but things still weren't quite right. Reid had formed barriers that came across in the music. "Hide you somewhere they don't know," she sang in the title track, and it seemed as though "they" might be the listeners. 
"The first album was so emotional that going out there and singing those songs night after night after night…" She trails off. "And there were always people crying in the front row. You couldn't ask for more as an artist, but it did make me put up a bit of a wall. I didn't want to make myself quite as vulnerable. I wanted to protect myself, really. And I was very much told repeatedly that I ought to be quite tough. I had to really keep my emotions at bay a lot of the time around certain characters."
Then her own voice abandoned her. "Having lost my voice within the music industry, I actually lost my singing voice," she says. "I don't know what happened. I didn't have nodules or anything." Is there a chance it might have been psychosomatic? "Oh, 100 per cent," says Reid. She developed fibromyalgia, too, a little-understood condition that causes pain all over the body. "If something's psychosomatic, it doesn't mean it's not real. That's the thing. It doesn't mean that your brain isn't sending out incorrect signals to whatever part of your body it is. I do believe that my emotions and stress that I was under caused my fibromyalgia, and it also caused problems with my singing voice."
Making Californian Soil helped her turn a corner. "From re-finding my emotional voice, I feel like my voice is now actually the best it's ever been." She's been doing positive visualisation techniques to overcome her anxiety, going on runs and imagining herself in the studio being relaxed and happy. 
Now, Reid feels optimistic about the future. The band have a handful of tour dates mapped out towards the end of the year, and she's actually looking forward to them. "I really hope that people have joy this year," she says. "I hope this album establishes us as an act that aren't going to just disappear, and I hope that our gigs are going to happen."
It'll be the first time many people have been to a gig in nearly two years. I hope she's prepared for more tears in the front row. "I'm sure I'll cry," she says. "I'll probably look at somebody in the front row and just bawl my eyes out." In a good way this time. "It'll be such a celebration."
Californian Soil is out now
Join our commenting forum
Join thought-provoking conversations, follow other Independent readers and see their replies