Møl – Jord: Exclusive Album Stream
Auspicious blackgaze newcomers stream their debut album Jord and provide an in-depth track-by-track exclusively for The Independent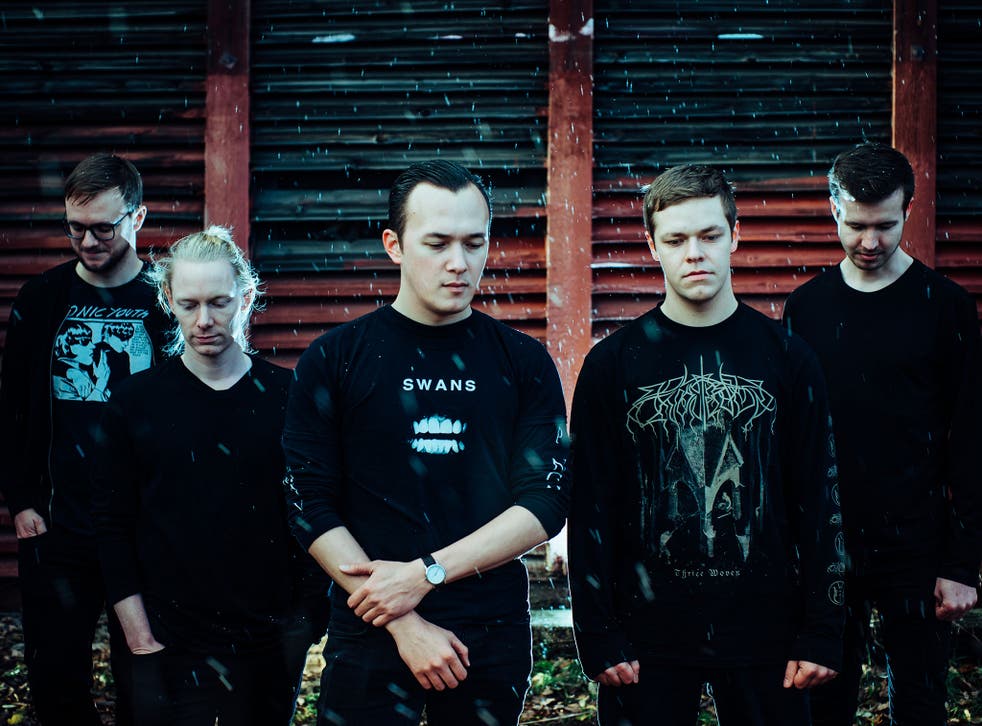 Denmark's Møl have created a storm in the underground metal community since they formed in 2012. Their hypnotic blend of reverb-drenched ethereal textures and sensory assaulting blackened hysteria is a profound, all-encompassing sonic maelstrom. Their debut album Jord has received unanimous praise and has immediately seen them heralded as one of the greatest examples of the blackened shoegaze movement, alongside the likes of Deafheaven, Wolves in the Throne Room, Ghost Bath and Oathbreaker. Jord is available to stream exclusively with The Independent 4 days before its official release.
The genesis of Møl lies with guitarist Nicolai Hansen and drummer Ken Klejs, who previously played together in Antennas To Nowhere, a shoegaze dream pop outfit that took inspiration from Slowdive, My Bloody Valentine, The Horrors and Bloc Party amongst others. Upon the dissolution of that band, Hansen and Klejs began to exchange demos for a project that would take those airy, celestial influences and combine them with a heavier metallic edge. They fitted in perfectly with the burgeoning blackgaze movement and immediately stood out as one of the scenes finest proponents.
"Right around that time bands like Alcest and Lantlôs were breaking through, so we drew a lot of inspiration from them" says Hansen. "It's not been a conscious choice from the get-go to fit in with any particular scene but I consider us very lucky to even be mentioned in the same breath as some of those bands."
It is perhaps the quality of the more ethereal, dreamy elements that make Møl stand out amongst their peers. Rather than writing mere peaceful interludes interjected as a means to break up the cacophony of riffs and screams, they serve as an integral part of the songs and lift them far beyond metal music that occasionally has ambient passages. Take 'Bruma' with its repeating twinkling guitar phrase that sits atop vocalist Kim Song Sternkopf's maniacal vocals, a distinct and intrinsic part of the song that lifts it from being something grotesque to something beautiful. Or the instrumental 'Lambda', where the shoegaze and post-rock influences take centre stage and Møl show that they're perfectly capable of showing restraint when they want to. Or the guitar lines that fluidly interweave throughout 'Penumbra' like the bastard child of A Perfect Circle and Darkthrone. Møl understand that it's the culmination of the individual parts that make the whole and it shows multiple times over Jord's running time.
In their native tongue, Jord translates as earth, soil or the planet as a whole. "The theme is effectively that nothing is a constant and everything is changing, this notion that we're all going to end up in the ground someday" says Sternkopf. "We live very short lives, so whatever pleasure you derive from life, you really have to get as much as you possibly can out of it. There is a sense of giving yourself to the earth throughout the record; you can't escape the fact that we're all going to die. Death is everywhere, in our news and in nature, especially when you live in Scandinavia. With the seasonal changes that we have, you watch things wither and die on a regular basis. It's a reminder that everything's passing, everything is fleeting and you can draw parallels to the music as well; you might like these fleeting melodies but they'll fade away eventually. The title track is written in Danish and is really about having a thirst for life; whatever we strive for, whatever we struggle to maintain or obtain throughout our lives will never be fulfilled if all you're obsessed with is the destination."
Møl provided an exclusive in-depth track by track to accompany the album.
Storm
Storm was one of the quickest songs to write. It opens with guitars drenched in spring reverb and delay creating a melancholic and suspenseful atmosphere - an obvious nod to the musical work of composer, Angelo Badalamenti. The intro expands with an added layer of guitar melody that is carried over and soars above the rest of the instruments when the music eventually opens up. The intensity builds before the track collapses in a long atmospheric outro drawing on post-rock and shoegaze.
The music underlines the lyrical themes of the song, which directly invites the listener to dive into a state of surrender and to journey into the heart of this miasma of sound and thunder. It is an invitation to embrace the chaos of the sonic maelstrom, to cast aside any preconceived notions, to leave the restlessness and turmoil of this world for a while and give into the storm.
Penumbra
Penumbra is the first single that we released from Jord. We felt that its energy made it an obvious contender for a single and to promote an otherwise diverse album.
The focus of the song, both musically and lyrically, is change. As human beings we tend to expect and strive for the status quo in our lives - consciously oblivious to the fact that change is seeping in through the cracks whether we want it to or not. While this is more of an observation rather than a criticism of the human condition or societal circumstances, we feel that obliviousness to change keeps us in perpetual inactivity and indecisiveness.
The way in which change is symbolised musically is through a song structure that continuously develops and never really repeats itself except at the end.
Bruma
Perhaps one of the darkest songs from the album, Bruma is about the tug of war between our own perception of timelessness and the eventual expiration we face as individuals. We all strive to make a mark that will last past our own lifetime - to make something that will make us timeless. Whether it is with the art we create as musicians or the work we do to make us live past our own lifetime, everything will eventually crumble into dust. This is not to say that everything we do is futile and that we should stop what we do. Rather we criticise an obsession with timelessness that takes us away from living our lives in the moment and enjoying the small things in life.
Vakuum
Vakuum is one of the most aggressive and fastest songs on the record. The song focuses heavily on powerful riffs and melody. We feel that it is a very well-composed song with structures and song parts that naturally meld together. It is one of three songs with lyrics in Danish. Kim felt like the songs became much more personal and intimate in nature when written and performed in our native language so this is both a stylistic choice and a way to communicate something more heartfelt and personal. The song deals with allowing oneself to peer into the depths of darkness when in the process of losing someone dear to you.
Lambda
An instrumental with a much mellower feel to it, akin to late 80s and early 90s shoegaze.The song is still very much in the vein of what Møl is as a band focusing on atmospheric soundscapes and changes in mood. We pretty much jammed out the main parts of the song in our rehearsal space and then ironed out the edges during the pre-production before entering the studio.
It draws heavily on inspiration from bands such as Slowdive and My Bloody Valentine - bands that we really love - and is probably the most straight up shoegaze song on the album. We even used a very common Kevin Shields guitar tuning for it.
The composition is somewhat simple with an intro that leads into a chorus type section where the instruments really open up and build in intensity before landing in a more relaxed part. Being instrumental and much more relaxed than the songs on the remainder of the album, we felt that the song would do nicely as a breather for the listener marking the midpoint of the album.
Ligament
Ligament was one of the first songs we started writing for Jord and the last one we finished. It really took a long time to get it right . It underwent many changes during the song writing process and ended up being the longest on the record. A good friend of ours, Benjamin Kousholt of White Flag Harmonies, joined in on clean vocals and did an amazing job.
Ligament is a social commentary to the increasing speed and urgency in the way we conduct ourselves as modern citizens in society - we fight for attention and the struggle to convey our own or others agenda as loudly and bluntly as possible, stubbornly and fearfully pushing your own beliefs and convictions without listening. This all seems so absurd from an existential viewpoint. We are all fleeting things and we are all going to die.
Virga
The inspiration for this song derives from a quite vivid nightmare Kim had of being trapped, floating above the world for days without end - being unable to interact or play a part in the life bustling beneath him whilst drifting away in this weightless apparitional form. This ominous dream stayed with him for days. The feeling of being trapped or observing his life as a secluded bystander ended up haunting him so much that he had to write it down in order to shake it off.
Jord
The title song and album closer, Jord is an auditory journey that takes the listener through a bleak world that he or she has been blind to. The song's first part focuses on the rawness of the instruments and vocals rather than the ethereal beauty that characterises them in the song's crescendo in the second half. This song is also written in our native language and is by far considered the most sincere and personal of the lyrics to our vocalist Kim. It summarises and concludes the essence of the the entire work's narrative.
The lyrics concludes the narrative journey into the chaos of the maelstrom, which we invited the listener embrace in Storm, the opening track. They address our thirst for life, the driving force which makes us get out of bed in the morning, pursuing our ambitions. But the very same thirst within ourselves is also a sickness which ultimately keeps us as slaves to our needs and ambitions. We leave the listener marooned, on a scorched shore, amidst the violence of familiar crushing waves, unable to wake up, losing oneself to the storm within, realising this barren and deserted prison is your home.
Jord, the debut album from Møl, is released through Holy Roar Records on Friday 13th April and is available to preorder now. Møl begin their first tour of the UK at London's Black Heart on 24th May
Join our new commenting forum
Join thought-provoking conversations, follow other Independent readers and see their replies