My album of 2014: Some of pop world's biggest stars choose their favourite releases
We asked 24 stars  to choose their favourite records of the year and say why they hit the spot
Friday 19 December 2014 15:01 Comments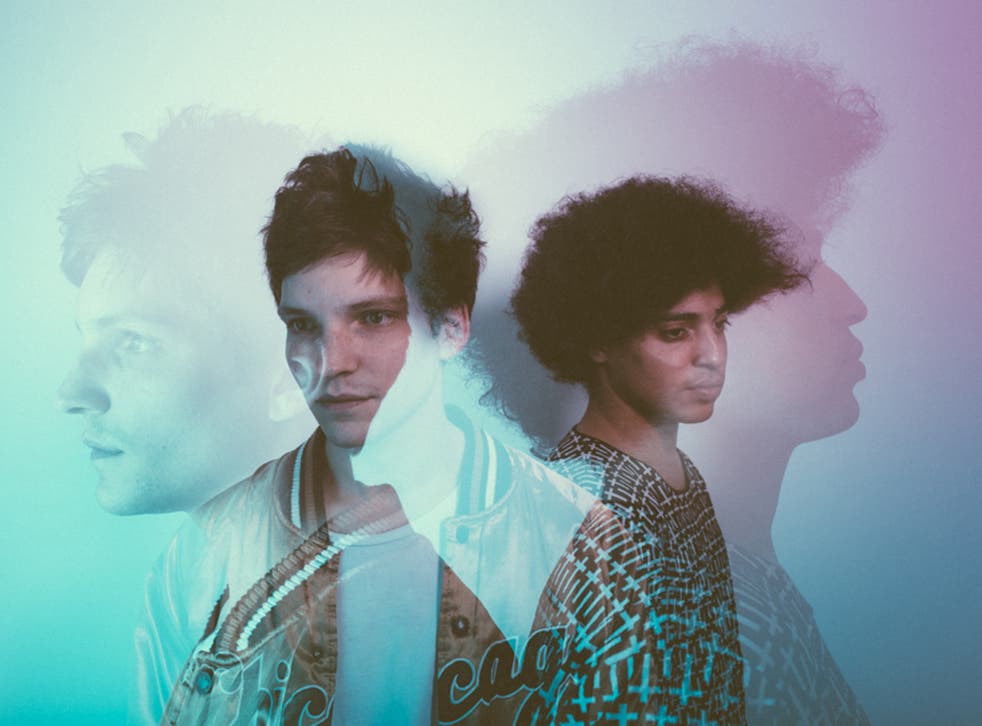 Joseph Mount, Metronomy
My choice: Baxter Dury, It's a pleasure
In the absence of having listened to many albums this year I keep picking FKA Twigs for these lists. But, in honesty, I haven't had that record on repeat. This album however, has been. It's a Pleasure is not sonically groundbreaking or "on trend" or anything, but Baxter Dury's lyrics and delivery coupled with the ever so groovy music conjures up a kind of West End (of London) Serge Gainsbourg. The whole thing is incredibly unique.
Serge Pizzorno, Kasabian
My choice: Flying Lotus, You're Dead!
At first listen, I didn't get it. It took me out of my comfort zone. I didn't understand what was going on. But after repeated listens, eventually I became immersed in it. It's a trip, a complete experience. Anyone these days who goes to those lengths of experimentation deserves credit. You have to listen from start to finish, and at the end you feel like you've really been somewhere.
Johnny Marr
My choice: Childhood, Lacuna
I first heard them drifting through the air at a festival a couple of years ago and the mix of dreamy anthemic melodies and the sound of Ben's [Romans-Hopcraft] guitar was a real moment. They managed to capture it very well on the album I think. They opened for me on my UK tour so it was a real pleasure to hear it every night.
Rufus Wainwright
My choice: Perfume Genius, Too Bright
It's a great sounding album – something you can play and either focus on intently or drift away from and enjoy contentedly, like a musical anchor in the room. Plus, his videos are fab.
Philip Selway, Radiohead
My choice: Melanie De Biasio, No Deal
No Deal had me hooked from the first listen. It sounded like Billie Holiday had walked into the sessions for Mark Hollis's solo record. De Biasio weaves her magic with sparse, brooding arrangements which allow you to lose yourself in the harmonic richness of the songs and the affecting dark assurance of her voice. There is true soul in this record. De Biasio is a highly accomplished and sublime musician. However, it never feels as though No Deal is a platform for boasting about her skills. Instead, she uses her craft to transport you to a place that you will want to return to time and time again.
Dan Smith, Bastille
My choice: Jungle, Jungle
This is such a great album that I've kept coming back to since it was released this summer. Jungle have managed to create an album that sounds nostalgic and almost familiar, while also feeling new and distinctively their own. I'm a fan of all the sonics they used, and the subtle and intricate beats and samples. Jungle is filled with brilliant hooks and staccato vocals, but it is ultimately a really cohesive album that has massively stood out to me and my friends this year.
Jamie MacColl, Bombay Bicycle Club
My choice: Fryars, The Power
Fryars, who from a personal point of view has transformed himself from the nerd in the year above me at school into a fully fledged anti-pop visionary, has managed to create an ambitious concept album that feels intensely personal, without reverting to the overtly emotive sentimentality of modern pop music. Although the "concept" of the album – an engineer from the north of England invents a replica of the sun that causes a nuclear winter – sometimes feels distant from the record itself, the songwriting is so strong that this is soon forgotten. It will be a great shame if this album doesn't reach a wider audience.
Theresa Wayman, Warpaint
My choice: Kate Tempest, Everybody Down
I haven't been this obsessed with an album since I discovered Bjork's Debut when I was 18, and actually they share some attributes. They're both emotionally rich and profound, but also inventive and exciting. Kate's an incredible voice that has just popped out of the woodwork, as though it's that easy to be phenomenal. Her style is effortless, like a walk in the park; so natural that it can't be questioned. Heavy topics and heavy beats, dressed up as a dance party, the music production takes her sentiments to the next level and puts them on the perfect platform. It's got punch, and it makes me want to change the world.
Olly Murs
My choice: Coldplay, Ghost Stories
This has to be my favourite album of the year. I watched their TV Special in June where they performed the album in its entirety and thought it was brilliant. The lead single "Magic" blew me away and the second single "A Sky Full of Stars" is just beautiful. It's definitely Chris Martin's most personal album to date.
Enjoy unlimited access to 70 million ad-free songs and podcasts with Amazon Music Sign up now for a 30-day free trial
Sign up
John Grant
My choice: Solvent, New Ways: Music from the Documentary I Dream of Wires
There were so many amazing things this year: Mica Levi's score for Under the Skin, The Swans, Grouper, Vessel, Meshell Ndegeocello, and right when I thought I knew the score, Andy Stott throws a big ole twig in my spokes with his beautiful new record. My favourite, however, the one I found myself listening to over and over and the one that kept a smile on my face and the drool flowing, was Solvent's. It's a non-stop synth-gasm from start to finish; Kraftwerk-esque, Yazoo-esque minus vox with dashes of Cabaret Voltaire and Depeche Mode but bigger and phatter for today's subwoofers. The sounds have an amazing sharp edge to them as well, and I never get bored for a single second. "Burn the Tables" is my current favourite [track]. It's the type of record that makes me happy to be alive.
Little Boots
My choice: Todd Terje, It's Album Time
The record that I can only describe as bringing me joy this year is It's Album Time by Todd Terje. Often an album this anticipated struggles to live up to expectation, but everything from the colourful artwork and knowing song titles to the music itself does not disappoint. Terje skilfully blends everything from disco to cocktail lounge, layering lush synths with syncopated shakers, held together by an ear for colour and an infectious sense of fun. His skill likes in his ability to not take himself too seriously, and as a result this record never fails to make me smile.
David Gray
My choice: Mica Levi, Under the Skin (OST)
Jonathan Glazer's Under the Skin is a masterful piece of cinema and was easily my favourite film of the year. As powerful as the film is, however, its impact would be massively diminished were it not for Mica Levi's tense, eerie and insistently probing soundtrack. As with so many disturbing films the music acts as a kind of non-stop atmosphere generator throughout. The power of the score is its economy of means; it takes simple, haunting ideas and then repeats and mutates them to mesmerising effect. There are definitely strong nods toward classic Hitchcock and Kubrick soundtracks within some of the music but also, and often at the same time, a darkly humorous kind of alien burlesque feel to it. Congratulations to all concerned on a perfect marriage of picture and sound. Not really one to listen to while hanging up the Christmas stockings, mind you.
Wretch 32
My choice: Future, Honest
I just loved the way it was put together. Of all the albums this year, this album offered the most insight. There were touching moments and other moments that make you want to go out to the nightclub. It's a solid work with different melodies and sonically it's sick. The best has to be André 3000's track –it has such high energy. They've both come from the same place and I think they have wanted to do a track together for a while. Melodically they go at each other, but in a good way, trying to outdo each other. It takes you back to the old days of hip hop, and what first got me into it.
The Unthanks
Our choice: Frozen By Sight Paul Smith and Peter Brewis
This is just out, but we went to the premiere back in June 2013, and have been chomping at the bit for this recording since. Peter's arrangements manage to be funky and sharp, even when they're hushed, which is a real art. And knowing what an avid and active music-lover Paul is, it's inspiring and a total joy to witness him branch out. The delight in this music, like in Talk Talk's Spirit of Eden, is in how it has both nothing and everything to do with rock, jazz, folk and classical music. It is brilliant North-East music!
Frank Turner
My choice: Cory Branan, The No Hit Wonder
Cory is a phenomenal songwriter and it baffles me that he isn't better known – most every songwriter I know worships at his altar. His latest offering is another perfect slice of wry country pop, a beautifully crafted middle ground between humour and heartbreak.
Lauren Mayberry, Chvrches
My choice: Jenny Lewis, The Voyager
Jenny Lewis has always been an artist I admired, so I was really excited about the release of her first proper solo album in quite some time – and I was not in any way disappointed. Lyrically, her work is incredibly evocative, at times her writing seeming completely personal, whilst at others she creates stories and narratives about characters in a Raymond Carver kind of way. Technically speaking, Lewis' work is always simple and sparse. Some of the most moving moments on The Voyager are the quietest ones, a bit like in life.
Professor Green
My choice: Paolo Nutini, Caustic Love
I could go on about many of the tracks on this album – perhaps all – but it's "Iron Sky" that made my ears perk up initially, the Abbey Road performance of it in fact. It's political, but not preachy – not an easy balance to strike. He could easily be mistaken for Bob Marley; I love the nod to trip-hop production (though I would love to have heard Geoff Barrow get his hands on it), especially the Charlie Chaplin sample from The Great Dictator. A very apt song considering everything that the world faces at this moment in time.
Thom Green, Alt-J
My choice: Arca, Xen
Xen is a real masterpiece of sound, and this album has affected me greatly as both an artist and as a person. The joy it gives me to hear technical innovation paired with such beautiful sounds is overwhelming at points. The record feels more primitive and experimental compared to Arca's previous work. This isn't just my favourite album right now but my favourite thing, period.
Faris Badwan
My choice: Grouper, Ruins
Liz Harris has been one of my favourite contemporary musicians since I heard Dragging a Dead Deer Up a Hill a few years ago. I'm not sure what genre Grouper fits into – it's hard to think of many ambient records that are as full of hooks as hers and, equally, there aren't many folk artists who would so wilfully obscure all traces of lyrical narrative. The whole experience sometimes feels like you're lying in the bath with your head underwater, while your neighbour plays Vashti Bunyan records in the flat above. Snatches of melody appear only to sink back into a saturated fog of echo and effects. On Ruins, the layers are stripped away, with piano as the main instrument. The songs are characterised by the same detached intimacy that made all of her previous records so compelling. Few albums draw you into their world as successfully as this one.
Steve Garrigan, Kodaline
My choice: Sam Smith, In the Lonely Hour
There have been a lot of great albums released this year so it's hard to pick one favourite but I'm a big fan of Sam Smith's album In the Lonely Hour. You can hear the sincerity in his voice, it's so emotive. That along with Paolo Nutini's Caustic Love and Ed Sheeran's X – all three have gotten me through many a long-haul flight this year. Album of the year for me would have to be In the Lonely Hour though – Smith's voice is phenomenal and as an album it really took me on a journey. I just love it.
John Illsley, Dire Straits
My choice: Leonard Cohen, Popular Problems
Another gem from the master. Incredible that at the age of 80 he can both be bothered and able to produce such a wonderful collection of poignant observations of our world. He says that writing is hard work, but they are delivered to us with what seems like such ease and clarity. "If I knew where the good songs came from I'd go there more often," Cohen has said. Wouldn't we all.
James Bay
My choice: Paolo Nutini, Caustic Love
I've been a Paolo fan since the beginning and had started to worry that he'd disappeared off the face of music. Then he dropped Caustic Love into existence. It's one of my favourite albums of 2014 because it's such a brilliant reinvention. I thought he'd been pigeonholed and shelved, but with Caustic Love, Nutini has taken what he does best, twisted it, warped it a bit, and done it again, but even better this time.
Akala
My choice: Clipping, CLPPNG
I must confess I totally missed Clipping's much acclaimed debut Midcity, but their self-titled album snatches my top spot for album of 2014. Clppng is a very solid album from a hip-hop group continuing the proud traditions of the city of angels. I am looking forward to going back and checking the debut.
Panda Bear
My choice: Ariel Pink, Pom Pom
There are a bunch of different styles and attitudes, but I couldn't say that's something completely new for Ariel. The sensations of familiarity and fun about the songs disguise all the songwriting wizardry moving beneath the surface. Scattered amongst the stomping and ripping, there are songs that are truly moving, but no song feels unwelcome. Anything that makes a budget airline flight tolerable has a special magic.
You can listen to these artists on our Spotify playlist
Register for free to continue reading
Registration is a free and easy way to support our truly independent journalism
By registering, you will also enjoy limited access to Premium articles, exclusive newsletters, commenting, and virtual events with our leading journalists
Already have an account? sign in
Join our new commenting forum
Join thought-provoking conversations, follow other Independent readers and see their replies