On tour in the beautiful south with Paul Heaton
The former Housemartins singer is peddling his latest solo material in a tour with a difference: he's travelling between gigs by bike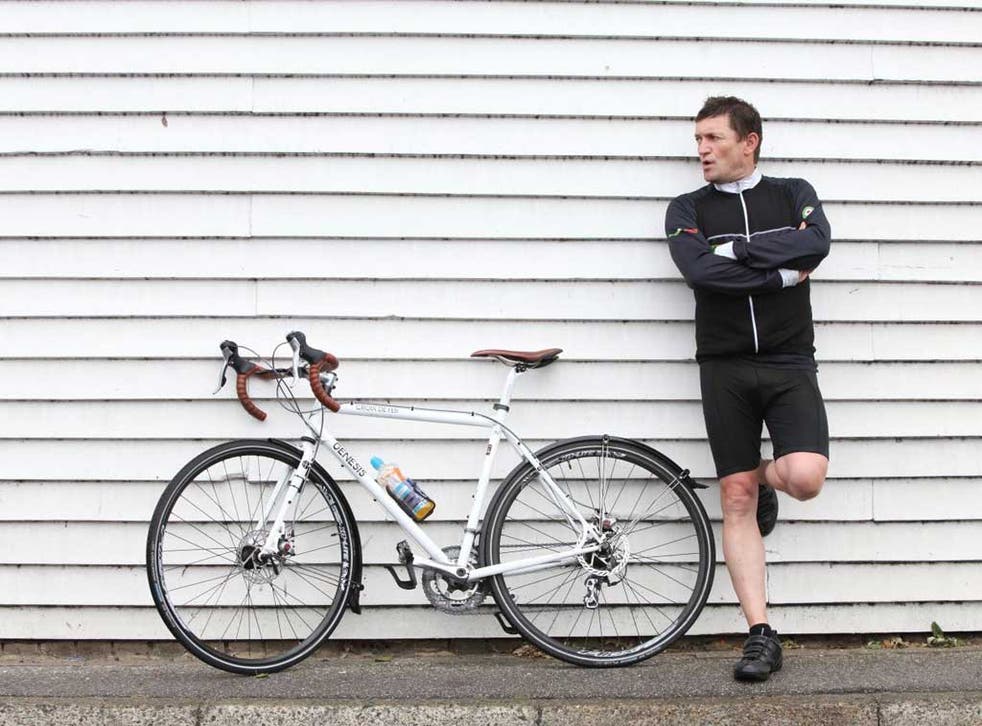 Paul Heaton is ahead of me, careering down a hill in Kent, cleaving to the hard shoulder while the dual-carriageway traffic whooshes past. I'm a city cyclist and, frankly, the HGVs are giving me the heebie-jeebies. But Heaton is in his element. As we pass beneath a motorway bridge, he crouches low in his saddle, dips his head and picks up speed. "Today was a good day," he tells me later, when we've dismounted and I've steadied my nerves with a drink. "We had the wind behind us."
Kraftwerk might be the best-known of all cycling musicians. In 1983, the German electro pioneers produced "Tour de France", a single featuring the sounds of spinning chains and shifting gears. When he left the group in 1987, Wolfgang Flür said "there was too much cycling inside Kraftwerk and too little music." For 20 years, David Byrne of Talking Heads has been taking a folding bike on tour; in 2009, he wrote The Bicycle Diaries, a book of his insights about the cities he's explored on it. Damon Albarn, frequently photographed riding his BMX, is the subject of a bike-themed Tumblr blog: "Damon Albarn's Extreme Cycling".
Heaton, however, puts them all to shame. As we leave the mainland and roll onto the blessedly flat Isle of Sheppey, the erstwhile frontman of The Housemartins and The Beautiful South is nearing the end of a 40-day, all-weather bike tour of the British Isles and its pubs. Accompanying him is his friend and support act Gus Devlin, who's been riding behind me, kindly ensuring that I don't get run down by some fast-moving hatchback. By the time they reach Greenwich for their final pub gig, Heaton will have cycled 2,500 miles: 50 for each of his 50 years. A day before I join them, he rode from Shoreham to Horsham and back again, just to make up distance. So committed is he to the cyclist's life that I have to ask him if he shaves his legs. (Apparently, it improves your aerodynamics.) "No," he replies. "I'm just remarkably hairless. I only went through puberty when I was 42."
Cycling runs in the family. Heaton's uncle Elliot rode a racing trike into his 80s, and used to cycle it from his home in south Wales all the way to Sheffield, where the singer grew up. "I'm supposed to be very like him in lots of ways. My first bike was a tricycle; I was in this gang in Sheffield and I was the youngest so I was always pedalling hard to try to catch up." After a few decades out of the saddle, busy being a pop star, Heaton started cycling again when he sustained one too many footballing injuries. "A couple of things got me back into cycling," he recalls. "I like watching the Tour de France. And I go to Holland to write my lyrics, where all the hotels have free bikes, so I go cycling off to find a bar to write in."
Heaton's first Pedals and Pumps solo tour was in 2010. After noticing that a pub he'd often cycled to near Macclesfield had closed, "I thought it'd be great to do a tour of Cheshire to save the pubs. Then I thought, 'Why not extend it?'" That first tour was 900 miles. "My mum keeps saying, 'You're too big for pubs!' But who's too big for pubs? When monkeys rule the Earth, all the arenas will be deserted or burned down, but the pubs will be open. I can't remember any of the big shows I did with The Beautiful South, but I remember every single one of the gigs on this tour, even the names of the landlords and landladies."
The songwriter's next project is equally ambitious in conception, if not so physically gruelling. Beginning at the Barbican on Thursday, Heaton is touring his "soul opera" The 8th, which premiered at last year's Manchester International Festival. A musical rendering of the seven deadly sins, interwoven with a narrative monologue by playwright Che Walker, it concludes with Heaton's imagined eighth sin: "Gossip". "Gossip has come to mean Heat magazine," he explains, "but it can be darker than that. Che and I talked a lot about COINTELPRO, a CIA project during the 1960s and 1970s, which basically wiped out the Black Panthers. They'd plant drugs on them, put leaflets in their cars. They'd use rumour and gossip and lies to pull the organisation apart until they turned on each other."
On tour, The 8th will be followed by a greatest hits set, but he plans to leave much of the singing to guest vocalists, including Cherry Ghost, King Creosote and Jacqui Abbott, formerly of The Beautiful South. "It feels nice to sit next to the project, rather than in it," he says. "Two years ago I was at a low ebb and I lost confidence in my voice. With football, I used to be like lightning, and as soon as somebody beat me for pace, I said, 'That's it, I'm not doing it anymore.' It was the same with my voice; as soon as I couldn't hit that high note, I wanted to say, 'I'm not doing it again.' I want to be the best, not the second best. But I went to singing lessons for the first time, and I've started getting the high range and the power back. It's probably given me another five years of singing."
He turned 50 in May. "When you're 21, it's like your team getting promoted. You think, 'Yeah!' But then you just get beaten by Liverpool and Man United. Turning 50 is a bit like the day you go down. For a day, you go, 'Oh Jesus, we're getting relegated!' Then you start thinking about next season's fixture list." Heaton can still pack a pub like The Shurland in Sheerness, where he's playing once our interview is complete, but he's happy enough not to be selling out arenas anymore. "It's been a slow, lovely, beautiful glide out of the public eye," he says. "Just like that hill we came down today."
'Paul Heaton Presents the 8th' is out now. He will be on tour from 5 July (paulheatonmusic.co.uk)
Join our new commenting forum
Join thought-provoking conversations, follow other Independent readers and see their replies