Paul Simon's Graceland - The album that changed their world
It's 25 years since Paul Simon's Graceland was released. On its reissue, today's stars tell Elisa Bray and Alison King about the first time they heard it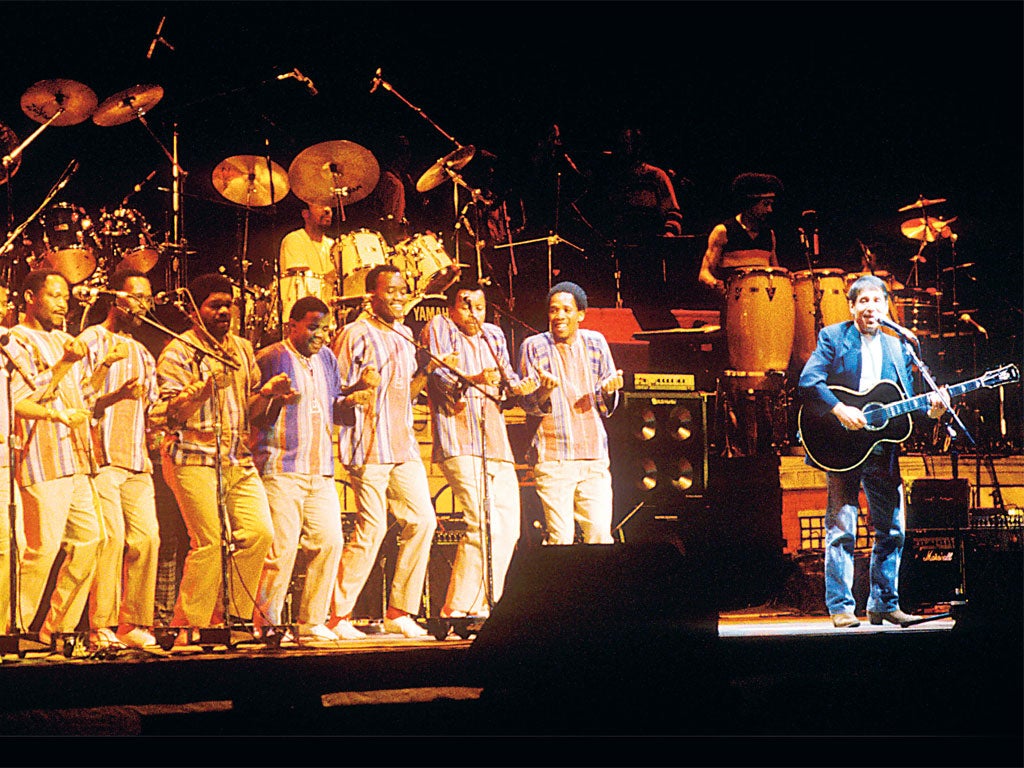 Chris Baio, Vampire Weekend
I'll always remember family road trips as an eight-year-old, listening to "You Can Call Me Al" with my sister Al. Great songwriting is timeless and Graceland is clearly a record with great songwriting. At the same time, a lot of the visuals of the record feel very much of its era – for example, the video for "You Can Call Me Al". I think the mix of timeless songwriting and dated visuals is a pretty powerful combination, and as a result for many people Graceland straight up signifies the 1980s, and that's an incredibly impressive thing.
Regina Spektor
The first time I ever heard Graceland was in the halls at uni when I did my study abroad from New York and went to Middlesex University in Tottenham, London. A friend gave me a copy right before I left and I got little speakers at Argos and would blast my CD Walkman in my dorm. It instantly opened my mind – it sounded like nothing I'd heard before – the layers of hand-drumming and cool percussion and his voice made for a very specific world. It made me think of islands. It had this built-in joy and bounce. I really loved it.
Johan Hugo, The Very Best
I first heard Graceland on a Christmas Eve when I was about five years old. I remember to this day how I felt that Ladysmith Black Mambazo's singing was just the most beautiful thing I had ever heard. I asked my dad to play it on repeat for the rest of the day. I'm sure that was the day when I subconsciously made some decisions about my future in music. I always wanted to be a nature photographer so the African continent was always a big passion, but it wasn't until around 2003 that I rediscovered Graceland and really started to work with African styles of music. This led me to meet Esau Mwamwaya, in his junk shop, outside my studio in Hackney in 2006. Working with him has been just as amazing as that day back in 1987 when I first heard Graceland.
Hugh Masekela
Graceland reached and conscientised millions of Simon followers who had never heard of South Africa. It revealed the excellence of our indigenous urban and rural music, leading most listeners to condemn apartheid and lean on their governments to turn their backs on a very close ally, the racist regime that destroyed the entire Southern African region, including parts of Central and East Africa. That Graceland went on to sell more than 10 million copies is testimony to how deeply Mzansi's music touched and inspired Paul Simon. The explosion caused a very loud, ear-shattering, and earth-shaking, bang.
Paul Smith, Maximo Park
Although controversial at the time, there's a real joy in the music and a thread of mid-life lyrical melancholy that means Graceland ultimately transcends the political debates. Paul Simon's desire to infuse his music with traditional African pop led to some of the most inspirational music of his career. And, let's face it, the world would undoubtedly be a poorer place without the "Call Me Al" video starring peak-time Chevy Chase and Simon as his straight man.
Jonathan Higgs, Everything Everything
For me, Graceland is one of the most high-quality records there is, on every front. Lyrically it's so playful, surreal, insightful, wistful, beautiful – "don't want to end up a cartoon, in a cartoon graveyard" – and always simultaneously interesting and emotive. The playing is exquisite. The melding of genres is extremely well handled, and the resulting sound is at once locked in a definite place and time, yet ultimately has aged so well it could come out next year.
Shingai Shoniwa, The Noisettes
Graceland was always on in my mum's car on her mixtape of old Seventies and Eighties music of Afro-centric beats and rock'n'roll like Led Zeppelin, blasting out as we drove around Margate. My mum's a huge Paul Simon fan so that's where I get it from, I guess. We [The Noisettes] love Graceland, Ladysmith Black Mambazo and artists like Miriam Makeba and Hugh Masekela. I think what he did was embrace collaborating with musicians he liked, and they happened to be international, and now we're having this great renaissance period with David Byrne being influenced by African music and with Damon Albarn's Dr Dee and Africa Express.
Ketil Kinden Endresen, Casiokids
Graceland was part of growing up for me, because I was very young when I first heard it, but also because it presented me with rhythms and harmonies not readily available on Norwegian TV, radio or in our house at the time. It was the sole African record in my father's collection, which I explored thoroughly. As I moved into puberty and got exposed to a lot of Scatman John, Haddaway and melancholy Swedish rock, I forgot about Graceland for a while, until my twenties when I borrowed it on CD from the public library in Bergen and taped it on a MiniDisc, which I listened to whilst jogging. To my surprise I found that it was possible to wear out a MiniDisc as the album proved to be the perfect companion for my runs. It's probably the only album I have on vinyl (my father's), cassette (copied), CD (stolen), MiniDisc (worn out) and data files (wav and MP3). That must mean it's my No 1 album of all time. The fact that Paul Simon and Ladysmith Black Mambazo are playing on the field next to the Casiokids' studio at Bergen Kjott on 26 July makes me very excited.
Fatoumata Diawara, singer
I love this record, it is so positive. Paul Simon has one of the sweetest voices, such a soft melody. You can hear from his voice that he is a good man. When I heard Graceland for the first time I thought, "wow!". He is a very spiritual guy. The world needs that.

Enjoy unlimited access to 70 million ad-free songs and podcasts with Amazon Music
Sign up now for a 30-day free trial
Sign up

Enjoy unlimited access to 70 million ad-free songs and podcasts with Amazon Music
Sign up now for a 30-day free trial
Sign up
Ed Nash, Bombay Bicycle Club
I first heard Graceland when I was 15 years old. I was on a school trip and one of my friends had it on their CD player and I borrowed it off him for the whole trip and listened to it the whole time. It kind of blew me away. Before that point in my life I hadn't listened to much music apart from pretty normal guitar music, and there were so many different influences that Graceland had – I hadn't experienced the wild musical style on that album before. With Bombay Bicycle Club we do something different like [Paul Simon] did with Graceland; we have a lot of very different influences, especially on the last album, with Afrobeat in the rhythm and [the style of] guitar-playing that's on Graceland the whole way through.
Gabby Young, singer
My mum has it in her vinyl collection that I found in the attic when I 18 and since then have called my own. She was happy to pass it on and I remember sitting in my room and, within the first few bars, feeling like I found a new musical home. It got me into world music, and in particular, African chants, which were a huge influence on my singing technique and my songwriting. Graceland is my summer album. Right from the first song, "Boy in the Bubble", I can't help but be in an amazing mood. My favourite song on it is "I Know What I Know" – the African women singing sound like they are grinning ear to ear.
Mark Chadwick, The Levellers
I heard it when it first came out. I was living in a student shared house at the time and it was the soundtrack. Everyone had it; it crossed all boundaries. It was one of those albums that didn't matter what you were into, because the songwriting is so good. I was a big Paul Simon fan. The song "Boy in the Bubble" [was an influence]. It's an overtly political song, but a pop song, which is quite powerful for a hit. With a song like "Boy in the Bubble", he made it quite clear that you can write interesting and political lyrics in a pop song. The whole record is political because of the apartheid. I didn't have a problem with it, but I knew people that did and said, "he made it in South Africa, isn't there a boycott?" Well, yes, but he went to South Africa for all the right reasons, and none of the wrong reasons.
Bob Stanley, Saint Etienne
I grew up with Bridge Over Troubled Water. My parents played it every Sunday lunchtime and it went with us on car journeys. Fifteen years later Graceland seemed to fulfil the exact same role for the next generation. Paul Simon has an unusual, very useful, pan-generational gift.
Tony Allen, king of Afrobeat
I can't remember that album.
Join our commenting forum
Join thought-provoking conversations, follow other Independent readers and see their replies