State of the Arts
Poly Styrene, Billie Eilish and Britney: How fame wreaks havoc on the mental health of women
Three recent documentaries chart singers who came of age in the public eye and had their every movement scrutinised, writes Fiona Sturges. But both the Spears and Styrene docs show how the next act can unfold when a young woman in the glare of fame isn't looked after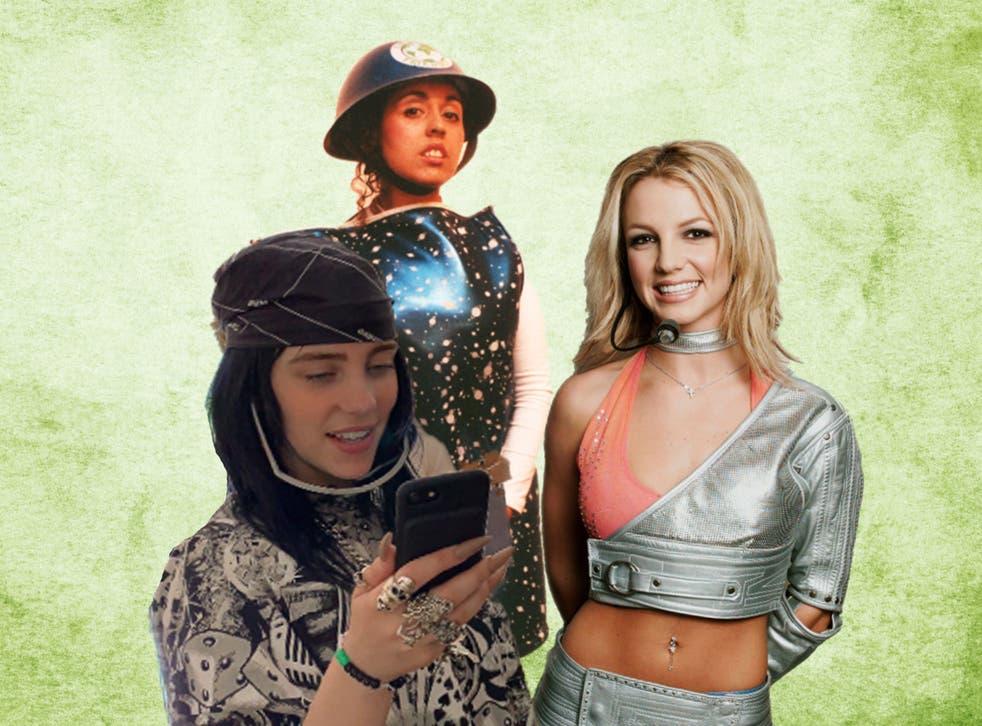 Leer en Español
In the documentary Poly Styrene: I Am a Cliché, we learn how the livewire singer of London punks X-Ray Spex fell out of love with fame. It began when the band played in New York in early 1978 and Styrene – real name Marianne Elliott-Said – witnessed first-hand the consumerism and excess that she railed against in her songs. There she was also mobbed by fans.
"All that attention," she wrote. "They treat you like you're really different. It got to me ... It isn't normal for people to be surrounded [by] people telling them that they're great … It isn't normal to be up on stage with people jumping all over you and ripping your clothes off."
Celebrated for songs including "Oh Bondage Up Yours!", with its shouted opening line, "Some people think little girls should be seen and not heard", X-Ray Spex blew away the cobwebs from a grimy, male-dominated punk scene. The only child of a white British mother and Somali father, Styrene had seen National Front demos marching past her front door as a young girl, and her sense of being an outsider permeated her music. She released a solo single in 1976 under her own name but decided to form a band after seeing an early gig by The Sex Pistols on Hastings Pier.
She put an ad in Melody Maker, changed her name to Poly Styrene and assembled X-Ray Spex. But as their star rose, Styrene became overwhelmed. She began to hate performing and cried in the dressing room after playing on Top of the Pops.
Tired of being criticised and rated on her appearance, she visited John Lydon's house, locked herself in the bathroom and shaved off her hair. She subsequently reported seeing a UFO after a gig in Doncaster. Her mother intervened and sent her to London's Maudsley Hospital where she was diagnosed with schizophrenia and told she would never work again (later, the diagnosis was changed to acute bipolar disorder).
Styrene left X-Ray Spex in 1979, put out a poorly received solo album in 1981, travelled to India and then returned to the UK where she went with her young daughter to live at a Hare Krishna temple in Hertfordshire. Styrene died from cancer in 2011.
Poly Styrene: I am a Cliché is the third documentary in just a few weeks to examine the ripple effects of fame and the ways the music industry can wreak havoc on the mental health of young women. There are remarkable parallels between the Styrene film and the New York Times documentary Framing Britney Spears.
The latter, released last month, chronicles the singer Britney Spears's grim treatment at the hands of the press and the music industry, and her subsequent struggles with her mental health. Both Spears and Styrene began their careers in their teens and endured creepily prying questions from interviewers about their appearance and romantic lives. Both shaved their heads as an act of defiance and spent time in psychiatric institutions, often against their will.
Last week also saw the release of RJ Cutler's The World's a Little Blurry, a film about Billie Eilish which, on the surface, offers a more positive portrait of the pop-star experience. The singer, who is 19 years old and has been making and releasing music since she was 13, still lives with her parents in their cosy, chaotic Los Angeles bungalow. We see how construction worker Patrick O'Connell and teacher and screenwriter Maggie Baird have thrown a protective ring around their daughter, with the help of Eilish's brother and musical collaborator Finneas.
Enjoy unlimited access to 70 million ad-free songs and podcasts with Amazon Music Sign up now for a 30-day free trial
Sign up
But the film nonetheless exposes the creative pressures experienced by this acutely sensitive singer, and how there is only so much a doting family can do to keep a daughter from harm when she has 78 million Instagram followers and an entire industry at her feet. More than once, Eilish shares her fears of incurring the wrath of the internet.
On one occasion, we watch her forced into doing one too many meet-and-greets. After reluctantly posing for selfies, she bolts and hides in her dressing room. The next day, her mother apologises, acknowledging her daughter has been pushed too hard. "You were failed by me and your whole team yesterday," she admits. Meanwhile, Eilish is dragged on social media for her perceived aloofness.
Despite Eilish's remarkable sales and accolades, her career is still in its infancy, but both the Spears and Styrene docs show how the next act can unfold when a young woman in the glare of fame isn't looked after.
I Am a Cliché, which is co-written and directed by Styrene's daughter Celeste Bell and the filmmaker Paul Sng, considers her legacy as a trailblazer while examining her darker struggles with mental illness, misogyny and racism. We witness her bemusement as she is quizzed over her dental braces and her outré clothing. In one TV interview, the journalist Tony Wilson smirkingly declares: "With those braces on her teeth, Poly Styrene is hardly Linda Ronstadt." Styrene is sitting right next to him.
It seems to be only in documentary form that we are able to confront the indignities inflicted on women in the entertainment business – along with this year's crop, we have seen similar narratives in 2015's Amy and 2018's Whitney. All of these singers came of age in public and had their every movement scrutinised, their sexual worth analysed, their private lives criticised. Poly Styrene lived three years of it and that was more than enough for her. Who can blame her for throwing in the towel and seeking love and community elsewhere?
I Am a Cliché is less a straightforward music documentary than a cautionary tale about what happens when creativity and celebrity collide, and the unfair standards to which women artists are held. Most of all, it shows how the same stories play out over the decades and how we never bloody well learn.
Register for free to continue reading
Registration is a free and easy way to support our truly independent journalism
By registering, you will also enjoy limited access to Premium articles, exclusive newsletters, commenting, and virtual events with our leading journalists
Already have an account? sign in
Register for free to continue reading
Registration is a free and easy way to support our truly independent journalism
By registering, you will also enjoy limited access to Premium articles, exclusive newsletters, commenting, and virtual events with our leading journalists
Already have an account? sign in
Join our new commenting forum
Join thought-provoking conversations, follow other Independent readers and see their replies