Prince of Wales: Gruff Rhys on his rock odyssey, and the trouble with independence
He is a musician of wondrous oddity. He is on a perpetual quest to seek the lost tribes of the Welsh diaspora. He toured America with the puppet of a long-dead countryman. Just don't ask Gruff Rhys if he's a national treasure (because you'll wait a long time for the answer…)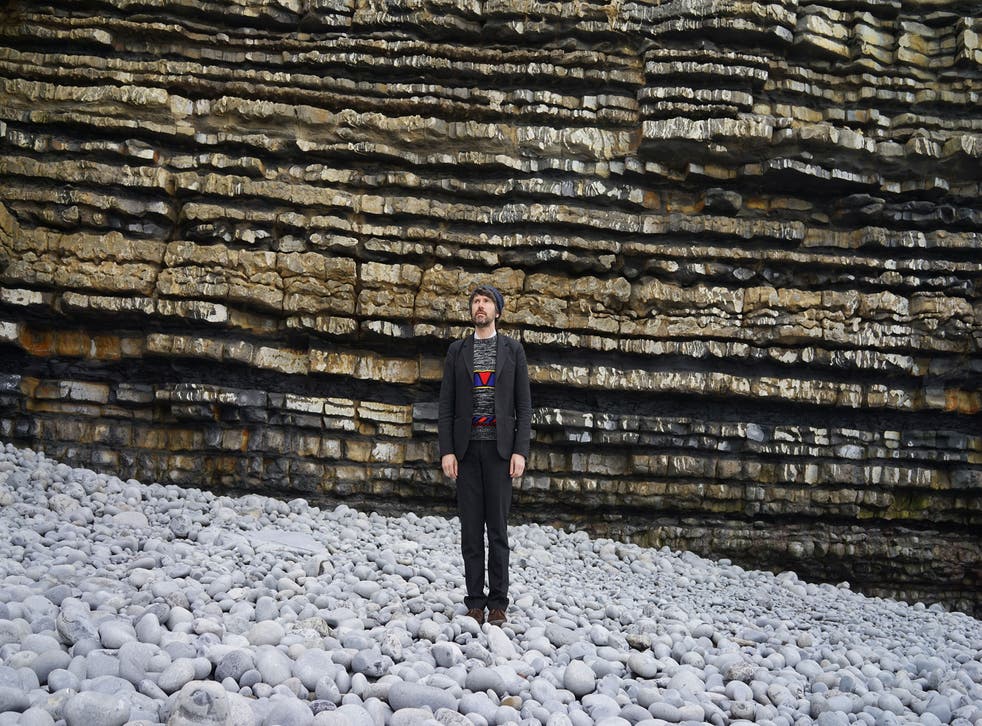 With apologies to Sir Anthony Hopkins and Sir Tom Jones, and also to Michael Sheen OBE and Gareth Thomas, one might claim that Gruff Rhys is our greatest living Welshman.
Wait! There is evidence…
Rhys, frontman of Cardiff's Super Furry Animals, a band that came of age during Britpop while having nothing to do with it, is revealing himself as an increasingly fascinating polymath, much of whose work revolves around both national identity and a fierce pride in it.
Precious few Welshmen, for example, would ever consider writing songs about members of the Welsh diaspora in far-flung Patagonia; Rhys did. He also scored the music for the recent Dylan Thomas biopic Set Fire to the Stars, and he has spent much of 2014 enjoying a commercial and critical high with his American Interior project, a multi-award-nominated book, album and documentary in which he undertook what would, in lesser hands, be a fool's errand: recreating the journey made three centuries previously by Welsh farmhand John Evans in search of a Welsh-speaking Native American tribe, the Madogwys.
When I meet Rhys in a west London studio and suggest to him that his country must be awfully proud of his efforts to help foster Welsh identity and legacy on a global scale, his response is to falter.
"Ah," he says, and just that. "Ah ..."
Though I don't yet know it, his response to everything is to falter, for Rhys is a man who, in person, speaks and operates at half-speed. Sentences do not flow so much as stall. He spends so much time frowning in thought that the crows' feet around his eyes are easy to explain. The reason for the awkward pauses, he suggests, is because he thinks in Welsh, so he is in a continuous state of translation.
This makes him a difficult interviewee, but not, curiously, an unpleasant one. The man – eccentric, possibly; a maverick, certainly – is eminently lovable. You want to take care of him, to visit him on a chilly day to ensure he has the heating turned up.
But back to the subject of national pride.
"My music…" he begins. "See, I don't try to… to self-consciously, you know, make it Welsh. I sing in Welsh, from time to time, but Welsh is my first language, so that is subconscious, not conscious." He winces. "I'm very conscious of what it is I do bring with me."
Which is what, exactly? The question hangs in the air between us, unanswered.
Gruff Rhys was born in Cardiff in 1970. Inspired by his late father, a poet and essayist who spent much of his life campaigning for Welsh independence, he grew up with a deep fascination with his native history, and an impulse to learn more. But by the 1990s, Rhys found himself fronting a band, Super Furry Animals, that had signed to Creation, Oasis's label. They were to prove a wilfully strange, improbably entertaining act, psychedelic, woolly and obtuse.
"We were just trying to be a pop band, really," he says, shrugging. Perhaps, but few pop bands would release a single, as they did, called "The Man Don't Give a Fuck".
Enjoy unlimited access to 70 million ad-free songs and podcasts with Amazon Music Sign up now for a 30-day free trial
Sign up
Super Furry Animals released nine albums before, in 2010, an extended hiatus, which allowed Rhys to pursue his own, highly individualistic muse. He wrote a concept album about the American car designer John DeLorean under the guise of Neon Neon, and was Mercury-nominated for his efforts; he later collaborated with Damon Albarn's Gorillaz.
It was his Patagonia expedition of 2009, however, that led him to believe that good music can only result from the kind of effort few songwriters are prepared to exert. He came up with the notion of "investigative tours", which would see him travel the world in pursuit of history, usually but not always Welsh, then write songs about his findings.
"Learning about distant relatives in Patagonia became an obsession bordering on cliché," he says, smiling. "Wales does like to see itself as the Wild West, our ancestors travelling all over, settling in unlikely places. I loved the research. It was crazy, but rewarding crazy, you know?"
Following up the Patagonia project would be hard. But an idea was already fermenting.
John Evans had been waiting in the wings for Rhys to resurrect him for some time. Dead for two centuries, he had all the patience in the world. To call Evans a marginal figure in Welsh folklore is to overstate matters somewhat.
In 1792, this 22-year-old from Snowdonia travelled to the United States in pursuit of the Madogwys, a tribe thought to have settled somewhere in America five centuries before. Though it is possible that Welsh people did travel there before him, they didn't settle, and never infiltrated native tribes. Consequently, Evans's seven-year hunt, exploring the length of the Missouri River, was in vain. He eventually ended up penniless in New Orleans where, spoiler alert, he died at the age of 29 from malaria.
Rhys, the avid student, thought him rich source material, the outpourings of which resulted in the book, the album and the documentary of American Interior. Each is a vivid delight, underpinned by a tremendous deadpan wit that broadens Rhys the musician into Rhys the comedian.
While recreating Evans's footsteps across Middle America, he put on concerts that were less musical – though they did feature songs-in-progress – than they were PowerPoint presentations of the Evans legend alongside largely irrelevant information on modern-day Wales: at one point, for example, he regaled a clearly bemused crowd with pictures of his terraced Cardiff home and a nearby café. Because no photographs of Evans survive, Rhys had an avatar made of him to accompany him on stage, 3ft high and unavoidably Muppet-like.
There is a lovely moment in the documentary when concert-goers are interviewed after a performance. None can quite work out just how much Rhys is playing it all for laughs. When I put this to him now, there ensues a silence so large you could drive a truck through it, turn it around and drive it back again.
"No, no," he eventually says. "I'm not playing it for laughs, but I have learnt that things can be communicated through humour, and that people enjoy… Well, if you fall over on stage, they can enjoy that as much as an amazing guitar solo. That's why I didn't mind trying things out, taking risks on stage. Um, I'll give you an example."
He looks to the ceiling, scratches his head, opens his mouth to say something, then closes it again. Presently, he says: "Sorry, I'm just trying to think of one," and not for the first time I wonder whether such pronounced vagueness is mere shtick, a carefully hewn comedic routine. You cannot be that vague and produce what this man produces. Beneath the surface sheen of perpetual confusion lies a shrewd operator who knows precisely the effect he has on an audience.
For instance, he tells me that, like Evans's original journey, his recreation of it was similarly fraught. Evans had had to face ignorance, the law and illness. For continuity in the documentary, Rhys was required to wear the same pair of trousers for three weeks. "That was pretty intense," he says, entirely straight-faced.
Now that the project is at last complete, the songs no longer in progress, Rhys plans to take the finished version back out on the road. He has learnt much more about his subject since completing it, so now hopes to present the most fulsome portrait of Evans yet, and thus rewrite the history books. This is ambassadorial stuff, I tell him. His father would presumably have been proud? Here, he merely blushes, so I ask for his thoughts on Welsh independence. This question produces the longest pause yet. "It's complicated," he says. A month later, he emails me.
"The context for a Welsh swing towards full independence," he writes, "could be an isolationist anti-EU referendum – it would be a disaster for Wales to leave. I would definitely want to vote for Welsh independence in order to stay in the EU. In that sense, Welsh politics are very much intertwined with wider British and European politics. But the centralist media's pandering to the isolationist UK and the brutalist Tories may well bring unforeseen bi-products."
It's a charming email, full of apologies for his "muddled thoughts", and stressing just how proudly Welsh he is, how important the language, the sense of identity. He writes fluently where in person he could only falter.
On the subject of his importance as a Welsh figurehead, he faltered so much, I decided to speak to other people instead. Nicky Wire of the Manic Street Preachers considers Rhys a national treasure. "For me, the real genius is that someone so intrinsically attached to Wales can have such an international resonance," he says. "I think Wales is very grateful to have such an artist to call its own. I know I am."
Leanne Wood, the leader of the National Party for Wales, Plaid Cymru, is similarly effusive. "Gruff is an ambassador for our country on a global scale," she tells me. "So much of Welsh culture is entwined with the arts, particularly music and poetry, and I think the real gratitude towards artists such as him will come in time, when people look back and see the important contribution he has made."
Rhys himself, meanwhile, is still frowning. It was afternoon when we started talking; it is evening now. We talk briefly about his home life – he lives in Cardiff with his partner and their two daughters, six and four – and about what he might do next. "I don't know," he says.
Nevertheless, he must be very creatively fulfilled? "Ah," he says. "Um."
In another room in this recording studio, U2 are giving interviews to the Japanese media. It is likely that any language barrier that exists between them is nothing to the one that permeates here. He tells me that he is merely looking for different ways to present songs. "I'm trying to do something original within the very conventional medium of songwriting… and that takes time to figure out, because – well…"
He looks up at the ceiling again, perhaps for inspiration that, like the Madogwys, simply cannot be found.
"Uh," he says. "I've lost, um – my…"
Train of thought?
He nods, grateful. "Yes, that."
Gruff Rhys is playing dates across the UK in December, and returning in February for a full tour. For more information: gruffrhys.com
Join our new commenting forum
Join thought-provoking conversations, follow other Independent readers and see their replies