Interview
Reneé Rapp on protecting Drew Barrymore on live TV, coming out, and her top 10 album: 'Someone was about to harm my friend, so I'm not just going to sit there'
The actor and musician talks to Annabel Nugent about releasing her debut album, leaving 'The Sex Lives of College Girls' and the one time on 'Mean Girls: The Musical' she wished she had spoken up
Saturday 09 September 2023 12:29 BST
Comments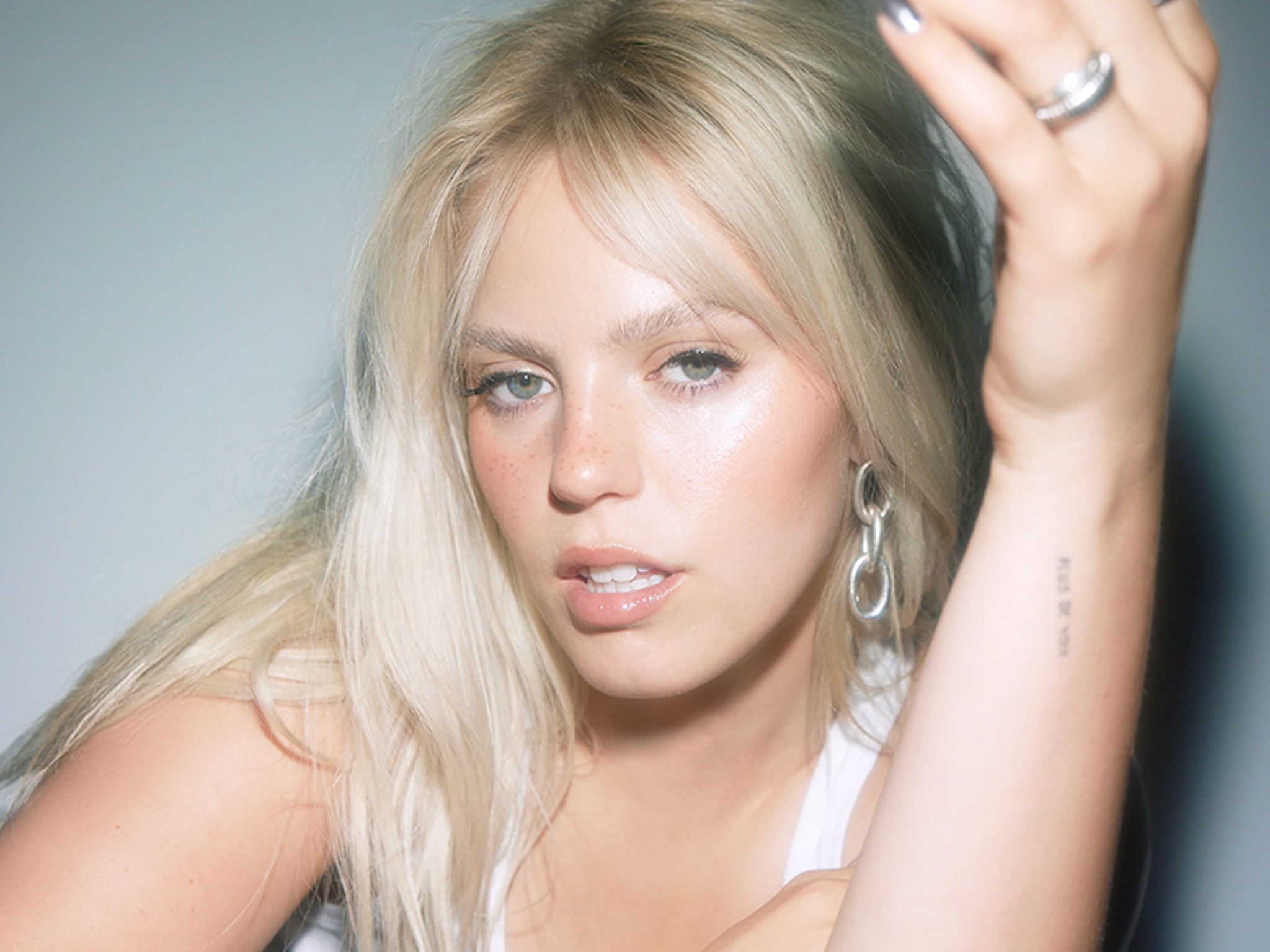 Like a lot of Gen Z artists, Reneé Rapp is many things: a musician, an actor, a Broadway musical star. As of recently, the 23-year-old is also being hailed as a hero to none other than America's sweetheart Drew Barrymore who was, a few weeks ago, ambushed by a stalker on live TV. Rapp, who Barrymore was interviewing at the time, leapt to her feet, expertly shielding the actor while escorting her off stage. "You are my Kevin Costner!" Barrymore later gushed, setting off a chain reaction of adoration from fans. "The reaction has been very sweet," Rapp says over Zoom from her home in LA, "but a little confusing. In my brain, someone was about to harm my friend, so I'm not just going to f***ing sit there. Are you kidding? You do not come for my friends. That man is lucky nobody laid him out."
Before the stalker interrupted, Rapp was in the middle of promoting her debut album – and contrary to its celestial-sounding title, Snow Angel is full of the same bullishness. "You're the worst person on Earth. I hate your guts," she coos over the breezy bossa nova of "Poison Poison". Brazen and vulnerable, the record places Rapp in a pantheon of no-filter pop stars such as Olivia Rodrigo and Billie Eilish. It's hard to believe the album comes from a musician who is better known as an actor. Up until recently, Rapp was a lead on Mindy Kaling's HBO show The Sex Lives of College Girls. Before that, she was pitch-perfect as the meanest of mean girls Regina George in Tina Fey's musical theatre adaptation of her hit 2004 movie. Snow Angel, however, has now debuted at No 7 on the UK albums chart, making it the biggest solo debut of the year. If acting made Rapp a star, music could be the thing to make her a household name.
In fact, this had always been the plan. In the years Rapp spent on the set of The Sex Lives of College Girls or on stage for Mean Girls, her aspirations were elsewhere. While she is unreservedly grateful for the work ("People believed in me for whatever f***ing reason, which I don't necessarily understand but I welcome with open arms"), one foot was always out the door. "For the first time ever now, I see myself as an artist and I'm really proud of that," she says of releasing her debut. "It's the only thing I've wanted in my entire life."
It's still morning in LA and Rapp looks newly awake, wearing a baggy T-shirt that reads "THOTS AND PRAYERS" in big bold lettering. She says everything with conviction – even her confession to feeling "incredibly insecure" about her skills as an actor comes across as enviably headstrong. "At the end of the day, I trust myself," she says. "That doesn't mean I like myself all the time, but I do trust myself to power through. I try my hardest to never let a situation get the best of me."
You hear horrible stories of young women being exploited in the industry; bulldozed in conversations and shut out of meetings. Chatting with Rapp, I get the sense no one would dare. In 2018, before accepting her role in Mean Girls: The Musical, she made a deal with creator Fey and producer Lorne Michaels. "I knew I wanted to be in music," she says. "So I told them I would only say yes to playing Regina if they presented me as a musician first and foremost. I told them they had to market me like that." Fey and Michaels agreed. Has she always felt empowered to speak up like this? "Yes," Rapp says before quickly adding: "But let's be clear, that's for a lot of obvious reasons. I'm a cis white woman and I don't think it's very hard for me to do that, which is inherently f***ed up but something I'm aware of. I'm lucky to do those things without having to suffer the consequences a lot of other people would."
There is one moment, though, when Rapp stayed silent at a time she wished she had spoken up. She was 19 years old and working on Mean Girls: The Musical in New York City when someone on the production team made "vile comments" about her body. "I was young, so I kept it to myself and I just beat myself up. I thought I was the problem," she says. "In hindsight I wish I would've spoken to somebody, but I understand why I didn't. It's an incredibly difficult position to be put in but I would absolutely recommend talking to people you trust, because I did have those people at the time. I was just too scared to say anything."
The person in question, she says, is not involved in the film adaptation, which Rapp shot this summer with Busy Philipps, Jon Hamm and Angourie Rice. "I feel very supported by the team now because we can talk about it. And you know, one bad egg does not make… a bad batch or whatever."
Rapp was born in Huntersville, North Carolina, (population 61,000). The only shop in town was called The Old Store – "literally," she laughs. Rapp doesn't have a Southern accent any more but she does attribute many of her qualities – including her mumma bear instincts, which led to that Bodyguard moment – to her upbringing. Growing up, Rapp had been part of a girl group called Daddy's Little Girl. They made what she classifies as "really sh**ty pop". In an earlier interview, Rapp said their music felt like gentrification; a "white girl Destiny's Child". As an artist and also a person, she is acutely aware of how she moves through the world.
When Rapp took on the role of Leighton Murray, prep school princess and closeted lesbian in SLOCG, she agonised over what it meant for her – a bisexual woman – to be playing a gay character. "I'm a bisexual white woman so I don't think I'm the pinnacle of queerness. However, I am fortunate to be part of a community that I love very deeply," she says now. Rapp felt a similar panic before writing "What Can I Do". The lilting lullaby on her new album is about unrequited love; it's also the first gay song Rapp has ever written. "I remember being so scared about it – I think because I'm lucky to have so many amazing queer friends and I wanted it to be something they were proud of."

Enjoy unlimited access to 70 million ad-free songs and podcasts with Amazon Music
Sign up now for a 30-day free trial
Sign up

Enjoy unlimited access to 70 million ad-free songs and podcasts with Amazon Music
Sign up now for a 30-day free trial
Sign up
Rapp came out as bisexual nine years ago, but her role in SLOCG involved coming out all over again, in a much bigger way. "There's an inherent responsibility. If you're somebody who has any sort of visibility as a queer person, right?" she says. "You don't want to be spewing bullsh**. You want to be careful and respectful and inclusive and really honest. I was freaked out when it started becoming this public thing."
She pauses for a moment, turning this over in her mind. "Also, I was making it a public thing," she adds suddenly. "I still go through this now – I was speaking to my girlfriend this morning, being like, 'Oh my God, I talk about being gay so much,' and beating myself up for it, but then I'm like, 'What am I beating myself up for? What are these internalised homophobic remarks I'm saying to myself?'" To be clear, she has zero regrets about coming out to the world. "It has improved my quality of life beyond belief. I'm so fortunate in this regard because I don't deal with a tonne of homophobic sh** compared to my other friends who are very visibly queer. People can be so f***ing mean."
Last year, Rapp was diagnosed with a mood disorder. For many, that wouldn't exactly constitute a jumping-for-joy moment but for Rapp, who had always felt like something of an emotional livewire, it was a relief. "Now I don't have to hate myself for it," she says. The diagnosis came at the right time, too. "I was in a relationship that didn't help matters – I had a panic attack in front of them, crying and pacing, and they just left me; they told me they couldn't handle it. That's not how you treat somebody whether they have mental health issues or not." She exhales loudly, shrugging off the memory. Happily, they have since broken up; Rapp is now dating someone much more understanding of her big moods. Good or bad.
On social media, Rapp is almost as famous for her TikTok as she is for her music or acting. On her profile, where she has 1.4 million followers, she shares videos of herself reacting sarcastically to homophobic comments – or hilariously to the absolute "wreck" that is the clean version of "Poison Poison", a very expletive-heavy song. "My goal is to work hard now so I can step back at some point," she says of her online presence. "I love this accessibility but it's not sustainable for the rest of my life. I want to develop that kind of trust and relationship with my community so one day I can chill a bit." For now, though, chilling is the last thing on her mind.
'Snow Angel' is out now via Interscope
Join our commenting forum
Join thought-provoking conversations, follow other Independent readers and see their replies