Revealed: the real guitar heroes
For his latest book, photographer Pat Graham snapped musicians with their favourite instrument and got them to explain why they loved them. Here is a selection
Pat Graham
Friday 25 November 2011 01:00 Comments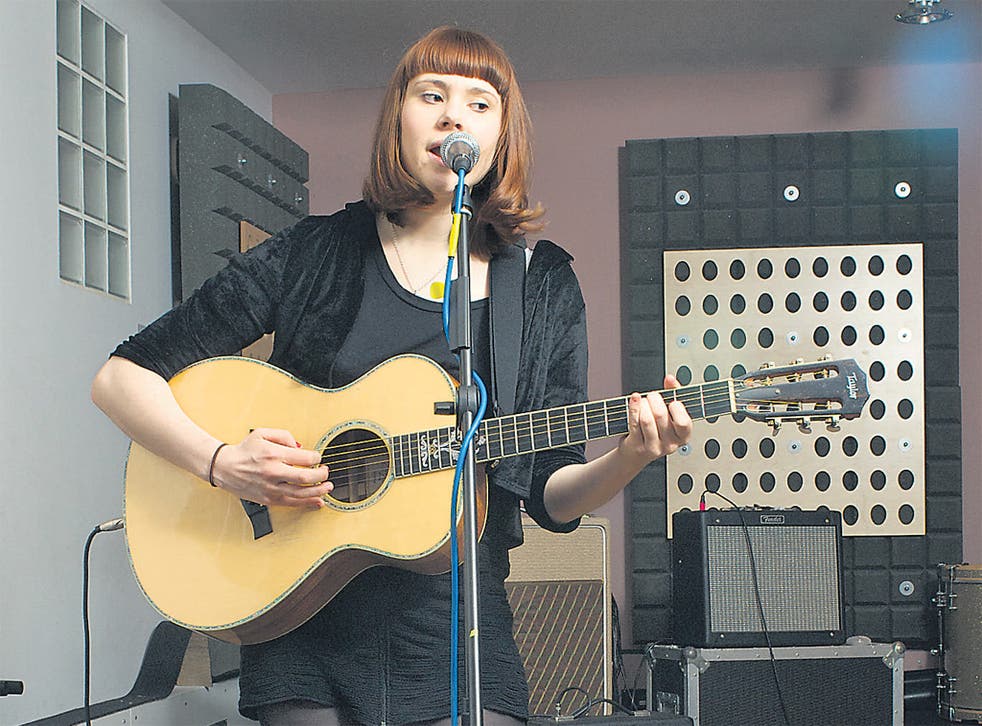 Justin Vernon (Bon Iver) - National Reso-Phonic
I bought this guitar from a guy in a music shop in Eau Claire, Wisconsin. The serial number on the guitar body dates it to between 1929 and 1931, nobody knows for sure. I bought it for $400 and had minor restoration done to it.
When you put this guitar in an open-D tuning... I've never ever heard a harmonic sequence resonate so purely on any instrument. It lights up an entire wooden room with sparkles and notes that feel like you are listening to one of those $30,000 speaker systems. It's just beautiful. It literally wrote a song for me, a song called "Skinny Love", which was a really important song for our band and our first record. The guitar seemed to exist to write that song, although it has been around for 80 years and who knows where it has been. It makes me feel humble in its presence because I know it's older than me. I will never get rid of it, and I take it everywhere that I go.
Kate Nash - 2004 Taylor, 1983 Granados
The Taylor acoustic was the first guitar I bought once I had a publishing deal. It was the prettiest, and felt the best to play, and had a small body, which was what I was looking for. It really is so nice to play – everyone who has a go says so. I do a lot of writing on this guitar. I played it on all the first tours, and used it to record some songs on Made of Bricks. As far as recordings, you can hear it on "Birds," "Kiss That Grrrl," and "Early Christmas Present" and live on "Foundations".
The Spanish acoustic is my dad's, and the first guitar that I ever wrote songs and learned to play on. It's difficult to play because there are quite big gaps in between the strings, but I like that. You have to work hard, and it sounds really old. You can hear it on "You Were So Far Away."
Jeff Tweedy (Wilco) - Gibson SG
Q1. What's your history with the guitar?
A1.Picked it up at a store in '98 and it just felt right
Q2. Why this model?
A2. That style of guitar has always felt comfortable
Q3.What if any recordings/songs/tours has it been on?
A3. On all tours and too many songs to list
Q4. Any war-stories relating to the gear?
A4. Normal wear and tear
Q5. What song caused all those deep wounds or markings?
A5. Spiders
Q6. How does it feel to play it?
A6. Effortless
Alex Kapranos (Franz Ferdinand) - 1973 Fender Telecaster Deluxe
I bought this guitar on April 17, 2003: the first time I used eBay. It was the most expensive object I'd bought in my life. I'd been after a Telecaster for years – I'd seen one in a guitar shop when I was a teenager and had never seen another. Then I heard about this website where you could buy stuff, and I figured I might find one there. I couldn't believe how cheap it seemed at first – just over a hundred quid. I didn't realise that there would be a flurry of bids at the last minute until I watched the seconds counting away as the guitar quickly doubled, tripled, quadrupled, and quintupled in value. "Ah, fuck you all," I thought, and typed in my second and last bid of £666 with seconds to go. There. I'd won. Bollocks. How could I afford that? It was fine. I just didn't pay my rent that month. I've played the guitar ever since.
Peter Buck (REM) - Rickenbacker 360 JetGlo
I bought my first Rickenbacker in about 1980. I love the tone. I love the history, knowing that Roger McGuinn and George Harrison and Pete Townshend also played Rickenbackers.
That one got stolen eventually, I think in 1981, when I was doing a show for $100. So we went to a tiny little guitar shop and pulled a Rickenbacker out of a box. It was in tune. I played it, it sounded great, and it's the one I've used on every single record I've ever made. I've played it on stage my entire adult life and on every REM record except the "Radio Free Europe" single, because I didn't have it at that point.
This one got stolen, too, in Finland in 2008, and I had to ransom it back. We were in the middle of a tour, and my entire rig, which I have been using for years, is designed for this guitar and maybe one other. I was having trouble getting any kind of real tone without it. So it was nice to get it back.
Wayne Coyne (The Flaming Lips) - Ibanez double-neck
A long time ago I acquired one of these giant double-neck guitars, mostly because John McLaughlin and Jimmy Page play them, and I thought, "What is this cool looking, giant guitar?" At that point everybody was talking about the Guitar Hero game guitars and handing them to us all the time. So I took one and taped it to the bottom neck. The Guitar Hero part doesn't actually work – I have a Kaoss pad hooked up to it that makes the noise – but it looks cool. I get a lot mileage out it; a battery lasts for months! It has pitch change, so you can really do some wacky, un-heard-of, bendable notes.
Enjoy unlimited access to 70 million ad-free songs and podcasts with Amazon Music Sign up now for a 30-day free trial
Sign up
Nick Zinner (Yeah Yeah Yeahs) - Fender Stratocaster
This was my second guitar. I got it from my best friend, Scott Burg, in the seventh grade. I can't remember if he sold it to me so he could buy more comic books or if I traded him half of my comic book collection for it, but I remember really wanting it... I have lots of little stickers on it from different periods of my life, most meaningful only for the time and people they mark. The big circle sticker with the "50" on it is from Indonesia; I got it for 25 cents in Sulawesi when I was travelling there before I was in a band. It's celebrating 50 years of Indonesian independence. A lot of kids there write us about it, which is pretty great. When the band was in Singapore a few months ago, a girl from Jakarta gave me a new sticker; it's been 64 years of independence now.
'Instrument' is published by Chronicle at £19.99
Register for free to continue reading
Registration is a free and easy way to support our truly independent journalism
By registering, you will also enjoy limited access to Premium articles, exclusive newsletters, commenting, and virtual events with our leading journalists
Already have an account? sign in
Join our new commenting forum
Join thought-provoking conversations, follow other Independent readers and see their replies