Rolling Thunder Revue: Why Martin Scorsese's documentary deserves an audience beyond hardcore Bob Dylan fans
Released alongside a box set containing 100 unreleased tracks, the director's new film of Dylan's star-studded 1975 tour is revelatory, not least for their backstage gossip, finds David Lister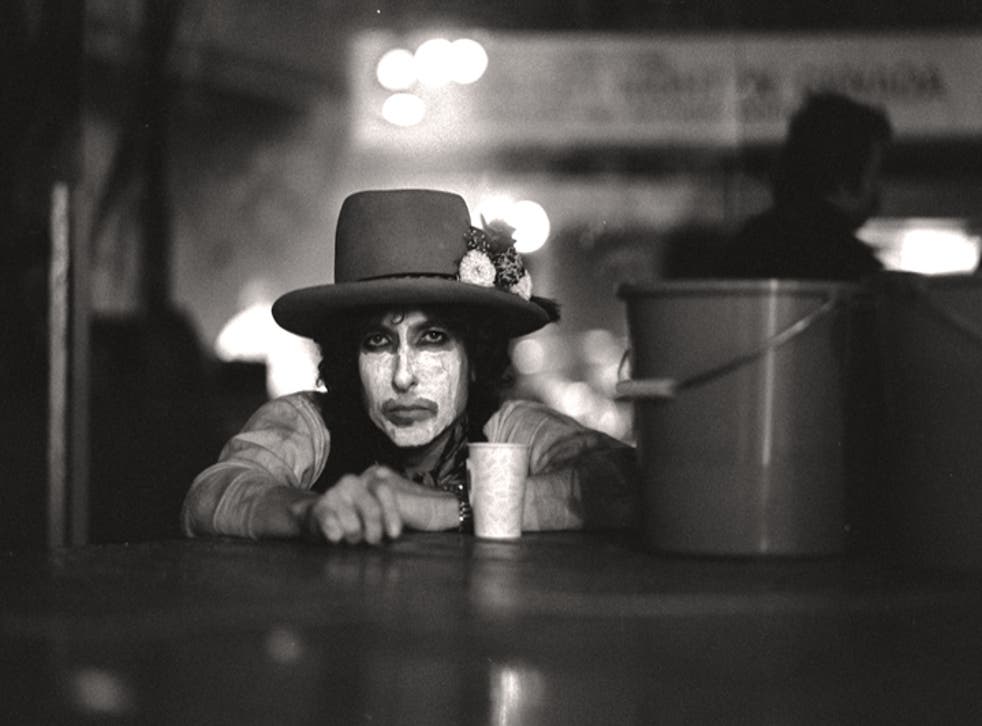 When Bob Dylan took his Rolling Thunder Revue on the road in 1975, one of the fans who came to see it was a 19-year-old model and would-be actress, Sharon Stone. She came with her mother and was introduced to her hero.
At a subsequent gig on the tour, Dylan invited her to his dressing room and played at his piano a song he said he had just written for her. It was "Just Like a Woman". Not surprisingly, Stone was knocked sideways by the compliment. We are not privy to how the day developed after that. And only later did a member of Dylan's band tell the ingenue that the song was actually 10 years old.
This delicious little revelation, told by Stone herself, comes in a remarkable documentary film made by Martin Scorsese, which will be shown on Netflix on 12 June. The film, nine years in the making, is about the Rolling Thunder Revue, which toured small venues in the US in 1975 and 1976, often at very short notice, and in which Dylan aimed to change the nature of a rock tour.
The musicians he gathered included some of his fellow folkies from the clubs of his Greenwich Village days, as well as Joan Baez, former Byrd Roger McGuinn, and, incongruously, the blond-haired, quintessentially English lead guitarist Mick Ronson, David Bowie's glam-rock sidekick in The Spiders from Mars.
Rolling Thunder Revue: A Bob Dylan Story by Martin Scorsese
The musicians would sometimes share the stage with the tour bard, poet Allen Ginsberg, and Dylan would perform wearing white clown make-up. They played sets of up to five hours, not a bad deal for ticket prices of $7.50, even if some in the audiences were less than pleased that Dylan might only play an hour, and his fellow musicians the other four. But at their best, and with Dylan on stage, the concerts produced some of the greatest and most dynamic live music in rock history, much of which is released in a special box set this weekend.
Dylan decided on the format partly as a reaction to the pomp of his 1974 comeback tour. He wanted intimate; he wanted surprise; he wanted a travelling circus format that would turn the conventional rock tour on its head. It did all that, even if it was a format that veered on the edge of being pretentious.
As the author Ian Bell writes in his definitive Dylan biography The Lives of Bob Dylan, "The shows… would amount to a kind of erratic developing essay on identity, on disguises, on human contact. The concerts would also be, by turns, pretentious, acute, self-indulgent and enthralling. Rolling Thunder would become a piece of theatre, a radical artistic gesture, a travelling circus, a movable movie set, a gypsy caravan and the realisation, intermittently, of a superstar's old dream of creative emancipation."
Bell was not alone in using the grandiose to describe the tour. Ginsberg said at the time: "We have, once again, embarked on a voyage to reclaim America." Roger McGuinn was less lyrical when he offered: "This tour is like better than tripping out."
The tour had a filmmaker on board, but his efforts were never released, at least not as the intended documentary. A sprawling, self-indulgent and now justifiably almost forgotten, movie, Renaldo and Clara, did contain some footage form the tour. Now Scorsese has edited all the footage, both of the gigs and the backstage chat, and along with present-day interviews with Dylan and the other surviving musicians, it makes for some astonishing viewing.
Enjoy unlimited access to 70 million ad-free songs and podcasts with Amazon Music Sign up now for a 30-day free trial
Sign up
Take one example: the Rolling Thunder Revue had guest appearances from musicians in the towns it was visiting, and often those musicians would stay on, so entranced were they by the concept. One such was Joni Mitchell, and Scorsese's film shows her backstage, debuting a new, and soon to be famous, song, "Coyote", with Dylan and McGuinn strumming along.
The tour took place at the time of Dylan's mid-Seventies artistic renaissance; and a number of songs from his soon to be released album Desire are seen being performed with the genuine passion of someone who had just composed them, "Hurricane", "Romance in Durango" and "Oh Sister" among them. But older songs such as "A Hard Rain's A Gonna Fall" and "Knocking on Heaven's Door" also receive memorable versions, the former performed with a dramatic and driving intensity. All of these performances are on the box set.
But it is, inevitably, some of the intimate backstage moments which provide enticingly voyeuristic moments, and not just for students of rock history. Dylan, alone with his former flame, Joan Baez, says accusingly "You went off and got married." A puzzled Baez responds: "You got married first – and without telling me!"
And, wonderfully, the film has a cast of characters that a fictional movie drama would do well to emulate. There is the band's violinist Scarlett Rivera, who kept snakes and swords in her hotel room, confounding the hopeful band members intent on seducing her. There is the still bitter and baffled promoter, complaining 44 years on that Dylan's insistence on playing small venues meant that the project made a loss. There is one of the original filmmaking team, hitting out at all and sundry.
Dylan, looking back, says in the film, that he was a man who tried to make enemies where none existed, adding with idiosyncratic mock-seriousness, "And he was very successful at that."
"He was very paranoid," Dylan goes on. "He was convinced his room was being bugged." Dylan pauses. "Mind you, I think McGuinn was on that tour, and at that period he was very interested in sophisticated, electronic devices. So I'm not saying he wasn't being bugged."
As with the Joni Mitchell moment, so often one is tempted to gasp and think: "How has this footage never been seen before?" At one point we witness Dylan and Ginsberg visiting the grave of Jack Kerouac and talking about the influence of the On the Road author on them both.
And there was, to me at least, the pleasing, if disconcerting, revelation that global superstar Dylan not only rode on the tour bus, he drove it. And we see him doing so.
Dylan fans will be delighted that, alongside the Scorsese film, a box set of the tour is being released. Yes, there have been other albums celebrating Rolling Thunder, the excellent 1976 live album Hard Rain and the 2002 official bootleg. But this comprehensive 14-disc box set of both performances and rehearsals has a far more sumptuous feel than either, with 148 tracks, 100 of them never released before.
The 40 best albums to listen to before you die

Show all 40
Yet, for all its revolutionary concept, Rolling Thunder did not actually change the nature of rock band touring. It had no legacy, admits Dylan at the end of the Scorsese film. "It's ashes." Nevertheless, it remains a seminal moment in rock history, and Scorsese's film deserves an audience well beyond hardcore Dylan fans.
So do this film and its revelations detract from the mystique that Dylan possesses? Far from it. Take just one moment that can only add to the Dylan enigma. Ronee Blakley, one of his fellow singers, recalls that it was impossible to get to know Dylan and not love him. During the tour, she put this to Mick Ronson, asking the Yorkshireman if he had also found that he was loving Dylan more and more.
Ronson replied that it was hard for him to say. Dylan had never actually spoken to him.
Bob Dylan – Rolling Thunder Revue: the 1975 Live Recordings box set is released on 7 June. Rolling Thunder Revue: A Bob Dylan Story by Martin Scorsese will launch on Netflix and in select cinemas on 12 June
Register for free to continue reading
Registration is a free and easy way to support our truly independent journalism
By registering, you will also enjoy limited access to Premium articles, exclusive newsletters, commenting, and virtual events with our leading journalists
Already have an account? sign in
Register for free to continue reading
Registration is a free and easy way to support our truly independent journalism
By registering, you will also enjoy limited access to Premium articles, exclusive newsletters, commenting, and virtual events with our leading journalists
Already have an account? sign in
Join our new commenting forum
Join thought-provoking conversations, follow other Independent readers and see their replies