The Saturday Interview
Shania Twain: 'You're not allowed to be too pretty or too sexy or too anything as a woman'
As her breakthrough album 'The Woman in Me' is re-released as a Diamond edition, the country-pop megastar discusses heartbreak, hiatuses and refusing to conform with Roisin O'Connor
Monday 05 October 2020 16:33 BST
Comments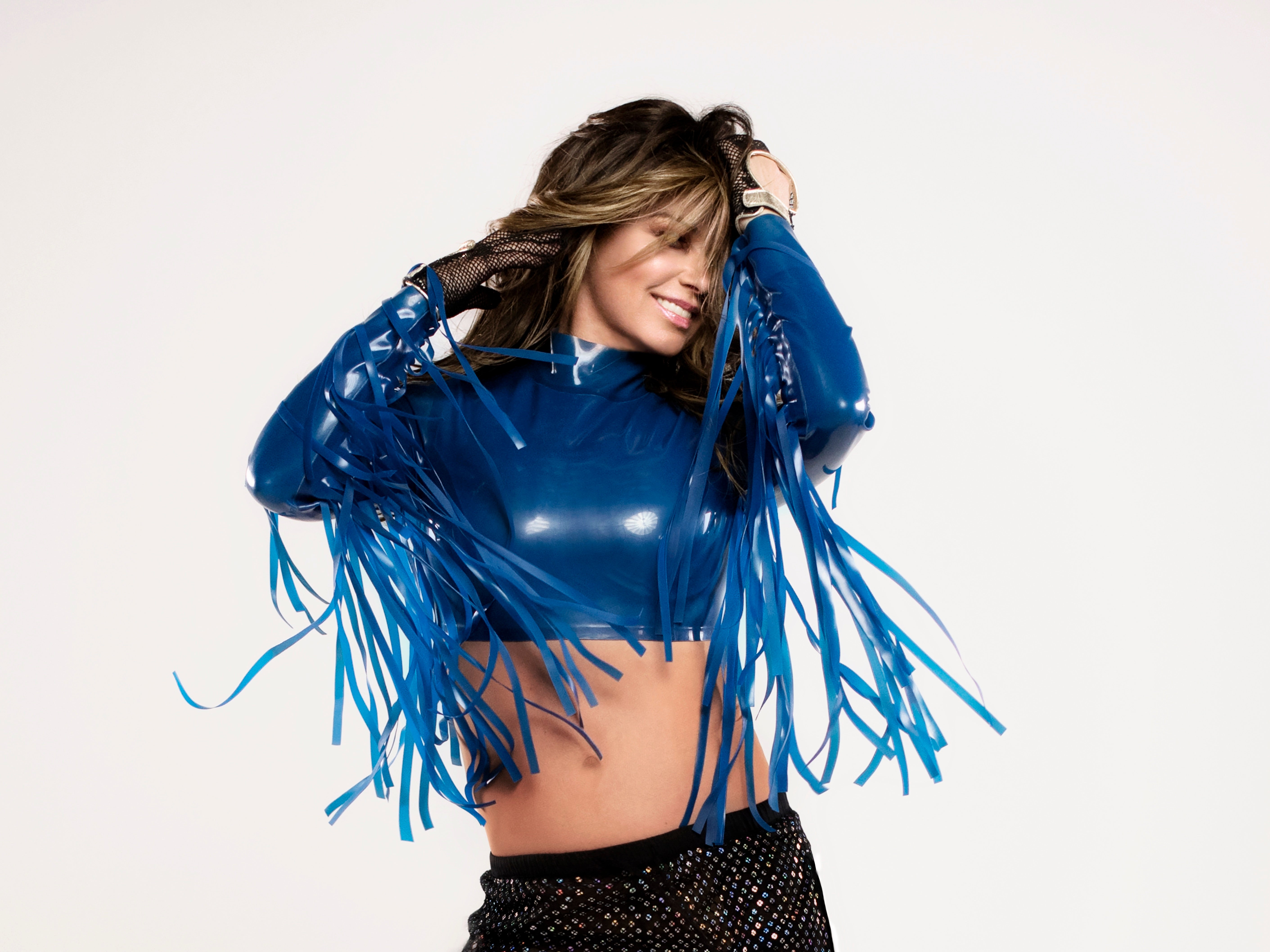 Scandalised," Shania Twain says, drawing the word out in her rich Canadian tones. "That's a good word! I didn't do it intentionally, but I probably was considered a bit scandalous."
It's been 25 years since Twain, queen of country-pop, was herding cattle and frolicking around a field in double denim in the music video for "Any Man of Mine". It was a first, not just for the amount of bare skin Twain was showing amid a deeply conservative country music industry, but for the assertive nature of the song. Released as the second single from her 1995 album, The Woman in Me, the track mixed jubilant fiddles with rock guitar elements and Twain's own irrepressible charisma, offering a first glimpse at the crossover star she would become. It was a huge success, marking her first No 1 on country radio, as well as her second crossover hit in the US Top 40.
At the time, Nashville hadn't seen anything like Twain – a leopard print-loving, midriff-exposing artist determined to be an international star. She remembers being warned by her label about a backlash: "I would be hated by the men because I was too opinionated and too forceful and demanding, and I would be hated by the women because I was being sensually expressive," she says. "And I thought, well, I don't believe that'll be the case."
In Twain's mind, she was speaking to women as a kindred spirit; someone who refused to conform to a single archetype of femininity. She could be heartbroken, funny, vengeful, empowered, self-deprecating, in love or in lust, all on the same record. "And as far as the men went, I was doing it all with a sense of humour… not in an aggressive way," she says. "I didn't see it the same way the industry saw it."
She was proven right, and then some. The Woman in Me, produced by her ex-husband Mutt Lange, became the bestselling release by a female country music artist in history, and picked up a Grammy Award for Best Country Album (to date, Twain is the only non-American winner). This was the album – her second – that took a relative newcomer in US music and made her into a global superstar. "I didn't let fear get in the way," she says. "And I didn't let anyone create doubt."
Now 55, Twain is speaking from Zurich, where she's travelled from her home in Geneva to attend Switzerland's International Film Festival. It's an industry she's already dabbled in, initially with the odd cameo but more recently in the 2019 sport action film Trading Paint opposite John Travolta. The movie received mostly negative reviews but appears to have given Twain the acting bug and encouraged her to use talents gained by directing many of her own music videos. Now she's working as executive producer on a TV adaptation of US romance author Debbie Macomber's bestselling Heart of Texas series, "about a young family trying to keep it together after their parents die prematurely".
It's easy to see how Twain, a longtime fan of the books, might relate. Raised by a mother suffering from depression and an alcoholic, violent stepfather (whom she has said was both sexually and physically abusive), Twain sang in bars from the age of eight to help feed her family. She was in Nashville in 1987, on the cusp of a breakthrough, when she received the news that her parents had been killed in a car crash. The then-22-year-old Twain was forced to return home to care for her four siblings. "I had a lot of responsibility," she says. "I had to grow up fast." During lockdown, with her Heart of Texas show and a Las Vegas residency on hold, Twain found herself writing songs about her early life for the first time.
"I've never been reflective like that before," she says. "It feels good." After six months, she's found herself with more than enough songs to make a new album, one she says will have a "real feel-good, singalong vibe to it". She finds she works best when she's not distracted, and so tends to isolate herself in a room and let the words pour out. "It's a very emotional experience. I often start in a melancholy place, and then I spin it around and turn it into a happy song."
Assisted by Lange, a pro at crafting stadium-sized rock music thanks to his work with AC/DC and Def Leppard, Twain was on to a winning formula. From the cheerfully delivered warnings to would-be cheaters on The Woman in Me, Twain went one further on 1997's Come On Over, the album that asserted her as an unstoppable global force. Come On Over produced hit single after hit single, from the feminist anthem "Man! I Feel Like a Woman", to the tongue-in-cheek "That Don't Impress Me Much". Then came 2002's Up!, Twain's last album and her most pure-pop record to date, released before a hiatus that ended only two years ago.

Enjoy unlimited access to 70 million ad-free songs and podcasts with Amazon Music
Sign up now for a 30-day free trial
Sign up

Enjoy unlimited access to 70 million ad-free songs and podcasts with Amazon Music
Sign up now for a 30-day free trial
Sign up
As she discusses her songwriting, Twain sounds far more confident than when we last spoke, around the release of her 2017 comeback album, Now. It marked her first record in 15 years, following a long hiatus caused in part by her diagnosis with Lyme disease, which caused vocal paralysis. It was also the first one Twain had written without Lange, with whom she had produced three consecutive Diamond-selling records (she's the only woman to have achieved the feat), including 1997's Come On Over – one of the bestselling albums of all time. It's understandable that Twain might have felt some pressure.
"I'm definitely over that insecurity of, 'Oh my God, I'm doing this on my own', and that is also why the Now album was really important for me," she says. "I needed to do it alone, to start ideas and finish them without relying on anybody else's opinion and direction." Writing Now was also a way for Twain to process the devastation caused by her split from Lange in 2008, in one of the most highly publicised break-ups of the time. During her stint away from the spotlight, Twain and Lange had moved to Geneva, where the couple became close friends with her assistant, Marie-Anne and husband Frédéric Thiebaud. At some point, Thiebaud told Twain that Marie-Anne was having an affair with Lange. In a very Fleetwood Mac-style twist, both couples divorced, leading to a relationship and then marriage between Twain and Thiebaud, who are still together.
"I needed to evacuate my own pain and get a lot of things off my chest," Twain says of writing Now. Songs like "Poor Me" and "Life's About to Get Good" alluded to that time, with lyrics such as: "He never told me how long/ I'd been living in the dark/ No one turned the light on/ I fell and broke my heart."
"It was a little bit indulgent in that way but [my fans] were fantastic," she continues. "They understood my story, and I felt supported. And now I'm writing a different album again, and I'm much more comfortable in my own skin." Now surprised fans for its broad range of influences, many of whom Twain was put onto thanks to her and Lange's teenage son, Eja. Yet Twain herself has inspired generations of younger artists, from Taylor Swift to sad rap pioneer Post Malone. The latter, who has been criticised by some for his country music influences, was filmed at one of her concerts last year, having the time of his life.
"Some people are just very purist about those things," Twain says, referring both to Post Malone and her own genre-hopping controversy during the Nineties. "You just have to work through it and do the music that is true to you." Eja introduced Twain to Post Malone a few years ago, and she returns his appreciation for her music in kind. "He's obviously very diverse, and versatile – I think he could apply to any genre he wanted to." She's delighted to see country music influences appearing in other genres, from rock to pop: "It's more rock and roll, the way it's being treated now. It takes me back to the edgier country artists like Willie Nelson, Waylon Jennings, Johnny Cash… It's grittier, greasier, more authentic somehow."
Her comment reminds me of one made by the Nashville musician Steve Earle, who is known for speaking his mind and who said in 2017 that female artists were the ones pioneering contemporary country music. While Twain agrees that women are "definitely putting out strong music", she sounds disappointed at the lack of space still afforded to female artists. "We're still living in a sexist society," she says. "It's been very slow to change." She feels country music has experienced waves of progress and then regression: "There are fewer women being played now than when I came out."
She believes she was controversial simply because there was a narrower margin of creative expression that was accepted. "You're not really allowed to be too pretty or too sexy or too anything, expressively, as a woman," she says. "I think that's a very sexist point of view." She managed to get around it though. "I managed to get my way," she says, laughing. Not that she didn't have to put in the work to get where she is: "Making the album is one thing… but after the album is released, the work keeps going on."
Right now, though, with a Diamond-edition release of The Woman in Me, Twain is in a jovial mood. "I'm celebrating the same album twice in my life," she says. "It's wonderful, and it's renewed a lot of things in me. I'm feeling motivated."
The Woman in Me – Diamond Edition is out now
Join our commenting forum
Join thought-provoking conversations, follow other Independent readers and see their replies