The Countdown
The 20 greatest Simon & Garfunkel songs ranked, from 'America' to 'Mrs Robinson'
As 'Bridge Over Troubled Water' celebrates its 50th anniversary, Graeme Ross picks his favourite tracks by the New Yorkers whose work shone through an often rocky relationship
Friday 28 February 2020 08:10 Comments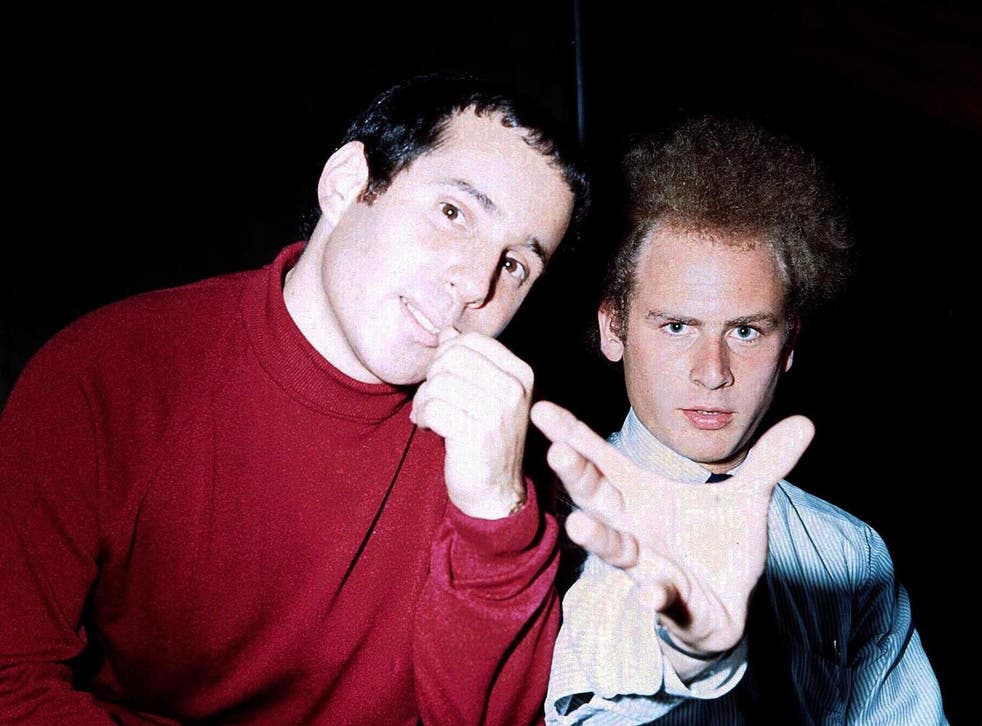 Exactly 50 years ago, Simon & Garfunkel were enjoying unprecedented commercial and critical success. Their fifth studio album Bridge Over Troubled Water was No 1 in the UK charts, eventually spending six months in pole position in the UK and 10 weeks at the top in the US. It would become the best-selling album of the 1970s. The title track from the album was also winging its way up the UK singles charts, and in late March, the duo simultaneously topped the singles and albums charts on both sides of the Atlantic.
However, just as Simon & Garfunkel reached the summit of their career, the duo broke up, much to the dismay of their legions of fans. They would get together periodically over the years for some memorable gigs, and if they reunited tomorrow, their concerts would surely sell out overnight. However, with Simon announcing his retirement from live work a couple of years ago, and with their relationship cool to say the least, that looks increasingly unlikely.
For an act that soundtracked an era while virtually inventing the soft-rock genre, their legacy rests on a surprisingly small body of work – just those five studio albums that have been endlessly recycled in one form or another.
These are the 20 greatest songs from those albums.
The 20 greatest Simon & Garfunkel songs - ranked

Show all 20
20. "Bleecker Street" – Wednesday Morning, 3AM, 1964
An evocative snapshot of a time and a place – the coffee shops and folk clubs of Greenwich Village in the first half of the 1960s, "Bleecker Street" is head and shoulders above most of the material on the duo's debut album and amply demonstrated what would become their signature vocal blend.
19. "For Emily, Whenever I May Find Her" – Parsley, Sage, Rosemary & Thyme, 1966
"Emily" may be one man's perfect love or a metaphor for the meaning of life itself. Simon has said Emily isn't a girl but a belief. Regardless, it's a lovely song and the perfect showcase for Art Garfunkel's wonderful voice.
18. "Kathy's Song" – Sounds of Silence, 1965
A beautiful ode to Kathy Chitty, Simon's girlfriend and muse during his mid-Sixties sojourn in England. Kathy is featured in two great Simon and Garfunkel songs yet to come – "America" and "Homeward Bound", and she is pictured with Simon on the cover of his first solo album The Paul Simon Songbook.
17. "The 59th Street Bridge Song (Feelin' Groovy)" – Parsley, Sage, Rosemary & Thyme, 1966
Just one minute and 43 seconds long and boasting the light, airy, optimistic feel of the sunshine pop era, this glorious, harmony-driven confection was the very definition of radio friendly. Simon later said he knew it was a hit as soon as he had written it, and it was – though not for S&G but vocal group Harper's Bizarre.
16. "A Hazy Shade of Winter" – Bookends, 1968
A hit single in the States in 1966, beneath the autumnal chill of the lyrics lies a breezy pop sensibility recognised by the Bangles in their Eighties remake. Perhaps it's that quality, or the Salvation Army Band trumpet, or the fact that it's a rare instance of the duo rocking that makes "Hazy Shade" one of S&G's most arresting songs.
15. "My Little Town" – Still Crazy After All These Years (Simon) and Breakaway (Garfunkel), both 1975
Enjoy unlimited access to 70 million ad-free songs and podcasts with Amazon Music Sign up now for a 30-day free trial
Sign up
A brief reunion spawned this hit single – a critique of small-town mores, included on both the duo's concurrent solo albums. After a five-year recording gap, it was as if they had never been away – except for the subject matter, detailing one person's hatred of the town they were brought up in and more typical of Simon's solo work.
14. "Cecilia" – Bridge Over Troubled Water, 1970
The Everly Brothers' influence was never more apparent than on this sparkling song which reached No 4 in the Billboard singles charts. The percussive rhythm was improvised on a home tape recorder and the song – "a magical piece of fluff" according to Simon, and totally infectious with its risqué "making love in the afternoon" line – came from there.
13. "I Am a Rock" – Sounds of Silence, 1965
With its themes of loneliness and alienation provoking accusations of self-indulgent navel-gazing, "I Am a Rock" has attracted some criticism over the years. But what's wrong with a good old wallow in self-pity every now and then? Especially when it's done with such panache, exuding a jangly folk-rock ambience of which the Byrds themselves would have been proud.
12. "El Condor Pasa (If I Could)" – Bridge Over Troubled Water, 1970
This is the first example of Simon's fascination with world music, as he added English lyrics to a backing track by Peruvian folk group Los Incas. Simon subsequently gave credit to the estate of the music's composer after being misinformed that the original was a traditional folk song, and this forerunner to his later solo excursions remains a striking and innovative work.
11. "April Come She Will" – Sounds of Silence, 1965
A very short but completely wonderful love song, owing much to traditional English folk ballads, which compares the changing of the seasons with the changeable moods of a young woman. Simon originally recorded it on his debut solo album, but "April Come She Will" found its true home in another outstanding Garfunkel vocal.
10. "The Only Living Boy in New York" – Bridge Over Troubled Water, 1970
A wistful Simon vocal and heavenly backing vocals multi-tracked in an echo chamber illuminate this nostalgic nod to the duo's teenage beginnings. More pertinently, it's also a thinly disguised dig at Garfunkel (Tom), who had left Simon alone in New York writing songs for their final album while he filmed Catch-22 in Mexico – one of the catalysts for their eventual split.
9. "Scarborough Fair/Canticle" – Parsley, Sage, Rosemary & Thyme, 1966
Simon was criticised for not crediting his arrangement of the traditional English folk song to Martin Carthy, who had popularised it. Nevertheless, S&G's version, full of grace, is one of the best examples of the telepathic interweaving of their voices and represents the duo's last magnificent stand as folkies.
8. "Old Friends" – Bookends, 1968
Simon's keen observational eye captures the two old men of the title, "sat on their park bench like bookends" and "lost in their overcoats", finding solace only in their memories. A melancholic beauty, with the line "how terribly strange to be seventy" heartbreakingly delivered by Garfunkel, "Old Friends" segues seamlessly into the equally outstanding "Bookends Theme Reprise".
7. "Bookends Theme – Reprise" – Bookends, 1968
The beautifully sparse, finger-picking "Bookends Theme" opens and closes the suite of songs on ageing and relationships that constitute side one of Bookends. The reprise concludes slightly ambiguously, but is so poignant and true, as Simon urges, "Preserve your memories / They're all that's left you."
6. "Homeward Bound" – Parsley, Sage, Rosemary & Thyme, 1966
Simon sings lead and Garfunkel contributes sumptuous harmonies on the duo's first UK hit, a moving and evocative portrayal of the author's life on the road during his time in England. Homesick and missing girlfriend Kathy Chitty, he poured all his longing into "Homeward Bound", partially composed in Widnes train station, where a commemorative plaque now stands.
5. "Mrs Robinson" – Bookends, 1968
This huge international hit quickly captured the zeitgeist and remains forever associated with The Graduate despite the fact that you only hear snippets on the soundtrack. Simon wasn't sure about the "dee- dee- dee" part, but along with lines like "Where have you gone Joe DiMaggio?", it's what you remember best about an exhilarating and iconic song.
4. "America" – Bookends, 1968
Masterfully conceived and executed, this anthemic personal voyage of discovery is both a celebration of and elegy for the American dream in a time of uncertainty. Based on a road trip taken by Simon and Kathy Chitty, the antics of the lovestruck young couple on the Greyhound bus are amusingly detailed and the hummed intro is quintessential Simon & Garfunkel.
3. "The Sound of Silence" – Wednesday Morning, 3AM, 1964
The song that provided Simon & Garfunkel's big breakthrough in 1966 when an electrified version of the original 1964 acoustic track topped the charts in America, this is two-man harmony at its best. Add Simon's take on his debut solo album, and several live versions to the pot, and the significance and magnificence of this dark, haunting masterpiece is clear.
2. "The Boxer" – Bridge Over Troubled Water, 1970
Simon's riposte to sniffy critics begins with a delicate guitar intro and trademark two-part harmonies recorded in a New York church, setting the scene for the reflective lyrics of the boxer (Simon), who takes the blows and emerges bloodied but unbowed. The long fade-out, with its famous "lie-la-lie" refrain and wall of sound production, tops off a fabulous achievement.
1. "Bridge over Troubled Water" – Bridge Over Troubled Water, 1970
Garfunkel described his ethereal vocal, on one of the most famous and beloved songs ever recorded, as two extremes – control and release. Simon's moving and uplifting gospel-based hymn to friendship gradually builds to its stunning climax as Garfunkel soars over the lustrous orchestration. An instant standard, a transcendent experience, "Bridge over Troubled Water" is Simon & Garfunkel's greatest song.
Register for free to continue reading
Registration is a free and easy way to support our truly independent journalism
By registering, you will also enjoy limited access to Premium articles, exclusive newsletters, commenting, and virtual events with our leading journalists
Already have an account? sign in
Join our new commenting forum
Join thought-provoking conversations, follow other Independent readers and see their replies