Sting and Shaggy: The pantheon of surprising pairings that never quite gel
As the former Police frontman and Shaggy have collaborated on new single, 'Don't Make Me Wait', and are releasing a Caribbean-flavoured album '44/876' next month, we look at other unlikely pop pairings
Chris Mugan
Tuesday 13 February 2018 13:00 Comments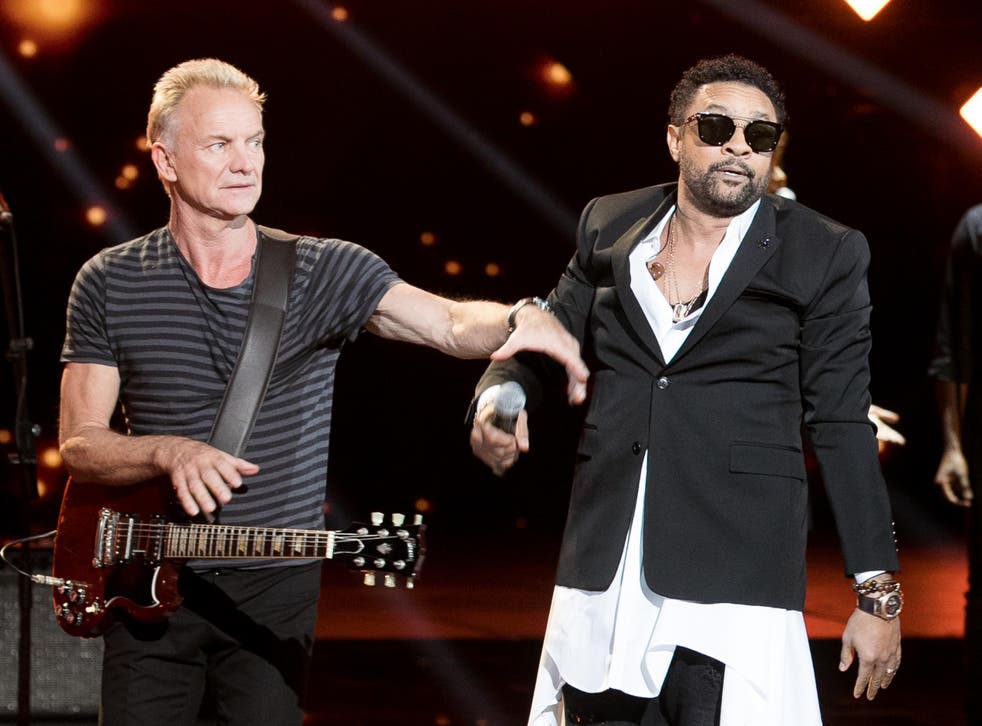 With the singles chart full of "Feat", "vs" and even "+", the honest-to-goodness duet seems like a dying form. Now it is revived in the form of rainforest guardian Sting and former Gulf War marine Shaggy, an unlikely combination.
Judging from lead track "Don't Make Me Wait", we may have to await their promised album for a deeper understanding of the sort of chemistry the pair think they achieve together. For now, the former Police singer and the native Jamaican join the pantheon of surprising pairings that never quite gel.
Pop history is littered with hook-ups so strange you wonder how they came together in the first place, let alone why anyone thought they could be productive.
This is not to say the weird can't be wonderful – think Sonny and Cher, Nick Cave seducing Kylie Minogue on "Where The Wild Roses Grow" or Dusty Springfield enjoying a late swan song with the Pet Shop Boys with the melancholy grandeur of "What Have I Done To Deserve This". More often than not, though, the protagonists fail to suggest they have received much inspiration from the other.
Given the flexibility of today's technology, we don't expect duetists to meet in the same studio any more, but they can at least respond to what their partner has laid down first. That was far from the case when Happy Mondays remixed "Layzitis" with a contribution from Scottish yodeller Karl Denver. As I'm sure John Peel said when he first played it, it sounded like two records being played at the same time. Or was it sadly deceased Mark E Smith with Inspiral Carpets on "I Want You"? That last one seemed to have come from a more innocent time, just an excuse perhaps to sneak The Fall martinet on to Top Of The Pops.
Nowadays when two artists get together, the cynical view is that somebody is cooking up lucrative market cross-fertilisation rather than audio alchemy, as with Justin Bieber jumping on the Latino pop wagon with his "Despacito" remix. Now Colombian artist J Balvin claims the Canadian singer is up for another Spanish-language hit.
Arguably, such moves have improved Bieber's credibility and helped the reggaeton-lite scene's mainstream incursion. Many other examples, though, seem to do none of the participants any favours. No Christmas hits video package is complete without David Bowie paying his 'impromptu' visit to a clearly baffled Bing Crosby on "Peace on Earth/Little Drummer Boy", the Thin White Duke's attempt at infiltrating middle American consciousness looking more like an alien invasion. Indeed, intergenerational car crashes have continued as a recurring theme.
Think Kesha's attempt to purloin some rock kudos by persuading Iggy Pop to appear on the sub-Joan Jett raunch of 2012's "Dirty Love". His phoned-in performance pales beside the rabid chemistry on show on the earlier sleazefest of "Kick It" with electroclash queen Peaches. Sometimes there is a sense of veteran artists tipping a nod to whoever they see as worthy successors, as seems to be the case with Elton John's occasional Grammy appearances. This year, Miley Cyrus was bestowed the favour of gracing his now-classic "Tiny Dancer" in a respectful fashion that highlighted the ballad's southern inspiration.
More surprising was Elton's 2001 decision to show his support for Eminem, again at the US music awards bash, by guesting on the rapper's murderous tale "Stan", filing in on Dido's original chorus. Marshall Mathers had been receiving flak for perceived homophobia in his lyrics, something the elder pop statesman felt misguided having listened to his eponymous album. Afterwards, the two struck up a deep-seated relationship that lasts to this day, with the rehab-acquainted John helping the hip-hop star with his own addiction issues.
Enjoy unlimited access to 70 million ad-free songs and podcasts with Amazon Music Sign up now for a 30-day free trial
Sign up
Friendship also appears to be at the heart of Sting's creative link-up with Shaggy. This pair were reportedly first introduced by a mutual business acquaintance, Martin Kierszenbaum, the former's manager and the latter's ex-A&R man suggesting Sting guest on Shaggy's own album. They then bonded over a shared love of Jamaican music and culture – it's the "It Wasn't Me" toaster's home country and Sting's devotion to reggae goes back to his Police days. With both characters looking to work on individual projects, they chose instead to pool resources, decamping to a New York studio along with such luminaries as Robbie Shakespeare, Shaggy's long-time producer Sting International and Daddy Yankee.
On "Don't Make Me Wait" the duo swap verses without quite connecting, though both come across as respectful to their female quarry – #MeToo brownie points all round. The track is proving timely in other ways: Sting's profile is much higher than during the lead-up to his low-key 2016 release 57th & 9th, itself a belated return to rock after his varied set of works for Deutsche Grammophon (remember him playing "Message In A Bottle" on lute?) and the musical The Last Ship. Shaggy, meanwhile, has a been a stranger to the Top 10 since 2002 and the days of "Boombastic" and "Angel". He has been featuring himself on tracks with performers of decreasing fame, until leaping back into public consciousness here.
Already the pair have surprised viewers with their own Grammy appearance, on a medley of the current track and Sting's own "Englishman In New York", plus a Big Apple-themed Carpool Karaoke skit on the metropolis' subway with Grammys' host James Corden. There is a feel-good vibe that may be less to do with the pair's liaison than the inspiration behind it. Recent years have seen the island sound dominated by dancehall rhythms, especially when given the seal of approval of, say, Major Lazer. For once, a more classic style is receiving some heat, suggesting this is a triad rather than a duet, with Jamaica as the real star.
Sting and Shaggy's single "Don't Make Me Wait" is out now on Polydor Records, with their album '44/876' due for release 20 April
Register for free to continue reading
Registration is a free and easy way to support our truly independent journalism
By registering, you will also enjoy limited access to Premium articles, exclusive newsletters, commenting, and virtual events with our leading journalists
Already have an account? sign in
Join our new commenting forum
Join thought-provoking conversations, follow other Independent readers and see their replies