Sgt Pepper's 50th anniversary - Giles Martin interview: 'I'm not trying to change history'
We spoke to the man behind the new mix of the iconic Beatles album in the very building it was recorded
Jacob Stolworthy
Thursday 01 June 2017 20:06 Comments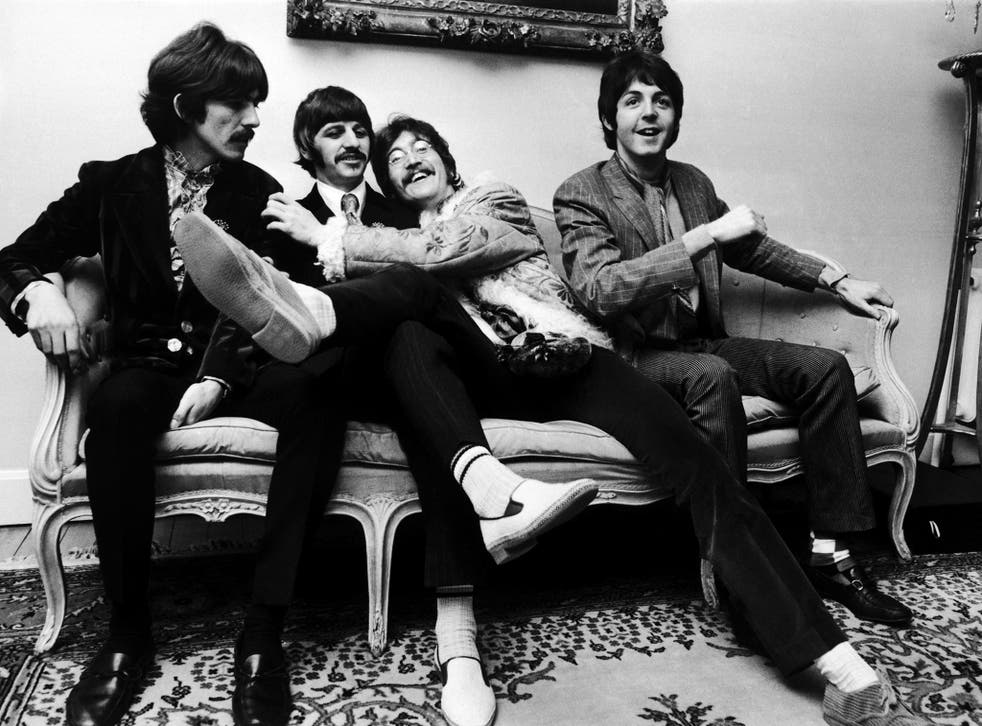 "Welcome to Abbey Road Studios," smiles Giles Martin as we take a seat in the world's most famous recording studio.
The son of the late record-producing legend Sir George Martin, the man behind The Beatles' entire back catalogue, has been hard at work on a new mix of Sgt Pepper's Lonely Hearts Club Band, which is celebrating its 50th anniversary on 1 June.
Among other things, this box set features remixed versions of all the album's tracks and an 114-page commemorative book as well as two discs of unreleased material of the Fab Four in the studio. Martin remains hesitant to attribute the word "definitive" to any version but what he and engineer Sam Okell have crafted is certainly a must-own for a fan of any stature.
"It's not a crass marketing machine. We're not making a Robin Reliant," the affable Martin tells me, acknowledging "a lack of empathy" with first-time listeners of Sgt Pepper's new mix. This would be disheartening to many. Martin, however, is pragmatic.
"The records were not designed to be played in 50 years' time," he says. "They made a record, it came out and then they were making other records – it's just that. If you look at the recording timeline, they made the Magical Mystery Tour EP shortly before they finished mixing Sgt Pepper, and then they did the "All You Need Is Love" broadcast. So it was constant. It wasn't like, "This is what they'll be listening to in 50 years' time".
Still, it must be a daunting prospect amending what many deem to be the greatest album ever made.
"I'm not trying to change history in any way," he states with a refreshing honesty. "I love music – I don't want to piss people off."
Read our full Q&A with Giles Martin below.
Ringo Starr's photos of The Beatles

Show all 7
Do you think The Beatles were aware of the wider impact they were making on the music industry?
I think they were because they were the biggest band in the world and their ambition was to be that. It wasn't like they were shrinking violets. Paul [McCartney], John [Lennon] and later George [Harrison] were competitive with each other but also with other bands. They'd have listened to [Beach Boys album] Pet Sounds and gone, "Oh, that's interesting." In fact, I'm positive that's what happened. "Good Vibrations" for me would be a Desert Island Disc, I think – it's so beautifully complex but unbelievably simple to listen to.
Why did you choose to remix Sgt Pepper and not any of the previous records?
The number ones collection 1 came out and the proper nerdy fans loved it, which gave me the confidence that, yes, we can remix The Beatles and not get firebombed. I suppose that project opened the door to thinking we could make a difference that's progressive as opposed to doing it just to stick "remastered" on it. I don't want to be the person putting a moustache on the Mona Lisa or saying, "My dad and The Beatles couldn't get it right so thankfully I've come along 50 years later to save the day." But there's a clarity to what we do – we can go to the original tapes. Even when we started doing it, I wasn't sure that we weren't going to screw it up. I felt like we made some tracks worse so we went and redid them. I love music – I don't want to piss people off.
How do you even begin to remix such a famous album?
You set out with a thought basis. I've been doing this a long time now. It suits my brain to remember music – that's what I'm good at, remembering the sound of music. So, for example, I know "Lucy in the Sky with Diamonds" starts with the piano – well, the Lowrey organ – and there's a bass and John's vocal, and I know in the mono everything comes in one speaker. In the stereo, the organ's on one side, bass on another and vocal in the centre so I thought "Okay, maybe we could make it so each organ note moves across the speakers." The song's meant to be psychedelic and it isn't. I think, "Well, I know my dad would like it" – I was his ears since I was 16 – but if I played it to John, who I didn't know, I think, "Maybe he would like it." It's pure mental stupidity. I'm employed by The Beatles and I definitely wouldn't be doing this if I wasn't my father's son. I'm not bad at what I do but there are definitely nepotism rules. It's not about ego.
Enjoy unlimited access to 70 million ad-free songs and podcasts with Amazon Music Sign up now for a 30-day free trial
Sign up
How different are your mixes from the originals?
I listened to "Paperback Writer" in the car the other day and had to move my head into the centre to work out if it was the mix that we did or the original. So it's not a huge difference. It's all about how the record makes you feel. You want it to be impactful – I'm not trying to change history in any way. It may be 50 years on but the tapes don't sound 50 years old – the band aren't 70-year-olds when they're singing; they're 25.
Can you recall any moments where you tried something that either worked or didn't work particularly well?
In modern-day records, the drums and bass are always in the centre. We mixed "With a Little Help From My Friends" and put those in the centre and it affected the sound of Ringo's [Starr] voice – he didn't seem so lonely. I just try to do something new and sometimes it doesn't suit the song. It may be technically correct in a modern-day world but it just makes sense as it is – that's probably what it was meant to be like. There's no point stamping ego and character on something for the sake of it. You try and push the envelope with technology as much as you can but also try to pay homage to what they would have done.
Is there a track you're even happier with the turnout of than you expected?
'Getting Better,' ironically. There's one bit in 'Getting Better' where I thought, "Yeah, what we're doing here is really good." It's the drop-down section. [Our remix] is much clearer. If you listen to the same bit on the stereo, it's like you're missing half of it – it doesn't have the same effect. You can sense what they were trying to do in that section of the song – I know what my father was trying to do. So [engineer] Sam Okell and I are just trying to get there. It's a good example of us thinking, "This seems better."
Any others?
"Within You Without You" was the same thing. That was a good example of remixing the remix because the way George's voice sits on the original mix is actually very good. So we struggled. But ours is much more open and the voice is much more like the mono. As I said, it's about how the song makes you feel. It's not as if we're rediscovering Sgt Pepper but when I play you the new versions alongside the ones that everybody knows, the feeling I get is that new generations will listen to it and go, "This is a cool record". They can listen to it next to Ed Sheeran. That's what it's all about. If you can make something better, you may as well.
Do your children like The Beatles?
I have two daughters, nine and seven, and I play different tracks in my car, see what they know because normally we play what they're listening to. I think if someone loves music, it's great. My dad, on the other hand, was a complete music snob - we couldn't listen to anything! I'm like, "Bring it on". If they're dancing, brilliant.
Do you have plans to do any more 50th anniversary remix versions of the later albums?
I don't know. We're so wary. I speak to Paul or Olivia Harrison or Ringo and Yoko [Ono] about this. Luckily, it's a very small unit. Things go through me, especially now my father's passed away. We all talk about what's the right thing to do morally. It's not a question of keeping the brand going or shifting units. This has been incredibly well-received so far. There's so much love for it that if people want it... I mean, The White Album turns 50 next year which, to be honest, I'd love to have a go at mixing.
There's a weird moral context behind this: the mono of Sgt Pepper is the definitive version and the studio was done very quickly, but you can't say that about The White Album as it was mixed very quickly in different rooms by different people. I think if there's a desire for it, then yes is the answer. However, if it's just a case of ticking the boxes. You don't want too many versions of the same record floating around. It becomes confusing. But it's not my decision. If people want me to work, I'll work.
Do you think The White Album would be the most challenging one to do?
No, I don't. I think Abbey Road would be. I've mixed a lot of these songs before with the Love album. But Abbey Road would be challenging because it's a really good sounding album. It's good for us to push technology and taste – we have all of the stuff they used plus anything else we want. We have the ability of hindsight too. We remixed "A Day in the Life" seven times for Sgt Pepper actually; the mono is really good, the impact of the drums. I think our mix is good, but [laughs] I'm not being very salesman-like.
This new collection features never-before-released takes from the studio. It must have been hard to wade through and select what was worthy of going in.
Yes, there were a lot of takes but The Beatles were very disciplined in the studio. I think what's on there is a good summary of how the album was made. We've done two discs of extras – the first one was meant to be an unplugged Sgt Pepper – each song matched by a take – and the other one digs deeper, with much more variations of songs in the order they were recorded. Because the album wasn't recorded in the album order. "When I'm Sixty-Four" was one of the first to be done.
Which surprises me because of its status as 'the first concept album'. Speaking of which, can concept albums be as successful in this day and age?
There's no good or bad. If you listen to music, then great. I listened to the new Kendrick Lamar album this morning – the first track sounded great but it's obviously meant to link to the second track and there's a pause because it's Spotify. We're really early days in this world [of music technology] and I think we can make it better. Sgt Pepper made much more sense to me after I started working on it. It wasn't my favourite Beatles album.
Is it your favourite now?
I don't think it is. It's hard for me to say because I've spent three months working on it. It wasn't until listening to the songs and comparing them that I suddenly went, "Oh, this is why it's a great album.' Because you have "Within You Without You" going into "When I'm Sixty-Four" and it becomes this body of work where each song completes the next song. It's an escape – just when you think things are getting a bit heavy... It's a bit like The Beatles at this stage [of their career] - the sum of the parts was much greater than individualities. It's the ultimate Beatles collaboration album where they were all on the same page. I think when listening to the songs individually, they aren't as good than when you listen to them on Sgt Pepper. Everything matches.
You previously mentioned the Love album – for me, the most powerful mix on that is when Sgt Pepper track "Being for the Benefit of Mr. Kite!" segues into "I Want You (She's So Heavy)".
That took a long time. I spent so much time on my own. I'd sit there thinking, "Oh, sh*t, what do I want to do with this?" I knew we wanted 'Being for the Benefit...' to sound dark. I'd go walking with my dog Stan round Hyde Park and remember thinking, "Wait a second." It's just one of those things. I have it built in my head to combine music together. I threw Stan back in the car, drove back to Abbey Road and chopped it together.
Do you enjoy those pressures?
It's a weird job. There's a lot of me wandering around thinking about stuff. It suits me to be subversive and be in my own world and think about stuff. I'm of that character. I go home, I take my daughters for a walk and I can really switch off. Where I'm from, people don't give a monkey's about what I do for a living. But then it's much better to go into your own world because if I lived in it the whole time... It's truly weird – you'd go mad. But you need the two.
And obviously, once complete you then have to get the nod from Paul and Ringo themselves. Are they tough characters?
They're not actually. I've known them all my life. They're incredibly supportive. They love listening to the stuff and even if they don't like it, they're being constructive. It's really simple. The great thing about what I do is I do it for them – there's not a team or record company people or focus groups. There's no one going "Guess what? I think this band's gonna be huge!" It's privileged. It's just purely simply: "Is it any good?" And hopefully, it is.
The 50th anniversary version of The Beatles' Sgt. Pepper's Lonely Hearts Club Band is released in a new stereo mix in a variety of versions on 26 May
Register for free to continue reading
Registration is a free and easy way to support our truly independent journalism
By registering, you will also enjoy limited access to Premium articles, exclusive newsletters, commenting, and virtual events with our leading journalists
Already have an account? sign in
Join our new commenting forum
Join thought-provoking conversations, follow other Independent readers and see their replies