The Flaming Lips frontman Wayne Coyne on the heartbreak and mid-life crisis that inspired new album The Terror
Coyne surfs the crowd in a space-bubble at their gigs. But his new album is a bleaker affair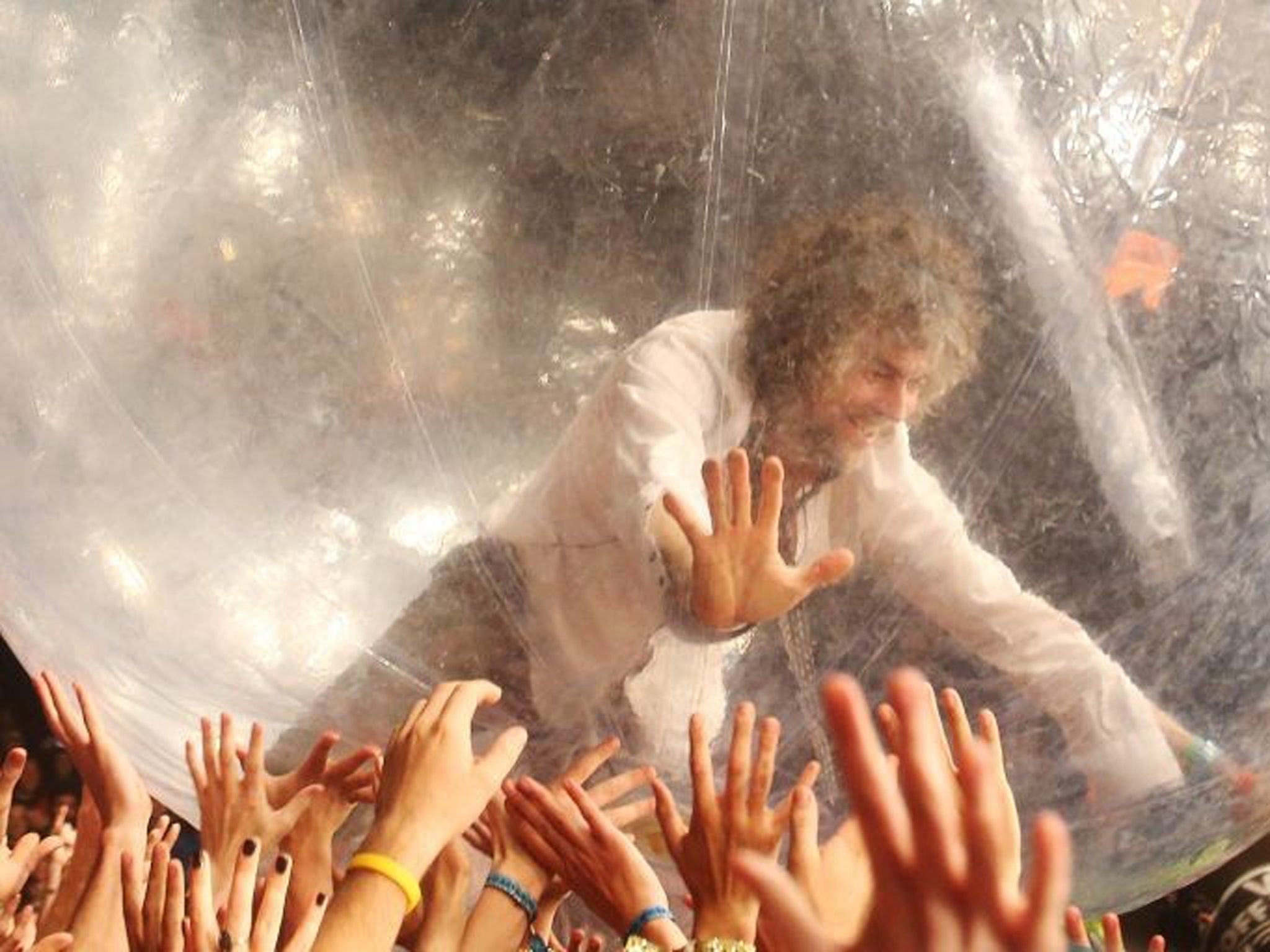 I have never talked about my love life in an interview before. But Wayne Coyne, frontman of the Flaming Lips, has a way of getting things out of you. And he has a knack of taking you spectacularly off-course, even if you're the one supposed to be leading the way. Ask the 52-year-old Oklahoman something about his new album and, by the time he's finished responding, he's chatting about his yoga technique. Which is all to say he's hugely entertaining. And which is why I find myself telling him about a romance that went wrong.
The reason we're discussing love, or the end of it, is because it's clearly something that is on Coyne's mind. Although the band have continually reinvented themselves during their 30-year career, anyone familiar with the Flaming Lips as a psychedelic pop band famed for their uplifting melodies and euphoric live shows might be surprised when they first encounter The Terror when it's aired on tour later this month. The band's 15th studio album is a dense, bleak affair that tackles the idea that you can't control love, and, in the end, love cannot save you.
Despite Coyne writing about hope dying and an overwhelming pain, in the lugubrious notes that accompany the album, today he is friendly and chatty. But perhaps his hotel room, which I have met him in, offers more of an insight into his state of mind. The bed is unmade, clothes are strewn all over the floor, and it's littered with boxes of take-away food and half-full glasses of intoxicating liquids ("Apparently it's some special type of port. It's revolting; try it!").
Coyne is reluctant to get into the nitty-gritty but it would be fair to assume that rumours of a recent separation from his wife are the reason behind the dark new album. "This music is really about a part of myself, a period, a time, a build-up to this time, that I don't like to think about that much because it's disturbing to me," he says. "The idea that we made this music, not because I needed to encompass that time, but now I know what that time was, now it haunts me".
The recording of The Terror was almost an accident. While the band were mixing their last album, 2012's Heady Fwends, a collaboration record with guest spots from the likes of Nick Cave and Kesha, Coyne and his bandmate Steven Drozd found themselves retreating to a second studio at unusual hours to mess around. The first song they wrote was "You Are Alone". "It was just the bleakest, most hopeless, most deafening three minutes of distorted mellow sound that we'd ever heard, which to us was great," he recalls. "It doesn't defeat us; it makes us very happy to make music that sounds like you want to kill yourself, you know?"
It's a little disconcerting to hear this kind of talk from someone whose band is famed for shooting confetti cannons at their live shows while the stage is deluged by people in animal costumes and Coyne crowd-surfs in a space-bubble. But then, despite outward appearances, the Flaming Lips have always touched on the dark stuff. After all this is a band whose biggest hit, "Do You Realize??", contains the line, "Do you realise that everyone you know someday will die?"
Flaming Lips' output includes existential dilemmas put to music, a movie called Christmas on Mars, a song for Spongebob Squarepants, and a live musical of Yoshimi…
"I think there is the desire to understand what the hell we are doing. And the wonder of the world and all its beauty and fear." He pauses. "And the fact that we're weirdos", he adds, very matter-of-factly.
It's unclear how much of a weirdo he really is. Sure, he's wearing glittery nail polish and talks about dreading "normal, everyday life" but he's also unfailingly polite and generous. At one point he starts referring to himself in the third person ("I sing things that sound like Wayne-things to sing about") and I wonder how much of a construction Wayne Coyne, frontman of the Flaming Lips, is.

Enjoy unlimited access to 70 million ad-free songs and podcasts with Amazon Music
Sign up now for a 30-day free trial
Sign up

Enjoy unlimited access to 70 million ad-free songs and podcasts with Amazon Music
Sign up now for a 30-day free trial
Sign up
"I understand the mythological version is more interesting than just being a real person. It allows you to say, 'I'm gonna stand up here and say this tonight'."
Presumably the new album will perplex quite a few of their fans. "Yeah but I think that's what they want," he reasons.
"We may lose everybody in the end and everyone might say, 'that record really sucks, why'd you make it?'. But I think in time they'll say: 'Those are our guys. That's why we love them.' Plus we've already made however many records and some of 'em people like, some of 'em they don't. It's not that big of a deal."
Having released a song last year called "Is David Bowie Dying?" following speculation about the reclusive singer, I ask if Coyne is happy that David Bowie is now putting out new music.
"Yes! Of course! I don't love everything he's done but I love, love, love the way he is... Don't like what you do? Change it. Change who you are. And that's great news. I mean, what a world to live in."
And then, just for a moment, he beams wide and looks thoughtful. And even a little bit happy.
'The Terror' is out now on Bella Union. Flaming Lips play London and Brighton, 20 to 24 May (www.flaminglips.com)
*This article appears in tomorrow's print edition of Radar Magazine
Join our commenting forum
Join thought-provoking conversations, follow other Independent readers and see their replies