Skepta, Kano and the rise of grime
This year has seen grime clock up awards at the most prestigious UK music ceremonies and finally earn its own category on iTunes. Elisa Bray investigates the genre's coming of age
Elisa Bray
Friday 07 October 2016 12:48 Comments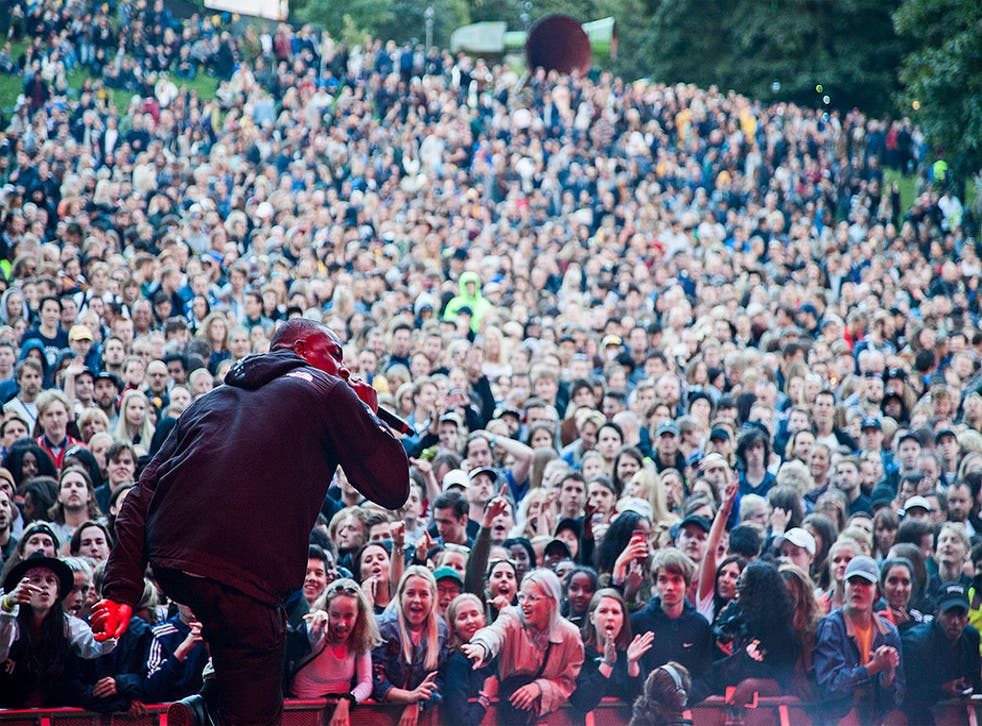 If last year grime was on the rise, 2016 is the genre's coming of age.
As official proof, iTunes last week finally created a category for urban music's hottest genre. Until now, grime artists had to make do with being unsatisfactorily filed under labels such as dance, hip hop/rap and electro. But Apple's iOS 10 update has now made amends, and grime has its own home. Now fans will readily find albums and tracks from Skepta, Dizzee Rascal, Lady Leshurr and Stormzy, among others, beneath the grime sub-section on the hip-hop/rap page of iTunes' UK store.
This year grime has been at the forefront of music news – and a book, This is Grime, newly published by Hodder & Stoughton, tells its evolution from the underground raves, estates and pirate radio stations of London more than a decade ago to its burgeoning commercial success and increasing mainstream status today.
This year has seen grime clock up awards at the most prestigious UK music ceremonies – and not just those dedicated to urban music and culture such as the Mobos.
Last month, Skepta won the Mercury Prize for his album Konnichiwa, 13 years since a grime artist had last been nominated, that being Dizzee Rascal whose Boy in da Corner won in 2003. Skepta wasn't the only grime artist on the shortlist – there was also east Londoner Kano for his March-released, highest-charting, Top 10 album Made in the Manor.
Back in May, the Ivor Novellos recognised grime for the first time since 2011 with a nod for Skepta, and, last month, south Londoner Stormzy won the AIM innovator award, having become the first unsigned rapper to be nominated on the Sound Of... poll, in 2015.
And last year, in a nod to the genre's rising popularity, a new award ceremony was launched devoted to showcasing urban music, the Rated awards.
Although grime's origins lie in the underground, this is the year that grime has made strides towards the mainstream as proven by the chart success of the likes of Skepta, Kano, Lady Leshurr and Giggs. Then there are the grime ticket sales, which have this year been higher than they have been since 2011 and are expected to sell more than in 2012, 2013 and 2014 combined, according to data from Ticketmaster. Giggs's biggest ever headline show, at London's Forum next month, sold out in two weeks. And this year has seen performances from Lethal Bizzle, Big Narstie and Kano, with a UK tour from Lady Leshurr later this month.
Grime's success is a notion echoed by BBC Radio 1Xtra DJ MistaJam: "Grime never really went away, but the music coming out of the scene right now is really exciting. The last grime artist to win the Mercury was Dizzee Rascal back in 2003, and he's still going strong headlining dance festivals like SW4, so it proves that grime has longevity and can transcend different musical tastes."
It seems that everyone wants a slice of grime. Bestselling Canadian rapper Drake has signed to grime MC JME's label BBK, operated from east London's estates, and megastar Pharrell teamed up with Skepta when he headlined Wireless Festival in July.
Enjoy unlimited access to 70 million ad-free songs and podcasts with Amazon Music Sign up now for a 30-day free trial
Sign up
Then there are the hotly tipped grime artists springing up. Novelist, who first gained attention on the UK underground scene on pirate radio stations, was signed to XL Records in 2014, home to Adele and Radiohead. Akesman is another name to watch, while it's interesting to see other rising musicians working with grime artists to create new sounds, such as guitarist Matt Wills.
The scene is also far from limited to London. Queen of grime Lady Leshurr hails from Birmingham, and rising star Bugzy Malone is from Manchester. In a bid to showcase what's on offer beyond the capital, Red Bull Studios have launched a competition to find the best grime artists across the country, pitting cities against each other in the football style contest Grime-A-Side. Eyez, 24, from Derby, who started rapping aged 14 after being inspired by the likes of Kano, says: "You wouldn't think of grime in Derby, but there's grime everywhere – it's not just in London."
For Eyez, Skepta's Mercury win has shone a spotlight on the genre, leading fans to look further afield to rising artists such as himself. "It gives everybody in grime more exposure, the whole scene," he says. "When I see grime artists getting awards, especially the Mercury, I can't even explain how much that means to me. I know how much doors are opening because people are going to look at the other people that do it, then they might come across my videos.
"I grew up on grime. I'm very happy for Skepta, but it's also grime doing it. It gasses me up because I know where it came from, how it started and what it's gone through. It's almost died and come back alive."
Now grime has a home not only on urban radio stations 1Xtra and Rinse FM, but also dance station Kiss, Asian Network and even the mainstream Radio 1, where Eyez himself has been playlisted.
"When I was growing up they were hardly playing grime on the radio. I remember when Tim Westwood started letting people like Chipmunk go on 1Xtra to showcase a bit. That's when it started, but that was only one DJ letting all the UK rappers on. Urban music wasn't taken seriously. Now you've got several DJs at 1Xtra that would let you showcase grime, and some Radio 1 DJs. It's crazy how much they want to look out for us now."
Register for free to continue reading
Registration is a free and easy way to support our truly independent journalism
By registering, you will also enjoy limited access to Premium articles, exclusive newsletters, commenting, and virtual events with our leading journalists
Already have an account? sign in
Join our new commenting forum
Join thought-provoking conversations, follow other Independent readers and see their replies