Trevor Horn interview: The producer with the golden ear
Musical maverick Trevor Horn soundscaped the 1980s – and his influence hasn't stopped there, writes Pierre Perrone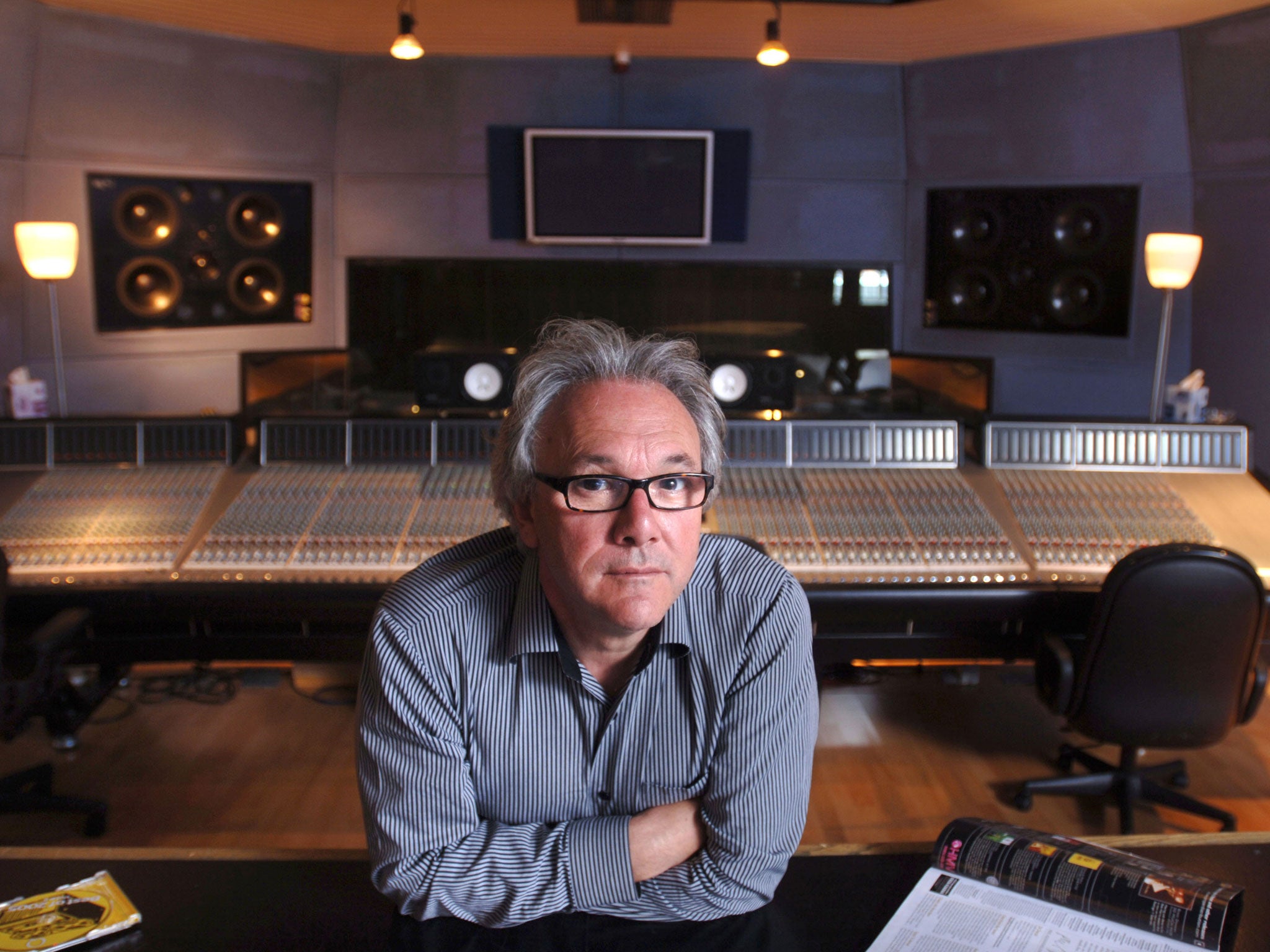 "I invented the eighties, supposedly. But the Eighties would have happened without me," says Trevor Horn between bursts of genuine laughter when answering the question he has been asked many times before. Yet there is no disputing the fact that the producer behind the Art of Noise, Frankie Goes To Hollywood and the maverick ZTT label, currently celebrating its 30th anniversary, shaped and soundscaped not only that decade, but much of the music we hear today.
Buggles, Horn's electro-pop duo, proved so prescient that their 1979 worldwide No 1 "Video Killed the Radio Star" became the first video broadcast by MTV when it launched in the US in August 1981. "We had a complete vision for Buggles: a fantasy band that a computer thought up. I was reading J G Ballard at the time," he recalls about the song that has become a pop-culture touchstone, been covered by Erasure and The Feeling, was referenced by Robbie Williams on his Horn-produced album Reality Killed the Video Star in 2009 and sampled by will.i.am and Nicki Minaj on their 2010 hit ''Check It Out''.
The Buggles smash was Horn's stab at pop stardom, but he'd been a musician since leaving Durham for London in 1970, aged 21. He played for bandleader Ray McVay and toured with British disco star Tina Charles of "I Love To Love" fame. "I learned a lot from Biddu, her producer. That's the first time I ever heard a backing track without the voice. I was obsessed by recording studios."
Horn switched to production after he and fellow Buggle Geoff Downes spent much of 1980 recording and touring with prog-rockers Yes. "When I came out of that, I was pretty fearless musically. It was so difficult, it made everything else seem easy," he reflects. "My wife Jill [Sinclair] knew I wasn't frontman material. She thought I should concentrate on being a producer."
In 1981, Horn relaunched the career of pop duo Dollar with four shimmering singles – "I had the whole picture in my head, a little world they inhabited," he says. These tickled the ears of New Musical Express journalist Paul Morley and emerging Sheffield group ABC whose The Lexicon of Love debut Horn produced. During the ABC sessions, he assembled the creative team of keyboard-player, arranger and orchestrator Anne Dudley, engineer Gary Langan and Fairlight operator J J Jeczalik. "J J was like a scientist. He didn't sample instruments. He sampled tennis matches, things falling over, small explosions. It gave me a whole new palette of colours. That team became the Art of Noise."
Horn and his team helped former Sex Pistols impresario Malcolm McLaren make Duck Rock, the travelogue album that featured the first two British rap hits, "Buffalo Gals" and "Double Dutch". By 1983, Horn was reinventing Yes for the MTV era with "Owner of a Lonely Heart" and adding Alan White's drum kick to the array of digital samples that would form the basis of "Beat Box", the groundbreaking track on the Into Battle with the Art Of Noise EP, the first release on ZTT, the label he formed with Sinclair and Morley. The initials referenced "Zang Tuum Tumb", a sound poem by the founder of the Futurist movement, Filippo Tommaso Marinetti.
"I wanted to have more control over the records I made. I didn't anticipate how difficult it is to run a label even if we had a very successful first year," Horn now says of a venture made possible via a partnership with Island supremo Chris Blackwell who simply handed him the keys to Basing Street Studios in London's Notting Hill. Now known as Sarm, it remains Horn's main base.
The first ZTT single, Frankie's "Relax", topped the UK charts at the end of January 1984 but it had taken a while for the Liverpool group to get from The Tube – the TV show whose theme tune Horn also created – to Top of the Pops. "The record went through the roof and then had to be banned," he says of the ensuing furore and the Frankie mania that followed with two more worldwide hits, "Two Tribes" and "The Power of Love". "Holly Johnson had an amazing, full-frontal attack, kind of voice. He just came at you," expands Horn. "The original Welcome to the Pleasuredome album sleeve had 32 sex acts depicted on it – I counted them – and some are not the kind you want to put in the marketplace. But mostly it was fun. We still own ZTT. It hasn't gone off into a big conglomerate," he says about the company which is issuing a raft of compilations to mark its 30th anniversary. Frankie burnt brightly but fell out with Horn, while the rest of the Art of Noise took the concept to another label. The German act Propaganda also left ZTT. "We've mostly made up since," muses the producer who rebooted the Art of Noise in 1999.
Horn's style reached its apex with "Slave to the Rhythm" for Grace Jones in the mid-Eighties, but he was wary of painting himself into a corner. "I was the nutter who used too many tape machines, was too over the top," he concedes. "I went to America and, instead of being a big fish in a small pool, I was a small fish in a big pool. I preferred it."

Enjoy unlimited access to 70 million ad-free songs and podcasts with Amazon Music
Sign up now for a 30-day free trial
Sign up

Enjoy unlimited access to 70 million ad-free songs and podcasts with Amazon Music
Sign up now for a 30-day free trial
Sign up
At the start of the Nineties, he found renewed success with Seal, winning a Grammy record of the year award with the US chart-topper "Kiss from a Rose". "Seal is unique. None of that melisma, no vocal gymnastics," says Horn who recently started work on his sixth album with the British vocalist. "It's very powerful. Seal is in a strange place at the moment because of his divorce from Heidi Klum. I played a track to someone the other day and they said it was the saddest song they'd ever heard," muses the producer whose empathetic remarks are indicative of his own state of mind since the dreadful accident that happened to his wife in the grounds of their Oxfordshire home in June 2006. An air-gun pellet fired by their son Aaron, unaware of her proximity, hit her in the neck, severing an artery and causing irreversible brain damage. "She cannot speak, move or smile. The only expression she can show is of discomfort," Horn has said. Her condition has not changed.
Since then, Horn has thrown himself into his work. He is writing a musical set in a recording studio and has completed a new Billy Idol album. "It's an up and at them, rock'n'roll record. I enjoyed it a lot. It was good for me."
Next month, the Music Producers Guild will honour Horn with the prestigious award for Outstanding Contribution to UK Music. "It gives me a chance to play live," he says of his planned appearance with Producers, the band featuring friends Lol Creme of 10CC and engineer Steve Lipson, with whom he recorded the Made in Basing Street album released in 2012.
Horn signed an early line-up of All Saints to ZTT in 1994, while his résumé stretches from t.A.T.u. to Belle & Sebastian via Rod Stewart, as well as a track for Olly Murs, Gary Barlow and Robbie Williams dueting on "Shame" in 2010. So how does he view the current music scene?
"Over the past five or six years, there has been an upswing in commercial songwriting, people who write songs for a living rather than someone like Seal who writes songs because that's what is in his head. Having said that, people play better because there are teaching aids. But music is still about the desires and dreams people have, not the technology. Pop music is about communication. When it's at its best, it's better than anything."
'Frankie Said (Deluxe)' and 'The Organisation of Pop: 30 Years of Zang Tuum Tumb' are out on 10 February
Join our commenting forum
Join thought-provoking conversations, follow other Independent readers and see their replies