A history of musicians rejecting Trump, from Rihanna to Pharrell Williams and the Rolling Stones
Few presidents have inspired such strong reactions from some of the biggest names in the music industry. Roisin O'Connor looks at the most high profile cases from the past two years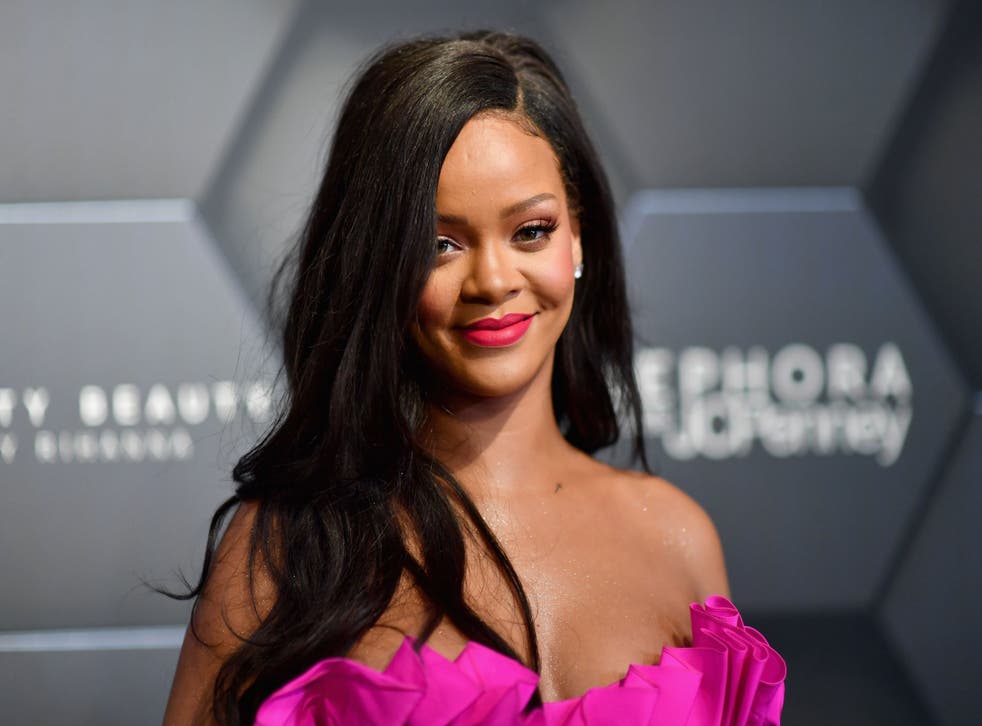 Musicians and Donald Trump have a fraught relationship. From ordering him to stop playing their music to calling out his politics, some of the highest-profile artists in the world have aligned themselves against, the US president.
While several prominent singers have been calling out Trump since as far back as 1989, when he was a promoter for the Rolling Stones (Keith Richards was not a fan), his time as president has prompted many more to criticise him at shows, write protest songs about him, or mock him from their social media accounts.
From the end of his campaign to Kanye West meeting Trump in the Oval Office this month, here's an extensive timeline of some of the most notable moments involving Trump and the music industry.
2016
October
After months of statements expressing the Rolling Stone's distaste at Trump using their music at his rallies, frontman Mick Jagger explains why they are unable to stop him from doing it.
"When you appear in America… if you're in a public place like Madison Square Garden or a theatre, you can play any music you want, and you can't be stopped," he says.
November
Trump struggles to find artists willing to perform at his inauguration. After a report that his representatives are looking for LBGT musicians, Elton John – who commented, when Trump used 'Tiny Dancer' in his campaign, "I'm not a Republican in a million years" – swiftly rules himself out. On a potential inauguration performance, he quips: "Why not ask Ted f***ing Nugent?"
Kanye West voices support for Trump during a lengthy rant at one of his own concerts, saying if he had voted, "I would have voted for Trump". He is admitted to hospital shortly after the show and diagnosed with exhaustion.
December
Andrea Bocelli reportedly backs out of a performance after being approached by Trump, who is a huge fan and once booked Bocelli to perform at a private party at his Florida club in 2010. While Bocelli himself did not comment on whether he was ever going to perform, his fans were in uproar at the possibility, claiming he would be "selling his soul to the devil".
Kanye West meets Trump in the lobby of Trump Tower, New York, and later tweets that he wanted to discuss "multicultural issues".
Enjoy unlimited access to 70 million ad-free songs and podcasts with Amazon Music Sign up now for a 30-day free trial
Sign up
"These issues included bullying, supporting teachers, modernising curriculums and violence in Chicago," he wrote in another tweet. "I feel it is important to have a direct line of communication with our future president if we truly want change."
2017
January
With Trump's inauguration looming ever closer, his team become increasingly desperate to book some actual "names", following his promise of "plenty of movie and entertainment stars".
There are plenty of artists who have said no by now, including Charlotte Church, Rebecca Ferguson, Ice T, Elton John, the Dixie Chicks, Adam Lambert, and a Bruce Springsteen tribute band. Jennifer Holliday pulls out after a backlash from her LGBT fanbase.
Singer and actor John Legend has a suggestion for why Trump is struggling. "Creative people tend to reject bigotry and hate," he says. "We tend to be more liberal-minded. When we see somebody that's preaching division and hate and bigotry, it's unlikely that he'll get a lot of creative people that want to be associated with him."
Charlotte Church is even more blunt, criticising Trump's team for even daring to ask her: "A simple internet search would show I think you're a tyrant," she writes on Twitter.
Rebecca Ferguson says she will perform on the condition that she sings "Strange Fruit" – the protest poem against racism that was popularised by Billie Holliday. For some reason, Trump's team don't take Ferguson up on the offer.
Trump eventually manages to get the Mormon Tabernacle Choir, Jackie Evancho (an America's Got Talent finalist), 3 Doors Down and Jon Voight to appear at the ceremony.
Nancy Sinatra responds to Trump having her father's song "My Way" performed at the ceremony by commenting: "Just remember the first line of the song". The "Bang Bang" singer is referring to the line: "And now, the end is near."
By this time, several artists have begun to release protest songs against Trump. Gorillaz break a six-year absence with a new anti-Trump song, "Hallelujah Money". Arcade Fire release "I Give You Power" – a collaboration with gospel singer Mavis Staples, which frontman Win Butler says is about "a feeling of solidarity – to not feel powerless and focus on what we can do as individuals and try to do our part."
Lily Allen makes a playlist for Trump, which includes her own song "F*** You", Rihanna's track "Russian Roulette", and Green Day's "American Idiot".
Moby performs a benefit show on the same night as Trump's inauguration, with all proceeds going to the Downtown Women's Centre in Los Angeles, the LGBT Youth Centre, and the Coalition for Human Immigrant Rights.
February
Depeche Mode return with their first new music in four years: a politically charged track titled "Where's the Revolution" that appears to criticise the US for electing Trump as president. Singer Dave Gahan performs blistering lyrics including the line: "Who's making your decisions? You or your religion? / Your government, your countries? You patriotic junkies."
The 59th Grammy awards is one of the most political in the music award ceremony's history, and features anti-Trump statements from the likes of Highly Suspect, Jennifer Lopez, Paris Jackson, Beyonce, A Tribe Called Quest and Katy Perry.
Singer Joy Villa is criticised for wearing a red, white and blue dress with "Make America Great Again" on the front and "Trump" on the back on the Grammys red carpet.
Kanye West deletes his tweets about meeting with Donald Trump in December, and is reportedly unhappy with the president's first two weeks in the White House.
March
Snoop Dogg causes uproar with his music video for "Lavender", which shows an actor dressed as Trump with a clown face.
At the video's climax, the clown Trump is held at gunpoint, and Snoop pulls the trigger to reveal a red flag with the word "BANG" written on it.
The rapper says of the video: "The whole world is clownin' around, and [the] concept is so right on point with the art direction and the reality, because if you really look at some of these mother***ers, they are clowns."
Trump responds by suggesting Snoop should be arrested for pretending to shoot him and asks what the reaction would be if it had been a caricature of Obama.
The president's lawyer says he is "shocked" by the video and demands an apology from Snoop: "There's absolutely nothing funny about an assassination attempt on a president, and I'm really shocked at him, because I thought he [Snoop] was better than that," he says.
Former Sex Pistols frontman John Lydon defends Trump, claiming he's definitely not racist and could even be a "possible friend".
"What I dislike is the left-wing media in America are trying to smear the bloke as racist and that's completely not true," he says.
"There are many, many problems with him as a human being but he's not that, and there might be a chance something good will come out of that situation because he terrifies politicians."
April
In an interview with The Independent, John Legend speaks about Trump's election and suggests an interesting reason for why artists are less vocal about politics than they were in previous decades.
"In the Sixties and Seventies it was much more common," he observes. "I think there was no sense of urgency until he [Trump] got elected, and now people are genuinely worried about the future of the country."
He also says he believes Trump will be impeached – "now it's just a matter of when Congress has the guys to do it".
Bruce Springsteen releases a new protest song "That's What Makes Us Great" that brands Trump as a "con man". The song includes the lyrics: "Don't tell me a lie, and sell it as fact / I've been down that road before, and I ain't going back."
May
It is announced that Toby Keith, celebrated in Middle America for his songs about communal drinking and patriotism, will perform a free, male-only concert in Saudi Arabia to mark Trump's visit.
The Oklahoma-born singer often raises eyebrows for his nationalist sentiments, which some critics have branded jingoistic. He seems a peculiar choice to perform in Saudi Arabia, which enforces a strict interpretation of Islam including a total prohibition of alcohol. Keith's songs include "I Love This Bar", "Whiskey Girl", "Get Drunk and Be Somebody", "Drinks After Work" and "Drunk Americans".
June
Rapper Nas writes an emotional open letter to Trump which says, "We all know a racist is in office."
"Whatever president may be in office doesn't affect my work directly," he continues. "The way he affects people is what affects me. I observe what's going on and that goes into my creative process. The person himself, I'm not caught up with. I don't even have time for Trump or Pence. I don't give a f***."
July
Russian singer Emin Agalarov is caught up in the centre of a huge political controversy after his publicist, Rob Goldstone, is revealed to have offered to set up a call between Agalarov and Donald Trump Jr, purportedly on behalf of Emin, to discuss information against Hillary Clinton that would help Trump in his presidential campaign.
Trump's relationship with Agalarov's billionaire father Aras, who has ties with Russian president Vladimir Putin, has been under scrutiny because Trump inked a multi-million dollar deal with the Agalarovs to bring his Miss Universe pageant to Moscow in 2013. On the red carpet at Miss USA 2013, Trump called the family "the most powerful people in all of Russia".
August
A British singer claims he was deported from the US for impersonating Trump onstage. Peter Bywaters, lead singer of Peter & the Test Tube Babies, alleges he was interrogated for six hours by border control after flying into San Francisco for a music festival, where he was shown photos of himself dressed as Trump at a festival in Germany. His claim is denied by border control officials, who say he was deported because he had the wrong visa.
September
John Legend argues that Trump's attacks on other public figures is an example of psychological projection and blame shifting.
The outspoken artist brands the US president an "embarrassment" to America and lambasts his approval rating, which has dropped to 34 per cent, as a prestigious polling site also deems him more unpopular than any other president in the history of modern polling.
October
Snoop Dogg takes aim at Trump in a new track titled "Make America Crip Again", an obvious take on Trump's trademark campaign slogan "Make America Great Again".
In the opening lines Snoop says: "The president says he wants to make America great again. F*** that s**t, we're going to make America crip again."
Macklemore leads chants of "F*** Donald Trump" at a concert in Arizona and performs his YG collaboration, "F*** Donald Trump Part 2", which features the lyric: "How did he make it this far? How the f*** did it begin? / A Trump rally sounds like Hitler and Berlin."
Frank Sinatra's former manager releases a book revealing the legendary singer once told Trump to "go f*** yourself" in 1990 after being told by the former business magnate, who was opening his casino in Atlantic City, that his performance costs were "a little rich".
November
Snoop posts, then deletes, an image on Instagram in the style of Ice Cube's 1991 record cover for Death Certificate, showing him standing over a dead body covered with the American flag, and a name tag attached to the foot reading "Trump".
December
Morrissey causes controversy in an interview with German newspaper Der Spiegel with his comments on Trump. Asked whether he would push a button that would cause the president to "drop dead", he answers: "I would, for the safety of the human race… I think he's a terrible, terrible scourge." The former Smiths singer then attempts to deny making the remark, which prompts Der Spiegel to reveal the full audio of the interview, revealing he did in fact make the comment.
2018
January
Chance the Rapper is among the musicians boycotting Trump's first State of the Union address.
February
Hillary Clinton appears alongside Cardi B, DJ Khaled, Snoop Dogg, Cher and John Legend in a comedy skit broadcast at the Grammy Awards.
The former presidential candidate and Secretary of State performs a dramatic reading of the book Fire & Fury, in order to win next year's award for Best Spoken Word Album.
March
Eagles of Death Metal frontman and Bataclan attack survivor Jesse Hughes brands the March for our Lives protest in the US "pathetic" and shares an image with the caption: "Donald Trump will be your president for 7 more years". He later deletes the posts.
April
Shania Twain apologises over comments made in a Guardian interview, where she implied that she would have voted for Trump in the 2016 election.
The Canadian singer says the question caught her "off guard" and regrets not adding more context to her answer, explaining that she does not hold "any common moral beliefs" with the current president.
Trump thanks Kanye West for calling him "my brother", saying the message is "very cool".
May
Trump travels to Tennessee to boost the Senate candidacy of Marsha Blackburn and takes aim at Jay Z over his support for Hillary Clinton: "The only way she [Clinton] filled up the arena was to get Jay Z, and his lanuage was so filthy that it made me like the most clean-cut human being on earth."
June
Chrissy Teigen and John Legend make a $288,000 donation to ACLU to "Make Trump's Birthday Great Again", amid backlash over the Trump administration policy of separating parents and children crossing the US border from Mexico.
Bruce Springsteen condemns Trump's border policy in a break from script during a show at New York's Walter Kerr Theatre, branding the treatment of families "inhumane" and performing his 1995 protest song "The Ghost of Tom Joad".
July
Selena Gomez speaks out over the US-Mexico border situation. The singer and actress, who is Mexican-American and was born in Texas, says Trump's "zero tolerance" policy is "extremely disheartening" and that it "definitely has been affecting so many people who are close to me".
Ahead of Trump's visit to the UK, "American Idiot" hits the charts, becoming the No.1 single on Amazon and also appearing on the iTunes Top 10, following a fan campaign.
Trump's 4 July celebrations are something of a disaster. Where Obama hosted arena acts including Kendrick Lamar, Bruno Mars, Janelle Monae and The Killers, Trump manages to get two American Idol finalists, and classical pianist Lola Astanova.
The 1975 reference Trump in their new song "Love It If We Made It" by quoting his infamous comments in the lyrics: "Immigration liberal kitsch, kneeling on a pitch, 'I moved on her like a bitch!!'" and "Excited to be indicted, unrequited, house with seven pools, 'thank you Kanye, very cool'."
August
Aerosmith frontman Steven Tyler orders Trump to stop using the band's music, and sends a cease and desist letter via his lawyers telling him not to use their song "Livin' on the Edge" at campaign rallies.
"This is not about Democrats vs. Republicans," Tyler says in a statement. "I do not let anyone use my songs without my permission. My music is for causes, not for political campaigns or rallies. Protecting copyright and songwriters is what I've been fighting for even before this current administration took office."
Kanye West appears on Jimmy Kimmel's chat show and appears to be stumped after the TV host asks him, referring to West's famous 2005 claim that President George W Bush "doesn't care about black people"… "What makes you think that Donald Trump does?"
'Imma let you finish' - Kanye West's most controversial quotes

Show all 10
A week after the appearance, West tells radio station 107.WGCI Chicago: "I feel that [Trump] cares about the way black people feel about him, and he would like for black people to like him like they did when he was cool in the rap songs and all this."
Eminem attacks Trump on his surprise album Kamikaze, rapping on "The Ringer": "[Trump] sent the Secret Service to meet in person / To see if I really think of hurtin' him" and: "I empathise with the people this evil serpent sold the dream to that he's deserted."
September
Snoop Dogg launches an expletive-ridden attack on Trump and his "racist" supporters and also criticises Kanye West for his political views.
Speaking on Sirius XM he says: "I don't give a f***, I tell 'em straight up mother***er. If you like that n***a you mother***ing racist."
"N***a, he drew the lines. He drew the mother***ing lines," he continued. "Before him there were no lines. Everybody was everybody, we respected everything, we didn't trip, but n***a when you drew the line and start pointing mother***ers out and singling them out n***a, f*** y'all then n***a. You and them."
Turning his ire to West, he added: "Kanye too. Don't forget about him too. F*** you too. Throw him in the bag, he right in with them mother***ers."
Paul McCartney uses a song on his new album to attack Trump. "Despite repeated warnings of dangers up ahead," he sings on "Despite Repeated Warnings" from his 18th solo album Egypt Station, "the captain won't be listening to what's been said." Later, he adds, "Those who shout the loudest, may not always be the smartest."
Kanye West goes on SNL and delivers a full-blown rant to the live audience, despite no longer being on-air, where he claimed 90 per cent of rappers are liberal and that it is easy for things to seem one-sided.
Pete Davidson criticises Kanye West 'Being mentally ill is not an excuse to act like a jack*ss'
October
Taylor Swift breaks her long-held political silence to denounce Tennessee Republican candidate Marsha Blackburn and endorse two Democrats.
In a powerful post on Instagram she writes: "I have and always will cast my vote based on which candidate will protect and fight for the human rights I believe we all deserve in this country.
"I believe in the fight for LGBTQ rights, and that any form of discrimination based on sexual orientation or gender is WRONG. I believe that the systemic racism we still see in this country towards people of colour is terrifying, sickening and prevalent."
Trump responds by claiming he likes Swift's music "25 per cent less" after her Democrat endorsement – an unusually tame response that suggests he is very aware of the pop star's enormous, and increasingly registered-to-vote, fanbase.
Lana Del Rey tells Kanye West his support for Trump is "a loss for the culture" and accuses him of having "delusions of grandeur" and "extreme issues with narcissism" which she suggests he shares with the president.
West meets with Trump at the Oval Office and goes on several uninterrupted rants, including one where he suggests he may run for president after Trump departs from the White House.
Melania Trump is offended by TI's new video, which features a lookalike of the First Lady stripping in the Oval Office.
November
Pharrell Williams sends a legal warning to Trump after he uses the song "Happy" on the day of the Pittsburgh synagogue massacre. Pharrell's lawyer noted that there was nothing "happy" about "the tragedy inflicted upon our country on Saturday" and said "no permission was granted for your [Trump's] use of this song for this purpose".
According to the letter, Williams will "not allow" Trump to use music from his back catalogue at any future event.
Guns N' Roses frontman Axl Rose slammed the Trump campaign, calling them "s—-bags" for using the legendary rock band's music during the president's political rallies.
In a Twitter rant, Rose says that the band, "like a lot of artists opposed to the unauthorised use of their music at political events", has formally asked that their music not be used "at Trump rallies or Trump associated events", but claims that, despite the request, the campaign "is using loopholes in the various venues' blanket performance licenses" and playing music without the artists' permission.
RIhanna also calls out Trump for using her song "Don't Stop the Music" at a rally ahead of the midterm elections. She brands the rallies "tragic" and later sends a cease and desist letter ordering him to stop using her music at political events.
Join our new commenting forum
Join thought-provoking conversations, follow other Independent readers and see their replies