The Independent's journalism is supported by our readers. When you purchase through links on our site, we may earn commission.
Two Door Cinema Club interview: 'No one knows where the next big thing is going to come from'
The Irish indie rockers talk new album Gameshow, streaming and the internet age
Roisin O'Connor
Monday 10 October 2016 19:52 Comments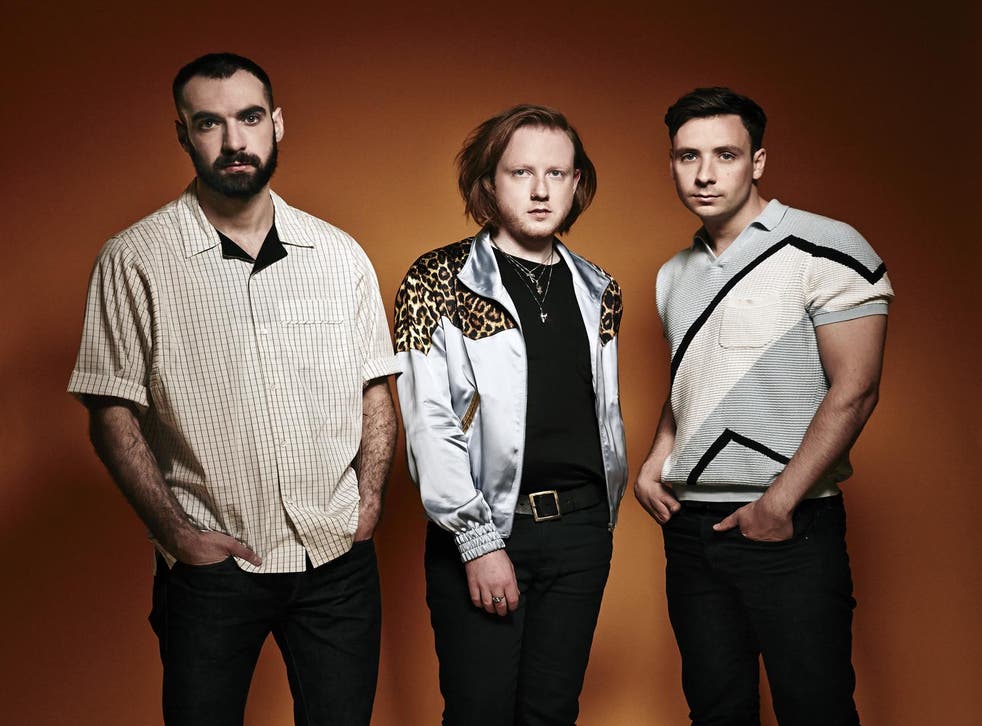 At a pub in Kensington on one of the last warm days of the year, Two Door Cinema Club are reminiscing about the time they stayed in a room above the Lexington in London when they were first starting out.
"It wasn't that awesome," bassist Kevin Baird says, recalling a sleeping bag shortage and some sort of scuffle over who had to share. "But we were young and carefree."
It's the end of festival season and the band, who had a fantastic crowd despite clashes with Stormzy and the Red Hot Chili Peppers, are pondering a transition in events like Reading & Leeds from rock-based bands to more of a pop sound.
"There's a monopoly held by the pop world these days," frontman Alex Trimble says. "I think parts of the music industry are going down a very dangerous path which is all based on numbers and statistics, which are so readily available with the internet and digital music consumption whether that's downloads or streaming.
"They can tell what people are listening to and looking for and searching for, and it becomes a bit cyclical, they just give people more of that. So that polished pop is working really well, and hip hop and grime is really big in the UK at the moment, so they're perpetuating that… And I think rather than there being a lack of bands I think there's a bit of a lack of an opportunity, which is what the smaller festivals provide. There doesn't seem to be space on the radio for them in any case."
They found themselves having this same conversation at Leeds after their show, where they wondered which bands would emerge after Two Door and contemporaries like the 1975, Alt-J and Bastille: "It seems like we've been waiting a few years for the next thing to happen."
"We're not very self-absorbed in terms of our genre," Baird says. "I don't really share the views of people going 'bring back the noughties indie world domination'. Because that wasn't what it was like in the nineties. Realistically if people don't want guitar bands or indie bands to headline festivals then you've gotta move on."
"No one knows where the next big thing is gonna come from," Trimble says. "The way people consumed music in the past, even two years ago, never mind five... it's just changed so radically."
There's been plenty of handwringing in the music industry over the need to find 'sustainable artists' - and perhaps in some way a failure to acknowledge that part of that issue could stem from a disturbing trend of signing a singer or band based on one viral hit.
Enjoy unlimited access to 70 million ad-free songs and podcasts with Amazon Music Sign up now for a 30-day free trial
Sign up
"It's very easily batted around that people have a shorter attention span," Baird says. "I think people are just better at seeing bulls**t. Drake and Adele live at the top of the charts for weeks and people love it. I think they're less willing to be spoon-fed.
"I would almost argue that now things are a lot more reflective of what people actually listen to, of what people want. I saw Olly Murs complaining that four or five years ago a song he released would have been number one, and now it's Drake forever. But I'm just a bit sick of people complaining about that."
For Two Door, it was slightly unnerving to remove themselves from that scene and then return two years later, to an industry that even in that space of time had changed drastically.
"It was a completely different world to the one we left," Trimble says. "We'd been through the industry for a couple of years and we knew what we were doing to a certain extent… But the way the industry works is just so different now - not that that's necessarily a bad thing."
"I remember the feeling of your album being leaked on BitTorrent a couple of months early," guitarist Sam Halliday notes, "and I'd feel really shocked if that happened now. So it's great that it's moved on from that."
"The biggest, most torrented albums are always the ones with exclusives, so… Kanye West, Frank Ocean, Rihanna," Baird rattles off.
There's a visible shudder around the table at the mention of streaming exclusives.
"It's just a horrible concept," Trimble says bluntly. "We're in this transitional period, figuring out how we're gonna move forward and create healthy environments. And you're not gonna do that by fighting each other and closing yourself off to everything else. It's only gonna be bad for music, if you restrict what someone is listening to."
"I wonder what you do when you really like Kanye West and Frank Ocean and the 1975," Baird says. "Where are you supposed to go?"
Two Door are obviously keen to release their own record: "We're feeling really good about it, a little frustrated, we just wanna get it out there," Trimble says. "It feels like a lifetime ago when we finished it, and now all we're doing is talking about. And it's so difficult to sit there and talk about something that no one's ever heard."
It recalls what Bastille frontman Dan Smith told The Independent in a recent interview, that for an artist it's much more preferable - and perhaps easier - to see what fans make of the record before trying to sell them any kind of angle.
"That's exactly it," Trimble chuckles. "In fact, I had the same conversation with Dan last weekend."
"I'm exceptionally proud of the record… and it's difficult to put into words or intellectualise something as abstract as an album. But it's part of the way things work here. Make an album and it sits on the shelf while you prepare the release."
Gameshow - with its funk and disco-infused hooks and a few nods to the likes of Prince and Bowie - feels like a tremendous step up from the band's last record, which Trimble has previously said was put together too quickly, and played "far too safe".
Its first two singles - 'Are We Ready? [Wreck]' and 'Bad Decisions' make astute, critical observations about the way people live much of their lives on social media, criticises egos (including their own) and frets over the rapid progression of technology; a progression that Trimble believes is taking place faster than that of humans themselves.
"The internet is both a dangerous thing and an amazing thing," he says. "It has the ability to consume. It's a very difficult place to be.
"There was this thing a few years ago that became like this sensation, which was this idea of happiness. The subject of mental health has become a lot more easy to talk about, but with that you have people cashing in, people writing self-help books about being happy all the time. Which is totally unnatural and unhealthy. So people create these ideal versions of themselves. And very rarely is that reflective of someone's real life."
The pressures on artists to document every facet of their lives over social media in order to satisfy their fans [and their labels] has escalated considerably since Two Door first arrived on the scene. Where they had MySpace and a top 10 friends list, a younger generation is being asked to stretch themselves across Facebook, Twitter, Instagram and Snapchat.
"I don't think that a normal person uses seven different platforms to tell people about their life," Baird says. "For us it's about how do we use what's important as a way of telling people what we're doing, and showing some sort of personality."
"It's the most degrading thing you can say to an artist," Trimble scowls. "This idea of quantity over quality. You're being asked to generate this content bulls**t, whether it's a picture of where you are or a random comment. And that gets me more than nothing else.
"You're in a position where you're not being forced but…. strongly asked, to generate something to put out there for the purposes of getting attention. It seems a little bit desperate to me. When I was younger the only thing I signed up for was writing producing and recording music. And that's still at the core of what we do, but it seems to be diluted by a lot of this other stuff, which seems fairly irrelevant."
All of the band members split their time around the UK, Ireland, LA and Portland, Oregon, the latter in which Trimble says is a refreshing break from London's "in your face" atmosphere.
"I love London but every social scenario tends to revolve around a pub, especially in the evenings, if you're an adult," he says.
Going through what he describes as a couple of years of total alcoholism during the band's last cycle, he now drinks very rarely, but hasn't cut alcohol out altogether.
"I don't drink at shows anymore and I try and avoid it on the road. And not only does it clear your head, obviously, but going from drinking every day, even when it wasn't serious…
"I got to the point where I was drinking all day everyday, and that's terrible - but it's just as terrible if you're drinking every evening, if that's what you rely on. I think you essentially become a different person."
This summer he played his first sober show after relying on one or two before the band went on stage.
"It was something I relied on, it wasn't like I had to be drunk to play a show but I'd have one or two… to deal with nerves and stuff like that. I never got anxiety but it was just part of that routine. So when I didn't drink I was more nervous about that than the fact that I had to play a show.
"And we got into the set and the first few songs were a bit shaky. But after that a sense of euphoria came over me, and it was like the first time I'd been in the moment onstage, nothing was clouding my vision or judgement. And I could never go back where I was on substances during a show.
"This sounds so f***ing corny but music is the only drug you need for that - it fills you with so many different kinds of energy,. And if you're on some other sort of high, it's gonna be less pure."
Gameshow, the third album from Two Door Cinema Club, is out on 14 October via Parlophone Records. The band are on tour in the UK from 24 January.
Register for free to continue reading
Registration is a free and easy way to support our truly independent journalism
By registering, you will also enjoy limited access to Premium articles, exclusive newsletters, commenting, and virtual events with our leading journalists
Already have an account? sign in
Join our new commenting forum
Join thought-provoking conversations, follow other Independent readers and see their replies