Vinyl vs streaming: What music industry experts predict for the two platforms in 2017
Experts in streaming and vinyl explain how they're adjusting to a continuously evolving industry
Roisin O'Connor
Music Correspondent
Friday 17 March 2017 16:01 Comments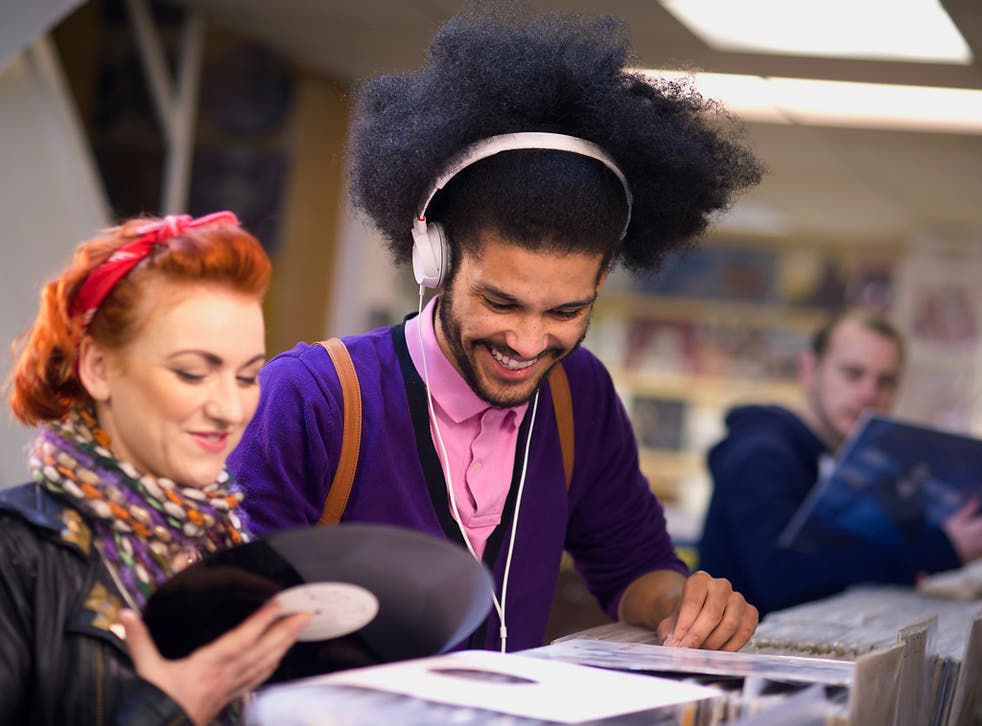 ​One of the most interesting things about Ed Sheeran's phenomenal album sales was the number of physical units he shifted.
Sales of CD and vinyl for ÷ [Divide] made up 62 per cent of total sales – including a score of the biggest one-week vinyl album sale in more than 20 years.
Obviously Sheeran isn't your average artist, but it does make expert predictions that vinyl sales are unlikely to decline over the next few years look all the more promising.
This increase in sales has accompanied the sharp rise in the use of streaming services, up 500 per cent from 2013, and industry figures currently seem to be working out how the two formats can work together.
Paris-based firm Deezer is going to considerable lengths to encourage fans to engage with physical music formats as well as online ones.
​Sulinna Ong, VP of Artist Marketing at the company's HQ in London, says that the role of streaming companies is going to be "even more important in increasing an artist's profile".
"One of our focuses is, how do we tell the artist's story beyond the playlist?" she says. "And have people care and connect… because that's what turns someone from a casual listener to someone who goes to concerts."
Deezer Next was launched as a strategy to help develop "close, long-term relationships" between the streaming platform, artists and their teams.
"We are shifting away from the traditional album format so we need to show artists that we're going to be working with them," Ong says.
Enjoy unlimited access to 70 million ad-free songs and podcasts with Amazon Music Sign up now for a 30-day free trial
Sign up
"One thing that is consistent for all artists is that they want their music heard. How we do that – the focus for me in the marketing department – is to figure out how we make a campaign that's unique for them. All the artists really care about is that people are listening and connecting with their music, and we want to make sure the way we make that happen is authentic."
Ong believes that vinyl will always have a place in the music industry, and that a balance can be created between streaming and physical sales.
"Vinyl is something special, something tangible, and I don't see why one has to eradicate the other," she says. "Streaming will continue to grow, and we actually work vinyl into our campaigns as well. Vinyl is almost like a memory of an event, as well as having it to stream, it's a reminder of something that you've experienced, that lives on. They're very much complementary."
A report published by ICM has shown that, perhaps unsurprisingly, streaming actually supports vinyl sales – it makes sense when you ask yourself if you'd buy a record before hearing it first.
But where music discovery used to be limited to the radio, listeners now want to find different music that traditional stations won't play.
Deezer is capitalising on this by teaming up with France's leading music retailer Fnac-Darty, strengthening its hold on the European music market and launching genre-specific channels when it spots a growing interest in a particular type of music.
Less than a year after the platform's US launch, the service has since announced that it will launch a Reggaeton channel, after noticing that its already-huge fanbase was attracting new audiences from around the world.
Jorge Rincon, VP of Deezer North America, explained to Billboard: "Our music democratises the way music is available. It's also very important to us that new artists are visible and accessible to the audience.
"When you create a particular channel on a genre like Reggaeton that spotlights Reggaetoneros only, you have the ideal platform for that new artist to grow a fanbase and become more popular."
Geoff Taylor, chief executive of the British Phonographic Industry, noted last year that discovering new artists via streaming encourages them to explore physical formats as well.
"Younger fans increasingly discover on digital but collect on vinyl," he said. "[They] appreciate the immediacy and convenience of services such as Spotify, Apple Music and Google Play to discover and enjoy a huge range of new music, but still want to own and collect albums by artists they truly love."
David Buttle, founder of Brighton-based independent record label Mr Bongo, says he didn't expect these kind of vinyl sales to come back.
"I don't know when it's going to run out of steam. Now people are into vinyl – we just opened a new shop in Brighton and we haven't had a shop since 2004 – and it's 60 per cent young people who'll be buying vinyl for quite a while," he says.
"Another massive shift is that that's about 10 per cent women, and before that there were none. And DJs as well – that wasn't the case 20 years ago. I think record shops were scary places for people, but the whole thing's changed.
"We've always sold vinyl but what happened in '99 with Napster and everything – people suddenly viewed music as free and having no value. People had been ripping fans off with CDs for years, and suddenly kids were getting CDs and ripping them, and the industry was suddenly worth nothing."
He agrees that streaming has become a "discovery tool" for artists: "The thing about streaming is that it's become a discovery tool – you get into a band through there, then you might buy a vinyl, you might go to the gig. Streaming's been great in that sense – iTunes did well, but streaming is perfect. It's like having a radio station at your fingertips all the time."
And while the media has previously pitched vinyl and streaming as opposing concepts that can't work together, Buttle says that there is this complementary feel to it "if it's handled the right way".
"The music industry's changed so much, the gangsters have left and it's become more professional,"he says. "I go to the major labels now and they're not making the mistakes they used to make, they're much more 'on it'.
"Record Store Day in April, that has a big vinyl uplift. Everyone's reissuing everything, labels that were dormant are suddenly reopening…
"Sometimes it seems like there's too much, it's a bit overwhelming. But I don't see the vinyl trend ending any time soon and streaming is going to keep going up. I think labels are more supportive of one another, there's more of a 'working together' attitude. These are the best times we've had."
Register for free to continue reading
Registration is a free and easy way to support our truly independent journalism
By registering, you will also enjoy limited access to Premium articles, exclusive newsletters, commenting, and virtual events with our leading journalists
Already have an account? sign in
Register for free to continue reading
Registration is a free and easy way to support our truly independent journalism
By registering, you will also enjoy limited access to Premium articles, exclusive newsletters, commenting, and virtual events with our leading journalists
Already have an account? sign in
Join our new commenting forum
Join thought-provoking conversations, follow other Independent readers and see their replies