Well, that sounds different: Will Roland Lamb's hi-tech keyboard revolutionise music?
Lamb has created a new kind of keyboard – one without keys that's covered in rubber. But, as Will Coldwell hears, we're creatures of habit when it comes to our instruments
Will Coldwell
Wednesday 23 October 2013 22:57 Comments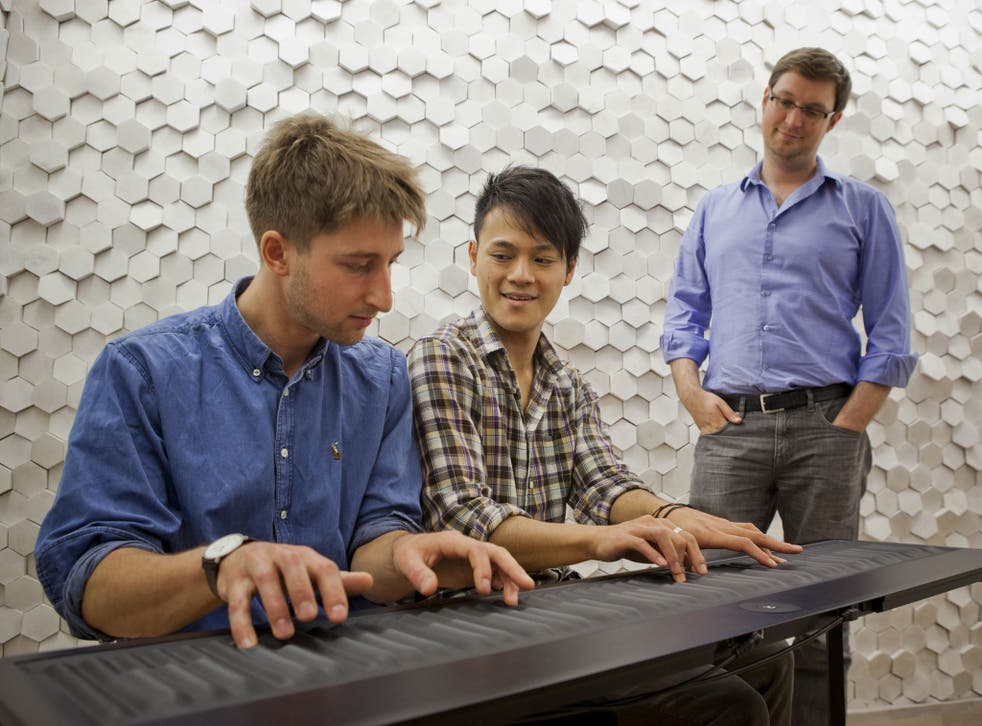 Tucked inside a north London railway arch is the manufacturing warehouse for music-technology start-up Roli. On one side of the spacious room are two men surrounded by soldering irons, circuit boards and microscopic parts. On the other side are several partly dismantled old pianos, with wooden hammers and ivory keys soon to be converted into workstations for the engineers.
It's an appropriate juxtaposition, given that Roli is producing a new musical instrument. Named the Seaboard Keyboard, it was released to the public last month and the company hopes it will revolutionise the way music is made, and performed. But with existing instruments so ingrained in our culture, the only test now is whether people will take to it.
"Based on historic evidence, I think it's a tremendously difficult thing to do," says Roland Lamb, who founded Roli four years ago after inventing the Seaboard himself. "Whether it becomes a success now is really in the hands of the musicians."
Minimal, shadowy and black, even Lamb admits it is difficult to describe the Seaboard in words. At first glance it resembles a traditional keyboard, but a closer look reveals there are no individual keys. Instead, the top is constructed from a continuous piece of soft rubber. It has just a single button and dial, where musicians can select their preloaded sounds.
While a piano key can only be pressed down, the surface of the Seaboard responds to even the slightest changes in pressure or movement from your fingers. Each note can be manipulated individually as you play, while smooth strips on the top and bottom of the Seaboard permit for seamless glissando flourishes or fluid sliding from one note to the next.
The audio for the Seaboard – which is a fully integrated synthesiser – is programmed by software specially developed by Roli for the multidimensional instrument, but it can also be hooked up to existing production software, meaning that the potential for musicians is limitless. "You know those old Casios where you press a button and it plays a samba? This is the other end of the spectrum to that," says Lamb.
A tour of Roli's offices makes it clear that they are working on something far more hi-tech than your average midi device. Behind glass, walls staff work on multiscreen computers, with flashing lights and electronic gear scattered around like a digital laboratory. In a dimly lit room dubbed the "soundhive", it is time to hear the Seaboard being played. Today it is Roli's 22-year-old product specialist, Heen-Wah Wai – a talented cellist and pianist – who is gracing the "keys".
He leans forward to play the opening notes of Debussy's Clair de Lune and already the notes begin to echo and reverberate in a way that seems familiar, yet alien at the same time. The melodic notes bend in an unheard of way, while previous notes drone and linger to create a haunting and complex soundscape – an intriguing fusion of new and old.
It was the limitations of a standard keyboard that first led Lamb to conjure up the idea for the Seaboard in 2009. "I've always been a keyboard player and played in a band," he says. "But I used to have a bit of frustration with it... I always felt that when it came to doing solos the guitar could be much more expressive."
Enjoy unlimited access to 70 million ad-free songs and podcasts with Amazon Music Sign up now for a 30-day free trial
Sign up
His approach to solving that problem, however, was as much from a philosophical perspective as a physical one. Lamb is not what you would describe as a traditionally trained electronic engineer. At 18, he moved to a monastery in Japan to learn Zen Buddhism, before attending Harvard to study Chinese and Sanskrit philosophy. It was only then that he made his way to the UK, where he was mentored by acclaimed architect and designer Ron Arad at the RCA's Design Products department.
"I took apart a real piano, then I took apart an electric piano," he says. "I realised there couldn't be a mechanical solution. I tried it with touch screens but there was no tactile feedback, so I started shaping the surface with clay, then I went out and bought some mattress topper and started cutting foam. When I built the prototype, I made a video of me playing it and even though it didn't work I dubbed the video with the sounds I wanted to hear. And that's pretty much what the Seaboard now is."
With interest from the likes of Hollywood composer Hans Zimmer and Jordan Rudess, of progressive metal band Dream Theater, the Seaboard is already making a healthy impression in the music world. The Seaboard Grand is being sold direct from Roli for £5,500, while smaller versions are available for less.
One person who understands the challenges surrounding the development of new instruments is Gil Weinberg, Founding Director of the Georgia Tech Center for Music Technology. The centre plays host to the Margaret Guthman musical instrument competition, which invites entrants to explore creative new ways that music can be played and experienced through new instruments.
Most of the new instruments that Weinberg sees focus on digital technology. "Many of these instruments serve as 'controllers' just controlling a remote sound generation source," he explains. "But in order to create an intuitive, rich and expressive musical instrument, we will need to re-couple the control with the sound generation. Physical feedback from your instrument is important for expressive playing."
It is clear that there is a desire within the music world to bridge the gap between digital and acoustic, as well as interface and instrument. Last year's winner did just that. The Electrumpet, made by Dutch musician Hans Leeuw, combined a trumpet with extra knobs and a sensor that reacted to hand waves and gestures.
"I believe in the personal expression that comes from the physical connection between the performer and the sounds you can hear," says Leeuw. "I hope my instrument, and instruments such as the Seaboard, can add this kind of expression and help blend these worlds together."
Back in Roli's soundhive, Wai has just completed his recital of Clair de Lune, leaving an eerie silence in the room. "Debussy wrote it for the piano but there are certain parts that sound great on the Seaboard," says Lamb, looking dotingly at his creation. "And you wonder, what would he have thought of it?"
Register for free to continue reading
Registration is a free and easy way to support our truly independent journalism
By registering, you will also enjoy limited access to Premium articles, exclusive newsletters, commenting, and virtual events with our leading journalists
Already have an account? sign in
Join our new commenting forum
Join thought-provoking conversations, follow other Independent readers and see their replies