Young, gifted and black – and ignored
Why is the record industry failing to nurture more urban female singing talent? Matilda Egere-Cooper blames stereotyping
Friday 28 January 2011 01:00 GMT
Comments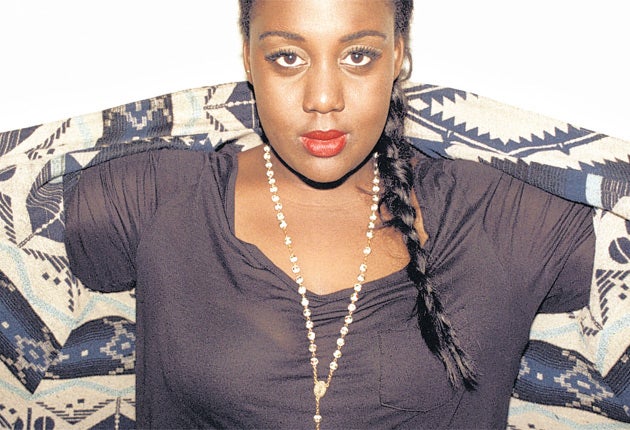 It's never been easy being black, British and female in the music industry. Since the Eighties, there have been the artists who've had brief sparks of acclaim – such as Soul II Soul's Caron Wheeler, Mica Paris and the queens of lover's rock Janet Kay and Carroll Thompson, as well as crossover pop acts like Gabrielle, Des'ree and Eternal in the Nineties. Then there's been the unusual exception, such as the enigmatic Sade, who's still regarded as the most successful female solo artist in British history. But in recent years, it's seemed that black females have been few and far between – and the ones who've popped up haven't been able to stick around. And when the Mercury Prize chairman Simon Frith declared some months ago that "Britain had a blind-spot" when it came to new female urban acts, it touched a nerve.
Fast forward to 2011 and the story hasn't changed much. With the exception of former X Factor winner Alexandra Burke, last year's charts belonged to grime MCs and white female singers, such as Pixie Lott and Ellie Goulding. There were a few contenders such as Rox – the south London soulstress tipped to join the retro ranks of Adele and Amy Winehouse – and while she enjoyed one of her tunes on a Rimmel TV ad, love from Jools Holland and an MTV nomination, you could be met with a resounding "who?" if you tried to name-drop her. The same goes for Andreya Triana, the Brighton-based soul chick. Then there are the artists you would have expected to have made comebacks this year, but have fallen off the commercial radar, like double Brit Award winner Ms Dynamite, who has spent the past year attempting to rebuild an underground following.
"There's a lot of black female talent in the UK," insists Sabrina Washington, former lead singer of Mis-Teeq. But do they get the exposure that they need? No. Do record companies invest in them? No. Washington was part of one of the UK's biggest female group at their peak, drawing comparisons with Destiny's Child and earning seven consecutive Top 10 singles and brief international acclaim. While former co-member Alesha Dixon went on to pursue a respectable solo career, Washington took a break before she featured on ITV's I'm a Celebrity... Get Me out of Here! and spent last year preparing to make her debut. Her first single, "OMG", was a quirky, electro-pop number that had all the makings of a chart hit, but was released in April to little fanfare. "When I got back into the UK music scene and started to have meetings with A&Rs, I met a brick wall," she says. "I think it's because they didn't know how to market me, I was quite astounded considering how many records I sold with Mis-Teeq. There was no one out there willing to invest in me, so I had to do it myself."
The singer has now conceded to follow other UK singers such as Estelle, and pursue her career abroad as it's widely believed other territories are more receptive to black females. "I think sometimes in the UK, they just stick to what's working at the moment," she says.
Beverley Knight agrees. One of the most consistent black female artists in the UK since the Nineties, she admits the industry has been challenging for good black singers. "I remember always hearing this statement in record label circles: 'It's so hard to market black artists'," she says. "There are two general assumptions: that most black female singers can seriously sing as a rule, and they generally sing R&B/soul. Therefore, a great voice does not make her exceptional. The other side of this situation is that a female of any other ethnicity who has a great soul/R&B voice stands out immediately. We have all heard the phrase, 'she sings like a black girl'. That singer is already a marketing dream, and stands more of a chance of success."
But Glyn Aikins, A&R director for Virgin/EMI imprint Relentless Records, reckons the success of black female talent comes down to fewer race-related factors. He's recently signed Emeli Sand, who sang on tracks for Professor Green and Wiley, and wrote a song for Cheryl Cole. "Of the black female artists, the first thing you have to question is, 'Was their music any good?'" he asks. "And from a record company perspective, do we believe this is accessible to a wider audience, and do we believe it's unique and individual enough? Sometimes you read the market wrong."
Yet it's believed that catering to the market has been part of the problem. It's meant some female artists have been developed to fit a "type", which might ignore their own sense of artistry, and as a result, doesn't wash with the general public in the long term. "I was around at a time when it wasn't so cool to be urban. My label Polydor always tried to market me as a pop-R&B act and I just wanted to be me," admits Kele le Roc, a singer who scored two UK Top 10s in the late Nineties, before being dropped by her label. "I wrote 90 per cent of my album, but they remixed a lot of the tracks to make them sound more pop." She reckons the key to success for black females nowadays is simply being genuine and consistent from the start. "With black males such as Tinie Tempah and Tinchy Stryder, they've built their careers themselves, they've used the internet, they've done their own videos... and they've been consistent, so eventually people had to take notice."
Still, there are other black female artists who feel that race and culture should be irrelevant to their success – particularly if they're doing a genre that isn't conventionally "black", which is the case for indie-pop contender Anita Blay aka CocknBullKid who emerged in 2009 as a fresh talent influenced by Talking Heads and Morrissey. "If you're a black woman making music, and you're doing R&B, in British terms it's difficult because we're really overfed with the R&B thing from the US," she says. "We have to find a new way for black British women to say whatever they need to say musically."
All considered, this year looks set to see a few black females attempt to beat the odds. An MC from Birmingham named RoxXxan has been tipped for big things, while Kerry Leatham, a busker-turned-folk singer from Colchester, has already had songs appear on Grey's Anatomy and movies such as Noel Clarke's Adulthood and 4.3.2.1. Even Jamelia, one of the biggest artists of the last decade, is set to make a comeback after signing a new deal with All Around the World (home to N-Dubz). Newcomer Josephine, a folk singer-songwriter from Manchester, is just starting out, but is optimistic about the future of black female artists in the UK. "Everything goes through stages," she says. "There was a time where there weren't any guys, and when there was Jamelia, Ms Dynamite and Mis-Teeq. In a few years' time there might be another wave because it's always changing."

Enjoy unlimited access to 70 million ad-free songs and podcasts with Amazon Music
Sign up now for a 30-day free trial
Sign up

Enjoy unlimited access to 70 million ad-free songs and podcasts with Amazon Music
Sign up now for a 30-day free trial
Sign up
CocknBullKid's single "Hold on to Your Misery" is released through Moshi Moshi/ Island on 20 February. She plays Heaven, London, on Tuesday. Her album 'Adulthood' is released in the spring
Join our commenting forum
Join thought-provoking conversations, follow other Independent readers and see their replies