Glass Animals interview: On new album How To Be A Human Being, hype, and attention to detail
'Listening to a full album should always be more valuable as a whole than an individual song'
Roisin O'Connor
Friday 26 August 2016 12:11 Comments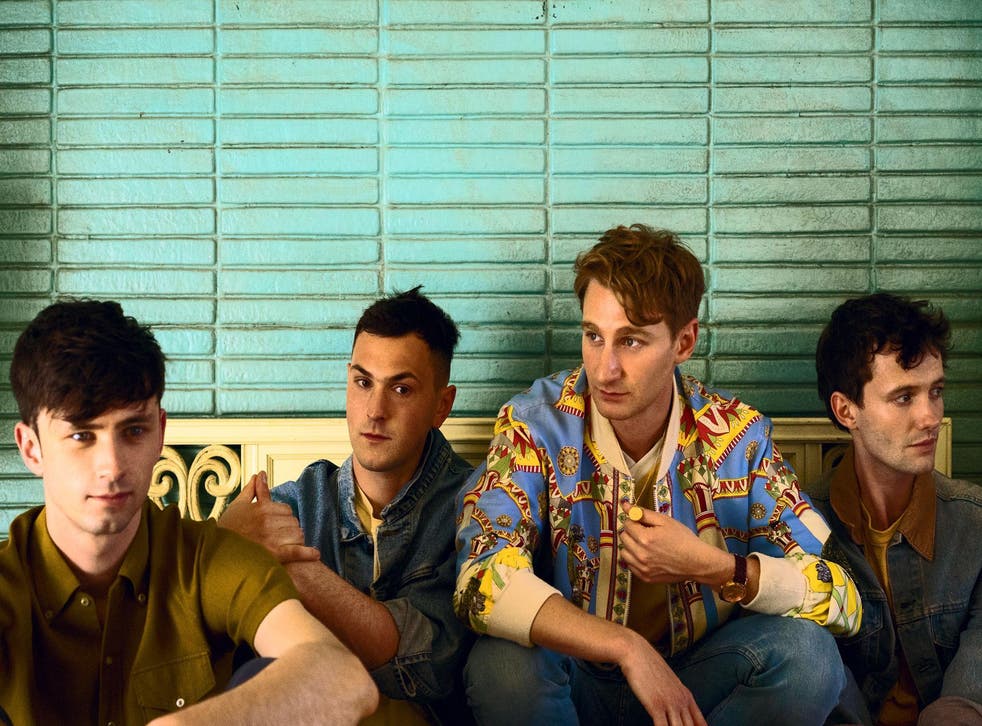 When Glass Animals frontman Dave Bayley came up with the idea for the band's second album, he was thinking about Jim Jarmusch.
Or more specifically, the artists he believes influenced the American director. "Les Blank?" he asks hopefully. "Errol Morris?"
"Don't be sorry," drummer Joe Seaward interjects when the name prompts a blank stare. "Literally no one knows who that is, it's really obscure sh*t."
"They're really weird documentaries," Bayley says. "I think this is where Jim Jarmusch got a lot of his ideas. Les Blank would go out and come up with a topic, and one was garlic [Garlic Is As Good as Ten Mothers]. And he went out and found the 15 coolest most interesting people who worked in the garlic industry."
Not the sort of thing you'd get on Netflix, then?
"I stumbled across it and then read an interview that Mos Def did where he talked about it," Bayley grins. "He's always popping up in the weirdest places."
Much like Glass Animals themselves. After playing in Kingston in London ("feral university kids taking E for the first time," Bayley says fondly), the band are in Belgium for Pukkelpop Festival - billed as the country's biggest event for alternative music - ahead of the release of their second album, How To Be A Human Being.
So far they've only played three songs off the new record at live shows (which are surprisingly rowdy considering how sedate their music can be): the singles 'Youth', 'Life Itself', and 'Season 2 Episode 3', the latter of which sounds like a vintage game hybrid of Super Mario Bros and Tetris (apparently this is exactly what Bayley was going for).
"Wait until you see the music video," he says, looking delighted. "It'll all make sense."
How To Be A Human Being seems to have been approached in the way many authors would when plotting out a novel; knowing the beginning and the end, mapping out characters with their interests and habits.
Bayley's attention to detail and infinite creativity on this self-produced work is astonishing; in everything from the almost-inaudible chime at the top of the beat on 'Youth', to the textured squares around the border of the album cover that feature microscopic details relating to the stories, and a beautiful sample of The Carpenter's 'Mr Guder' on 'Mama's Gun'.
Enjoy unlimited access to 70 million ad-free songs and podcasts with Amazon Music Sign up now for a 30-day free trial
Sign up
Even the track listing, which Seaward says was chosen before they went into the studio, was planned meticulously: "There were a couple of changes, but having that skeleton in our minds worked so well."
"It helps you sculpt," Bayley says, making a graceful, sweeping gesture with his hands as he speaks. "And I always think listening to a full album should be more valuable as a whole than an individual song. There's an ebb and flow there that - if you pulled out one song - wouldn't work."
Bayley's love of hip hop is well-documented - growing up in Texas he opted to listen to the local gangsta rap radio station instead of the slick modern country its only competitor was pushing out. And much as he says he switches off while he's composing his own music ("there were so many sounds coming into my head that I didn't wanna f**k that up by listening to someone else's stuff"), there are hints that some of the hip hop greats have found their way in there.
Everything on How To Be A Human Being is bolder, brighter, more expressive and with a frantic energy; the band have clearly been pushing themselves since their 2014 debut Zaba.
Bayley's characterisation of his own voice on How To Be A Human Being is so strong that you can literally hear him speaking as different people on each track: deadbeats, hopeless romantics, and one apparently in the throes of a drug infused stream of consciousness. Where he sings "she said I look fat but I look fantastic" on 'Life Itself'… you don't picture him singing, you see one of his characters with their head held high, checking themselves out in a mirror.
'Obsessive' seems like a fair term to use for Bayley's methods of finding the sound he wanted on the new album. "I get pretty mad ideas," he admits. "Joe probably hasn't seen the maddest things I've tried in the writing stage, but sometimes I spend way too much time chasing one sound on the synthesiser… chasing a bird with a microphone… throwing everything against in a room a wall until it makes the right sound…"
He recalls taking a wooden spoon from his kitchen, walking around and hitting everything in the house. "I finally hit this pot (listen to 'Exxus' and you'll hear it) and went 'F**k that's the one'," he says.
Hunting for the perfect sound may stem from Bayley's studying neuroscience at Oxford University; there's certainly a logical approach to the way the album was produced, and also an alchemical feel, as though Bayley spent nights in a white lab coat, hunched over glass vials in the search of formulae for the best guitar hook. Not to mention a Frankenstein-esque omnipotence in the way he's brought his characters to life.
"I guess the two sides are the production and sound/lyrics side," he says. "That's what I love, is that no one can explain or understand why certain sounds are catchy - you can play a riff with one sound and it's not catchy, and then another which you can't get out of your head. And how sonics can make you feel.
"And for the lyrical side of things… I was into psychiatry, and I met a lot of people while I was in mental hospitals for a couple of years. You spend your time trying to see through someone else's eyes - that's the horrible thing about mental illness. You can never understand what it's like to go through that. Those were the 'clinical' years."
The mood on How To Be A Human Being is more 'daytime' in contrast to the Heart Of Darkness type journey listeners were taken on in Zaba, and much of the music has a certain playfulness to it - it sounds like the band are having fun. Listening the whole way through, you're carried by the euphoria of 'Life Itself', eventually reaching 'Agnes', which has a decidedly different tone.
"'Life Itself' is really gratifying for me," Seaward says. "It was a hard nut to crack, and we kept coming back to it until it worked, which was really satisfying.
"'Agnes' is important. It was very obvious to us that that was going to be the beginning and end of the record. I remember the first time Dave played 'Agnes' to us, thinking that it sounded like someone pushing a boat out into the ocean. I remember thinking that that sounds like the end."
We look over at Bayley, waiting for his answer. "'Agnes' is my favourite," he says simply, and we leave it at that.
On the way over to Belgium it emerged that Frank Ocean has finally decided to [finally] drop his new album - a decidedly different method to Glass Animals, who announced their new album in May. Is there going to be a moment where surprise albums become passé?
"It's exciting to know when something's going to happen," Seaward says, "there's a build-up like the feeling you get before you go to a party, or a kid looking forward to Christmas."
Hype around a release can certainly detract from the music itself ("if the music sucks then yeah," Seaward says succinctly), something that the band stoicly ignored after 'Gooey' - currently on 53 million Spotify streams - really took off.
"Sometimes you can see that the hype has affected the music," Bayley says, "and you get an artist that's super hyped and they put out an album that's been clearly been rushed. Especially in England, the hype thing is incredibly strong."
"We just slipped under the radar," Seaward says of Glass Animals. "And that meant there wasn't that pressure to deliver all this stuff, we learned how to do what we do, and learn what Glass Animals was, so when we played Coachella it wasn't terrifying. And when we got back to make another record we didn't have people breathing down our necks, we were just left to make a record we wanted to make."
In their north London studio, which is down the road from Paul Epworth's Church (he pops into check up on them every now and again), there are moments of chaos and moments of tranquility, Seaward says, the latter of which get "popped" by Bayley.
"It's constant stimulation. Ed [Irwin-Singer, bass] will have an idea or Drew [MacFarlane, guitar and keys] will be f**king around in the corner on a synth and we'll turn that on and it'll either be awesome or terrible."
After the Joey Bada$$ collaboration for 'Lose Control' last year, Bayley says people have continued to show interest in working with the band - "there's always stuff happening" - but they tend to be picky over who they want to work with.
"It's about finding people who can bring something totally new," Seaward says.
"It was so funny," Bayley gleefully recounts of the Bada$$ recording, hopping up and down on his chair. "I thought he'd come in with a huge crew, but he just had this one massive guy rolling blunts the whole time. And Joey was like, 'let's listen to these beats'. So we played something and he sat there nodding: 'It's f**king cool, that's dope, that's cool. Play another one.' Then: 'This is f**king fire bro, this is f**king fire'."
"And he went 'is the booth ready?'. One thing I've learned about producing is always have a mic that's on."
With a few hours to go until their slot, Bayley is fidgeting a bit, making those strange noises by clasping his hands together, which reminds everyone of being kids playing with blades of grass to produce a squeaking noise.
"And the owl noise," Bayley exclaims, and cups his hands to his mouth for a version of 'Twinkle Twinkle Little Star'.
"You got it," he says, delighted when we guess the song. "We're going to cover that during the set. Get a circle pit going."
How To Be A Human Being by Glass Animals is out now on vinyl, CD and to download
Register for free to continue reading
Registration is a free and easy way to support our truly independent journalism
By registering, you will also enjoy limited access to Premium articles, exclusive newsletters, commenting, and virtual events with our leading journalists
Already have an account? sign in
Register for free to continue reading
Registration is a free and easy way to support our truly independent journalism
By registering, you will also enjoy limited access to Premium articles, exclusive newsletters, commenting, and virtual events with our leading journalists
Already have an account? sign in
Join our new commenting forum
Join thought-provoking conversations, follow other Independent readers and see their replies