Honne interview: On music therapy, free love and streaming services
R&B duo Honne are such perfectionists they could spend a year tinkering with one song, which makes their overnight success all the more remarkable, says Gabriel Samuels
Gabriel Samuels
Wednesday 02 November 2016 14:57 Comments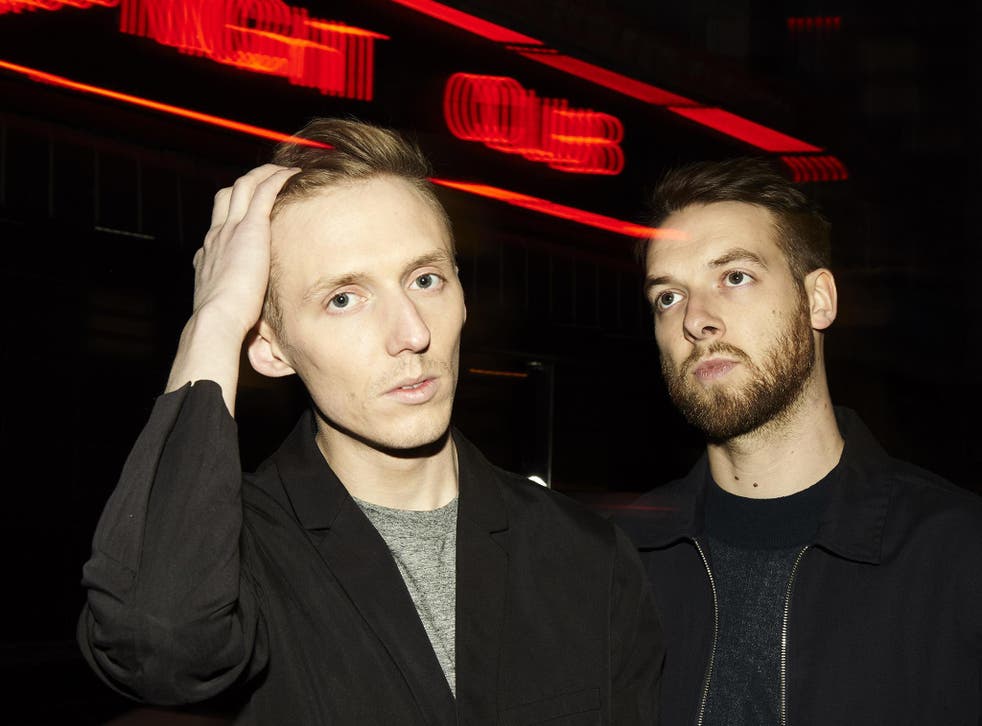 Towards the end of their sold-out gig at Camden's Roundhouse, Honne invite east London soul singer JONES to join them onstage to duet on the song "No Place Like Home". Like the rest of the concert, it's a stunning performance, with shimmering vocals and synths gliding over a sultry R&B beat.
But for the first couple of bars of JONES' part, her microphone cuts out, leaving her singing in silence. It's a barely noticeable glitch, and has no impact on the rest of the show. But one person in the room would definitely still be thinking about that little slip when the disco ball stopped turning and the lights went down – singer Andy Clutterbuck.
"I have this need for everything to be just right, which makes our lives a lot harder," he says, perching on a dressing room sofa before the producing duo's biggest London show to date. "When the smallest things go wrong at our gigs, in our heads that can mean it was a disaster. We're pretty hard on ourselves in that respect.
"I've been trying to rein in the perfectionist side of myself, because it can get really bad. I used to listen back to our music quite a lot, and think 'I wish we'd done this differently' or whatever, but it's not healthy. It's best to draw a line under stuff, and be ready for a clean slate."
When the duo get to work in the studio, it's multi-instrumentalist and co-writer James Hatcher who keeps things moving. "Otherwise, we'd genuinely spend a whole year working on one song," Hatcher says. "We had a heated 40-minute discussion earlier about what angle the bass amp should be placed at on stage. This is the kind of level we're talking about."
Honne's music sounds like it was made by perfectionists. With an arsenal of smooth, crafted and technically accomplished tunes, the duo achieve something that seems more effortless than it really is: bringing real soul and emotion back to late-night pop.
The band name – which means "innermost feelings" in Japanese – came out of Clutterbuck's love of Japan and its culture, after he lived there for a time. "I just became consumed by it, and it's really infused everything we've done," he says. "It's an incredible place and I can't wait to tour there again."
Hailing from south-east England, Clutterbuck and Hatcher met in the lunch queue on their first day at music college, having both spent their teenage years jamming and performing with school friends.
Hatcher grew up obsessed with Michael Jackson and Quincy Jones, and still uses their crisp production techniques as a touchstone for his own projects. "I still listen to his stuff all the time and it just blows me away with how up-to-date it sounds, what they were doing was so forward-thinking and intense," he says.
Enjoy unlimited access to 70 million ad-free songs and podcasts with Amazon Music Sign up now for a 30-day free trial
Sign up
Clutterbuck meanwhile weaved in his own fondness for 90s R&B anthems, using Destiny's Child as an example ("I have two sisters", he explains), and the driving force behind the Honne project was born in mid-2014. The duo's first and biggest song to date, "Warm on a Cold Night", was tentatively posted on Soundcloud a few months later, and was listened to hundreds of thousands of times in the space of a few weeks.
No one was more surprised by this unexpected success than the pair themselves. "We had absolutely no idea that was going to happen, it was a crazy time," says Hatcher, shuffling excitedly in his seat. "It just gave us this drive to keep writing, keep pushing ourselves. We're just grateful for people picking up our stuff, and the way the internet allows the word to spread is amazing really."
The introduction of JONES and more recent collaborator Izzy Bizu – on sleeper hit "Someone That Loves You" – brought a different element to Honne's sound, and allowed them to expand their vision. "Bringing in other voices can really help turn a song around, make it something special," Clutterbuck says.
"For me it's just nice to have someone else's voice on our songs rather than hearing the same thing over and over. And having someone else in the studio allows you to spark off different ideas and just get a different side of things. It's something we want to explore more."
The duo linked up with Bizu after messaging her on Twitter, and have a lengthy list of dream future collaborators. "Kehlani is someone we'd love to work with.. And if we're talking dreamland then for me it would be Chance the Rapper or Kendrick Lamar," Hatcher says. "We're big rap fans, so adding that to our sound is something we'll be looking at."
"But the collaborations we've done so far have given Andy the chance to write something from a different point of view entirely, and have a girl sing it. Every week one of us will say 'we should do a duet with this person or this person', because it's something that we've really loved so far."
Their debut album Warm on a Cold Night, released in July this year, explored the ebbs and flows of modern relationships and sexuality in a refreshingly lucid way. "We're both quite traditional, family-oriented people," says Hatcher, noting that both he and Clutterbuck are in relationships.
"With this record, we wanted there to be a message of respect to all sexes, all relationships between whatever gender. Peace and love, is what it's all about really.
"Love should be celebrated when all kinds of people are coming together and being able to be completely comfortable with themselves when they're at their most vulnerable."
Clutterbuck's lyrical voice is at turns self-deprecating, critical and cocky. But the singer denies he ever plays a character in his lyrics, and merely wants to be as honest as he can about what is happening in his life – a form of musical therapy, as it were.
"I'm not a very vocal person, not the best at expressing myself," he says. "My girlfriend gets frustrated with me and says 'I don't know what you're feeling' and all that, and I'll just go and write a song about it, instead of talking.
"It's a nice relief for me, a way to get things off my chest. I don't know if that's the best thing, but music can be good therapy. Sometimes the lyrics are based on what friends have told me about their relationships, which has got a bit awkward in the past.
"We've had to stop before playing them a song in the past and said, 'you're going to probably recognise what we're talking about here'. One song we wrote even had a direct quote that one of our friends said during a break-up, which James overheard. So that can be dicey."
With millions of listeners every month on Spotify and Apple Music, the duo partly attribute their early successes to the support of streaming platforms, which have allowed them to reach an audience across the world. They certainly won't be taking the Taylor Swift/Thom Yorke blackout approach any time soon.
"There is no way that without streaming services we would be playing somewhere like the Roundhouse at this point, after two years – we would be playing places 10 times smaller," says Hatcher emphatically.
"It's all down to people putting our songs in playlists, sharing them on the internet. People will stop paying for music after long, it's just the way it's going. We really haven't had much radio play anywhere, yet our album has gone gold in South Korea and we're selling out gigs all over the place. The internet is a big help for artists starting out."
"It's just brilliant to be able to tour all these places. Travelling has always been a passion for James and I," Clutterbuck adds. "And being in a band has allowed us to do that. Every time we get to a new city on tour, I'll go for an early morning jog on the first day, go and get a feel of the place and soak it in. We're incredibly lucky that this is our job."
The duo recently returned to the studio to start working on songs for their sophomore album. "With our first album, we wanted to be a cohesive piece of work and we were set in a particular style," says Hatcher. "But in terms of experimenting and pushing boundaries, that's something we really want to do from now on.
"We've done remixes for people which are so much fun, you don't have to worry about it being too different and people saying 'it's not like their other stuff', and we like having that freedom to bring ideas in.
"We love so much different music and you'll listen to one album and be like 'I want to try something out like that'. We're making a concerted effort not to be constrained by anything we've done in the past and just allow the ideas to weave together. It's about opening up your mind, man. Letting those ideas run free."
After such a successful couple of years, what do the duo see for themselves in 2017? "I just want to keep doing what we're doing," says Clutterbuck. "And have a really good festival year, get more people into our stuff hopefully.
"We always knew music was what we wanted to do. It was just about finding the right outlet for it. Now we've got it, there's no way we're letting go of it in a hurry."
Warm on a Cold Night by Honne out now on CD, vinyl, and on streaming services
Register for free to continue reading
Registration is a free and easy way to support our truly independent journalism
By registering, you will also enjoy limited access to Premium articles, exclusive newsletters, commenting, and virtual events with our leading journalists
Already have an account? sign in
Join our new commenting forum
Join thought-provoking conversations, follow other Independent readers and see their replies