Horizon Festival 2017 will bring underground dance music to the ski slopes of Andorra
The annual event is bringing an eclectic mix of acts to its new home in the mountains between Spain and France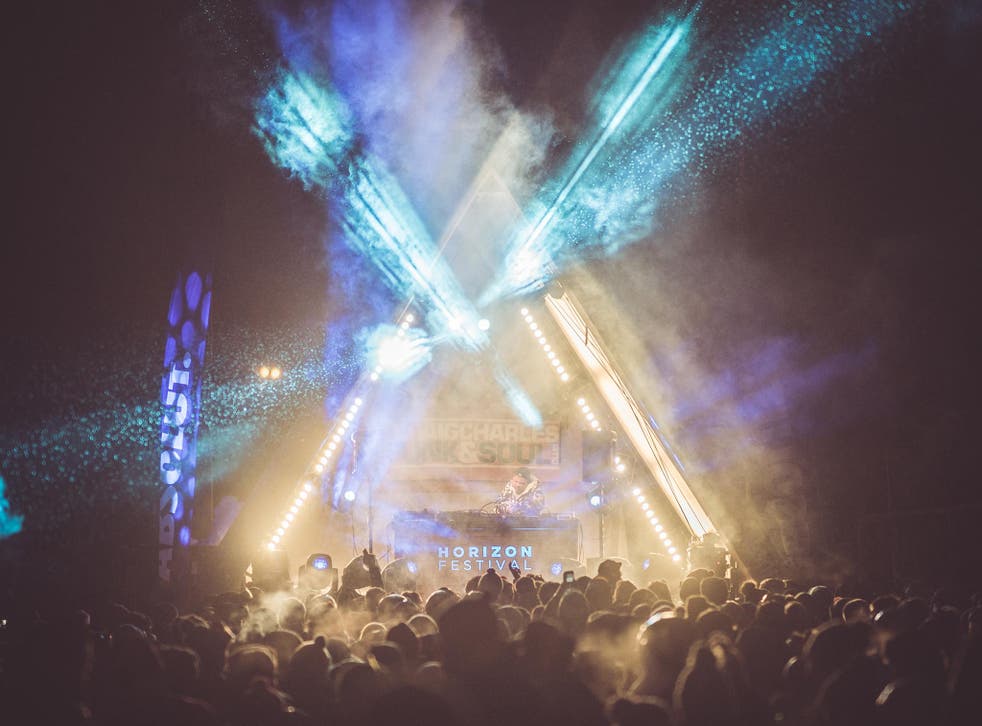 Snow-sports junkies and dance music fanatics are squeezing out the last drops of the ski season while ringing in the parties of the spring and summer with Horizon Festival in the Pyrenees mountains this week.
The week-long festival showcases the variety of underground dance music and all the tendrils of scenes that it encompasses, from house to grime. Take headliner Floating Points, who will bring his unique style of eclectic, genre-spanning electronic music to the crowds at the Arinsal ski resort in Andorra, while AJ Tracey and KiNK will be representing the thriving grime and techno movements.
Overlapping with ski festival behemoth Snowbombing, Horizon has happily made a name for itself as one of Europe's greatest ski parties and bastion for the more experimental and less mainstream side of dance. Having outgrown its previous home in Bankso, Bulgaria, it has this year moved to the Arinsal resort in between Spain and France, and kicked off with a pre-party in Barcelona on 25 March.
But organisers promise that Horizon's focus on fusing the fun of apres ski parties with cutting-edge sounds hasn't changed. "Having been running Outlook Festival in Croatia and then starting Dimensions, I was keen to attempt a winter version of our summer festivals," founder Jack Robinson tells The Independent.
"I've always really enjoyed the apres ski parties. It's really fun to come off the mountain after a good day of skiing and see a great artist on the slopes, enjoying a few drinks in an unique setting. If anything, our apres ski is going up a level this year. Some of our favourite artists such as Mala, Craig Charles and Channel One will be back and some exciting new additions such as Yussef Kamaal, Romare and Riot Jazz will also play at our mountain stages," adds Robinson.
Taking advantage of the snowscape that can't be recreated in the muddier and stickier summer festivals, the apres ski experience will once again include an abandoned hotel transformed into the scene of a dark fairytale with imersive performances, as well as forest and warehouse parties, paintball wars, and snow yoga.
Recalling his favourite moments from previous years, Robinson goes on: "house and techno institution such as KiNK playing b2b set with drum 'n bass don Goldie for more than 4 hours at an 80 capacity venue was incredible. Taking over an abandoned hotel for two mad nights with each room having it's own concept last year was magic. Congo Natty throwing his own open air pool party was something else." And if Horizon's team can bring that sort messiness to the mountains of Andorra, festival-goers are in for a treat.
Register for free to continue reading
Registration is a free and easy way to support our truly independent journalism
By registering, you will also enjoy limited access to Premium articles, exclusive newsletters, commenting, and virtual events with our leading journalists
Already have an account? sign in
Register for free to continue reading
Registration is a free and easy way to support our truly independent journalism
By registering, you will also enjoy limited access to Premium articles, exclusive newsletters, commenting, and virtual events with our leading journalists
Already have an account? sign in
Join our new commenting forum
Join thought-provoking conversations, follow other Independent readers and see their replies