Marina and the Diamonds, London Palladium, gig review: Larger-than-life pop with a wonderful lack of subtlety
Frontwoman Marina Diamandis ends 2015 with a bang and heralds a very promising New Year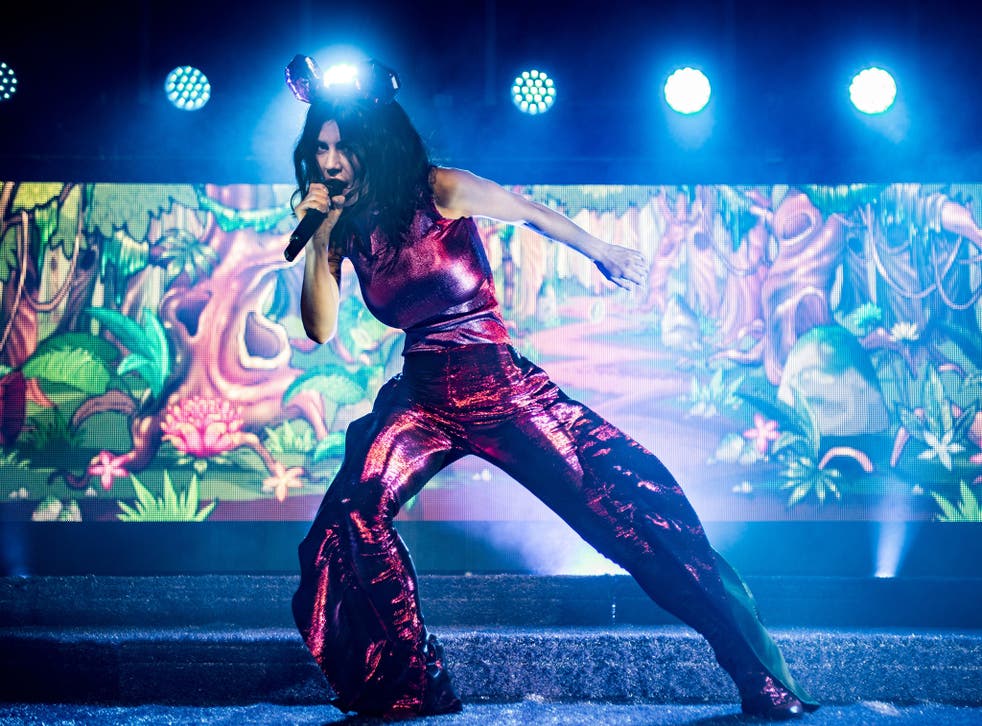 Marina and the Diamonds' final show of the year takes place in three acts, encompassing her three studio albums, in the grand surroundings of the London Palladium. Launching into "I Am Not A Robot", frontwoman Marina Diamandis struts up and down the sparse stage in a skin-tight catsuit, then onto "Obsessions", where a monochrome Betty Boop is hunted by grotesque characters in the background; her accentuated features reflecting Diamandis' larger than life persona.
"Primadonna Girl" shows how the Greek-Welsh artist is the UK's answer to Katy Perry: just a tad more ironic, and with such astute observations of LA lifestyle. As she sings herself on "Hollywood": "I'm obsessed with the mess that's America." More universal are her themes of not fitting in that click perfectly with her mostly-young audience, heard in lyrics from "The Outsider" that croon: "Feeling like a loser/Feeling like a bum/Sitting on the outside observing the fun."
Rushing offstage to change into another catsuit (an iridescent pearl-pink) and add a beauty spot to her cheek, she twists her hips to the breathless "Bubblegum Bitch", flashing a wry smile for the dark undertones of "Teen Idle" for the second "act": Electra Heart. Beneath so many of her songs there is a ruthless critique of female archetypes (Diamandis is a self-professed feminist) that hones in particularly on the iconic femme fatale of old-school Hollywood. Electra Heart seemed to target American consumers on its release in 2012, but also appealed to a British generation obsessed with US pop and reality culture that gobbled up shows like 90210 and Keeping Up With The Kardashians.
Not one to shy away from theatrics, much of Marina and the Diamonds' appeal lies in the act's lack of subtlety; the flamboyance and theatrics that so many UK artists avoid from in favour of a more "raw" performance preferred by UK critics, never mind whether your audience is entertained or not. Diamandis goes through four costume changes that include a headband topped with giant, cartoonish cherries, glittering high heels and a set of pom-poms, while gaudy flashing signs appear on the screen behind her.
Royal blue sequins herald the third and final part: Froot was Diamandis' 2015 release and is bursting with colour, marrying her dramatic use of pop synths with understated, emotional delivery on album highlights "I'm A Ruin" and "Happy" – the former being the glue of the album – before she knocks out some truly acrobatic vocal work on "Forget".
It feels fitting that Diamandis performs "Can't Pin Me Down" towards the end of a set that perfectly showcases her flexibility as an artist. Each of her studio releases has a different persona as she works out which direction she wants to go in next, all underpinned by her sheer talent for intelligent pop lyrics (yes, they do exist). By presenting her music tonight, "in the way she wanted to", Diamandis ends 2015 with a bang and heralds a very promising New Year.
Register for free to continue reading
Registration is a free and easy way to support our truly independent journalism
By registering, you will also enjoy limited access to Premium articles, exclusive newsletters, commenting, and virtual events with our leading journalists
Already have an account? sign in
Register for free to continue reading
Registration is a free and easy way to support our truly independent journalism
By registering, you will also enjoy limited access to Premium articles, exclusive newsletters, commenting, and virtual events with our leading journalists
Already have an account? sign in
Join our new commenting forum
Join thought-provoking conversations, follow other Independent readers and see their replies